Quick Predictions: AFC West Matchups for Week 3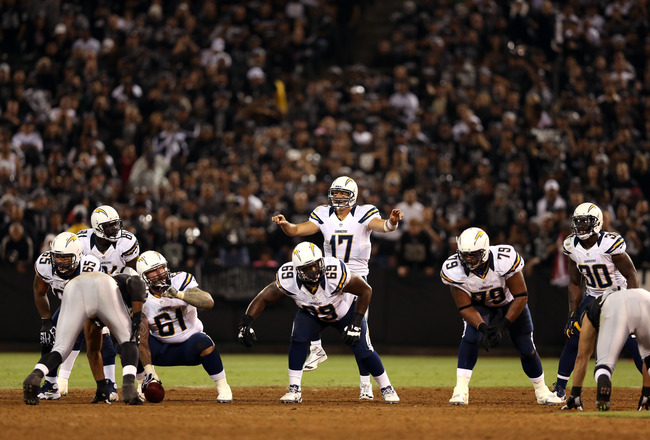 Ezra Shaw/Getty Images
The AFC West enters Week 3 with four intriguing matchups. The Chiefs will try to avoid starting 0-3 against the winless Saints, the Chargers will to attempt start 3-0 against the undefeated Falcons, Oakland has to try to right the ship against a potent Steelers squad and the Broncos will try to regain their Week 1 form against Houston.
The following are quick-hit predictions of all this Week 3 action for each member of the AFC West.
Kansas City Chiefs at New Orleans Saints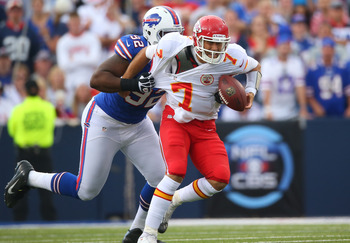 Tom Szczerbowski/Getty Images
Kansas City and New Orleans are hungry for a win after starting 0-2. Despite their first two losses, both teams are optimistic moving forward.
The Chiefs have lost to two quality teams in the Falcons and the Bills. Cassell has been hit and miss so far this season, throwing for three touchdowns and three interceptions.
Defensively, the Chiefs have allowed 235 passing yards and 142.5 rushing yards per game; ranking 18th and 27th overall in the NFL.
One of the only teams with a worse defense is the New Orleans Saints. The Saints have allowed an average of 275 passing yards per game to rookie quarterback Robert Griffin III and second-year quarterback Cam Newton. Furthermore, they have allowed an NFL worst 186 rushing yards per game.
In order to compensate for this, Drew Brees and the offense are going to have to put up a big score total to down the Chiefs.
Prediction. Kansas City: 27 New Orleans: 21
Jamaal Charles runs rampant on a dismal Saints run defense and scores three touchdowns. Brees throws two touchdowns to Marques Colston and one to Jimmy Graham. Saints start 0-3, proving that NFL head coaches really do matter.
Atlanta Falcons at San Diego Chargers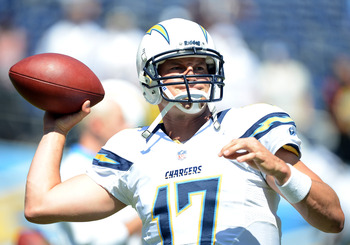 Harry How/Getty Images
Atlanta proved they are a force to be reckoned with after intercepting Peyton Manning four times in the first half and cruising to a convincing win over the Broncos.
The Falcons' passing attack has looked potent with Matt Ryan at the helm and should continue to launch an aerial attack against the Chargers' secondary.
Meanwhile, San Diego is coming off an equally impressive blowout of the Tennessee Titans. Phillip Rivers has looked dominant in the Chargers' first two wins this season, throwing for 515 yards and four touchdowns.
The Chargers will also be happy to have running back Ryan Matthews back in the lineup. According to CBS sports, he has been practicing with the team, and any major setback aside, he should be ready to go come Sunday.
Prediction: Atlanta: 24 San Diego: 31
Matt Ryan throws for three touchdowns to Phillip Rivers' two. Matthews runs for two touchdowns in his return.
Pittsburgh Steelers at Oakland Raiders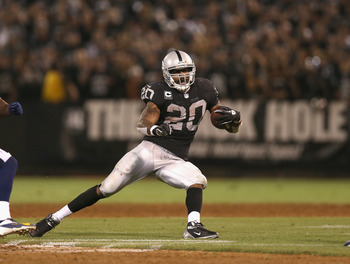 Ezra Shaw/Getty Images
Big Ben and company started the season against two quality opponents. In their season opener against Denver, the Steelers came up just short when a pick-six put the game out of reach.
Roethlisberger looked more like his old self against the Jets, throwing for 275 yards and two touchdowns. The Steelers defense was even more impressive, holding a Jets offense that dropped 48 points on the Bills to just 10 at Heinz Field.
The Raiders have looked dismal this season. First it was their special teams fiasco against the Chargers, and last week, Reggie Bush torched the Raiders' defense for 172 yards and two touchdowns. Oakland has been flat-out embarrassing.
Prediction: Steelers: 35 Oakland: 10
Big Ben throws for three touchdowns (two to Mike Wallace, one to Antonio Brown) and the Steelers' backfield by committee finds the end zone twice. McFadden is able to score one touchdown in a game that features four Oakland turnovers.
Houston Texans at Denver Broncos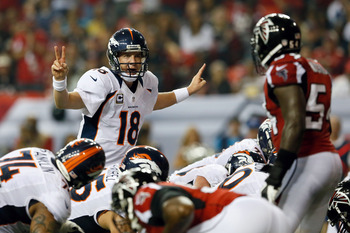 Kevin C. Cox/Getty Images
Houston has started 2-0 this season, albeit against rather lackluster teams in the Dolphins and the Jaguars. Matt Schaub has thrown for 461 yards and a touchdown, and Arian Foster has looked sharp with three rushing touchdowns. Look for Andre Johnson to try and exploit the Broncos' secondary.
The Broncos are coming off a disappointing loss to the Atlanta Falcons. After an impressive opener against Pittsburgh, Peyton Manning and company looked flat and unprepared. Manning's three interceptions may or may not be a cause for alarm, and this week will definitely be a telling sign of how the rest of the season will go for the future Hall of Famer.
However, Manning could not have picked a worst week to have to prove something. He faces a Houston defense that ranks No. 1 in the NFL in pass defense; only allowing 124 passing yards per game.
Prediction: Houston: 17 Denver: 13
Foster finds the end zone twice. Manning struggles again this week, throwing two picks and one touchdown to Eric Decker.
Predicted Standings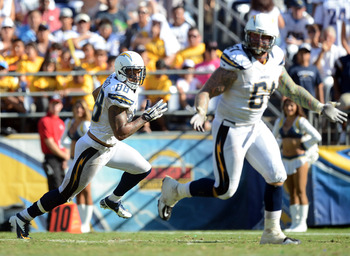 Harry How/Getty Images
San Diego Chargers: 3-0
Denver Broncos: 1-2
Kansas City Chiefs: 1-2
Oakland Raiders: 0-3
Agree? Disagree? Comment below with your quick hit predictions!
Keep Reading

San Diego Chargers: Like this team?