NL Rookie of the Year Rankings: Bryce Harper Returns to the Top 5
Bryce Harper has a 1.067 OPS in September.
Joy R. Absalon-US PRESSWIRE
Has the race for the National League Rookie of the Year Award essentially been decided with two weeks remaining in the 2012 season?
It's beginning to look that way, as Todd Frazier's September slide has created some distance between him and Wade Miley for front-runner status in our weekly rankings. What looked like a two-man competition might now be Miley's race to lose.
The biggest news in this week's rankings is Zack Cozart dropping out of the top five. Cozart hasn't played since Sept. 3 due to an oblique injury. He's expected to return before the end of the season, according to the Cincinnati Enquirer's John Fay, and Reds manager Dusty Baker has the second spot in his lineup waiting for him when he returns.
So that opens up at least one spot in our top five for a new candidate or the return of a previous contender. It could also be both. You'll have to click through and see how the rankings shake out this week.
As we see it, here are the five leading contenders for NL Rookie of the Year Award.
All statistics mentioned are current as of Sept. 18.
Anthony Rizzo vs. Matt Carpenter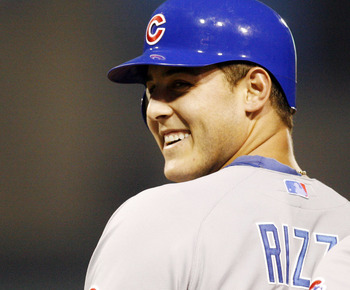 Charles LeClaire-US PRESSWIRE
With Zack Cozart dropping out of the top five, I thought this might be the time to add Chicago Cubs first baseman Anthony Rizzo to the NL Rookie of the Year rankings.
He's been getting quite a bit of support from commenters and has been an exciting slugger since getting called up from Triple-A Iowa.
But as I was looking over Rizzo's numbers, someone else's statistics kept tapping me on the shoulder. The St. Louis Cardinals' Matt Carpenter said, "Hey, what about me?"
Rizzo has appeared in 30 fewer games than Carpenter, which makes his statistics more impressive. Yet Rizzo actually has seven more plate appearances (304) for the season than Carpenter (297).
How about extra-base hits? Rizzo has 14 homers to Carpenter's six, but Carpenter has 21 doubles and five triples compared to Rizzo's 11 two-baggers.
In terms of production, but sluggers are at a draw with Rizzo totaling 43 RBI while Carpenter has 44.
Both are virtually even in terms of batting average. Rizzo is batting .296/.349/.486 while Carpenter has a .297/.364/.486 triple-slash average. That gives Carpenter an .850 OPS compared to Rizzo's .834.
So for those who think Rizzo should get some NL Rookie of the Year love, shouldn't Carpenter also get consideration? Or does Rizzo get credit for playing in many fewer games?
5. Mike Fiers, Milwaukee Brewers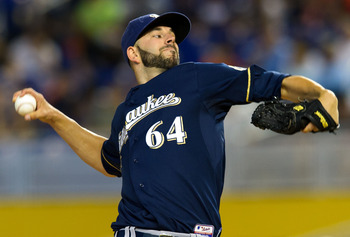 Steve Mitchell-US PRESSWIRE
Last week: Unranked.
OK, I felt like Lucas Harrell deserved more consideration over Mike Fiers in these rankings because Harrell had started 10 more games than Fiers and was a part of his team's starting rotation all season.
But Fiers' statistics in nine fewer games should probably give him the edge. Harrell only has 10 more strikeouts than Fiers (125 to 115) despite throwing 63 more innings this season.
Fiers also has nine victories to Harrell's 10 even with that big difference in innings. But Fiers also plays for a far better team. The Milwaukee Brewers have 26 more wins this season than the Houston Astros and are in late playoff contention. The Astros have been getting ready for the No. 1 overall pick since July. (OK, maybe since June.)
I would make the argument that Harrell has been more consistent in recent starts than Fiers. Fiers has this good start-bad start pattern going over his past six or seven outings while Harrell has allowed more than two runs in three of his past 12 starts.
But it is difficult to ignore that Fiers has been more dominating than Harrell. That gives him the nod for now.
4. Bryce Harper, Washington Nationals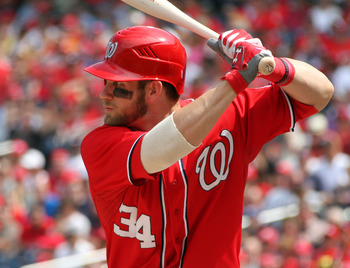 Ned Dishman/Getty Images
Last week: Unranked
Oh, I can hear the screams and wails from The Bryce Harper Haters Club. He's totally a product of hype!
Yes, Harper gets more attention than any other NL rookie. And maybe he'll get more award consideration than he deserves because of it. But after struggling in July and August, the Washington Nationals outfielder has turned himself around in September.
In 64 plate appearances as of Sept. 18, Harper is batting .327/.413/.655 with four doubles, a triple, four home runs and five RBI. That's pushed his batting average to .263 and his OPS over .790, the highest those numbers have been since mid-July.
But here's the biggest reason Harper is back in these rankings. I was all set to put the Milwaukee Brewers' Norichika Aoki here until I compared his numbers to Harper's.
Aoki leads in batting average (.289) and on-base percentage (.359) while Harper has a higher slugging percentage (.458) and OPS (.793). With 19 homers, Harper has a big advantage in the power department and has driven in more runs as well.
So should Aoki get more consideration because of his pure hitting numbers or should Harper's power give him the edge?
How about the fact that Harper is 19 years old and in his third year of professional baseball while Aoki is 30 years old and has eight seasons of Japanese professional baseball on his resume? That's where I think Harper ultimately gets the nod.
3. Wilin Rosario, Colorado Rockies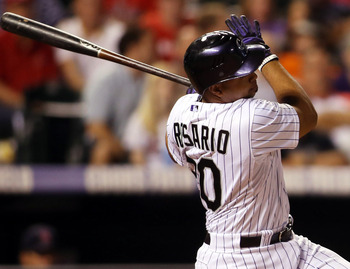 Chris Humphreys-US PRESSWIRE
Last week: No. 3.
If the Colorado Rockies intended to split time between Wilin Rosario and veteran Ramon Hernandez at catcher, those plans were scrapped with the news that Hernandez suffered a season-ending hamstring injury.
Perhaps it's not a coincidence that Rosario hit well once he knew he would see more playing time behind the plate. In five games since last week's rankings (and Hernandez's injury), he hit 6-for-18 (.333) with one home run and four RBI.
That extended Rosario's home run total to 24, which leads all NL rookies. Only Mike Trout has more home runs among major league first-year players.
Rosario also seized the NL rookie RBI lead with 64, overtaking Todd Frazier in that category. As High Heat Stats' John Autin points out, Rosario will likely set the franchise record for RBI by a catcher, surpassing Chris Iannetta's 65.
But when we talk about Rosario, we have to talk about his defense.
He has 20 passed balls for the season, four more than the next closest competitor. That puts Rosario in a "20-20" club no catcher wants to be in, as The Denver Post's Troy Renck notes. Rosario has also allowed 53 wild pitches, three more than any other big league catcher.
2. Todd Frazier, Cincinnati Reds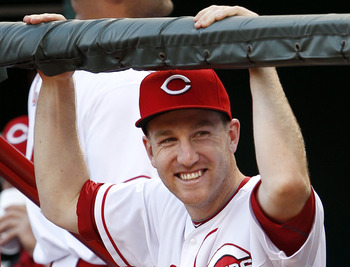 Frank Victores-US PRESSWIRE
Last week: No. 2.
Todd Frazier may not be in danger of dropping below the No. 2 spot in our NL Rookie of the Year rankings at this point of the season.
But the distance between him and the current front-runner has grown over the past couple of weeks. As expected, with Joey Votto and Scott Rolen returning to the Cincinnati Reds' lineup, Frazier's playing time has suffered.
However, Frazier's production in the lineup has taken a significant slide during the month of September. Thus far into the month, he's batting .209/.292/.256 with two extra-base hits. As MLB.com's Mark Sheldon points out, Frazier hasn't hit a home run since Aug. 21 and hasn't driven in a run since Aug. 28.
It's probably too late for Wilin Rosario or Bryce Harper to overtake Frazier, but he's a lot closer to No. 3 than he is to No. 2 in these rankings right now.
But with just over two weeks remaining in the regular season, Frazier could get hot again at the plate, like he did in July and August. What he needs is the opportunity.
Will Reds manager Dusty Baker try to get Votto and Rolen ready for the playoffs or will he try to rotate Frazier in with his two veterans to give each player some rest while keeping them sharp? Frazier's chances at the NL Rookie of the Year Award depend on his skipper's decision.
1. Wade Miley, Arizona Diamondbacks
Jennifer Stewart-US PRESSWIRE
Last week: No. 1.
With two weeks remaining in the regular season, the NL Rookie of the Year Award looks like Wade Miley's to lose.
The skeptics might say this award is in the bag for Bryce Harper, but I think Harper struggled for enough of the season that voters noticed other candidates emerge.
If the Arizona Diamondbacks follow their current rotation, Miley will have three more starts this season. Unless he completely melts down in at least two of those games, the D-Backs' left-hander should stave off the competition.
But really, he should already be firmly established in the minds of voters. If Miley doesn't get this award in favor of Harper, then I will finally tip my cap to those of you who have thought all along that hype would decide the vote.
In his most recent start, Miley took the loss while facing the San Francisco Giants. He gave up three runs and eight hits over seven innings. Against arguably the third-best team in the NL, that's a strong performance.
During his past 12 appearances, Miley allowed more than three runs only twice. That's helped the D-Backs stay on the fringes of the NL playoff race. Though at 4.5 games behind the St. Louis Cardinals for that second wild-card bid, their chances are extremely slim.
Follow @iancass on Twitter
Keep Reading