Fantasy Football Week 3: 8 Players Destined to Be Duds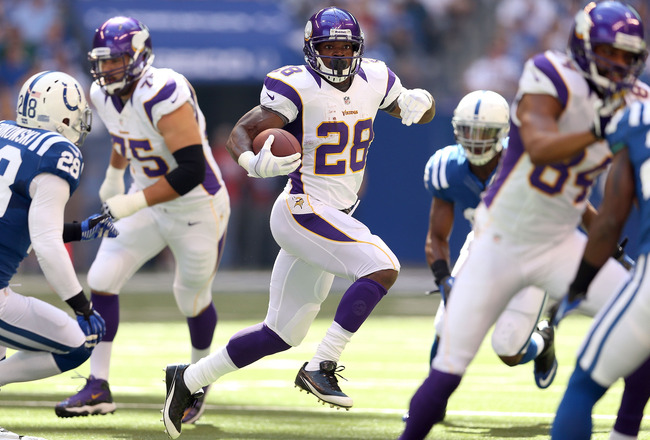 Andy Lyons/Getty Images
Studs can sometimes be duds.
It happens. Whether it's a bad matchup, an injury or a slump, every good player can disappoint their fantasy owners in any particular week.
With Week 2 about to go into the books, preparation for Week 3 can't start soon enough.
With that being said, here are eight studs who could have it rough come next weekend.
Adrian Peterson: Minnesota Vikings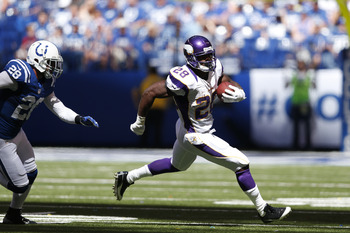 Joe Robbins/Getty Images
These days, there are three truths in life—death, taxes and running backs being stopped cold against the San Francisco 49ers.
Adrian Peterson will be this team's next victim on Sunday. The 49ers have already limited Cedric Benson and Kevin Smith to a combined 71 rushing yards in their first two games.
As Peterson continues to recover from his injuries, he is a stud to stay clear of this week.
Larry Fitzgerald: Arizona Cardinals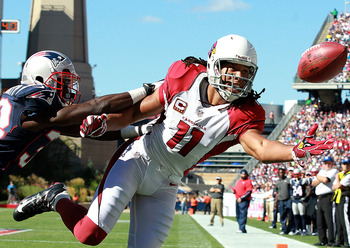 Jim Rogash/Getty Images
The sledding has been tough for Larry Fitzgerald so far. The Cardinals wideout has only been good for five receptions and 67 yards and hasn't yet caught a touchdown this season.
John Skelton, who is currently sidelined with an ankle injury, hasn't helped matters. Meanwhile, Fitzgerald and Kevin Kolb simply cannot connect with each other, for some reason.
Things will not get any easier in Week 3, when Fitzgerald has to go up against the Philadelphia Eagles and their vaunted pass defense.
Willis McGahee: Denver Broncos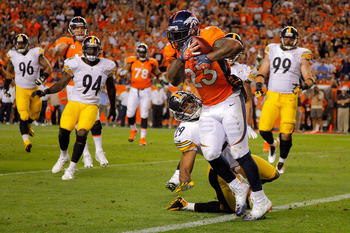 Doug Pensinger/Getty Images
Willis McGahee has proven to be a reliable, trusted running back through the years, but could have difficulty finding running room in Week 3.
The Houston Texans have a solid rush defense and are coming off a strong showing in Week 2. The defending AFC South champions allowed the Jacksonville Jaguars' Maurice Jones-Drew to rush for only 60 yards on 12 carries.
Expect the Denver Broncos to attempt to beat the Texans in the air, while McGahee takes a back seat this week.
Stevan Ridley: New England Patriots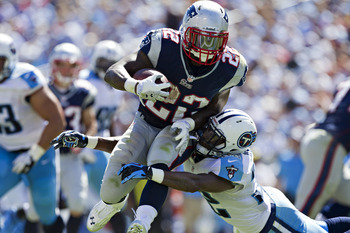 Wesley Hitt/Getty Images
Stevan Ridley has had a great start to the season, rushing for 196 yards and one touchdown through two games in 2012.
However, things are going to get a little rough when the Patriots travel to face the Baltimore Ravens in Week 3.
The defending AFC North champions are as good as it gets against the rush, having already limited BenJarvus Green-Ellis and LeSean McCoy to a combined 192 yards on 43 carries.
While that yardage appears to be good, that is a high volume of attempts and I have suspicions that Ridley may disappoint this week.
Expect Tom Brady and crew to try to beat the Ravens through the air, with Ridley a secondary option.
Chris Johnson: Tennessee Titans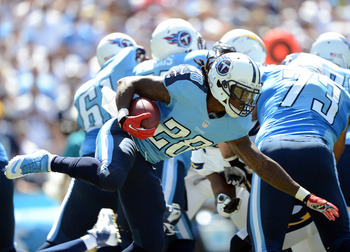 Harry How/Getty Images
It appears that we are looking at a repeat of the 2011 season. Chris Johnson does not appear to be the same running back we came to know and love from 2008-2010.
So far this season, Johnson has been good for only 21 rushing yards on 19 carries.
Don't expect things to change this week when he goes up against the Detroit Lions, who have done a decent job against the run, allowing Steven Jackson and Frank Gore to pick up a combined 142 rushing yards.
Johnson is nothing more than a flex play (if that) these days.
Steven Jackson: St. Louis Rams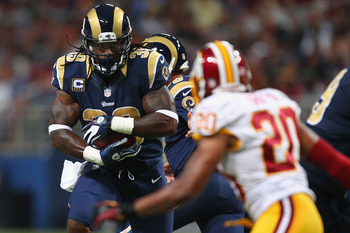 Dilip Vishwanat/Getty Images
While Steven Jackson could be suffering from a groin injury, he is not doing anything on the field to suggest he would otherwise be helping fantasy owners.
In two games this year, Jackson has only been good for 111 rushing yards with no touchdowns.
Even if he is healthy, it's recommended you sit Jackson against the Chicago Bears on the road this week. The Bears have already limited the Indianapolis Colts' Donald Brown and the Green Bay Packers' Cedric Benson to a combined 129 rushing yards on 29 carries this season.
Darren McFadden: Oakland Raiders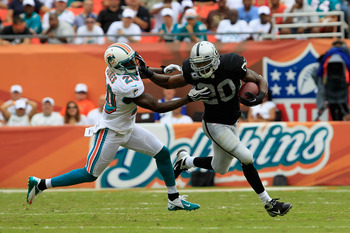 Chris Trotman/Getty Images
For a guy who was an almost unanimous first-round selection, Darren McFadden has done nothing out of the gate to live up his status.
In two games thus far, McFadden has only been good for 54 rushing yards on 26 carries. He has been a good pass-catcher, but his owners want more out of him on the ground.
With that being said, McFadden owners could be waiting a while. His Week 3 opponent, the Pittsburgh Steelers, are as good as they come against the rush. Pittsburgh has already stopped Willis McGahee and Shonn Greene for a combined 87 yards rushing yards in 2012.
Andre Johnson: Houston Texans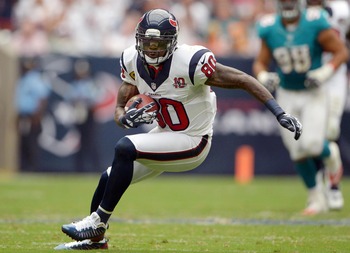 Kirby Lee-US PRESSWIRE
Coming off a poor performance on Sunday (three receptions for 21 yards), Andre Johnson will have a tough time rebounding next week when he will most likely have to go up against Champ Bailey and the Denver Broncos.
While Johnson is a still a must start, you should temper your expectations. The Texans wideout could have a tough time getting open against Bailey, as the Texans will once again rely on their run game to carry them.
Follow me on Twitter @Stacdemon
Keep Reading