The Most Groundbreaking Trades in MLB History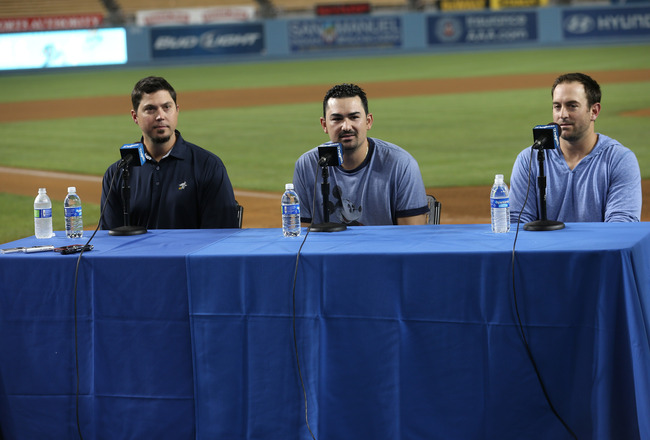 Stephen Dunn/Getty Images
Baseball is a game steeped in history, and the history of the game is littered with groundbreaking moments on the field that are as memorable as they are impactful.
The same can be said about things that happen off of the field, including trades between teams.
From those that make plenty of baseball sense to the absurd, owners and general managers have left a lengthy trail of groundbreaking moves that will forever be etched in the annals of the game.
Lets take a look at the trades that changed the way teams did business together, both for the better and the worse.
December 15, 1900: Reds and Giants Swap Hall of Famers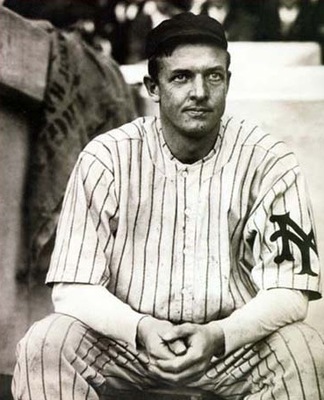 Photo courtesy of sabr.org.
The Trade
Reds Traded: RHP Christy Mathewson
Giants Traded: RHP Amos Rusie
Why It's Groundbreaking
Amos Rusie hadn't pitched in two years due to a sore arm and lasted only 22 innings with the Reds before retiring again, while Mathewson became the game's biggest star and one of the best pitchers of all-time.
But that's not why this is a groundbreaking trade.
For the first time in the modern era, the motives of the man behind the deal could be bought into question.
John T. Brush was the principal owner of the Cincinnati Reds, but he also had ownership shares of the New York Giants, and becoming the Giants' principal owner was his goal.
Brush facilitated the deal, knowing that he had a future star in Mathewson and that the right-hander was the player that Brush wanted to build a team around in New York. Two years later, Brush was the Giants' principal owner and Mathewson was the best pitcher in baseball.
Mathewson would lead the Giants to the 1905 World Series championship, throwing three complete games of shutout baseball against the Philadelphia Athletics.
January 3, 1920: George Moves into the Bronx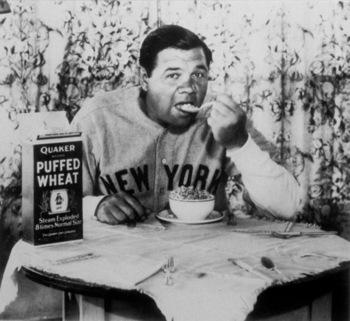 Photo courtesy of newyorker.com.
The Trade
Red Sox Traded: LHP/OF Babe Ruth
Yankees Traded: $100,000
Why It's Groundbreaking
While this might not be the type of trade you were thinking of, this certainly ranks as one of, if not the most important transaction in baseball history.
Ruth was already a star pitcher and outfielder for the Red Sox when he was acquired by the Yankees, who promptly made him a full-time outfielder to get his bat into the lineup on a daily basis.
After the Black Sox scandal in 1919, fans simply weren't interested in coming to the ballpark—that is, until George Herman "Babe" Ruth starting hitting mammoth home runs at a record pace in 1920.
Ruth's record-setting 54-homer season made the Yankees a must-see event in every city in which they played, nowhere more than at home in the Bronx, where Yankees fans made the Yankees the first team in baseball history to draw more than a million fans in a season.
Not only did Ruth's arrival in New York set the Yankees on a path to become the most successful franchise in the game's history, but his performance got the American public paying attention to the game once again, not allowing it to fall by the wayside and become largely irrelevant in American culture.
May 30, 1922: Lets Play Two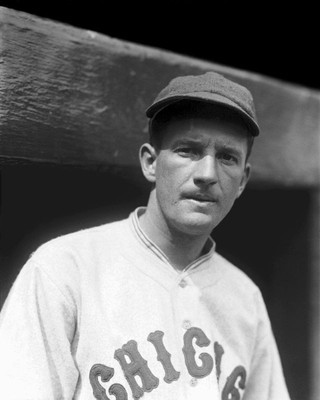 Cliff Heathcote, courtesy of theconloncollection.com.
The Trade
Cubs Traded: RF Max Flack
Cardinals Traded: OF Cliff Heathcote
Why It's Groundbreaking
In-between games of a doubleheader, Max Flack and Cliff Heathcote were told to walk to the other team's clubhouse—they had been traded for each other, marking the first time that players involved in a doubleheader had been traded for each other.
In the first game, center fielder Heathcote went 0-for-3 with a strikeout hitting seventh for the Cardinals. His luck changed with the Cubs in Game 2, going 2-for-4 while playing right field and batting fifth.
Flack started the double-dip in right field and the fifth spot in the Cubs lineup, going 0-for-4 with a RBI. The second game saw him get on base leading off for the Cardinals, going 1-for-4.
The Cubs wound up taking both games by scores of 4-1 and 3-1, respectively.
May 4, 1960: Swapping Your Skipper for Your Announcer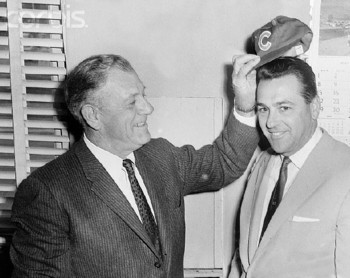 Grimm puts a Cubs' cap on Boudreau. Photo courtesy of corbisimages.com.
The Trade
Cubs Traded: Manager Charlie Grimm
WGN Traded: Announcer Lou Boudreau
Why It's Groundbreaking
After the Cubs got off to a 5-11 start in 1960, owner Phillip K. Wrigley decided that a change in management was in order. But Wrigley wasn't about to fire his manager, Charlie Grimm.
Instead, he traded Grimm to WGN, the Cubs' flagship radio station, in exchange for Cubs' announcer Lou Boudreau, who hadn't managed a major league team since 1957.
Boudreau managed the Cubs to a 54-83 record and a disappointing seventh place finish. Following the season, Wrigley traded Boudreau back to WGN for Grimm, though Grimm didn't get his job as manager back. Instead, Wrigley abolished the position and went with a "College of Coaches."
This marks the first and likely only time that we'll ever see an active manager traded for an announcer.
April 16, 1962: I'll Trade You Harry Chiti For...Harry Chiti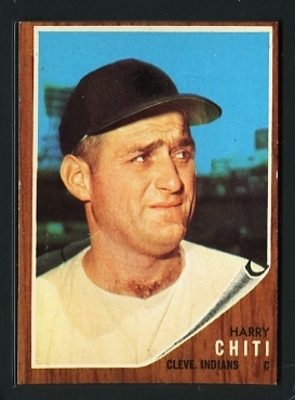 Photo courtesy of ebay.com.
The Trade
Indians Traded: C Harry Chiti
Mets Traded: Player to be Named Later (Harry Chiti)
Why It's Groundbreaking
This is a scenario that has only played itself out a handful of times in baseball, but the first such occurrence came during the Mets' inaugural season in 1962.
After playing 15 games with the Mets and hitting .195, the Indians and Mets found themselves unable to agree on which player the Indians would receive in exchange for 29-year-old catcher Harry Chiti.
Realizing that the teams were at an impasse, the Mets did what made sense: they sent Chiti to the Indians as the player-to-be-named later, making Chiti the first player in baseball history to be traded for himself.
August 3, 1960: Managers Traded for Each Other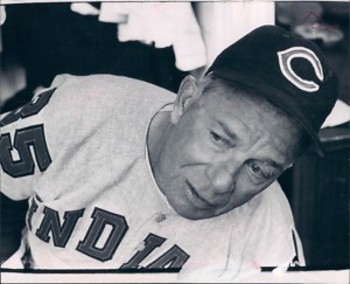 Jimmy Dykes, courtesy of ebay.com.
The Trade
Indians Traded: Manager Jimmy Dykes
Tigers Traded: Manager Joe Gordon
Why It's Groundbreaking
Both the fourth-place Indians and sixth-place Tigers were looking to shake things up in 1960, and what better way to do that than by changing managers?
In what marks the only time that managers were traded for each other, neither man was able to turn things around for their new club.
Gordon would lead the Tigers to a 26-31 record as the team remained in sixth place, while Dykes' Indians would go 26-32, not moving from the fourth place spot in the standings.
February 13, 1968 and August 2, 1968: Two-Time Swap of Players in Same Season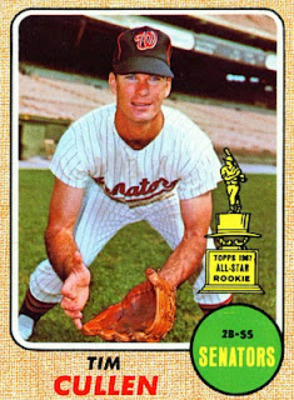 Photo courtesy of whitesoxcards.blogspot.com.
The Trades
February 13, 1968: White Sox Traded: IF Ron Hansen, RHP Dennis Higgins and LHP Steve Jones
February 13, 1968: Senators Traded: IF Tim Cullen, RHP Buster Narum and RHP Bob Priddy
August 2, 1968: White Sox Traded: IF Tim Cullen
August 2, 1968: Senators Traded: IF Ron Hansen
Why It's Groundbreaking
Only once in the history of the game have two players been traded for each other twice during the same season, and it came in 1968 in the forms of Tim Cullen and Ron Hansen.
Hansen, the 1960 AL Rookie of the Year, was ineffective in both cities he played in 1968, finishing the season with a .230 batting average, nine home runs and 32 RBI.
Cullen picked up his game once he arrived back in Washington, posting a .270 batting average for the Senators with a home run and 16 RBI over 47 games.
June 29, 1972: I'll Give You My MVP for Yours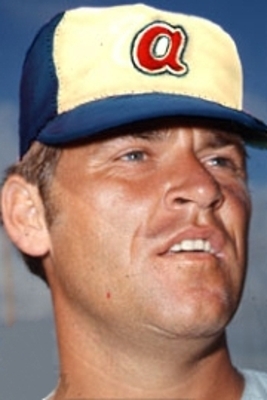 Photo courtesy of ootpdevelopments.com.
The Trade
Braves Traded: 1B Orlando Cepeda
Athletics Traded: RHP Denny McLain
Why It's Groundbreaking
This deal marks the first time in baseball history that former MVP award winners were exchanged for each other.
As a member of the Tigers, the 28-year-old McClain had won both the American League Cy Young and MVP Awards in 1968 (he would also win the AL Cy Young Award in 1969) while Cepeda, 34, had taken home NL MVP honors with the Cardinals in 1967.
Both men were past their primes when the trade was consummated, and neither made much of an impact with their new clubs.
McClain would pitch ineffectively in 15 games for the Braves in 1972 before being released and retiring from the game. Cepeda fared only slightly better, playing in only three games for the A's before signing with the Red Sox prior to the 1973 season, where he'd finish 15th in the MVP voting.
November 5, 1976: A Manager for a Player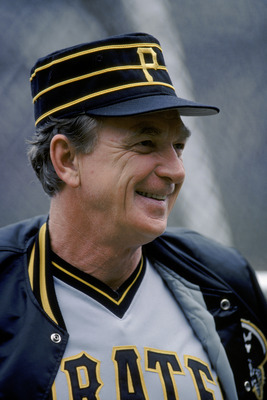 Stephen Dunn/Getty Images
The Trade
Pirates Traded: C Manny Sanguillen
A's Traded: Manager Chuck Tanner and $100,000
Why It's Groundbreaking
In dealing their long-time catcher, Sanguillen for Chuck Tanner, the Pirates became the first franchise to trade an active player for a manager.
Sanguillen would spend only the 1977 season in Oakland before being traded back to the Pirates in April of 1978, while Tanner would spend parts of nine seasons managing the Pirates, leading the team to one pennant and the World Series championship in 1979.
Ozzie Guillen's move from the White Sox to the Marlins this past winter is the latest example of such a deal.
August 25, 2012: Dodgers and Red Sox Late Season Blockbuster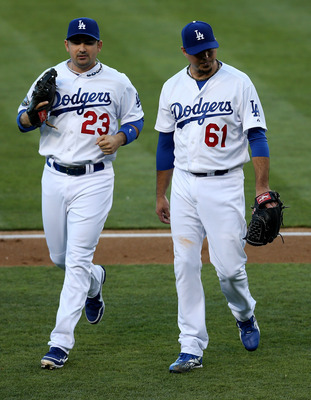 Stephen Dunn/Getty Images
The Trade
Dodgers Traded: 1B James Loney, RHP Allen Webster, RHP Rubby De La Rosa, IF Ivan De Jesus Jr. and OF Jerry Sands.
Red Sox Traded: 1B Adrian Gonzalez, IF Nick Punto, OF Carl Crawford, RHP Josh Beckett and $11 million
Why It's Groundbreaking
Never before has so much salary changed hands in one fell swoop, and for the first time ever, two players with $100 million contracts were included in the same deal.
Gonzalez is owed $127 million through 2018 while Crawford has $102.5 million coming his way between now and the end of the 2017 season.
Throw in Beckett's $31.5 million salary through 2014 and Nick Punto's $1.5 million to the mix and you wind up with the Dodgers adding more than a quarter of a billion dollars worth of salary in the deal.
Keep Reading