New York Jets vs. Pittsburgh Steelers: Live Score, Analysis for NFL Week 2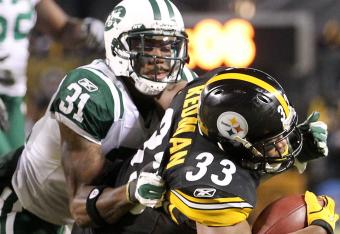 Ronald Martinez/Getty Images
Final Score: Pittsburgh Steelers 27, New York Jets 10
When the Pittsburgh Steelers (0-1) and the New York Jets (1-0) face off at Heinz Field at 4:15 p.m. ET today, both teams will be out to prove something to the rest of the NFL. This game is about as important as early season contests can get.
The Steelers will be looking to rebound from a rough loss to Peyton Manning and the Denver Broncos last Sunday night. For Pittsburgh, this is a chance to face another potential contender in the AFC and show that its defense is up to the task and its offense is building on a mostly successful first week.
For the Jets, coming off a drubbing of the Buffalo Bills, this is a chance to prove themselves as contenders against an AFC heavyweight that almost always makes the playoffs. The Jets will be looking to show off their offense once again and will hope that their defense can contain Pittsburgh.
The Steelers and Jets will each be without some key players in this game. For Pittsburgh, Troy Polamalu and James Harrison will be out of action. That's a significant blow to a defense coming off of a very poor performance and facing charges once again of being too old. The Steelers will have to hope that replacements can rise to the challenge and prove Coach Mike Tomlin's "next man up" philosophy.
The Jets will have to face a trio of star Pittsburgh receivers without cornerback Darrelle Revis. As with Pittsburgh's injuries, this is a big absence. Mike Wallace and Antonio Brown each can command two sets of eyes. Revis is one of the league's best shutdown corners. Without him, the Jets will be under tremendous pressure.
The stakes for Pittsburgh are huge. The Steelers have not started 0-2 on the season since 2002 and with both Cincinnati and Baltimore looking like contenders again this year, cannot afford to do so now. The Steelers will also be looking to get some revenge on Jets backup quarterback Tim Tebow, who beat them last year during the playoffs as a starter in Denver.
Keep checking back as we get closer to game time for injury reports, keys to the game and other analysis. Then keep this page up during the game for live analysis and thoughts.
Follow me on Twitter: @nickdewitt11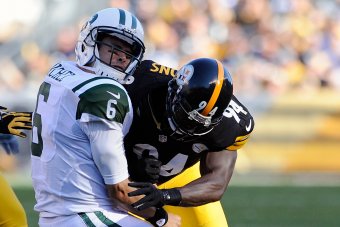 Joe Sargent/Getty Images
That was a nice play by Cameron Heyward to close down this game. The Steelers improve to 1-1 as the Jets fall to 1-1. The Steelers will play the Raiders next week and the Jets will face Miami.
Stay tuned to Bleacher Report for a postgame winners and losers look at how Pittsburgh fared in their Week 2 victory.
That's another poor call by Jerry Frump's crew. Lewis was flagged for playing defense. The regular officials would have made that a no call considering that both players were fighting for the ball.
The officials followed that up with another penalty for holding which was declined. The officials seem to be concerned with calling the tightest, longest game possible. This game should have been over about 30 minutes ago.
The Jets will take over with around a minute to go. They're playing for pride here. Mark Sanchez, who started off well, has had an awful day throwing the ball thanks to some great and exotic pressures by the Steelers defense.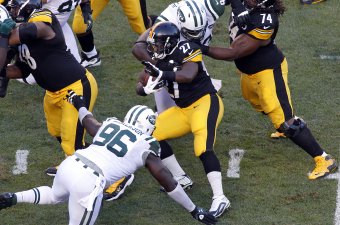 Justin K. Aller/Getty Images
Here's another question for you fans:
Does Jonathan Dwyer start for Pittsburgh next week? I think he should. What are your thoughts?
The Steelers are bringing pressure from everywhere on this stop. That's a great thing to see. The Jets have had no answer for the Steelers defense since their touchdown in the first quarter. That punt gives the Steelers the ball back with a good chance to run the clock down to all zeros.
The Steelers have their power running game going now and with Isaac Redman's touchdown have opened up a 17-point advantage on the Jets. With just over three minutes remaining, the Steelers lead 27-10 and the Jets look just about finished.
That first down will make it very hard on the Jets to come back in this game. The Steelers will have first and goal after their timeout and will be able to chew up quite a bit of the clock if not almost all of it.
That was a good and bad call by the officials. Redman was shown to be down in the backfield. The officials missed that entirely. The officials did uphold that there was no fumble, which I agree with. I didn't see any definitive evidence that the ball was coming out.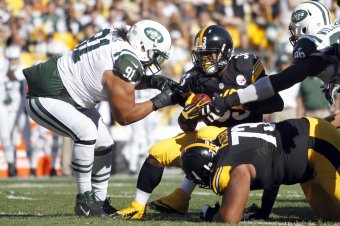 Justin K. Aller/Getty Images
Two thoughts on this challenge:
I don't think that Redman fumbled on this play. His knee looked like it was down before the ball came out. I do think Rex Ryan needs to challenge this play because he needs to find some way to get his team some momentum.
My other thought is shame on Mike Tomlin and the Steelers for not running up and running a play quickly to take the challenge out of play. Fumble or not, you don't want these shaky officials getting a chance to really impact a game. You have to be strategic.
That was a nice job by Ben Roethlisberger to throw the ball to where the penalty was occurring. That's a veteran way to draw attention to something when the officials are missing calls.
The Steelers are now trying to eat up as much time as they can with short passes and a running game that is finally starting to find some legs.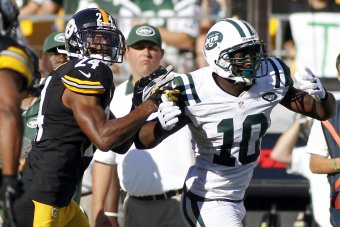 Justin K. Aller/Getty Images
The Steelers did a good job of overcoming both the officials and the Jets on that stop. A touchdown by Pittsburgh here could put this game in the books.
Once again, the Jets are jawing after every play as if they are the New York team that won the Super Bowl. Someone might want to update them on where they stand in this game and in their own city. Until further notice, they are second-class citizens with big mouths.
If you can find the interference on that play, you must be Jerry Frump. That was the most egregiously bad call of this game, which has been slowed to a crawl by some of the most ridiculously bad officiating in the NFL.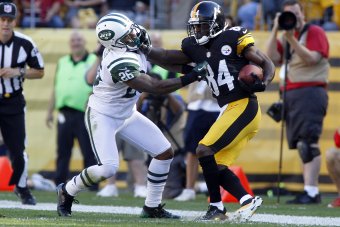 Justin K. Aller/Getty Images
That drive didn't go the way the Steelers wanted it to, but with that pass to Antonio Brown, the Steelers are in good position to pin the Jets back again and make them drive on a long field.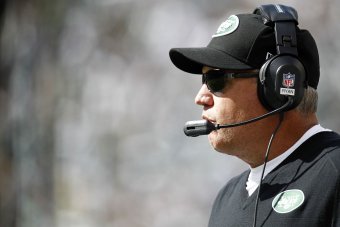 Jeff Zelevansky/Getty Images
The difference between a mature football team and an immature football team is very evident in this game. The Jets are running their mouths continually as they trail. The Steelers are going about their business and playing the game. At some point, Rex Ryan needs to corral the divas on his roster and teach them to play football first and talk trash later.
That's another big stop on defense for the Steelers. They've come out completely motivated and set up to beat the Jets. Great work by Dick LeBeau on adjusting his game plan at halftime to account for what the Jets were doing well.
That punt is the second in this quarter by Butler. Both of them were beauties. If anyone is still wondering if this kid is an upgrade at the position, I think we've had two games worth of proof.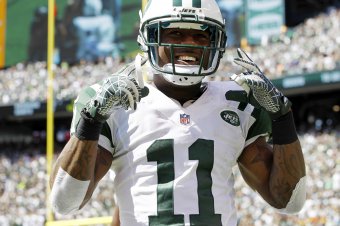 Jeff Zelevansky/Getty Images
That was a huge mistake by the Jets and a big recovery by the Steelers. Instead of getting the ball in favorable field position after winning an important challenge, Ben Roethlisberger and the Pittsburgh offense will get a new lease on life.
Rex Ryan can't be happy about that mistake by Jeremy Kerley, who took his eyes off the ball and let it hit him square in the face.
This is a good challenge by Rex Ryan. I'd expect the Steelers to punt after a review if there's a clear replay. The spot was rather generous by the officials. Sanders helmet landed shy of the marker and the ball was further back. Unless we're missing something the officials aren't (which would be shocking), that was not a first down.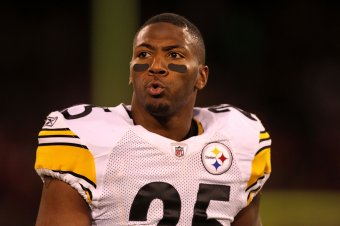 Karl Walter/Getty Images
The Steelers defense regrouped behind Ryan Clark and LaMarr Woodley to force another Jets punt. Ben Roethlisberger and the Steelers should focus on a long, clock-killing drive ending with some points here. That defense has done good work and deserves a nice rest.
That said, if Tim Tebow finds his way back onto the field, the Steelers would be wise to put in a quarterback spy package to keep him contained. I would expect him to come in and throw the ball the next time he takes a snap.
That was two poor plays by the defense. Tim Tebow is going to keep the ball in his hands when he sees an opening and the Steelers gave him a huge hole. Then, the Steelers whiffed on an easy tackle to give another huge run to the Jets.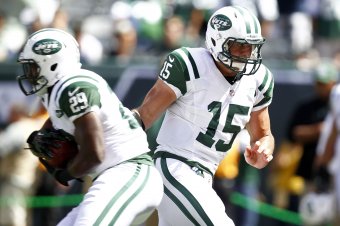 Jeff Zelevansky/Getty Images
You have to wonder if Darrelle Revis makes a difference on that touchdown. He would likely have been covering Wallace and might have been a better playmaker for the Jets there. It would have been tough to make any play on that pass, however.
Tim Tebow is now out for his first offensive play after an injury timeout. The Steelers will have to be extra-cautious. I would expect some kind of trickery here by the Jets.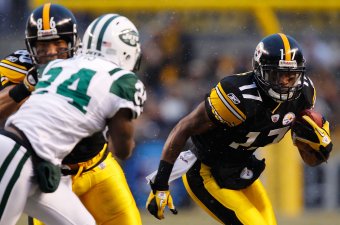 Jared Wickerham/Getty Images
While I could say something again about the lack of an effective running game here, I want to pause to recognize the unbelievable play by Mike Wallace to bring in a Ben Roethlisberger pass to extend the Steelers lead to 20-10 mid-way through the third quarter.
Wallace is a big part of this offense and Pittsburgh has been turning to him regularly in the first two games. He's shown an improved knack on shorter passes, particularly quick slants that allow him to catch the pass in stride.
That touchdown is huge. Now the defense will need to step up again and keep the momentum on the side of the Steelers.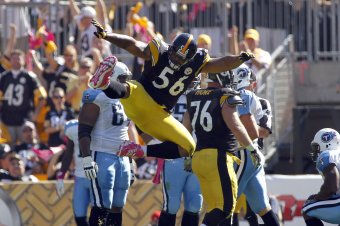 Justin K. Aller/Getty Images
That drive shows exactly what you want to see out of a Pittsburgh defense. They shut down the running game for most of the possession, kept up a good pass rush and covered receivers well. Now the Steelers offense needs to extend the lead and start forcing the Jets to play catch-up.
That sack by LaMarr Woodley was a wonderful sight. We'll see if it rattled Sanchez at all.
I've never understood running it up the middle on a really long down and distance. It's so common that defenses prepare for it. Wouldn't it be better to throw it long and try to make up some of that distance immediately?
Instead, it's usually a one or two-yard gain. That does nothing for a drive that's already backed up.
This article is
What is the duplicate article?
Why is this article offensive?
Where is this article plagiarized from?
Why is this article poorly edited?