Steelers Broncos Reaction: 6 Reasons Why Steelers Fans Need Not Panic over Loss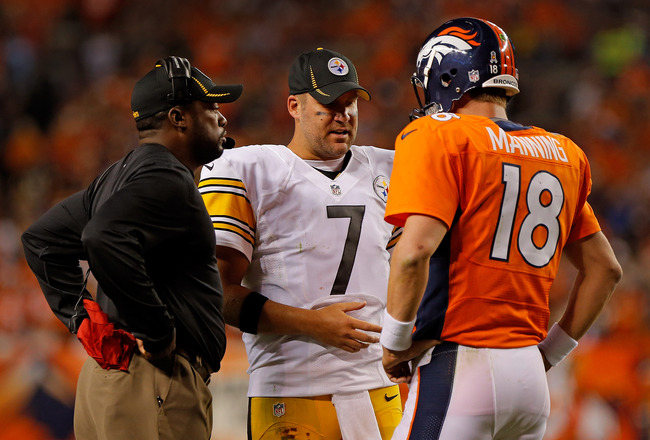 Doug Pensinger/Getty Images
The Steelers' Week 1 performance in Denver was extremely disappointing for a
variety of reasons.
Steelers fans have been particularly vocal in their criticism of the offensive line and
defense.
What they need to remember is that it was only the first game of the season, and
that there are several understandable reasons for why things went wrong in
Denver.
While calling the game an anomaly might be a little strong, it was not as concerning
as some are making it out to be.
Troy Polamalu Is Never the Same Without Ryan Clark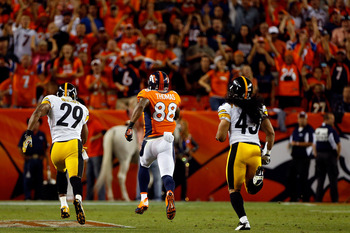 Doug Pensinger/Getty Images
Together, Ryan Clark and Troy Polamalu form what is arguably the very best safety tandem in the NFL.
The safety tandem of Polamalu and Ryan Mundy, on the other hand, leaves a lot to be desired.
Unfortunately for Steelers fans, Mundy, and not Clark, has been the starter for the last two Steelers games. Clark never plays in the mile-high altitude due to his sickle cell trait.
If the last two Steelers losses in Denver have proved anything, it's that Troy Polamalu is a far better player when he plays alongside Ryan Clark.
Clark is the player that allows Polamalu to guess, to take chances and to cover a lot more ground than most strong safeties. Basically everything that makes Polamalu great as a player is made possible because he can rely on Clark being in the right place at the right time behind him. The chemistry between the two players is uncanny.
Polamalu is, without a doubt, the best player on the Steelers defense, but he's just not himself without Clark. So it really shouldn't come as any surprise that the Steelers defense always suffers as a whole in Denver when Clark is out of the lineup.
Injuries to Marcus Gilbert and Ramon Foster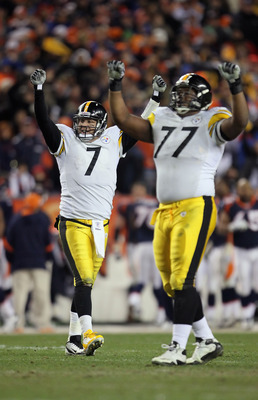 Jeff Gross/Getty Images
As if losing David DeCastro for the season in the preseason wasn't already bad enough, the last thing the Steelers offensive line needed to start the season was a handful of injuries in the first game.
Both right tackle Marcus Gilbert and right guard Ramon Foster left Sunday night's game with injuries.
While I'm as aware as anyone of the Steelers' offensive line troubles in the past, it's important to remember that just about any offensive line would struggle if they lost an entire side of it in the middle of the game.
In relief for Gilbert, Mike Adams wasn't awful. Following his extremely inconsistent preseason he was about as effective as anyone could reasonably expect him to be. He's not ready to start in this league, and that's why he won't unless injuries force that role upon him.
Yes, the fact that the offensive line gave up five sacks in the game is worrisome, but three of those sacks came on the last three plays of the game.
The good news is that the injuries to both Gilbert and Foster were minor and they should both be back for the Jets game. Mike Tomlin has been quoted as saying that he expects both Gilbert and Foster to be able to play this week, and both players practiced fully on Wednesday.
The Steelers offensive line will always be a concern as long as Ben Roethlisberger continues to play the way Ben Roethlisberger plays, but there's no reason to be particularly alarmed about the way they played in Denver.
Without Harrison, Steelers Pass Rush Is Not the Same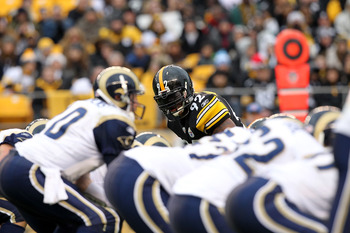 Karl Walter/Getty Images
The Steelers pass rush didn't look terrible against the Broncos, but it certainly wasn't up to par either. Although the Steelers generated two sacks early, they weren't able to put enough consistent pressure on Peyton Manning to keep him from getting comfortable in the pocket.
The lack of success shouldn't shock anyone though. The Steelers pass rush really is a different animal when both LaMarr Woodley and James Harrison are on the field together.
Unfortunately, Harrison was unable to practice Wednesday. While this is most likely a sign that Harrison's knee will not be healthy enough to play Sunday, Harrison is not the type of player to count out.
As long as he is out, however, defenses can key their pass protection in on Woodley. If they can both stay healthy for the majority of the year, which they weren't able to do last season, then the Steelers defense should return to near the top of the league in sacks.
Chemistry Between Roethlisberger and Haley Will Improve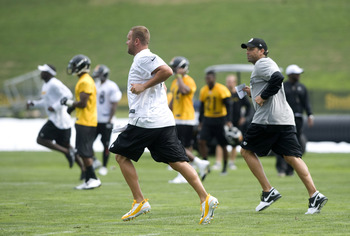 Vincent Pugliese-US PRESSWIRE
Ben Roethlisberger didn't play anywhere close to what he's capable of against the Broncos, and I'm not sure it was a coincidence.
After all, Sunday night was Roethlisberger's first ever regular season game in Todd Haley's offense.
Roethlisberger made some uncharacteristically bad decisions in the Broncos game. The worst of which came in the fourth quarter when Roethlisberger forced the ball into tight coverage and Tracy Porter, who had already terrorized the Steelers all night, intercepted the pass and returned it for a pick six.
Roethlisberger's accuracy was a little inconsistent as well. He missed Mike Wallace running free deep down the middle on one occasion, a mistake you'll rarely see from him.
The fact that Roethlisberger made some mistakes isn't really the point though. What was most notable about Roethlisberger's performance was that it appears he will not change up his playing style too much despite Haley's best efforts to keep him in the pocket and minimize hits.
Roethlisberger didn't have his best game in Denver, but he's bound to play better and better as the season goes on and he grows more accustomed to Todd Haley's system. It would have been foolish to have expected that a relationship between two alpha males like Roethlisberger and Haley would just develop overnight.
Mendenhall Could Return as Early as This Week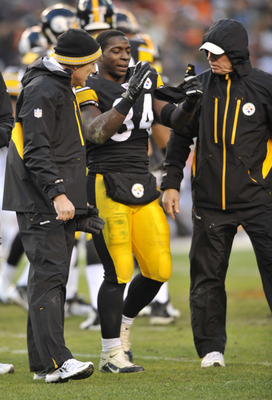 David Richard-US PRESSWIRE
Many Steelers fans have speculated that one of the biggest reasons Todd Haley was brought in was to improve the running game, which had for years been a relative weak spot under Bruce Arians.
The running game simply wasn't up to snuff against the Broncos.
The Steelers were held to 79 yards on the ground on just 2.9 yards per carry. To his credit, backup running back Jonathan Dwyer did play pretty well, rushing for 43 yards on nine carries.
Starter Isaac Redman, on the other hand, did not get the job done. Redman rushed for 20 yards on 11 carries and looked indecisive in the hole.
What made Redman appealing last season was that, as opposed to Mendenhall, he was a north and south runner who didn't dance too much. Redman just didn't look like the same player against the Broncos. It should be noted that he did miss a significant part of the preseason with hip and ankle injuries, which could partially explain his ineffectiveness.
For all the criticism Rashard Mendenhall has received over the years over his running style, there's no doubt that he's better than what the Steelers have right now. He's still one of the most talented running backs in the league.
Luckily for the Steelers, Mendenhall's recovering from his torn ACL much faster than expected and could be back for the Jets game. He has looked good in practice and was a full participant in Wednesday's practice.
While I wouldn't bank on Mendenhall playing Sunday, he should be back sooner rather than later.
The Broncos Are for Real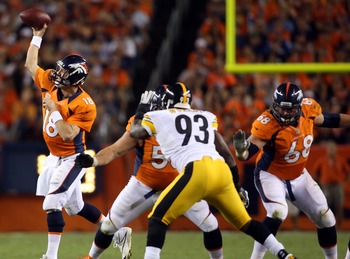 Chris Humphreys-US PRESSWIRE
This seems to be the factor that Steelers fans are downplaying the most. No matter what the final score was, the Steelers lost a very close and evenly played game to what now looks like one of the best teams in the league.
And it's not the first time Peyton Manning has made a defense look helpless on the field.
If the Broncos were good enough to beat the Steelers in the playoffs last season with Tim Tebow, then there's no reason to be shocked that the Broncos were good enough to beat the Steelers with Peyton Manning playing well.
Of course one could argue Ben Roethlisberger's injury was the real reason they lost last year, but regardless, these are now two fairly evenly matched teams as long as Manning can stay healthy.
If the Broncos were good enough to make it to the playoffs without Peyton Manning, then they should absolutely be considered towards the top of the list of Super Bowl contenders with him.
Due to the five previous reasons on this list, I would expect the Steelers to beat the Broncos if the two teams were to meet again in the playoffs, injuries aside.
Instead of panicking, Steelers fans just need to accept that there's really no shame in their banged up squad losing a tight one in Denver to the Manning-led Broncos.
Keep Reading

Pittsburgh Steelers: Like this team?