2013 MLB Schedule: 5 Interleague Series That Will Determine Playoff Races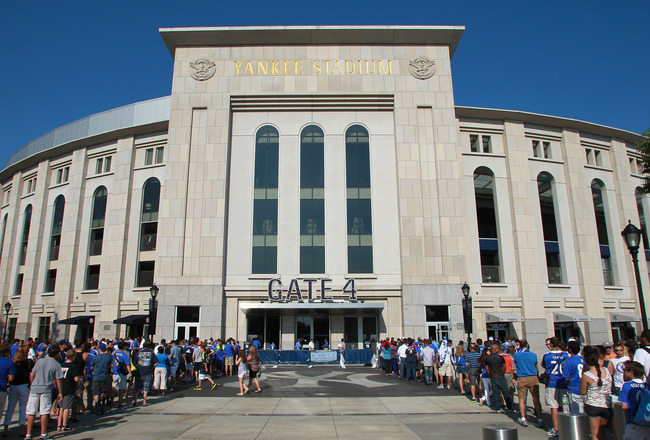 Yankee Stadium will host an epic showdown between the Giants and Yankees next September.
Andy Marlin/Getty Images
The 2012 Major League Baseball season is winding down to its bitter end, but it's never too early to look ahead to next season.
And today, we have actual games to look forward to. Huzzah!
MLB released its tentative schedule for the 2013 season on Wednesday. For the most part, it's the same old stuff: mostly three-game series with a couple two-gamers and four-gamers mixed in. You know how it works.
There are, however, a few major differences to discuss. With the Houston Astros moving over to the American League to create two 15-team leagues, there is going to be interleague play virtually every day next season. For the first time ever, AL and NL teams will throw down in April, May, June, July, August and September.
The fact that there will be interleague play in September is significant, as it will force teams to mix and match based on whether they're in an AL or an NL ballpark while simultaneously trying to maintain a good standing in the postseason picture. As if it wasn't wild enough already, September baseball is going to be even crazier in 2013.
Of the handful of interleague series MLB has arranged for next September, here are five that will loom large in the postseason pictures for both leagues.
Boston Red Sox at Colorado Rockies, Sept. 24-25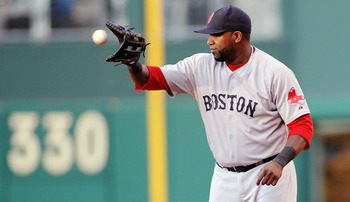 David Ortiz
Len Redkoles/Getty Images
I don't have a crystal ball, but I think I'm safe in assuming that the Red Sox aren't going to be as brutally awful at this time next year. They have a lot of holes to fill this offseason, but they have a lot of money to help them fill those holes. To boot, they have a strong minor league system to work with.
I have less faith in the idea of the Rockies being a contending team by next September, though a turnaround could be in the cards if Troy Tulowitzki stays healthy and their pitching staff establishes some consistency (i.e. more consistency than none).
Regardless, the elephant in the room is whether or not David Ortiz will still be wearing a Boston uniform. He's a free agent at the end of this season, and he may choose to take his talents elsewhere.
However, Big Papi recently told Rob Bradford of WEEI.com that he wants to stick around in Boston, and the Red Sox have the money to keep him after their recent mega-trade with the Los Angeles Dodgers.
If the Red Sox do retain Ortiz, they'll have to stash him at first base when this series comes around. This would be more of a problem if Adrian Gonzalez was still around, but it's still not going to be ideal regardless of who is manning first base for the Red Sox in 2013. Ortiz can hold his own at first, but he's no Gold Glover and his bat tends to be more productive when he's used as a DH (see Baseball-Reference.com).
Having to play Big Papi at first base isn't the only challenge the Red Sox would face in this series. Their pitchers would have to face the challenge of pitching at Coors Field, which has never been and never will be easy.
If the Red Sox are in a tight race next September, this series with the Rockies could be the death of them.
Toronto Blue Jays vs. Arizona Diamondbacks, Sept. 2-4
Edwin Encarnacion
Tom Szczerbowski/Getty Images
Here's a spoiler for you on this fine Wednesday: The Blue Jays are going to be a scary team in 2013.
Of course, they were a scary team this season before the injury bug devoured half their roster. In 2013, they'll have their powerful lineup intact once again, and their pitching staff should be more than good enough if they can avoid anymore catastrophic injuries.
The Diamondbacks will also be good in 2013. Even if they trade Justin Upton, they'll still have a solid offensive attack based around Jason Kubel and Paul Goldschmidt, and by September, their starting pitching staff should feature an excellent rotation of Ian Kennedy, Daniel Hudson, Wade Miley, Trevor Cahill and either Tyler Skaggs or Trevor Bauer.
By the time the Blue Jays and Diamondbacks meet up in early September, I wouldn't be at all surprised if both teams are trying to win their respective divisions. This will be a big "show-me" series for each ballclub.
Since it will be played in Arizona, the Blue Jays will have to tough it out without a DH. That likely means they'll have to play Edwin Encarnacion at first base, with Adam Lind and/or David Cooper taking up a residence on the bench.
The Blue Jays thus would be left with a little less offensive firepower, giving the Diamondbacks a slight edge.
Detroit Tigers vs. Miami Marlins, Sept. 27-29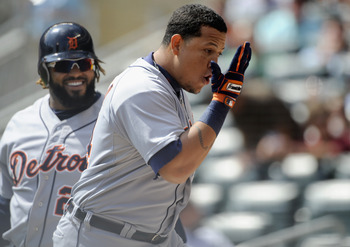 Hannah Foslien/Getty Images
After all that's transpired this season, my best guess is that the Marlins won't be able to seriously contend again until 2014. They have some talented individual pieces, but they also have holes to fill, and there's no guarantee that they'll use the money they saved by jettisoning Hanley Ramirez to build their payroll.
The Tigers, on the other hand, should be in the thick of the postseason race by the time September rolls around next season. None of their big weapons are going anywhere this offseason.
Victor Martinez should be back as the Tigers' everyday DH next season, but it wouldn't surprise me if Detroit chooses to use their DH spot much like the Yankees are this season. They could give Miguel Cabrera and Prince Fielder an easier day at the ballpark every now and then, which should keep them fresh for the long haul.
If that's the direction they choose to go, they won't be able to DH Cabrera or Fielder by the time their series with the Marlins rolls around in late September. They'll have to make do with them on the field, and they'll also have to play Martinez if they want his bat in the lineup.
That may not seem like such a huge concern, but you have to consider the possibility of Cabrera and/or Fielder needing the DH spot to rest tired legs or aching bones in the final days of the regular season. Putting Martinez in the field will compromise Detroit's defense, not to mention put his health at risk.
Beyond this concern lies the fact that Marlins Park isn't exactly a haven for home run hitters. Per ESPN.com, the Marlins' home park is one of the worst home run launching pads in all of baseball.
Cabrera and Fielder thus could have their power neutralized, which could lead to a couple shocking losses.
Pittsburgh Pirates vs. Texas Rangers, Sept. 9-11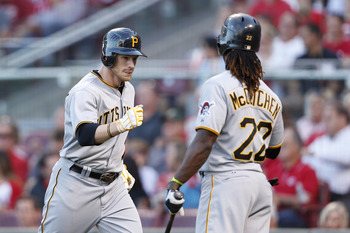 Joe Robbins/Getty Images
For the second straight year, August and September are killing the Pirates. They went 18-38 in the last two months of the season in 2011, and they're 13-25 since the first of August this season.
I'm going to go ahead and assume that whatever plagues the Pirates (see: Hurdle, Clint) will be gone next year, and the Pirates will be headed in the right direction for a change. They'll certainly have the talent to get where they want to be, anyway, especially if Gerrit Cole and Jameson Taillon join the party.
As for the Rangers, well, we know that they're going to be in the thick of the postseason race next year. Even if they lose Josh Hamilton to free agency this winter, the Rangers still will have an absurd amount of depth with which to play.
The Pirates will have quite the test on their hands when they roll into Arlington to play the Rangers next September. The trouble for them will be that the Rangers offense will be at full strength, as they'll be at home and able to use their regular DH. No matter who the Pirates choose to be their DH, they won't be able to go toe-to-toe with the Rangers from an offensive standpoint.
The pressure will be on Pittsburgh's pitching staff to silence Texas' bats, and that's not an easy thing to do in Arlington.The Rangers finished first in baseball in runs scored at home in 2011, and they're third in baseball in runs scored at home this season. I'm going to take a wild guess and assume that the status quo will hold in 2013.
The edge in this series will go to the Rangers. If the Pirates manage to get the better of them, we'll know that they're for real.
San Francisco Giants vs. New York Yankees, Sept. 20-22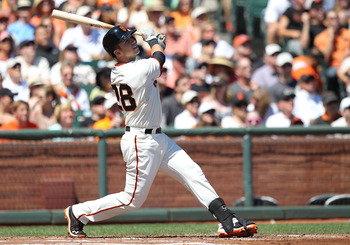 Buster Posey
Tony Medina/Getty Images
Now this should be an excellent series.
The Giants will return their excellent pitching staff in 2013, and they'll still have the likes of Buster Posey, Pablo Sandoval, Hunter Pence and Brandon Belt making up the core of their offense. They should contend for the NL West title once again next season.
The Yankees, meanwhile, will be the Yankees. They're getting older and older every year, but they always find a way to keep winning games. Having Michael Pineda and Brett Gardner back healthy in 2013 definitely will help.
When the Giants and Yankees meet up in late September next year, both of them could be leading their respective divisions. As such, the storyline as it pertains to this series has less to do with the differences between the AL and the NL and much more to do with the fact that we're going to witness two very good teams going up against one another.
Circle this one on your calendar, folks. Regardless of who the Giants use as their DH and how many healthy legs Alex Rodriguez will be standing on, it's going to be a dandy.
If you want to talk baseball, hit me up on Twitter.
Keep Reading