AL Rookie of the Year Rankings: A's Hurler Jarrod Parker Reenters Top 5
Kyle Terada-US PRESSWIRE
How have the Oakland A's done it this season, you ask?
Well, great pitching tends to lead to a lot of wins, and the A's definitely have great pitching. The A's rank third in baseball with a team ERA of 3.41, and that's partially thanks to the fact that A's starters have a 3.70 ERA on the season.
The A's have also gotten great production out of their young players, and they have more of those than most other teams.
As such, rookie starting pitcher Jarrod Parker is as good a symbol of Oakland's success this season as any. He's young, he's talented, and he's certainly done his part to contribute to the success of Oakland's pitching in 2012.
Parker is pitching as well now as he has all season, as he's given up only three earned runs over his last 14 innings pitched. The A's have won four of his last five starts.
It's been a while since Parker loomed large in my rankings for the American League Rookie of the Year award, but he finds himself back in the top five this week. Scroll ahead to see where he and the other top candidates stand in this week's rankings.
Note: All stats come from Baseball-Reference.com unless otherwise noted.
Honorable Mentions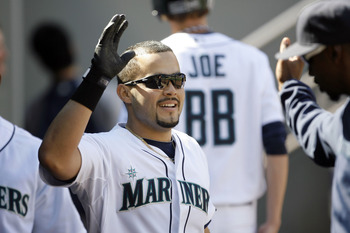 Jesus Montero
Joe Nicholson-US PRESSWIRE
Sean Doolittle, RP, Oakland A's
Doolittle leads all AL rookie relievers with a K/9 of 12.50, and his 0.99 FIP (via FanGraphs) would rank second in the majors among relievers behind Craig Kimbrel if he had enough innings to qualify.
So, technically, Doolittle has been a more effective pitcher than Aroldis Chapman. Just pointing that out. *Ducks to avoid thrown tomatoes.*
Kelvin Herrera, RP, Kansas City Royals
Herrera has appeared in more games (66) than any other AL rookie pitcher this season, and he boasts a solid 8.28 K/9 and a 2.40 ERA.
By the way, if you haven't seen the Royals' bullpen in action, you need to get on it. It's a sight to see.
Will Middlebrooks, 3B, Boston Red Sox
It's been a month since Middlebrooks broke his right wrist in Cleveland. In just 75 games, he hit .288/.325/.509 with 15 home runs and 54 RBI. In a 162-game season, that equates to a 32-homer, 117-RBI year.
If the Red Sox still had him, they'd be a slightly less depressing spectacle.
Jesus Montero, C/DH, Seattle Mariners
Montero has been up and down all season, but the Mariners have to like what they're seeing right now. Montero is hitting .423/.444/.538 in September, and he's currently riding a nine-game hitting streak.
Michael Pineda, meanwhile, is out there somewhere, doing something other than pitching.
Jose Quintana, SP, Chicago White Sox
Quintana hit a rough patch for a while there, but his last start against the Detroit Tigers saw him give up one earned run over 7.2 innings of work. He now has a solid 3.71 ERA in 19 starts.
Robbie Ross, RP, Texas Rangers
Ross is on the disabled list with a bad forearm, but his 1.78 ERA still leads all AL rookie pitchers. He also has a perfect 6-0 record pitching out of the Rangers' pen.
On the Cusp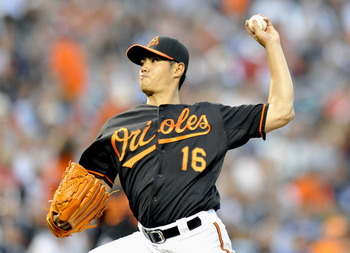 Wei-Yin Chen
Joy R. Absalon-US PRESSWIRE
Wei-Yin Chen, SP, Baltimore Orioles
Chen has been in and out of my top five more than any other rookie this season. He's out this week as punishment for his last outing against the New York Yankees, in which he gave up seven earned runs over 4.2 innings. All told, he has a 6.55 ERA over his last six starts.
Ryan Cook, RP, Oakland A's
Cook has been scored upon in just one of his last 12 outings. He sports a 2.49 ERA and a 1.03 WHIP, and he has six wins, 15 holds and seven saves. The only blemish on his resume is his seven blown saves, which tie him for the second-most in baseball with Heath Bell and Francisco Rodriguez.
Hey, at least he's in the same company as two "proven closers" in that category.
Scott Diamond, SP, Minnesota Twins
Diamond is having a solid season, with 11 wins and a 3.46 ERA to his name. He hasn't been very sharp lately, though, as he's compiled a 6.50 ERA and a .312 opponents' batting average over his last three starts.
Addison Reed, RP, Chicago White Sox
The White Sox never really know what they're going to get from Reed when he takes the mound, but he deserves props for leading all AL rookies with 26 saves.
5. Matt Moore, SP, Tampa Bay Rays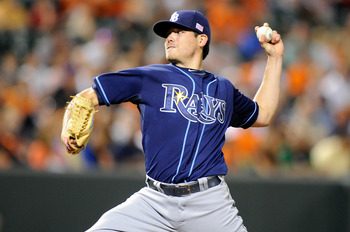 Greg Fiume/Getty Images
Last Week: No. 3
Matt Moore was as hot as any pitcher in baseball through his first nine starts after the All-Star break. In those, he racked up five wins and compiled a 2.08 ERA and a .213 opponents' batting average.
Moore has come back to earth in his last two starts. He's lost both of them, yielding a total of nine runs (six earned) over 10.1 innings pitched. That's good for a 5.23 ERA.
A higher BABIP hasn't helped. Moore posted a BABIP of .280 in his first nine starts after the break. In his last two starts, his BABIP has jumped all the way up to .385.
It could be that Moore is starting to get tired, and his velocity readings certainly suggest this may be the case. Per FanGraphs, Moore's average fastball velocity is on a downward trend. Seeing as how he's up to a career-high (minors or majors) 166.1 innings on the season, this would make sense.
Still, Moore's 2012 season is pretty impressive when taken as a whole. He has a solid 3.68 ERA, and the only AL rookie starters who have higher K/9s than Moore are Yu Darvish and Felix Doubront.
According to FanGraphs, Moore is also third among AL rookie starters in WAR at 2.4. He ranks just ahead of Tommy Milone and Scott Diamond, and just behind the next guy on this list.
So, moving on...
4. Jarrod Parker, SP, Oakland A's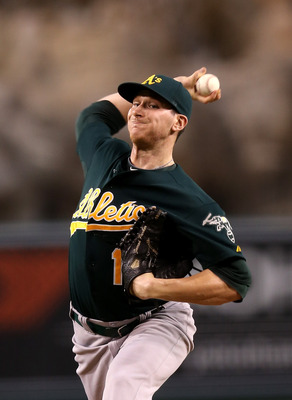 Stephen Dunn/Getty Images
Last Week: Unranked (on the cusp)
Jarrod Parker was heading in the exact opposite direction of Matt Moore in his first few starts immediately following the All-Star break. He opened the second half by posting a 5.45 ERA and a .308 opponents' batting average in his first six starts.
Over his last five starts, however, Parker has settled down. Over 33 innings of work, he's compiled a 3.00 ERA and a much more reasonable .252 opponents' batting average.
He's been particularly good over his last two starts, both of which have come against the Los Angeles Angels. Parker pitched seven innings in each start, allowing a total of 11 hits and three earned runs. He was a tough-luck loser in Oakland on September 4, but he managed to pick up his 10th win on Monday in Anaheim.
Parker now has a 3.56 ERA on the season. Among AL rookie hurlers with at least 25 starts under his belt, his ERA is the lowest of the bunch.
According to FanGraphs, Parker ranks second behind Yu Darvish among AL rookie hurlers with a WAR of 3.1. That may come as a bit of a surprise seeing as how Darvish has pitched more innings and racked up considerably more strikeouts than Parker, but it's worth noting that the two of them have the exact same FIP at 3.46.
Trevor Cahill, meanwhile, has a 3.98 ERA and a 4.03 FIP. Methinks trading him for Parker and Ryan Cook was a good idea.
3. Yoenis Cespedes, OF, Oakland A's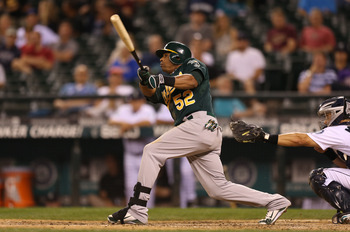 Otto Greule Jr/Getty Images
Last Week: No. 4
Yoenis Cespedes finally got off the schnide on Tuesday night, blasting his first home run since August 18 against Cleveland.
He also collected multiple hits for just the second time in September, which goes to show how cold he's been this month. He entered Tuesday night's game hitting .132 with a single extra-base hit in nine September games.
All told, Cespedes hasn't been much of a difference-maker in general ever since his torrid showing in the month of July, when he hit .344/.388/.573 with five homers and 19 RBI. Since the first of August, he's hitting just .255/.307/.376 with three homers and 13 RBI in 37 games.
Cespedes features prominently in these rankings anyway because he's been the second-best rookie position player in the American League behind Mike Trout. His 17 homers and 67 RBI both rank second among AL rookies behind Trout, as does his .356 weighted on-base average (via FanGraphs).
For that matter, Cespedes' .356 wOBA ranks him ahead of AL standouts like Derek Jeter, Dustin Pedroia and Mark Trumbo.
He's gone cold recently, but by and large, Cespedes has still been one of the AL's top offensive players in 2012. It's scary to think how good he could be after his rookie season is in the books.
2. Yu Darvish, SP, Texas Rangers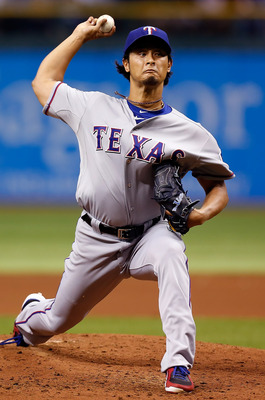 J. Meric/Getty Images
Last Week: No. 2
Yu Darvish is on a roll, my friends.
In his last five starts, Darvish has compiled a 2.52 ERA while holding hitters to a .161 batting average and striking out 42 over 35.2 innings of work.
Just as important, Darvish has walked a grand total of six over his last 29 innings, good for a BB/9 of 1.86.
This is the last thing American League hitters want to see. Darvish was hard enough to hit when his control was all over the place. Now that he actually knows where the ball is going when it leaves his hand, the sky's the limit.
Even despite his longstanding control problems, Darvish has been the AL's best rookie pitcher this year. His 4.14 ERA is just OK, but he ranks third in all of baseball behind Max Scherzer and Stephen Strasburg with a K/9 of 10.40 and he has a 3.46 FIP (via FanGraphs).
To put that in perspective, there are only five pitchers in the American League who have FIPs lower than 3.46. Darvish (and Jarrod Parker) are in elite company.
All told, Darvish has a WAR of 4.0. That ties him for fifth in the American League with Scherzer and Jake Peavy.
It's been a roller coaster season for Darvish, but I can tell you this much: Nobody is looking forward to facing him in October.
1. Mike Trout, OF, Los Angeles Angels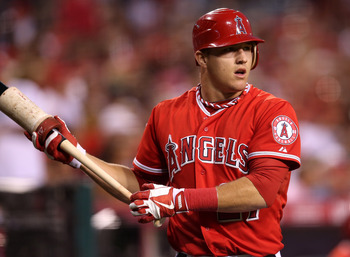 Stephen Dunn/Getty Images
Last Week and Every Week: No. 1
Last week, we talked about how Mike Trout was starting to slump a little bit.
You know, relative to his usual numbers, anyway. After hitting close to .400 with a 1.259 OPS in July, a .284 average and an .866 OPS in August came off as being pretty pedestrian.
Trout seems to have gotten the memo. After his three-hit night against the A's on Tuesday, Trout is now hitting an even .300 in September with an .853 OPS. Presently, he still leads the league in batting average at .332, and he also still leads in runs scored and stolen bases. He ranks third in OBP, third in slugging and second in OPS.
Per FanGraphs, Trout is still the major league leader in wOBA at .425 and WAR at 8.7.
He's going to win the AL Rookie of the Year award. I also have him down for a Gold Glove and the AL MVP award.
Full disclosure, I'm also writing a screenplay about Trout's rookie season. The working title is "Killer Trout from Outer Space: 3D."
It will make sense when you see it on the silver screen.
Last Week's Rankings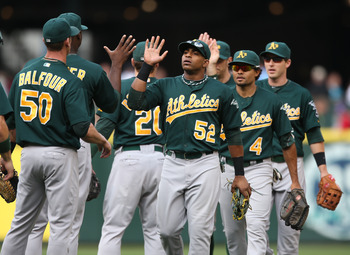 Yoenis Cespedes, front and center.
Otto Greule Jr/Getty Images
5. Wei-Yin Chen, SP, Baltimore Orioles
Down and out this week. If he sticks to his usual pattern, he'll put together a couple solid starts and be back in the top five in no time.
4. Yoenis Cespedes, OF, Oakland A's
3. Matt Moore, SP, Tampa Bay Rays
Down a couple spots this week, and he may not be done moving in the wrong direction.
2. Yu Darvish, SP, Texas Rangers
Steady as she goes.
1. Mike Trout, OF, Los Angeles Angels
The sequel will be called, "Trout 3DD."
Feel free to check out last week's rankings.
If you want to talk baseball, hit me up on Twitter.
Keep Reading