AL Rookie of the Year Rankings: Yoenis Cespedes Tumbles, Yu Darvish Rises Again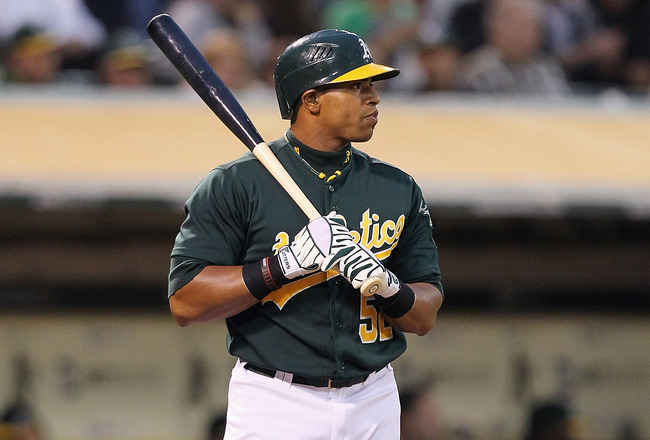 Tony Medina/Getty Images
When the Oakland A's went 19-5 in the month of July, they couldn't have done it without Cuban sensation Yoenis Cespedes. He hit .344 for the month with five home runs and 19 RBI.
It was obvious then that Cespedes was one of the American League's top rookies. In fact, he had the inside track to finishing as the runner-up to Mike Trout in the Rookie of the Year voting, a high honor this season.
Today, Cespedes still is one of the Junior Circuit's top rookies. Just not so much as before.
There's a lot more space between Cespedes and Trout these days than there was before. The A's have kept right on winning in the last few weeks, but they've done so without much help from Cespedes. Quietly, he's slipped into a bit of a funk.
Meanwhile, fellow high-priced offseason import Yu Darvish is doing just dandy these days. His last few starts have been gems, and for the first time all season, it looks like Darvish has established some consistency with his command.
And that, my friends, is the last thing American League hitters want to hear.
Cespedes' slump and Darvish's hot streak have shaken up the AL Rookie of the Year race. Scroll ahead to check out this week's rankings.
Note: All stats are current as of the start of play on Wednesday, September 5, and they come from Baseball-Reference.com unless otherwise noted.
Honorable Mentions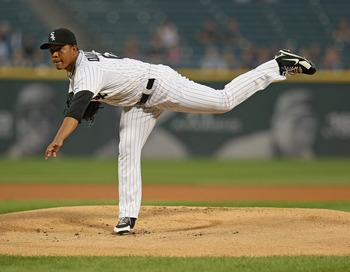 Jose Quintana
Jonathan Daniel/Getty Images
Sean Doolittle, RP, Oakland A's
For the first time in over a month, Doolittle was scored upon on Tuesday against the Los Angeles Angels. What a tragedy.
...But he still leads all AL rookie relievers with a K/9 of 13.08 and a FIP of 0.94, according to FanGraphs. His 3.62 ERA is also pretty shiny.
Kelvin Herrera, RP, Kansas City Royals
Herrera hasn't been so sharp recently, surrendering three earned runs in his last 7.2 innings of work. Nonetheless, he's still got a nifty 2.51 ERA and a 4.47 strikeout-to-walk ratio in 63 appearances this season.
Will Middlebrooks, 3B, Boston Red Sox
Middlebrooks last suited up nearly a month ago on August 10, and it's doubtful that he'll suit up again before the season is over due to his broken wrist. In 75 games, he hit .288 and clubbed 15 homers while racking up 54 RBI. It's been a brutal season for the Red Sox, but they must like what they have at third base moving forward.
Jesus Montero, C/DH, Seattle Mariners
Montero didn't carry his hot July bat into the month of August, hitting just .233 with a .625 OPS for the month. He still deserves a mention here because he's played in more games than any other rookie in the AL and because a .708 OPS really isn't that bad for a rookie hitter playing half his games at Safeco Field.
Jose Quintana, SP, Chicago White Sox
This may be the last time Quintana's name gets dropped in these rankings. His 3.89 ERA as a starter is decent, but he's walked 13 hitters and allowed 19 earned runs with a .337 opponents' batting average over his last five starts.
Robbie Ross, RP, Texas Rangers
Ross is 6-0 pitching out of Texas' bullpen, and his 1.78 ERA is tops among all AL rookie pitchers. He's easily the most underrated pitcher in what is a loaded bullpen.
On the Cusp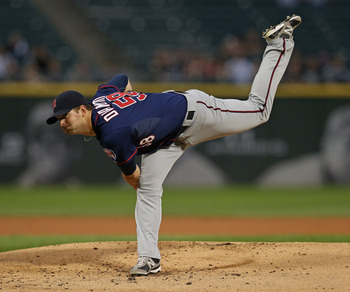 Scott Diamond
Jonathan Daniel/Getty Images
Ryan Cook, RP, Oakland A's
Cook is back. He hasn't allowed a run in any of his last eight appearances, lowering his ERA from 2.79 to 2.35 in the process. He's got 13 saves, 13 holds and six wins on the season, which goes to show how versatile he's been for Bob Melvin this season.
Scott Diamond, SP, Minnesota Twins
Diamond was in the top five last week and the last few weeks before that, but he's hit a rough patch. He has an ERA of 4.46 and an opponents' batting average of .297 over his last seven starts. Hitters have been hitting him hard too, as Diamond bears a .479 opponents' slugging percentage over these last seven starts.
Jarrod Parker, SP, Oakland A's
Parker's up-and-down second half continued with a solid performance against the Angels on Tuesday in which he gave up two earned runs in seven innings. If the status quo for him since the All-Star break holds, he'll struggle in the next start he makes.
Still, he has a solid 3.67 ERA on the season and he currently ranks second to Yu Darvish among AL rookie hurlers in WAR, according to FanGraphs.
Addison Reed, RP, Chicago White Sox
Reed leads all AL rookies with 25 saves, and he boasts a solid 9.32 K/9. He'll have a few rough ones here and there, but he's generally been pretty reliable closing games out for the White Sox.
5. Wei-Yin Chen, SP, Baltimore Orioles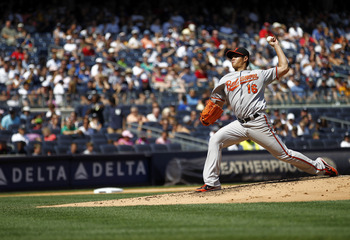 Jeff Zelevansky/Getty Images
Last Week: Unranked (on the cusp)
Wei-Yin Chen got a little extra rest between starts in late August, and it seems to have done him some good. In his last two starts, Chen has surrendered only four earned runs (six runs total) in 12.2 innings against two tough teams in the White Sox and Yankees.
He didn't win either start, but he did add two more quality starts to a pile that was already pretty big. Chen has now logged 15 quality starts this season, just as many as Chris Sale and one fewer than CC Sabathia.
I've said all along that I don't think Chen is the best rookie pitcher in the American League, but he's certainly been the most consistent of the bunch. He's made more starts than any of his rookie comrades, and he also has a slight lead over Tommy Milone in innings pitched.
Chen's 3.79 ERA is merely decent, but what's worth noting about Chen is that his ERA has been between 3.00 and 4.00 virtually the entire season. In fact, his ERA has never climbed higher than 3.93.
Chen's 4.21 FIP (via FanGraphs) suggests that his ERA should be over 4.00, but at that you have to kind of just shrug your shoulders. There's not much of a divide between Chen's ERA and his FIP, and it's hard to call him lucky knowing that he has one of the shakiest defenses in Major League Baseball at his back every time he takes the mound.
FanGraphs has Chen's WAR calculated at 2.3, which ranks third among AL rookie pitchers behind Yu Darvish and Jarrod Parker. For the money the Orioles are paying him, they're getting outstanding value.
4. Yoenis Cespedes, OF, Oakland A's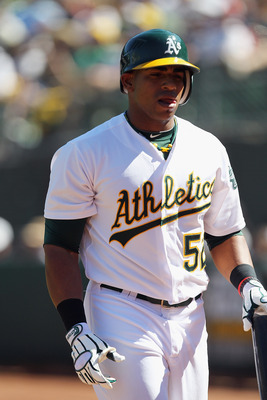 Tony Medina/Getty Images
Last Week: No. 2
When Yoenis Cespedes finished up his hot month of July, he was hitting .305/.361/.532 with 14 home runs and 54 RBI in just 71 games.
If you average those numbers out over a 162-game season, you're talking about a 32-homer, 124-RBI campaign. That equals a drooling Billy Beane, and that equals a future Brad Pitt project (probably).
The A's had to feel pretty excited about their investment when numbers like these were being kicked around, but Cespedes' hot month of July now feels like ancient history. Over the last month, he hasn't been the same player.
In his last 31 games, Cespedes has hit just .267/.331/.379 with two homers and 11 RBI. Of his last 31 hits, 23 have been mere singles.
Cespedes hurt his wrist in early August, and that injury is partially to blame for his power outage. Beyond that, one wonders if the grind of the season is starting to get to him.
Only he knows for sure. What the rest of us know in the meantime is that the A's could certainly use some more pop from Cespedes. They finished August on a tear, but the month of September is going to send some very stiff competition their way. They'll need all hands on deck to qualify for the postseason.
They'd better hope that Cespedes is a sleeping giant who is about to be awoken.
3. Matt Moore, SP, Tampa Bay Rays
Tom Szczerbowski/Getty Images
Last Week: No. 3
Matt Moore just keeps rolling right along. He didn't have his best stuff on Thursday against the Toronto Blue Jays, but he managed to hold them to a pair of earned runs in six innings of work.
Alas, the Rays offense couldn't come up with any runs of its own, resulting in a loss for Moore. Such is the danger of being a Rays pitcher.
Moore has definitely been doing his part lately. In nine starts since the All-Star break, he's compiled a 2.08 ERA while holding hitters to a .213 batting average with a .304 slugging percentage. In 56.1 innings, he's walked only 19. That's a marked improvement from where he was before the All-Star break.
Moore's 3.58 ERA for the season is good for second behind Scott Diamond in the AL among rookies with at least 20 starts. He gets the edge over both Diamond and Chen in these rankings largely because of his strikeout rate (8.77 K/9) and the fact that he's holding hitters to a .698 OPS.
By comparison, Chen is holding hitters to a .707 OPS, and Diamond is holding them to a .722 OPS.
At the rate he's going, Moore has a legitimate chance to finish as the runner-up to Mike Trout in the Rookie of the Year voting, which will surely make for a nifty trivia question someday.
For the time being, there's only one guy standing in his way.
2. Yu Darvish, SP, Texas Rangers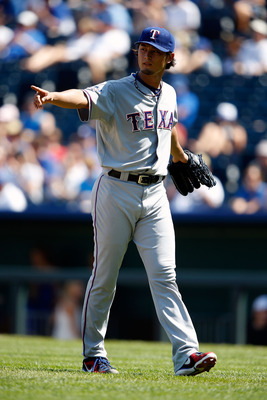 Jamie Squire/Getty Images
Last Week: No. 5
Yu Darvish brings no-hit stuff with him every time he takes the mound, so it was probably just a matter of time before he finally flirted with a no-no.
Darvish did one better his last time out on Monday, flirting with a perfect game through five and two-thirds against the Kansas City Royals. He ultimately had to settle for a seven-inning performance in which he gave up three earned runs on three hits and a walk with six strikeouts.
That makes it three starts in a row in which Darvish has gone seven and given up three earned runs or fewer. Just as encouraging, he's walked only four in his last three starts while striking out 26. He's held hitters to a razor-thin .164 batting average.
Darvish has lowered his ERA to a respectable 4.29, but his 3.55 FIP (via FanGraphs) says his ERA should be a lot lower. In fact, there are only seven pitchers in the American League who have Darvish beat in the FIP department. The list of pitchers he has beat includes names like Jake Peavy, Jered Weaver and Hiroki Kuroda.
Darvish also ranks second behind Max Scherzer in the AL with a K/9 of 10.47, and his 188 total strikeouts on the season rank fourth in the Junior Circuit behind Justin Verlander, Scherzer and Felix Hernandez.
If Darvish can keep up the consistency he's established with his delivery and his command over his last few starts, the Rangers' chances of going far in October once again will be looking pretty good. When he's right, Darvish is a pitcher who can match up against anyone in the American League, and goodness knows the Rangers are bound to come across some tough ones.
I'm going to presume that their fingers are crossed. As good as Darvish has been lately, you just never know with him.
1. Mike Trout, OF, Los Angeles Angels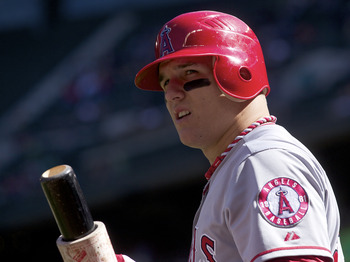 Stephen Brashear/Getty Images
Last Week and Every Week: No. 1
Mike Trout isn't doing so hot these days. He ended July hitting .353 with a 1.019 OPS, but he's now slumping to the tune of a .284/.359/.470 triple-slash line over his last 32 games.
Yeah, that's a slump. Relative to how hot Trout was before anyway.
Even despite his "slump," Trout is still hitting .333/.396/.568 with 25 homers 75 RBI, 108 runs scored and 43 stolen bases. He leads the American League in batting average, runs scored and stolen bases.
According to FanGraphs, Trout leads all of baseball with a .423 weighted on-base average and an 8.3 WAR. He hasn't been the same player over the last month, but he's still the best player in baseball as far as the numbers are concerned.
You can debate that if you want, but I think we're all well past the point where we have to debate whether Trout is the best rookie in the American League.
Last Week's Rankings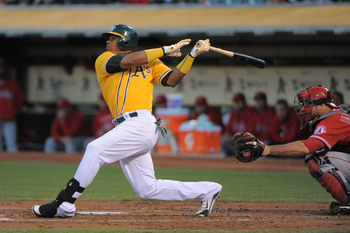 Kyle Terada-US PRESSWIRE
5. Yu Darvish, SP, Texas Rangers
4. Scott Diamond, SP, Minnesota Twins
Down and out for now, but not far from the top five.
3. Matt Moore, SP, Tampa Bay Rays
Steady as she goes.
2. Yoenis Cespedes, OF, Oakland A's
Paging Yoenis Cespedes' power...
1. Mike Trout, OF, Los Angeles Angels
Nobody's noticed Trout's slump because the Angels are actually winning baseball games. Maybe they're not a complete disaster after all.
Feel free to check out last week's rankings.
If you want to talk baseball, hit me up on Twitter.
Keep Reading