Fantasy Football Stock Report for NFL Week 2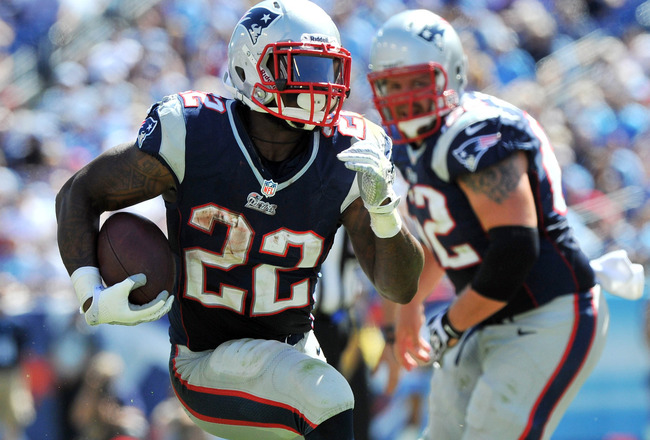 Don McPeak-US PRESSWIRE
Week 1 of the fantasy football season is always one of the best times to gauge the value of individual players.
While the preseason gives some insight, owners really don't know how snaps and production are going to shape up until the real games are underway.
This past week, we learned a lot about a number of owned and unowned fantasy players.
As we approach Week 2 of the fantasy season, here's our weekly stock report.
Stock Up: Alfred Morris, Washington Redskins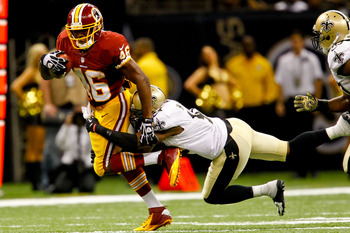 Derick E. Hingle-US PRESSWIRE
Morris had an impressive enough preseason that he won the Redskins' starting job outright, but there were few who envisioned him getting almost 30 carries in Week 1.
Mike Shanahan gave him 28 on Sunday against the New Orleans Saints.
One can never be too sure about what Shanahan is thinking in terms of his running back position, but Morris' debut of 96 yards and two scores should give him a grace period as the starter.
Considering how effectively the Redskins can run the football with an explosive quarterback finally in town, Morris is absolutely worth a roster spot.
Stock Down: Chris Johnson, Tennessee Titans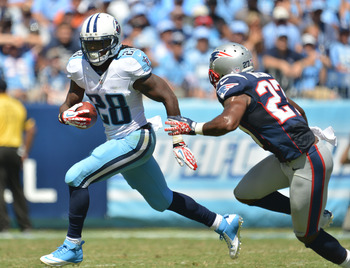 Don McPeak-US PRESSWIRE
No running back—besides maybe DeAngelo Williams against the Tampa Bay Buccaneers—put on a more worthless fantasy performance than Johnson did against the New England Patriots on Sunday.
His 11 carries for just four yards were helped marginally by his six catches for 47 yards. However, considering the expectations surrounding Johnson's 2012 season, four rushing yards mean his stock has dropped considerably.
You'll probably have to keep starting Johnson every week, but he's getting closer and closer to becoming a matchup guy in some weeks. His vision is questionable, and the burst he once had is lacking juice.
Stock Up: C.J. Spiller, Buffalo Bills
Ed Mulholland-US PRESSWIRE
When Fred Jackson left for the locker room with a knee injury, Spiller literally took his opportunity as the lead back and ran with it.
On just 14 carries, Spiller racked a whopping 169 yards and one score. He also caught two passes for another 25. A lost fumble was the only negative on the day in terms of fantasy for the NFL's current leading rusher.
The opportunities should continue to come for Spiller, as Jackson could miss a month or more. If Spiller is not starting for you now, fix that before Week 2.
Stock Down: Trent Richardson, Cleveland Browns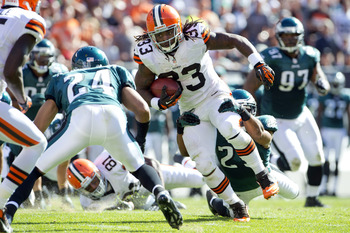 Jason Miller/Getty Images
I'm not sure the Browns could have asked for a more disastrous start for their two first-round rookies in Week 1.
Brandon Weeden threw four picks and gave us one of the worst rookie debuts in recent history, while Richardson couldn't break a tackle to save his life on the way to a sub-40-yard start.
To be perfectly fair, Richardson was facing his first real NFL action after missing the entire preseason. However, owners expected more out of 19 carries in Week 1. He needs to rebound against the Cincinnati Bengals' soft run defense in Week 2.
Stock Up: Robert Griffin III, Washington Redskins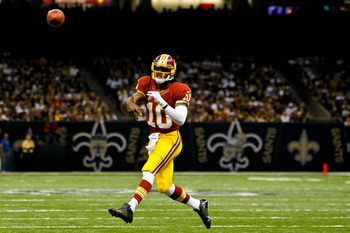 Derick E. Hingle-US PRESSWIRE
Could the Redskins have scripted a better debut for Robert Griffin III?
The rookie quarterback threw the ball just 26 times for more than 300 yards, the Redskins scored 40 points for the first time in years and the team left New Orleans with its biggest win in recent history.
Griffin's overall stats—320 yards passing, two touchdowns and 42 yards rushing—placed him among the top fantasy quarterbacks for Week 1, too.
He may not continue his sizzling start, but there's a lot to like about Griffin III moving forward. Don't miss out like owners did with Cam Newton a year ago.
Stock Down: Michael Vick, Philadelphia Eagles
Matt Sullivan/Getty Images
You have to question why Andy Reid had Michael Vick throw the ball on 56 occasions on Sunday in Cleveland.
The running game was working for long stretches, but Reid just threw Vick to the dogs when it was clear the decision-making wasn't there.
Excuses aside, Vick did throw four interceptions and rushed for just 32 yards. He ranked in the bottom half of fantasy quarterbacks for Week 1, despite high expectations.
Only two positives came out of this for Vick and the Eagles—he didn't get hurt, and Philly left with the win.
Stock Up: Randall Cobb, Green Bay Packers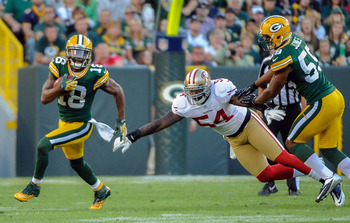 Benny Sieu-US PRESSWIRE
As if Aaron Rodgers and the Packers offense needed another receiving weapon.
Cobb, a second-round pick in 2011, lined up at X and Z receiver and running back and caught nine total passes for 77 yards in the Packers' 30-22 loss.
He also returned a punt 75 yards for a controversial touchdown in the fourth quarter, but it's his versatility on offense that gives him fantasy value.
The Packers are obviously making an effort to get Cobb the football in space. If he's on the field for nearly 40 snaps like he was on Sunday, expect the production to continue.
Stock Down: Toby Gerhart, Vikings; Rashad Jennings, Jaguars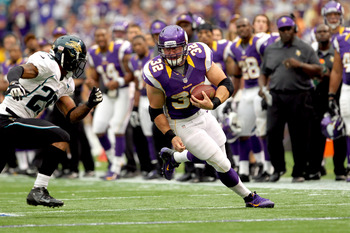 Brace Hemmelgarn-US PRESSWIRE
Two fantasy running backs that some owners fell in love with before the season are probably not worth keeping on your roster after Week 1.
Gerhart got a small number of carries in the Vikings' win on Sunday, while Adrian Peterson looked closer to 100 percent than anyone could have ever imagined. Look for Peterson's role to expand and Gerhart's to shrink as the weeks progress.
Jennings, who looked really good in the preseason, got injured in Minnesota and may miss some time. That opens the door for Maurice Jones-Drew to comfortably slide back into his role as the Jaguars' workhorse back.
If you have either player, it may be time to cut ties and look for a higher upside option.
Stock Up: Stephen Hill, New York Jets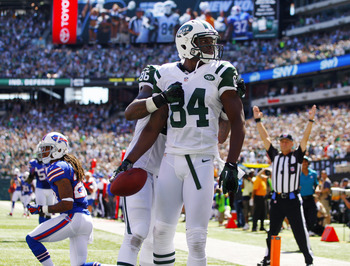 Rich Schultz/Getty Images
Remember when the Jets didn't score a touchdown with their first- or second-team offense during the preseason?
Yeah, me neither.
Hill, a raw but long and explosive receiver, caught two scores from Mark Sanchez in the Jets' rout of the Buffalo Bills and looked good doing it.
It may be hard to count on Hill for consistent production, but the upside is certainly there. He can get open, and Sanchez obviously has some trust in him.
With so few options in the Jets' passing game, Hill is the man you want.
Stock Down: Andy Dalton, Cincinnati Bengals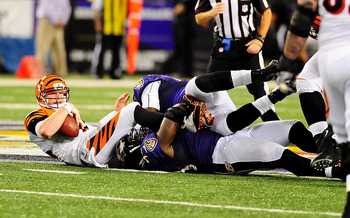 Evan Habeeb-US PRESSWIRE
Dalton obviously won't be facing a defense as stacked as the Baltimore Ravens every week, but Week 1 showed some troubling signs from a fantasy perspective.
The only starting quarterbacks Dalton outscored in Week 1 were Ryan Tannehill, John Skelton and Brandon Weeden. Kevin Kolb threw eight passes and put up more fantasy points.
The schedule is tough for Dalton in 2012, especially in the AFC North. There won't be many weeks when you even have to think about starting him.
If at all possible, dump him for a higher upside guy like RGIII or (dare I say it) Alex Smith.
Bonus Stock Up: Stevan Ridley, New England Patriots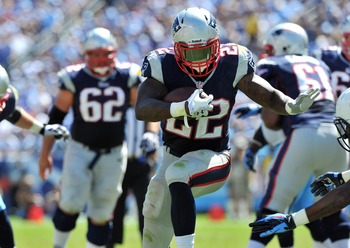 Don McPeak-US PRESSWIRE
The Patriots' running back situation is never a consistent one, but it looks like they finally have a back who can carry the load each and every week in Ridley.
The second-year back carried the ball 21 times for 125 yards and a score, while also catching two passes for 27 yards.
Ridley looks like the real deal.
He's strong between the tackles but explosive to the edge, and the Patriots gave him touches. In that offense, Ridley could put up big-time numbers. He's a must-start going forward.
Keep Reading