NFL Week 2 Picks: 5 Matchups You Can't Miss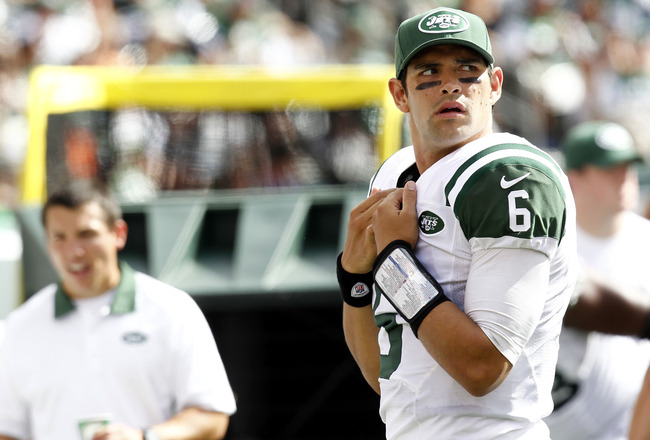 Jeff Zelevansky/Getty Images
With the commencement of Week 1, the pace has been set for Week 2 and already, there have been some unexpected turns. Week 2 is just around the corner, and there are several games that will be guaranteed nail-biters.
The mighty have already fallen; the reigning Super Bowl Champions New York Giants lost to their rivals the Dallas Cowboys (17-24) in their first game.
Another powerhouse-—the Pittsburgh Steelers—lost their first game; they came up short yet again in a 2011 playoff reunion against the Denver Broncos.
Football fans already have a lot of reason to suspect that this NFL season will look much different than the one that saw the New York Giants to the top. Having said that, it is early, and there are still 16 weeks of football between now and the playoffs.
Until then, here are five Week 2 games that are an absolute must-see.
Kansas City Chiefs over Buffalo Bills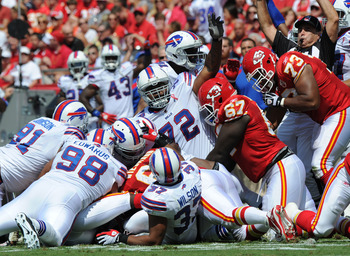 Peter Aiken/Getty Images
The Buffalo Bills and the Kansas City Chiefs will be facing off Monday in what is sure to be a physical rushing battle. With neither side sporting a proven quarterback, both teams will have to be creative with their running plays to get ahead.
Although many expect the Bills to bounce back after a devastating loss against the New York Jets, Kansas City's physical play will give the Bills their second loss.
According to the Kansas City Star, Kansas City will have linebacker Tamba Hali back in the lineup on Monday to provide some much needed defense against the No. 1 rushing team in the league last year.
Kansas City quarterback Matt Cassel had a good outing with 256 yards. Even though the game ended in a loss, Cassel proved that Kansas City does not have to rely on running plays to get up the field.
Buffalo, on the other hand, does not have much of a quarterback to fall back on. Ryan Fitzpatrick fell shy of the 200-yard mark, throwing for only 195 yards. He looked overwhelmed in his outing against the New York Jets.
Both of these teams suffered big, unexpected losses in the first week, and neither the Kansas City Chiefs nor the Buffalo Bills want to go down two games.
In Week 1, Buffalo waltzed into a game they thought they would breeze right through. However, the heavily scrutinized Mark Sanchez made the Bills eat their words with an explosive offensive victory (48-28).
Meanwhile, in Kansas City, the Chiefs came out strong against Atlanta, keeping the game within three before the end of the first half. Falcons quarterback Matt Ryan, who has been considered a "sleeper" candidate for MVP, shut the Chiefs down with three touchdowns, one rushing score and the other two for 299 yards.
San Francisco 49ers over Detraoit Lions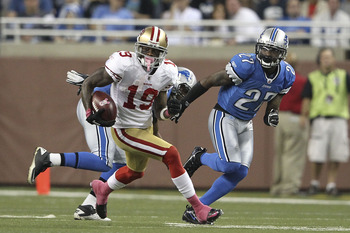 Leon Halip/Getty Images
A classic case of rushing offense versus passing offense, the Detroit Lions and the San Francisco 49ers play each other on Sunday for Week 2. The Lions, who were first overall in passing last year, and the 49ers, who were second in rushing, are two ingredients for a game of offensive explosion.
In Week 1, the 49ers shut the Green Bay Packers down before Green Bay could get their hopes up about another almost-undefeated season. The victory was huge, and the 49ers have a lot of momentum going for them right now—momentum that will carry over to Week 2 and insure another victory.
The scales are not tipped in the Lions' favor by any means. The 49ers' strong defensive line will be the back breaker against the Lions, despite their skilled passing ability.
Every coach of any sport knows that defense wins games. The 49ers do not have the best defense in the league, but they have a much better defense than the Lions.
Both teams will go into Week 2 with the same undefeated record, but only one will be able to extend its streak another week. The 49ers will carry theirs to Week 3.
Atlanta Falcons over Denver Broncos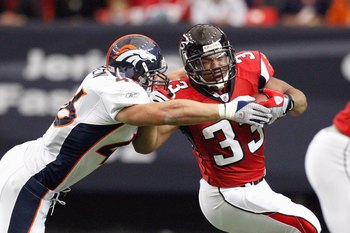 Kevin C. Cox/Getty Images
Matt Ryan was incredible in the Atlanta Falcons' first game against the Kansas City Chiefs (40-24). Ryan threw 299 yards for three touchdowns, ran for a fourth touchdown and had a 74.2 percent completion rating. With a game like this under his belt, Ryan and the Falcons are sure to topple the Denver Broncos in their Week 2 matchup.
Payton Manning played very well in his first game against the Steelers. Manning threw 19 for 26, 253 yards and two touchdowns, showing that he can still perform.
Manning might have shown that he can still play in the NFL, but Ryan has begun to prove that he belongs in the top tier in this league.
Ryan was in the zone against the Chiefs and had an incredible outing that Manning will not be able to keep up with this early in the season. Not to say that Ryan is a better quarterback than Manning, but Manning will need a few games under his belt before he can get himself back into elite form.
Baltimore Ravens over Philadelphia Eagles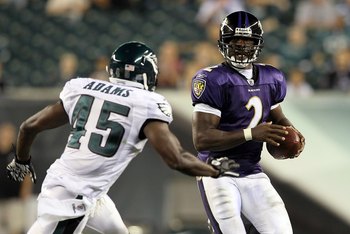 Jim McIsaac/Getty Images
This game could go either way; it could be a blowout (in either direction) or a down-to-the-wire battle. Both teams have strong offensive and defensive lines, but the Baltimore Raven's consistency will see them pass Michael Vick and the Philadelphia Eagles.
Vick threw for an impressive 317 yards but forfeited four interceptions. Vick is talented. There is no doubt about it, but he is inconsistent and loses focus.
While Vick and the Eagles earned the win by the skin of their teeth, Joe Flacco and Baltimore's no-huddle offense demolished the Cincinnati Bengals (44-13).
Flacco threw 299 yards for two touchdowns, and the rest of the Ravens' offense amassed the remaining 131 yards. Ed Reed earned a touchdown, taking in an interception 34 yards, and the rest was history.
Vick is good but inconsistent. The Ravens will take advantage of Vick's errors. Flacco has consistency and is determined to make himself known as an elite quarterback.
New York Jets over Pittsburgh Steelers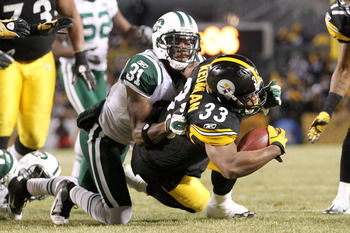 Ronald Martinez/Getty Images
Let's face it. All eyes are on the New York Jets after they defied a summer's worth of media criticism and devastated the Buffalo Bills (48-28). It is too early to say that the Jets will be an elite team this year, but many critics, who laughed at the one-two punch of Mark Sanchez and Tim Tebow, were silenced.
Sanchez threw for an impressive 266 yards for three touchdowns, completing 19 of 27 passes in the process. Tebow did not have much of an outing with only 11 yards on five carries.
The Jets defense kept Ryan Fitzpatrick under 200 passing yards and looked dominating in the process.
Despite their victory, the media continues to undermine the Jets, insisting that they keep their egos in check over the "fluke" victory.
According to the New York Daily News, Gang Green showed USA Today's Jim Corbett that they will not sit back and dance for the media. "'You guys treat us like we're a (bleeping) joke. You all want us to feed your papers but then you all talk (bleep) about us," said Bart Scott of the New York Jets to USA Today.
The Jets have more than just momentum right now; they have their reputation on the line and a chance to morph the public's perception of their team. The NFL could be seeing a new Jets team this season.
Keep Reading