Fantasy Football: Who to Sell High and Who to Buy Low After Week 1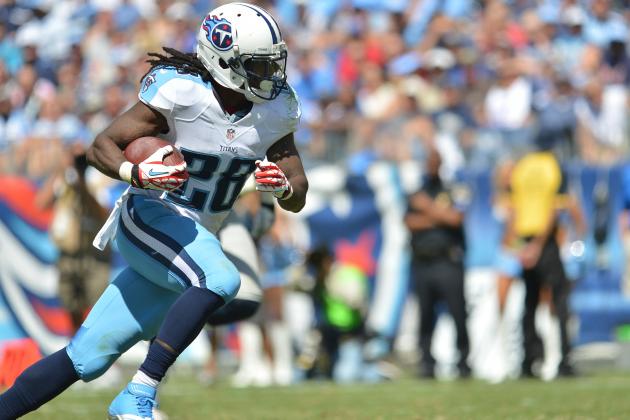 Don McPeak-US PRESSWIRE

Though only one week of the NFL season has come and gone, enough has been shown by players to fantasy football owners across the nation.
Several players have overproduced, and several players have underperformed. This list breaks down who should be traded at their maximum value and who should be traded for at a minimum cost.
The "name game" plays a huge factor into trades and this list should benefit fantasy owners abroad.
Begin Slideshow

»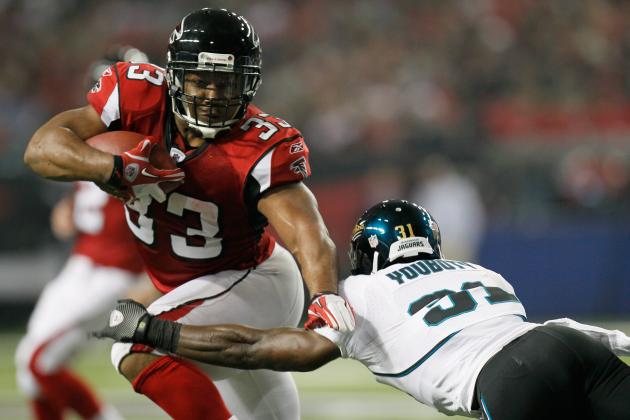 Kevin C. Cox/Getty Images

There is a reason why Michael Turner has been considered the No. 1 fantasy bust heading into the 2012 NFL season. In the past four seasons, no running back has carried the ball as much as Turner, and the wear and tear on his body has taken its toll.
The Falcons are now a pass first team with Matt Ryan in control of the offense. Roddy White and Julio Jones are way too talented to not utilize. And with Turner's 32 yards on 11 carries against the Kansas City Chiefs, it's time to trade Turner away. Now is the time to do it; while his stock is still high.
And here's how you do it.
Convince your trading partner that the Falcons wanted to exploit the weak Kansas City secondary, who lost cornerback Brandon Carr to the Dallas Cowboys. Remind them that Turner is a household name who has rushed for 2,711 yards and 23 touchdowns the past two seasons.
Turner still has a role for Atlanta, but he is not an elite fantasy player anymore. Use his excellent past to make a brilliant trade that brings in maximum talent.
And make sure to rub it in the trading partner's face in a few weeks.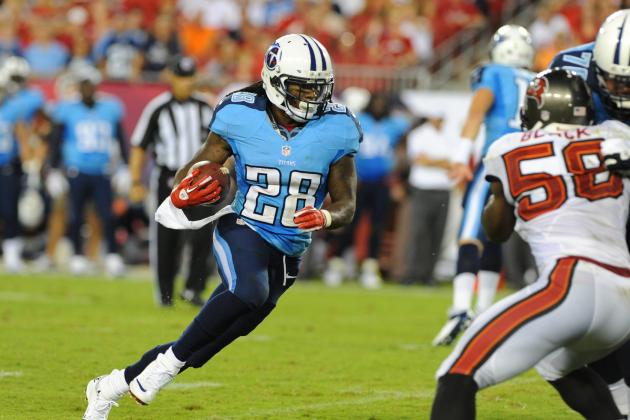 Al Messerschmidt/Getty Images

Chris Johnson had as bad of a week as any player can, gaining four yards on 11 carries against the New England Patriots. For a player who has rushed for 2,000 yards in a season, his .36 yards per carry average is laughable.
Chances are that fantasy owners are pretty angry Johnson right now and want little to do with him. This is where you step in and make it seem like you are doing them a favor by adding Johnson to your roster.
Johnson still is a dynamic player with a lot of upside. Chances are he will never have a worse game than this, and with an inexperienced quarterback in Jake Locker, Johnson needs to be added to your roster.
This is how you add him.
Remind Johnson's fantasy owner that he struggled to run for 1,000 yards last year, only crossing the mark in the last week of the season. He only had 1,047 yards and four touchdowns in the 2011-12 season and seems to be continuing his downward spiral. Make it be known that Kenny Britt comes back next week, significantly upgrading the passing game.
Use his Week 1 .36 yards per carry average to show how pathetic his performance was. He is an unpredictable player, but when he's on his game, he's a complete beast.
Johnson's stock is at an all time low, but his upside is far too great to overlook. Make a move for Johnson, you probably won't have to give up too much. And once he is yours, he has a clean slate and 15 more games to prove his worth.
Patrick McDermott/Getty Images

Santonio Holmes is still a fantastic player, there is absolutely no doubting that. But he has proven to be the cancer to a locker room and his diva actions in the locker room will not be tolerated for long.
So why do I bring this up after his four-catch, 68-yard performance? Because not every game will be this easy for the Jets, and Mark Sanchez can't play like he did in Week 1 for a full 16 games.
Days before the season started, Holmes made controversial remarks about the whole Sanchez-Tim Tebow situation. He will be a distraction for the Jets when things don't go as well as they did against the Buffalo Bills; something that's sure to happen.
Add in the improved play of Jets receivers and Holmes simply will be benched if he misbehaves, something he makes a habit of.
Here is how you sell Holmes for the maximum value.
Convince Holmes' fantasy owner that Tebow has pushed Sanchez to be the best quarterback he can be. Mention that Tebow didn't throw a single pass, which in return will not hurt Holmes' value as a receiver. Holmes still is explosive and the No. 1 wideout in New York, but he is still a question mark.
After the solid week that Holmes had, trading him now will give you maximum value. His attitude has gotten him in trouble before and he has a history of misbehaving. The Jets are very high on themselves right now, but Holmes won't be able to deal with the reality of losing. Get rid of him before he becomes a problem.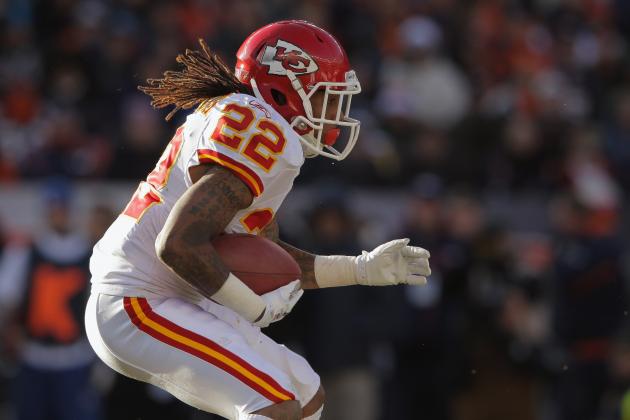 Doug Pensinger/Getty Images

Dexter McCluster is being used as a receiver first this season, and he responded with a six-catch, 82-yard performance against Atlanta on opening day. And yes, that is more catches and yards than receiver Dwayne Bowe had in Week 1.
McCluster is a threat to score on every touch. The Chiefs plan on getting him a lot of little touches to make plays and McCluster did fairly well in Week 1.
This is how you get him on your team.
Remind McCluster's owner that he is an inexperienced receiver, playing a lot as a rusher in his career. Convince them that Chiefs quarterback Matt Cassel will hold him back and will throw it to Bowe when he airs it out. Say that he will get lost in the mix of pass catchers and only had one quality week.
In reality, McCluster has a lot of upside and doesn't have a huge price tag.
McCluster will be a playmaker in the Chiefs offense and will continue to fly under the radar until his production cannot go unnoticed. By that point, he will have a huge price tag. Get him now while he's cheap, and enjoy the solid season that is on the way.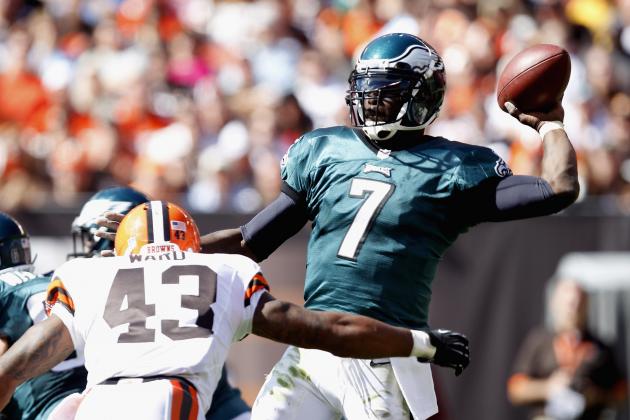 Matt Sullivan/Getty Images

There always are owners in a fantasy league who get caught up in big names rather than production. Michael Vick is perhaps the most deceiving player in the NFL right now.
Vick had a bad Week 1, and it was against a really poor defense which was without several of its starters. But with Vick being Vick, he will still attract a lot of fantasy attention.
However, he is as injury prone as they come, and he is becoming very unproductive with the football. He is a big question mark week in and week out and is starting to become a big-risk little-reward player.
This is how you get rid of him.
Convince an fantasy owner that Vick still is elusive on the ground. Say his poor passing efforts will force him to use his legs more often. You won't have to talk too much about Vick, because somebody is sure to chomp at the bit and give away too much for his talent. However, Vick is on the decline and can no longer be trusted in the fantasy game.
Injuries and inconsistent play are too much to overlook for Vick, especially with Nick Foles on the bench and Andy Reid on the hot seat. If Vick continues his poor play, major changes could be coming in Philly. Get rid of him at a maximum value before things get messy.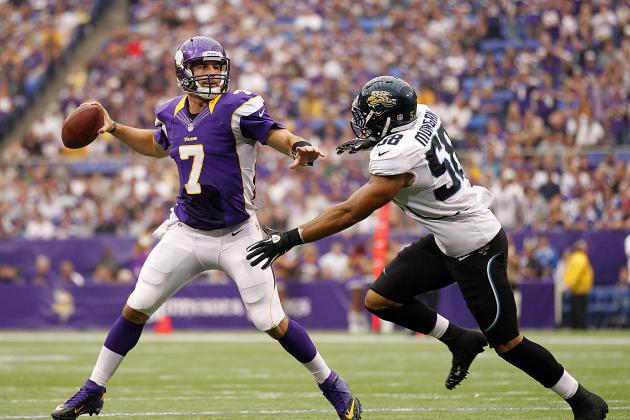 Andy King/Getty Images

Christian Ponder had a quality 270-yard performance against the Jaguars in Week 1. He has a big time playmaker in Percy Harvin and a quality tight end in Kyle Rudolph. He looks comfortable in the system and is in line for a very productive year
He is on the rise, but flying under the radar. Get Ponder now when he has a low price, as opposed to what he might be valued at in a few weeks.
This is how you get him.
Convince Ponder's fantasy owner that the offense will run through Adrian Peterson. Peterson is back and healthy, but Ponder will need to air it out. Say that outside of Harvin, Ponder has one of the weakest supporting casts in all of football. Ponder didn't throw for a touchdown last week and isn't guaranteed big numbers in the offense.
But in reality, the Vikings will have to let Ponder throw the football. Last week he had a completion percentage of 74 percent, and he will rack up yards if he's completing passes. Add Ponder when his price is low and he will quietly have a fantastic season.