NFL Week 2 Fantasy Football Rankings: 10 Sleepers Poised for a Huge Week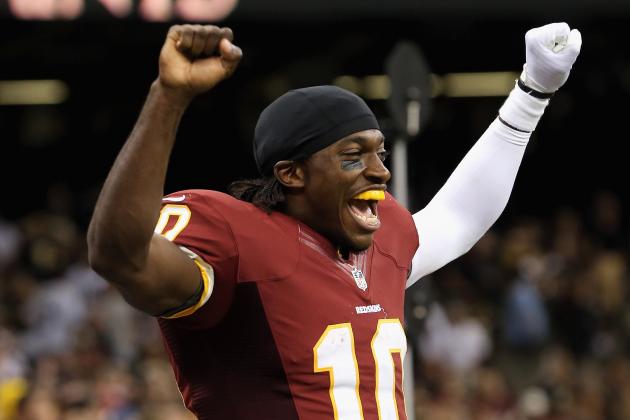 Ronald Martinez/Getty Images

Looking for the 2012 versions of Cam Newton and Jordy Nelson so you can dominate your fantasy football league this year? Only one week of the NFL season is gone, but fantasy football owners can already tell which players are going to be studs and which ones will be duds.
It is never to early to start getting your Week 2 lineup ready, so here is a list of 10 fantasy football sleepers who are poised for a huge week.
Begin Slideshow

»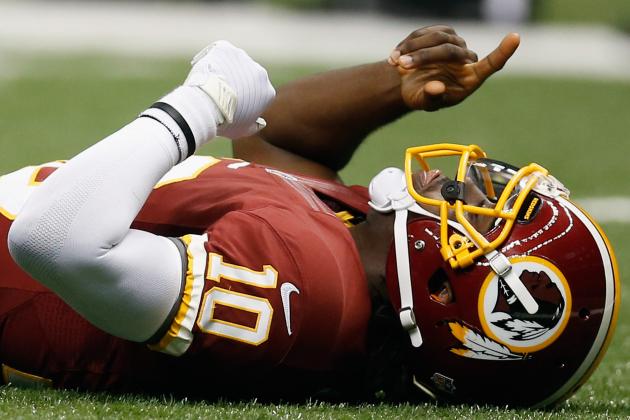 Chris Graythen/Getty Images

Over 300 passing yards. Two touchdowns. 10 carries. 139.9 quarterback rating.
It was only one game, but fantasy football owners, Robert Griffin III is for real.
RG3 torched the New Orleans Saints defense. Every time the Washington Redskins needed a big play, RG3 delivered.
Heading into Week 1, I bought into RG3 and thought he was deserving of a starting spot on fantasy football rosters. After his Cam Newton-esque performance, RG3 should be your starting quarterback for Week 2.
The Redskins will be playing the St. Louis Rams who also have a weak defense. Look what RG3 was able to do without his top target, Pierre Garcon, for the majority of the game. Garcon will be back in the starting line up next week and RG3 should have another impressive week.
Justin K. Aller/Getty Images

Though Donald Brown only had nine carries in Week 1, he still managed to put up 10 fantasy points (48 rushing yards, one touchdown).
Brown's lack of touches has to do mainly with the fact that the Indianapolis Colts were down to the Chicago Bears, so they had to rely on Andrew Luck's arm.
Next week though, the Colts will be playing the Minnesota Vikings, who are no where near as good as the Bears. This game should be a much more even match for the Colts, so I would expect them to be handing the ball off to Brown more.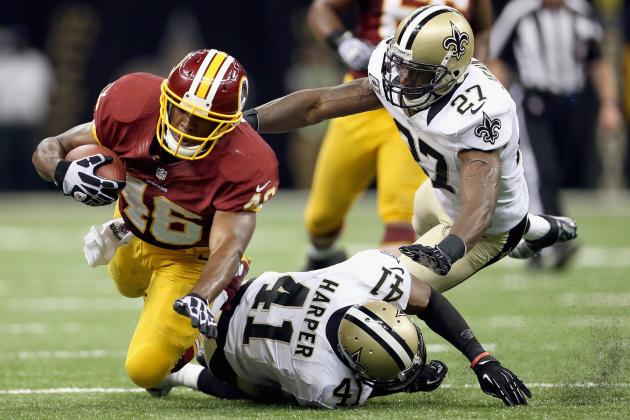 Ronald Martinez/Getty Images

Now that the Washington Redskins starting running back debacle has been solved, everyone needs to go out and acquire Alfred Morris.
Sure the 96 rushing yards and two touchdowns are impressive, but here is the real statistic that will blow fantasy football owners away.
28 carries.
Any running back that is getting over 20 carries is a must start for fantasy football.
What makes Morris even better is the fact that no other Redskins running back was taking his carries. Both Roy Helu Jr. and Evan Royster only had two carries each. When the Redskins were at the goal line, they never took out Morris. The only time Morris really ever came out of the game was when Helu Jr. went in as the third-down running back.
Morris had a great rookie debut and solidified himself as the Redskins starting running back for the 2012 season.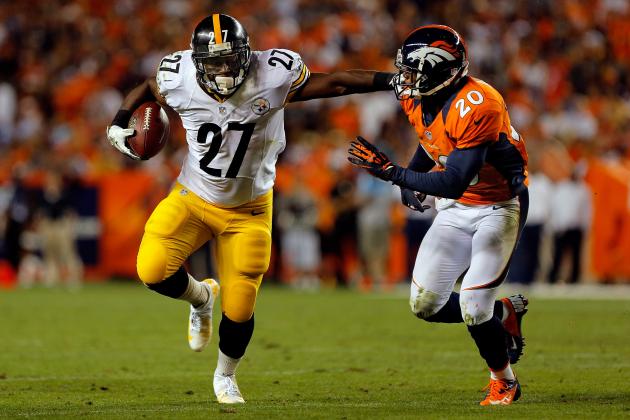 Doug Pensinger/Getty Images

Isaac Redman got the start last night for the Pittsburgh Steelers, but it was clear that Jonathan Dwyer outperformed him.
Dwyer had less carries than Redman, but still out rushed him by 23 yards. With Dwyer's impressive performance in Week 1, he should take over the starting running back role for the Steelers.
The Steelers will play the New York Jets next week, who have one of the best defenses in the NFL, but I still expect Dwyer to get a decent amount of carries. Being the top running back in the Steelers offense means that Dwyer will have a great shot of finding the end zone in Week 2.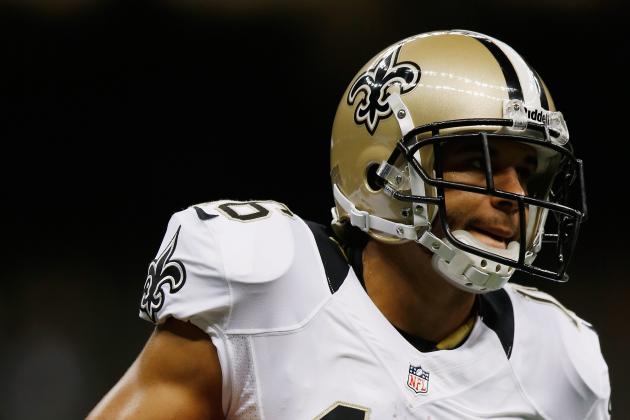 Chris Graythen/Getty Images

There may not have been a happier player on the New Orleans Saints roster when Robert Meachem left than Lance Moore.
For years, the Saints have been so loaded at the wide receiver position that you could never rely on any of them as a consistent fantasy option besides Marques Colston.
With Meachem out of the picture now, it is clear that Moore has become the Saints No.2 wide receiver. Moore dominated Week 1, recording six catches, 120 receiving yards and a touchdown. What is even more impressive is that he was targeted 10 times, which was second most on the team.
The Saints should bounce back Week 2 after a disappointing loss to the Washington Redskins. They will be playing the Carolina Panthers, who have one of the worst defenses in the league. This game should be a shoot out, so expect Moore to see a lot of throws coming his way.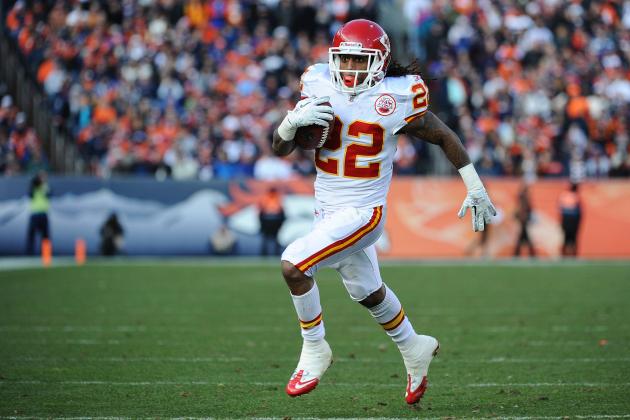 Garrett Ellwood/Getty Images

After leading all Kansas City Chiefs wide receivers in targets during the preseason, Dexter McCluster proved Week 1 he is going to be an integral part of their offense in 2012.
Matt Cassel threw 33 passes yesterday and almost a third of them were towards McCluster's direction. McCluster was targeted a team high 10 times and led all receivers with six receptions and 82 receiving yards.
In the past, McCluster has been known as one of the most versatile players in the NFL, but he could never find the field when Todd Haley was the head coach. Now that the Chiefs are under head coach Romeo Crennel and offensive coordinator Brian Daboll, it appears that they are going to use McCluster's big play ability often.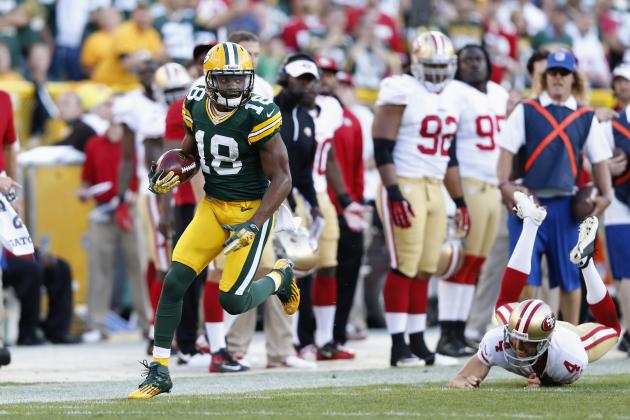 Joe Robbins/Getty Images

Could Randall Cobb be the Jordy Nelson of the Green Bay Packers offense in 2012?
After one game it certainly seems like it.
Randall Cobb not only lined up as a wide receiver and returner, but the Packers often used him as their third-down running back. With his playing time significantly increased from last year, Cobb finished the game with a team-high nine receptions for 77 receiving yards.
If Cobb is available in your league's waiver wire, you have to add him right now. He is going to have a huge role in the Packers offense this year, which should make him a valuable fantasy football player.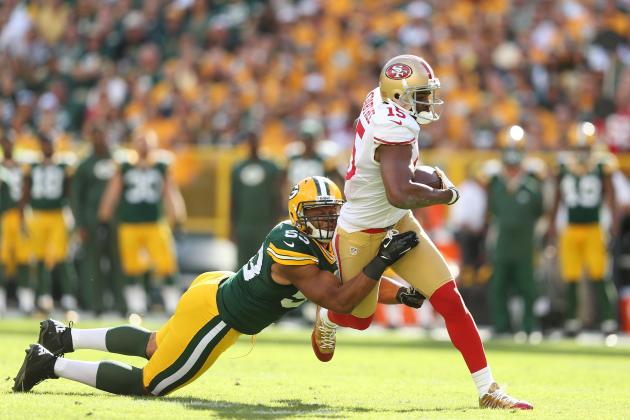 Andy Lyons/Getty Images

With the offseason additions of Randy Moss, Mario Manningham and A.J. Jenkins, it appeared that Michael Crabtree's time as a member of the San Francisco 49ers was coming to an end. However, it appears that the offseason additions are actually just making Crabtree a better fantasy wide receiver.
In the 49ers first game, Crabtree was by far their best receiver, catching seven passes for 76 yards. Not only did he lead his team in those two categories, but he was targeted nine time, which was four more targets than anyone else on the team.
With Alex Smith looking more comfortable in Jim Harbaugh's offense and opposing defenses not having the benefit of being able to solely focus on Crabtree and Vernon Davis, Crabtree should continue to rack up the receptions against the Detroit Lions in Week 2.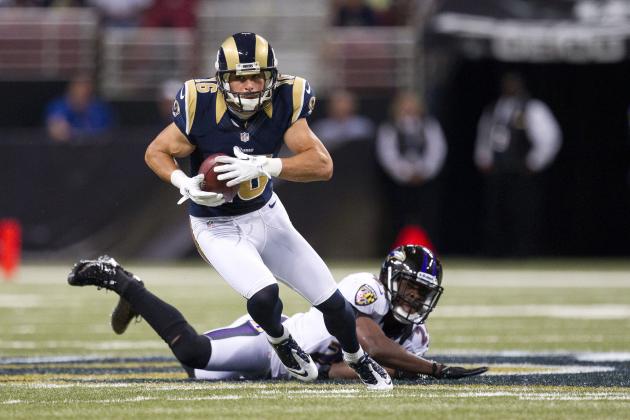 David Welker/Getty Images

I have been saying it all along and I will say it again. Danny Amendola is going to be a PPR machine this year.
Just two years ago, when he was last healthy, Amendola had 83 receptions. Now that he is healthy and the St. Louis Rams top wide receiver, there is no reason why he should not match those numbers this season.
After the Rams first game, it is clear that Amendola is going to be Sam Bradford's go-to target. Amendola is by no means a No.1 fantasy wide receiver, but as a FLEX option in a PPR league, he was great. He finished with five receptions for 70 yards, while leading the team with nine targets.
The Rams will be playing the Washington Redskins next week and I would expect another solid stat line for Amendola. In a PPR league, Amendola is almost guaranteed to score double digit points every week.
Jonathan Daniel/Getty Images

Heading into Week 1, I called that Coby Fleener would have a solid rookie debut and sure enough he did not disappoint me.
Fleener showed fantasy football owners that him and Andrew Luck had not lost any of their chemistry from Stanford, recording six catch for 82 yards. After Reggie Wayne, Fleener was Luck's second receiving option and finished the game with 10 targets.
With the Indianapolis Colts not having a reliable No.2 wide receiver option, it looks like Fleener is going to play a significant role in the offense. Playing the Minnesota Vikings next week, Fleener is going to have another solid outing and receive a fair share of looks from Luck.