Buying or Selling Impact NFL Rookies as Viable Week 1 Fantasy Football Starters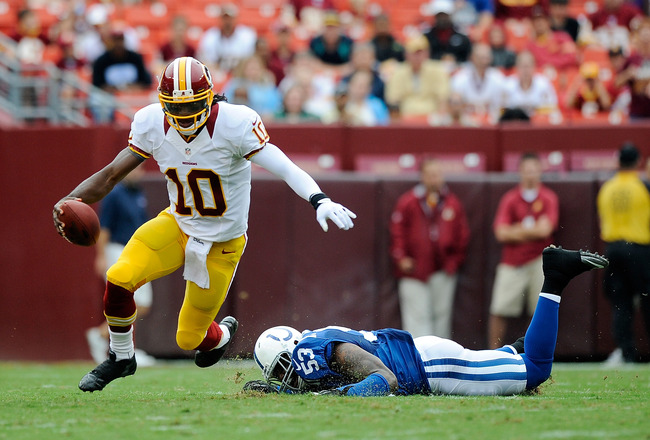 Patrick McDermott/Getty Images
Remember Cam Newton's first game in the NFL last season?
Four hundred and twenty-two passing yards, two passing touchdowns and one rushing touchdown.
After being a late-round selection in most 2011 fantasy-football drafts, following his impressive Week 1 performance, Newton immediately became one of the top fantasy quarterbacks in the league.
With the first week of NFL games getting underway tomorrow night, here is a list of NFL rookies that you should start or sit in fantasy football for Week 1.
Andrew Luck, QB, Indianapolis Colts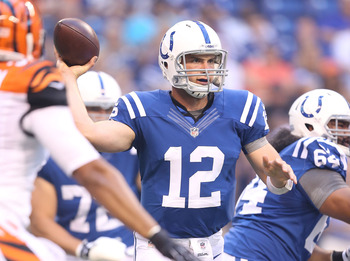 Andy Lyons/Getty Images
Selling
Coming into the NFL draft, Andrew Luck was one of the most hyped prospects in the history of the NFL. Luck lived up to that hype during the preseason, throwing for over 500 yards and three touchdowns.
However, the regular season will be much different than the preseason was for Luck.
This week, the Indianapolis Colts will be visiting the Chicago Bears. Things are not looking too good for Luck in Week 1. The Bears have always had one of the best defenses in the NFL, and Luck will be playing on the road.
Sit Luck this week and wait for him to go up against one of the weaker defenses.
Robert Griffin III, QB, Washington Redskins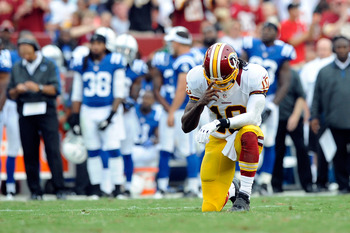 Patrick McDermott/Getty Images
Buying
I don't see the Washington Redskins knocking off the New Orleans Saints, but Robert Griffin III will blow people away with his athleticism.
If there is any quarterback that can match Cam Newton's rookie season, it is RG3. He has the arm to throw the deep ball and runs a 4.3 40-yard dash.
The Saints' defense is in the bottom half of the NFL, and with RG3's ability to throw and run the ball effectively, he should have a solid outing in his first game.
RG3 is definitely worth starting this week, especially if your league scoring settings award one point for every 10 rushing yards.
Russell Wilson, QB, Seattle Seahawks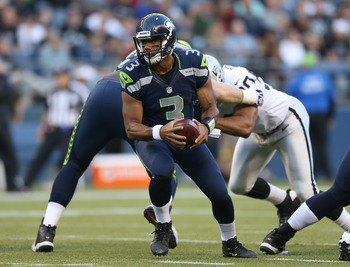 Otto Greule Jr/Getty Images
Selling
After signing Matt Flynn to a big contract this offseason, no one thought that the Seattle Seahawks would have a quarterback controversy.
Well, after a full offseason, Flynn is the backup quarterback, Tarvaris Jackson was traded to the Buffalo Bills and rookie Russell Wilson won the starting job.
Wilson looked good during preseason and deserved to win the starting job. He outplayed Flynn, and his mobility brings another weapon to the Seahawks' offense.
In terms of fantasy football, I do not feel comfortable with Wilson as my starting quarterback. I know the Seahawks are going up against the Arizona Cardinals, who do not have a strong defense, but there is a reason why Wilson started off training camp as the third-string quarterback. He is still very inexperienced, and his receiving corps is one of the weaker ones in the NFL.
Wilson is still a free agent in most fantasy-football leagues, and he should stay there until he proves himself.
Ryan Tannehill, QB, Miami Dolphins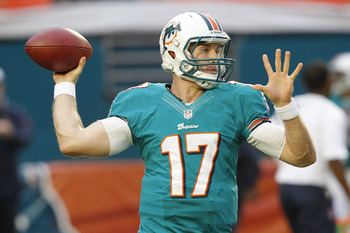 Joel Auerbach/Getty Images
Selling
Ryan Tannehill won the Miami Dolphins' starting quarterback job, but that really is not saying much. Look at his competition.
David Garrard went down with an injury and was released Tuesday, and Matt Moore has proved in the past that he is not capable of being an NFL starting quarterback.
The Dolphins are clearly in rebuilding mode, so why not get Tannehill experience as a rookie? It is not like they had any better options.
In the season opener, the Dolphins will be taking on the Houston Texans. The Texans' defense will be a nightmare for Tannehill in his first NFL game. Tannehill is going to struggle the most out of all rookie quarterbacks this year, so I would not waste a roster spot on your fantasy-football team on him.
Brandon Weeden, QB, Cleveland Browns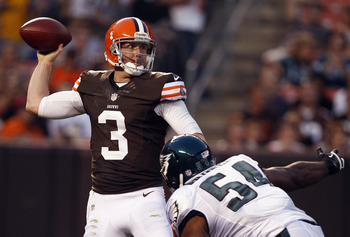 Matt Sullivan/Getty Images
Selling
Entering his rookie year, Brandon Weeden's NFL career is already halfway over. The 28-year-old will take over the Cleveland Browns' nonexistent offense in 2012, and it will not be pretty.
In his first preseason, Weeden failed to throw a touchdown pass and only completed 49 percent of his passes.
To make things worse, the Browns will be taking on the Philadelphia Eagles Week 1. You really think Weeden is going to have time to throw to no-name receivers like Greg Little and Mohamed Massaquoi against one of the best defenses in the NFL?
Trent Richardson, RB, Cleveland Browns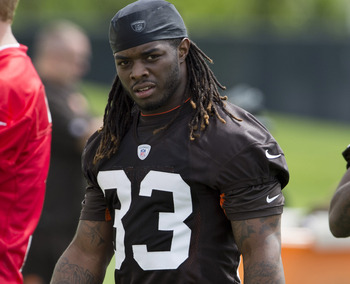 Jason Miller/Getty Images
Buying
Trent Richardson missed all of his rookie preseason due to an injury, but that should not hurt his fantasy-football impact in Week 1.
Richardson is the only offensive weapon that the Cleveland Browns have, so he will be getting a ton of touches. Expect Richardson to have at least 20 touches, and you should definitely start him on Sunday.
He may not put up the greatest numbers against the Philadelphia Eagles this week, but any running back that gets at least 20 touches a game has a great shot of finding the end zone.
Doug Martin, RB, Tampa Bay Buccaneers
Al Messerschmidt/Getty Images
Buying
Once Doug Martin took the starting-running-back job from LeGarrette Blount, his fantasy draft stock soared.
Like Trent Richardson, Martin will be seeing at least 20 touches a game. Martin is a three-down running back with his ability to carry the ball and catch passes out of the backfield.
The Tampa Bay Buccaneers are taking on the Carolina Panthers in their first game, so Martin should have a great debut. The Panthers have one of the worst defenses in the NFL, and Martin will take advantage of that on the ground and through the air.
Justin Blackmon, WR, Jacksonville Jaguars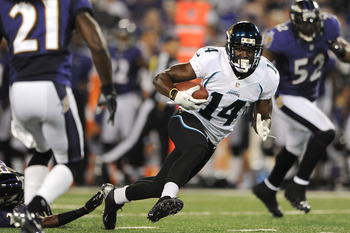 Patrick Smith/Getty Images
Buying
The Jacksonville Jaguars have one of the worst offenses in the NFL, but it is clear that Justin Blackmon is by far the best wide receiver on their roster.
Blaine Gabbert showed some signs of improvement in his second preseason, and Blackmon was his favorite target, finishing with 10 receptions, 136 receiving yards and one touchdown.
The Jaguars will be playing the Minnesota Vikings, so Blackmon should have his fair share of opportunities to make some plays against this weak defense.
Look to start Blackmon at your flex position this week.
Kendall Wright, WR, Tennessee Titans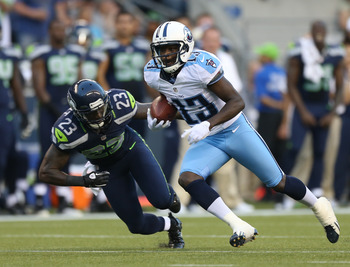 Otto Greule Jr/Getty Images
Buying
With Kenny Britt out for the first game due to suspension, Kendall Wright will be starting Week 1 and immediately becomes Tennessee's most explosive wide receiver.
Wright showed during preseason that he could play at the NFL level, finishing with nine receptions, 116 receiving yards and one touchdown. Nate Washington will be the No.1 receiver for Week 1, but do not be surprised if you see Jake Locker targeting Wright often downfield.
Wright deserves a start at your flex position as long as Britt is not in the lineup.
Coby Fleener, TE, Indianapolis Colts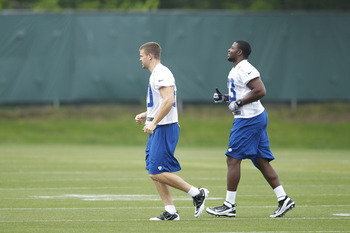 Joe Robbins/Getty Images
Buying
Heading into his first NFL game against the Chicago Bears' defense, do not be surprised if Andrew Luck targets his Stanford teammate and current Indianapolis Colts tight end Coby Fleener.
When it comes to chemistry with Luck, Fleener has a significant advantage over the other wide receivers on the Colts. That is not to say that Fleener will put up better numbers than receivers like Reggie Wayne or Austin Collie, but I would expect him to get a fair amount of targets in Week 1.
Fleener will be playing in his first NFL game, so he will be adjusting to the speed of the game on the fly. I would not expect Fleener to put up monster numbers, but being one of Luck's favorite receiving targets could lead to him scoring in the red zone this weekend.
Keep Reading