Sunday Night Football Schedule 2012: Ranking the Best Non-Flex Games This Season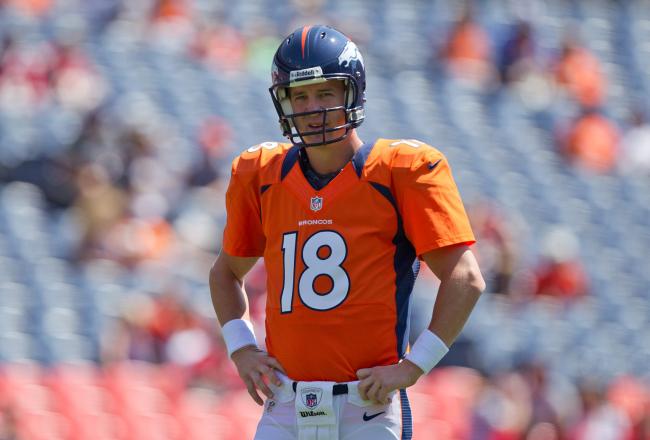 Justin Edmonds/Getty Images
Do you realize that we now get NFL football on three of the seven days a week?
Football on Thursday. Football on Sunday. Football on Monday. It's enough to make a grown man giggle just thinking about it.
Hold the giggles for a moment if you would, however.
For my money, football on Sunday night is the best. It's the conclusion to a jam-packed day of action on Sunday. It's your last hurrah before the weekend ends and you head back to work. It's the game that everyone on Twitter is simultaneously making snarky remarks about. It's often your last stand in fantasy football.
And this year, there are some juicy matchups indeed. So I've decided I would go ahead and rank them in order of which I was most excited to see. Keep in mind that I've only ranked the non-flex games since they are guaranteed to be shown on Sunday night.
To the rankings!
10. October 7: San Diego Chargers at New Orleans Saints
This game could potentially be a very intriguing shootout. The problem is that it's just as likely the Saints will simply crush the Chargers at home in this one. Of all the matchups on this list, this is the one that looks the most lopsided on paper.
9. October 21: Pittsburgh Steelers at Cincinnati Bengals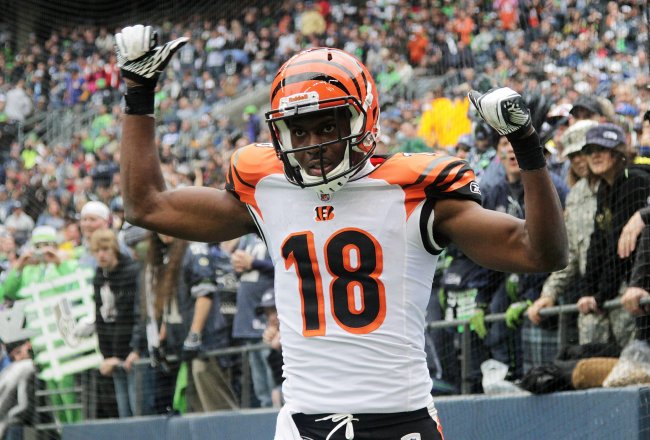 Otto Greule Jr/Getty Images
By this time, we'll know whether or not the Bengals were a fluke in 2011 or are a team capable of winning the AFC North. We'll also know whether the Steelers are once again a Super Bowl contender or the end is near for a veteran team.
So this game does have dud potential. There's also always the chance that this could be a rather boring, AFC North grinder. Still, the fact that this game is No. 9 on this list should tell you just how strong the slate of Sunday night games is this year.
8. November 4: Dallas Cowboys at Atlanta Falcons
To me, this just feels like it will be one of those games where it's sort of boring in the beginning, both quarterbacks heat up in the second half and an otherwise epic finish is ruined when Tony Romo makes one bad throw and a few other Cowboys make bone-headed decisions.
Fun, but hardly football being played at its finest. Of course, who knows what will happen between now and then?
7. October 28: New Orleans Saints at Denver Broncos
Will we get a Peyton Manning versus Drew Brees shootout? I'll be tuning in for that reason alone.
6. November 11: Houston Texans at Chicago Bears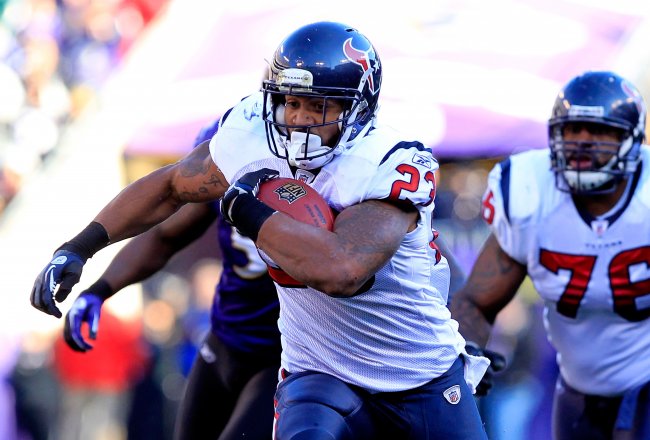 Chris Trotman/Getty Images
To me, the Texans are a Super Bowl contender and the Bears look like a playoff team, so this one should be fun. Watching the running backs (Arian Foster and Matt Forte) and the receivers (Andre Johnson and Brandon Marshall) try to work against two top defenses should be fun.
5. September 16: Detroit Lions at San Francisco 49ers
It's a classic clash of styles—the Lions and their high-powered passing attack against the 49ers and their ball-control offense and stout defense. Which style will win out?
4. September 9: Pittsburgh Steelers at Denver Broncos
The reason to watch this game is simple—it's the debut of Peyton Manning in the regular season for the Broncos. What could be a better way to come back on a new team after missing an entire year than a Sunday night game at home against the Steelers?
3. September 30: New York Giants at Philadelphia Eagles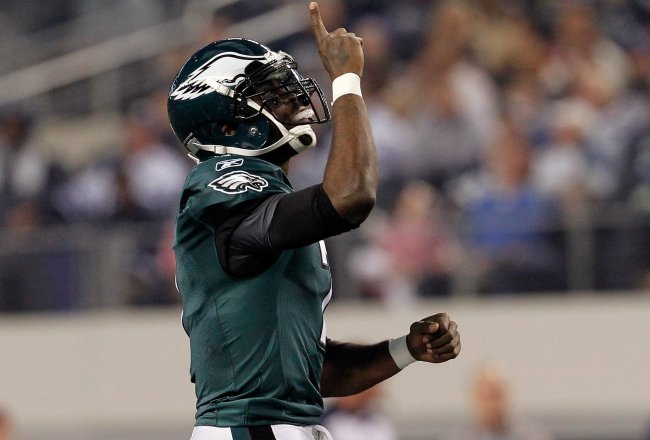 Tom Pennington/Getty Images
Games between these NFC East rivals are always intense and generally have some sort of crazy, down-to-the-wire finish. With two high-octane offenses and defensive lines that can really get after the quarterback, this game should be a great watch.
2. September 23: New England Patriots at Baltimore Ravens
A rematch of last year's incredible AFC Championship Game? Yes, please. What a game this will be.
1. October 14: Green Bay Packers at Houston Texans
Well, would you look at that—my two Super Bowl picks not only play one another, but they do so on Sunday Night Football. Yes, that's right, I believe this will be a preview of the big game in January. With one of the best offenses in football taking on one of the best defenses—and plenty of fantasy football implications as well—clear your calendar for October 14.
Seriously, do it now. Go!
Hit me up on Twitter—my tweets would never deprive you of key features like franchise fantasy drafts.
This article is
What is the duplicate article?
Why is this article offensive?
Where is this article plagiarized from?
Why is this article poorly edited?