Fantasy Football 2012: 5 Things You Need to Know When Setting Your Week 1 Lineup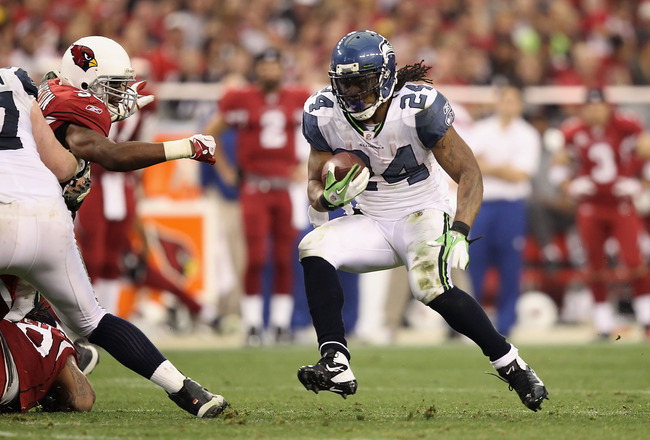 Christian Petersen/Getty Images
The Dallas Cowboys downed the New York Giants 24-17 in Wednesday night's season opener, and that means that finally, mercifully the NFL regular season has arrived.
That also means that another season of fantasy football is upon us, and team owners across the land are gathered in front of their computers to set their starting lineups for Week 1.
To help get your fantasy campaign off to the right start, here's some news that you need to know and a tip or two to take into consideration before hitting the submit button on Week 1's squad.
Marshawn Lynch Is Looking Iffy for Week 1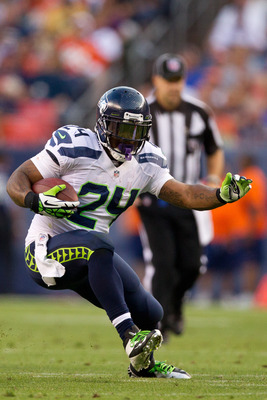 Justin Edmonds/Getty Images
After rushing for over 1,200 yards and scoring double-digit touchdowns in 2011, many fantasy owners looked to Seattle Seahawks running back Marshawn Lynch to anchor their fantasy backfields this season.
However, it appears that fantasy squads may be forced to set sail without that anchor this week.
The 26-year-old was limited to the walk-through portion of practice Wednesday with the back spasms that have plagued him the past few weeks, and while head coach Pete Carroll hasn't ruled Lynch out, there was a lot of hemming and hawing involved in his comments to The Associated Press via ESPN Wednesday.
"We really won't know until the end of the week unless something changes," Carroll said. "The process that he's gone through, he's aerobically in good shape, we need to get him back his football legs and get him enough reps to do that. We'll continue to progress throughout the week."
With the Seahawks and Arizona Cardinals not set to kick off until 4:25 P.M. EDT fantasy owners who don't have either backup Robert Turbin or another late-game option squirreled away need to be prepare as though Lynch won't be able to go.
DeAngelo Williams Looks Like a Solid Start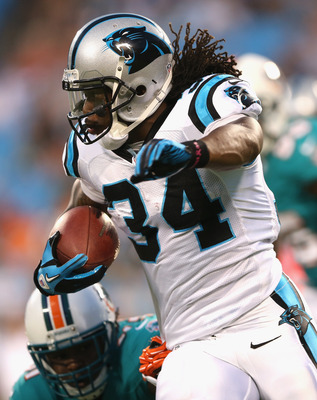 Streeter Lecka/Getty Images
The Carolina Panthers backfield is usually a muddied mess, but for one week at least the waters may have cleared a bit.
According to Shawn Krest of CBS Sports running back Jonathan Stewart missed practice again Wednesday due to an ankle injury, clouding his Week 1 availability even further and increasing the chances that seventh-year pro DeAngelo Williams will see the majority of work in the Panthers backfield Sunday.
That bodes well for Williams' fantasy chances, as Carolina's opponent, the Tampa Bay Buccaneers, were the most favorable fantasy matchup in the NFL for opposing running backs a season ago.
Adrian Peterson Will Make His Debut This Week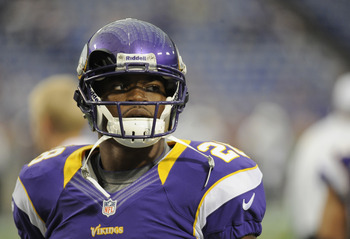 Hannah Foslien/Getty Images
Less than 10 months after tearing both his ACL and MCL it appears that one of the National Football League's most electrifying talents will indeed be on the field Sunday.
According to Scout.com, Minnesota Vikings running back Adrian Peterson will all but certainly see some action this week when the Vikes open the 2012 campaign at home against the Jacksonville Jaguars, at least according to offensive coordinator Bill Musgrave and Peterson himself.
"I haven't had any doubts. That's not the way I'm programmed. It's not the way you accomplish things – to have doubts," Peterson said. "That comes from people around you. That is what it is. It comes with it. I feel I'm a positive guy, keeping my eyes focused on what I said I want to do."
It will be a very promising sign for fantasy owners who rolled the dice on Peterson to see him back in action, but it's folly to consider starting him.
Odds are the sixth-year pro will receive no more than 10 touches, and while you may kick yourself if he breaks one for an 80-yard score at least you'll know that he's feeling spry.
Be patient, hope for no setbacks and with any luck Peterson will be back in starting lineups very soon.
Steve Johnson's Status in Doubt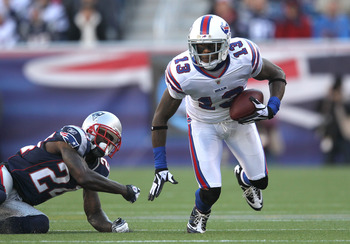 Jim Rogash/Getty Images
Nothing gets under a fantasy owner's skin quicker than one of his Week 1 starters pulling up lame late in the week, but it appears that may be the case with Buffalo Bills wide receiver Steve Johnson.
After undergoing offseason groin surgery (just typing that makes me uncomfortable) the fifth-year pro has been hampered by soreness recently, and according to Joe Buscaglia of WGR Radio Johnson missed practice Thursday after being limited on Wednesday.
WR Stevie Johnson was on the stationary bike at #Bills practice for a little while. He was limited on Wednesday. Not practicing today.
— Joe Buscaglia (@JoeB_WGR) September 6, 2012
Monitor the all-important Friday practice reports closely, as Johnson is one of the few NFL wideouts who has had a measure of success against New York Jets cornerback Darrelle Revis, hauling in 11 passes for 159 yards and a touchdown in two meetings a year ago.
Don't Second-Guess Yourself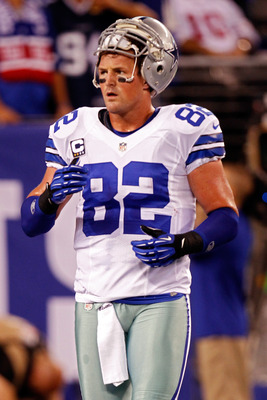 Jeff Zelevansky/Getty Images
I'm going to end this slideshow with a friendly bit of fantasy advice.
Once you've settled on a starting lineup for the week, unless an injury crops up that forces a switch stick to your guns.
If you don't, odds are you'll wish you had.
Wednesday night, after hearing that Dallas Cowboys tight end Jason Witten was active, I made a last minute switch and inserted him into my starting lineup as a "flex" option in one of my leagues.
Granted, this is a league where tight ends get a PPR boost as opposed to running backs and wide receivers, but I should have known better than to expect a solid night from a rusty player, even one as accomplished as Witten.
Two catches, 10 yards, and the very real possibility that it will me cost me dearly.
Don't make my mistake.
Good luck this week!
Keep Reading