The smell of football is in the air. Here are my 2012 Week 1 fantasy football kicker rankings.
1. David Akers, San Francisco 49ers
League's top kicker last year with 44 field goals and 34 extra points. Plays Green Bay.
2. Stephen Gostkowski, New England Patriots
Pats offense should be even better. Gostkowski kicked 28 FGs last year with 59 PATs. Plays Tennessee.
3. Mason Crosby, Green Bay Packers
Kicked 28 FGs last year with a ridiculous 68 PATs. Against SF he should have multiple FGs.
4. Sebastian Janikwoski, Oakland Raiders
Seabass kicked 31 FGs with 36 PATs last year. Plus, he continually drills long FGs. Plays San Diego.
5. Alex Henery, Philadelphia Eagles
Henery finished with 24 FGs and 46 PATs. I expect more this year, starting with Cleveland.
6. Garrett Hartley, New Orleans Saints
Saints' offense should remain potent. He should be busy against Washington.
7. Jason Hanson, Detroit Lions
I'm expecting at least a FG and multiple PATs against the Rams.
8. Dan Bailey, Dallas Cowboys
Kicked 32 FGs and 39 PATs. Opens things up against the Giants.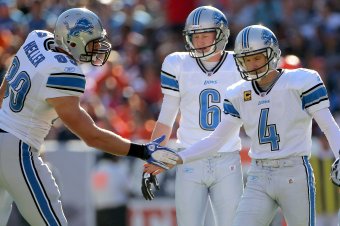 Doug Pensinger/Getty Images
9. Matt Bryant, Atlanta Falcons
Had 27 FGs and 45 PATs. Starts off against the Chiefs.
10. Mike Nugent, Cincinnati Bengals
Kicked 33 FGs and 33 PATs last year. I could see multiple FGs against the Ravens.
11. Robbie Gould, Chicago Bears
Had 28 FGs and 37 PATs. Solid option against the Colts.
12. Shayne Graham, Houston Texans
High-powered offense. Should be busy against Miami.
13. Nate Kaeding, San Diego Chargers
He's back and should get off to a solid start against the Raiders. Has something to prove after missing all of last year.
14. Matt Prater, Denver Broncos
Should see more opportunities this year with Peyton Manning leading the charge. Opens against Pittsburgh.
15. Steven Hauschka, Seattle Seahawks
Had 25 FGs and 34 PATs last year. Decent option against Arizona.

Also check out: