Top Fantasy Football Players 2012: Ranking Bust Potential for First-Round Values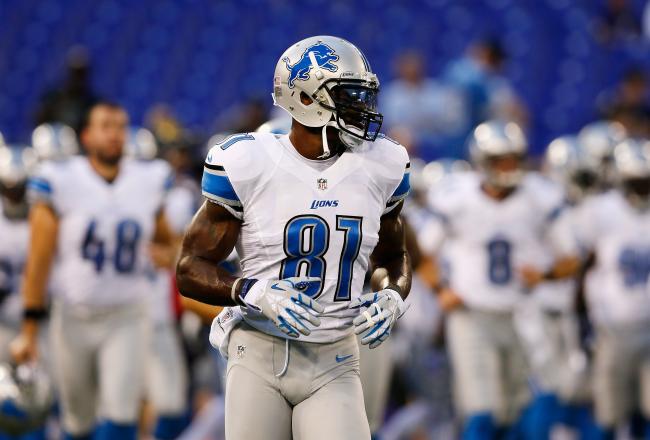 Rob Carr/Getty Images
Whether you're having your draft in the next day or two or your team is already selected, one thought will remain squarely in your mind:
How much bust potential does my team have?
While I can't answer that question for you, I can run down whether or not your top pick in this year's draft was risky or safe. Using players being selected in the top 10 of ESPN snake drafts, I've ranked each player with a first round-value, from the most risky to this year's safest player.
Here's hoping you have a player at the bottom of the list.
10. Maurice Jones-Drew, Jacksonville Jaguars
Will the new Chris Johnson please stand up?
Okay, okay, so Jones-Drew probably won't disappoint owners to the same degree that CJ2K did a year ago. But it's always a risky proposition when players come back after missing the entire preseason schedule and attempt to return to game action immediately.
MJD will be worked back in slowly, and that caps his upside as well. He'll see limited touches in Week 1, and honestly, I would keep him on my bench in Week 2 as well, when the Jaguars play the Houston Texans.
If you have patience, I would expect MJD will eventually be a RB1 producer for your fantasy team. But coming off a lengthy lockout, his risk factor is huge.
9. Matthew Stafford, Detroit Lions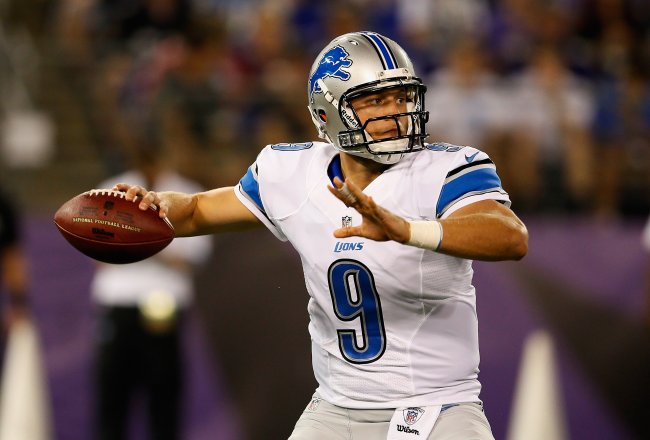 Rob Carr/Getty Images
I love Stafford this season, and I think he's on his way to another huge season. But I can't ignore his history, either.
Before playing a full season last year, Stafford missed 19 games in his first two seasons. While I tend to side with the argument that Stafford isn't so much injury-prone as he was unlucky, fantasy owners only care about the numbers. And those numbers say he's an injury risk.
So draft Stafford without reservation at the end of the first round—just make sure you add a reliable backup as well, just in case.
8. Chris Johnson, Tennessee Titans
Simply put, we really don't know which CJ2K we'll see this year.
Will he be the running back that tore up defenses from 2008-10 and was a premier fantasy option? Or will he repeat his bust campaign from a year ago that ruined more than a few fantasy seasons?
I tend to lean toward the former—his burst that so often was missing from a year ago seemed to return in the preseason—but I do so tentatively. Very, very tentatively.
7. Calvin Johnson, Detroit Lions
Please don't give me that Madden curse nonsense. It didn't affect Ray Lewis, after all.
No, my main concern with Johnson isn't that he won't produce, but simply that he won't produce quite enough to finish as a top-11 fantasy performer again this season. Keep in mind that in NFL history, only Jerry Rice (in 1986 and 1987) has ever caught 15 or more touchdown passes in consecutive seasons.
I'm not saying Megatron isn't talented enough to pull off the feat. I'm just saying history suggests it is unlikely.
The other concern with Johnson isn't about him at all, it's about Stafford. If he goes down to injury, Johnson's fantasy production will naturally take a slight dip. And while Johnson doesn't miss many games, he often fights through strains and minor injuries himself.
His upside is immense, but there are plenty of risks to consider.
6. LeSean McCoy, Philadelphia Eagles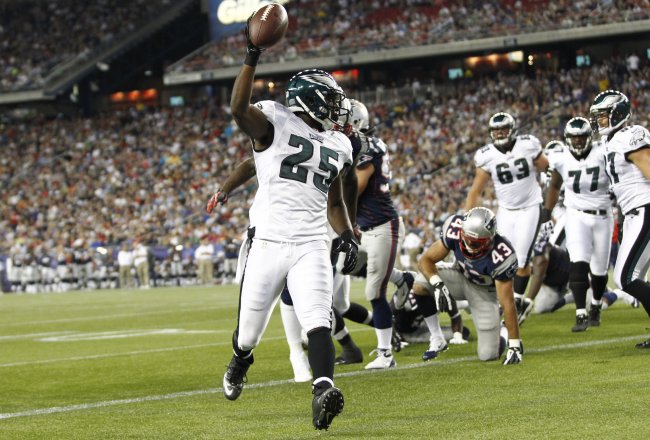 Mark L. Baer-US PRESSWIRE
Here's what makes McCoy risky to me—expecting him to replicate his 20 touchdowns from a year ago is probably wishful thinking. While I see no reason for his yardage to severely increase, a natural regression in scores is to be expected.
The other very slight concern I have is that his workload will probably be a bit more limited this year. He absolutely carried (pun intended) the Eagles offense last season. I still love McCoy and think he should be a top-four pick in fantasy drafts. But I think a slight dip in his fantasy numbers is realistic.
5. Arian Foster, Houston Texans
No running back has more upside than Foster, and he's the top player on my board this year. Keep in mind that Foster has 19.87 fantasy points per game played in the past two years.
Let me repeat that for you—19.87!
But he did miss three games to injury last year, and he does have a very talented backup in Ben Tate, who surely will be worked in regularly this season. I'm not saying Foster is risky—again, he's the top player on my board—but I do think he poses more risks than the four players still to come on this list.
4. Drew Brees, New Orleans Saints
Six straight seasons with over 4,300 yards passing. Four straight seasons with 33 touchdowns or more. Only two games missed since 2004.
So why isn't he higher on this list?
While it's probably an anxious fantasy football player over-analyzing every little thing, all of the events surrounding Bountygate worry me. No Sean Payton this year worries me. All of the distractions this offseason worry me.
I know Brees will produce. I just worry that the team around him may not produce to the same level, and that could affect his fantasy value this season. But truthfully, I'm nitpicking.
3. Tom Brady, New England Patriots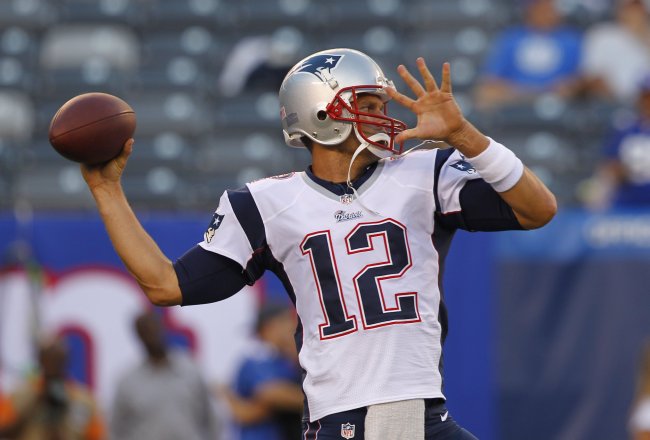 Jim O'Connor-US PRESSWIRE
Tom Brady threw for 5,325 yards and 39 touchdowns a year ago, and you can argue he did it without a true field-stretching deep threat.
Now he has old offensive coordinator Josh McDaniels and wide receiver Brandon Lloyd in town, who in 27 games under McDaniels in the past two seasons has 128 receptions for 2,131 yards and 16 touchdowns.
In other words, Brady's options just got a lot better. And they were already amazing. He's going to have a huge 2012.
2. Ray Rice, Baltimore Ravens
Who is the safest first-round player in fantasy football this season?
Rice hasn't missed a game in three years. He hasn't failed to reach 1,700 yards from scrimmage in that time span either. And he erased the main gripe fantasy owners had with him—that he didn't score enough touchdowns—last season, when he notched 15 touchdowns.
Add to the fact that he's the clear workhorse in Baltimore and an excellent receiver out of the backfield, and you have this year's safest running back in fantasy football.
1. Aaron Rodgers, Green Bay Packers
Barring an injury, he'll once again be fantasy's top quarterback. In the past four years, he's only failed to throw for 4,000 yards once. His fewest amount of passing touchdowns in that time is 28. And for good measure, he has 16 rushing touchdowns since 2008.
So yes, he's as safe as they come.
Hit me up on Twitter—my tweets would never deprive you of key features like franchise fantasy drafts.
This article is
What is the duplicate article?
Why is this article offensive?
Where is this article plagiarized from?
Why is this article poorly edited?