Grading the Detroit Lions' Entire 53-Man Roster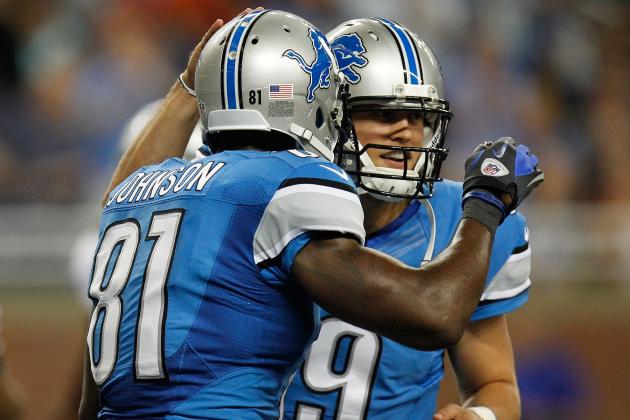 Gregory Shamus/Getty Images

Final cuts have come down, the rosters are set, and it's time for some real prognosticating.
The Detroit Lions still have some work to do when it comes to roster moves and waiver claims, but it seems that they know in what direction they're heading with the roster this year.
Consequently, it falls to me to judge said roster. And because I'm not content to ever do things the easy way, here is the report card for every one of the 53 players on the roster.
Note that this is about only the players on the 53-man roster at the time of publication, which means not Jahivd Best (PUP, concussion) or Mikel Leshoure (two-game suspension).
Enjoy, discuss and be gentle. It has not been a time of great sleep.
Begin Slideshow

»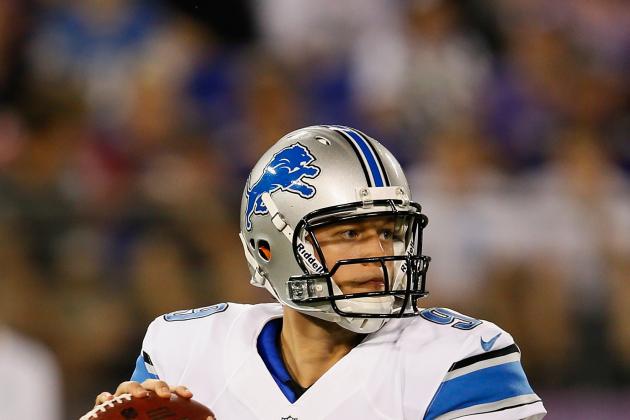 Rob Carr/Getty Images

Matthew Stafford
Matthew Stafford is a future (current?) superstar, and he hasn't shown any signs of regression from his incredible 2011 season. He's on track for ascension to elite status.
Grade: A+
Shaun Hill
Shaun Hill is easily the most underrated backup quarterback in the league and would assuredly outplay a number of current NFL starters.
Grade: A
Kellen Moore
Kellen Moore probably deserves a passing grade just for improving enough to beat the odds and earn a roster spot. He's raw, and his ceiling is low because of his arm strength and stature, but he has clearly shown enough to make the team.
Grade: C-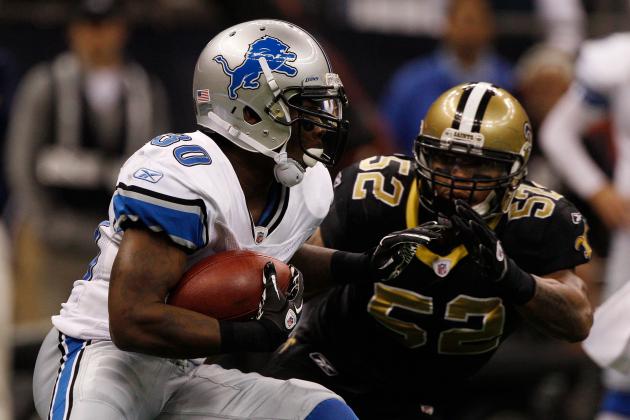 Chris Graythen/Getty Images

Kevin Smith
Kevin Smith looks great so far, but the issue that has plagued him for his entire career—staying healthy—has proven a problem once again.
He's slated as the opening-day starter, and his injury doesn't appear serious, but it may be enough to hobble him in what will likely be his last chance to start this season.
Grade: C+ (Make it a D if he's too injured to start Week 1.)
Keiland Williams
Keiland Williams made the roster because of some tough running in the preseason, but he's not nearly as effective as his size would suggest in short-yardage situations, which is where he's most likely to be used.
Grade: D+
Joique Bell
Joique Bell started the preseason with a strong performance against Cleveland but fizzled in later games.
He has a fumbling problem (particularly when he tries to do too much), with two in four games, but he also showed big-play speed and ability, especially catching passes out of the backfield.
Grade: C-
Stefan Logan
One of the luckier players on the roster is Stefan Logan, who made the roster despite a pedestrian showing and an injury in training camp. He helped his case by taking more reps as a running back, but he also injured himself just trying to take a handoff.
At the very least, he seems like the prohibitive favorite to continue return duties.
Grade: D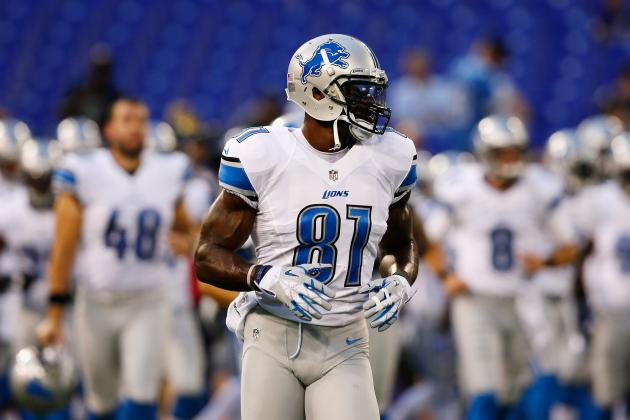 Rob Carr/Getty Images

Calvin Johnson
Calvin Johnson is dominant in ways that might warrant rule changes someday. His 100-yard receiving performance in about a quarter against Baltimore left no reason to believe he will be anything less than incredible in 2012.
Grade: A+
Nate Burleson
Nate Burleson may not be as explosive as he once was, but he is an invaluable leader in the locker room and still productive on the field.
Titus Young is likely to pass him in production this season, but Burleson is even accepting his role as a mentor.
Grade: B+
Titus Young
Titus Young is highly promising but has much to prove after a somewhat tumultuous offseason. He seems ready to break out, but he hardly played in the preseason, so it's difficult to grade him too highly.
Grade: B+
Ryan Broyles
Ryan Broyles showed everybody he was recovered from offseason ACL surgery with a strong performance against Buffalo. It will be a while before he knocks the rust off and adjusts to NFL speed, but he already shows the ability to get open in small spaces.
His biggest goal was to get healthy for the season, and he is.
Grade: A-
Kassim Osgood
Kassim Osgood made the final roster despite only making it to two preseason games. His value is basically as as special-teamer alone, but it may not be a coincidence that Detroit's special teams improved exponentially after the Lions signed him.
Grade: B-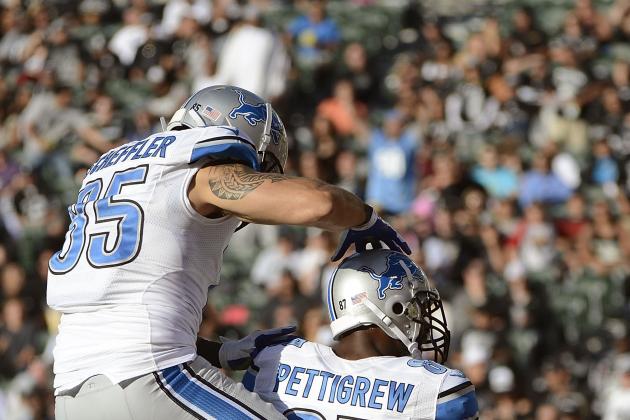 Thearon W. Henderson/Getty Images

Brandon Pettigrew
Brandon Pettigrew may never reach that elite threshold with the Grahams and Gronkowskis, but he is well above average in every area, a perfect safety valve for Matthew Stafford when under pressure in Scott Linehan's 2TE system and a huge end-zone target.
Grade: A
Tony Scheffler
Tony Scheffler is an equally large target in the red zone and showed his ability in the intermediate passing game all preseason. He may see a decrease in targets this year with an infusion of talent at receiver, but he has proven reliable as a downfield threat.
Grade: A
Will Heller
Will Heller is versatile as an H-back but isn't as dangerous a receiving target as the other two.
Still, Heller is valuable as a situational blocking fullback, and the Lions won't ask much more of him this season.
Grade: B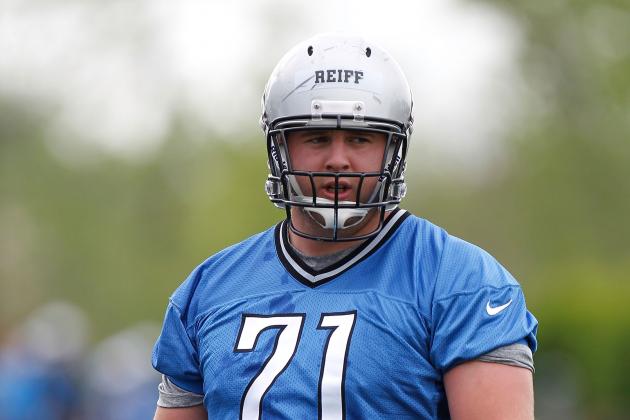 Gregory Shamus/Getty Images

Jeff Backus
Jeff Backus doesn't have much to report. For the 12th time in a row, he's healthy, ready to play and prepared to start at left tackle.
He's aging, but it doesn't seem as though he'll be any less effective than he ever has been.
Grade: B
Rob Sims
Rob Sims put on weight in the offseason to get himself back above 300 pounds, which should help him generate a little more push in the run game. Over the last couple of seasons, he and Backus have combined to make the left side of the line more solid than it has been in years (though that isn't saying too much).
Grade: B
Dominic Raiola
Dominic Raiola, once again, faces effectively no competition or challenge for his job. He's not exactly going to make any bids as a Pro Bowler, and his best years are likely behind him, but he should have enough left in the tank to be better than a random free agent.
Grade: D+
Stephen Peterman
Stephen Peterman will start at right guard, despite being one of the weakest links in the entire starting lineup. Peterman, like most of the starters on the Detroit line, is an effective pass-blocker, but he struggles to move anyone in the run game.
That's not what you want in a right guard, but it's the best the Lions have.
Grade: D-
Gosder Cherilus
Gosder Cherilus may not be around in Detroit much longer, but he appears to be the best option at right tackle at this moment.
Still, Riley Reiff and Jason Fox threaten to take reps from him by the end of the season.
Grade: C
Riley Reiff
It does not appear that Riley Reiff is going to threaten for a starting job as soon as once thought, but he has plenty of promise moving forward. The Lions won't throw him into the starting lineup, because they don't need to do so just yet, but when they do need him, he'll be more than ready.
He's right where he should be for now.
Grade: C+
Jason Fox
Jason Fox has done what he needed to do to make the roster: stay healthy and show the potential the Lions saw when they took him in the fourth round of the 2010 draft.
He has done that much, now we wait and see how high his ceiling is.
Grade: B+
Corey Hilliard
Corey Hilliard, in all likelihood, made the roster because of his versaility. If there is an injury at either a tackle or a guard position, it is more than likely that Hilliard will fill in. He has less upside than Reiff or Fox, but he has more experience than either of the two.
Grade: C
Dylan Gandy
Dylan Gandy isn't a bad player; in fact, he has been solid depth for the last few years. Dan Gerberry had an excellent camp, and Gandy still managed to beat him out on the roster, so there must be something the Lions see there worth keeping around, despite Gandy's relative lack of upside.
Grade: C-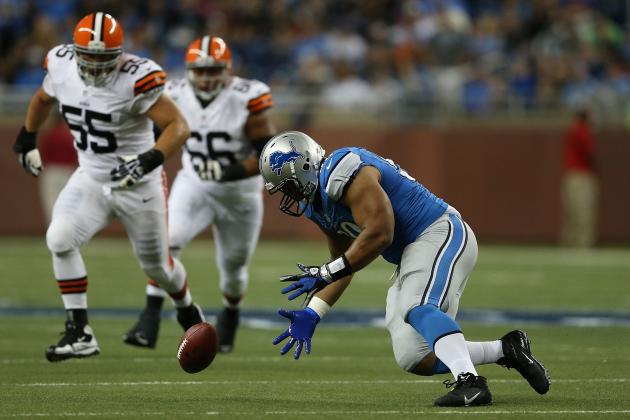 Leon Halip/Getty Images

Cliff Avril
Cliff Avril reported to camp with plenty of time to spare, and there is little reason to believe he won't build on his success from last year, as he does every year, despite a slow preseason.
Grade: A-
Corey Williams
Corey Williams may be one of the better-paid players on the defensive line, but he's also one of the better players, period.
His contract is finished after this season, and it seems unlikely that the Lions will retain him, but that's all the more reason for him to play hard this season.
Grade: B+
Ndamukong Suh
Ndamukong Suh has had a blessedly quiet offseason and now returns to prove that he is more like he was in 2010 than in 2011.
We didn't get much evidence of how Detroit plans to move him around the formation in 2012 from the preseason, but it's not surprising that the Lions don't want to tip their hand.
The important thing is that Suh is still in great shape and still seems ready to play.
Grade: B+
Kyle Vanden Bosch
Kyle Vanden Bosch might be looking at a steep cut in playing time this season. He has had a difficult time staying healthy, and his absence has given rise to an emerging Willie Young.
Young has spent the preseason making plays in every conceivable way, and it is beginning to look as though he might be more worthy of a starting role than even a healthy Vanden Bosch.
Grade: D+
Willie Young
Willie Young is, as just mentioned, coming on strong this year and looks to be an emerging superstar. He makes big plays and rushes the passer in a scheme that values that above all other defensive skills.
The only thing left for him to prove is whether he can keep up his production with a starter's percentage of snaps each game. If he can, he's a Pro Bowl lock.
Grade: A+
Lawrence Jackson
Lawrence Jackson is a solid, versatile end who plays the run better than most ends in this scheme. He has gotten lost in some of Young's hype this preseason, but Jackson is perfectly effective, if a bit less explosive than other ends.
Grade: C+
Nick Fairley
Nick Fairley made headlines for all the wrong reasons this offseason, and he hasn't done too much on the field to dispel his issues so far.
It's only preseason, but anyone looking for him to play with extra intensity to shake off his offseason problems was disappointed.
Maybe he's saving it for the regular season.
Grade: D
Sammie Hill
Sammie Hill gets lost when we talk about Lions defensive tackles, but he was the first DT taken by Jim Schwartz and has turned out to be arguably the best in terms of return on investment.
He's a solid rotational player who could likely start on some teams—this as a fourth-round pick from relatively unknown Stillman College.
Grade: B+
Ronnell Lewis
Ronnell Lewis will definitely need more time to adjust to his new position, as he transitions from 3-4 rush linebacker to 4-3 end. The transition to keeping your hand in the dirt is tough, and Lewis isn't likely to contribute on defense for some time.
Luckily, he's valuable on special teams, which is really the only place we'll see him this year.
Grade: D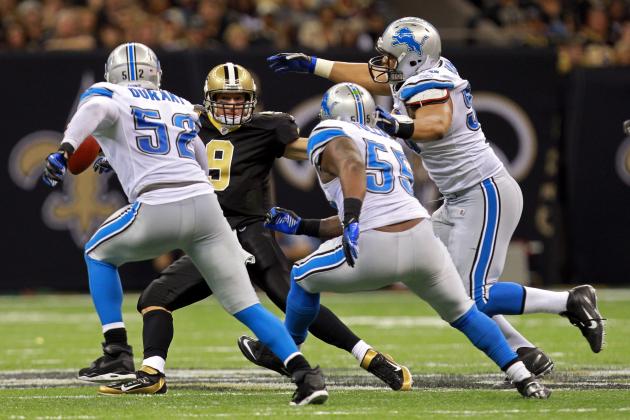 Ronald Martinez/Getty Images

Stephen Tulloch
Stephen Tulloch is battling some knee tendinitis, but he is one of Detroit's leaders on defense and will be for years.
As long as he remains healthy this season (and that hasn't historically been a big issue for him), he should lead the Lions in tackles for a second straight season.
Grade: A-
Justin Durant
Justin Durant is solid, and while he doesn't make a lot of game-changing plays, he also makes the plays he's supposed to make.
The 4-3 OLB is a fairly thankless position overall, especially for players who do their jobs well without being flashy.
Durant is one of those guys.
Grade: B-
DeAndre Levy
DeAndre Levy eliminated all doubt about who takes over at middle linebacker should Stephen Tulloch get injured when he started there against Buffalo.
That said, his future is as an outside linebacker, and it will be interesting to see how Levy plays this season, now that he doesn't have to change positions for once.
Grade: B
Ashlee Palmer
Ashlee Palmer didn't just make the roster; he seems to have moved up the depth chart, as well. Against Buffalo, Tulloch sat out to rest his knee. In response, Levy moved to the middle and Palmer got the start on the outside.
Whether that's a sign of Palmer's development or the Lions' lack of trust in their rookie linebackers, it's a good sign for Palmer, either way.
Grade: A-
Tahir Whitehead
Tahir Whitehead may not be playing the "Bobby Carpenter" role this season, but he appears to be the current favorite among the young linebackers on the team. While he wasn't a huge performer in preseason, he impressed everyone with his athleticism during training camp.
Now he just needs to translate that athleticism into production.
Grade: C-
Travis Lewis
Travis Lewis has potential and the versatility to play all three linebacker positions. That (in addition to the Lions' seventh-round investment in him) is likely why he remains on the roster.
He definitely isn't as fluid as he could be, but he's a rookie who needs to adjust to a new scheme. That comfort level will come in time.
Grade: D+
Doug Hogue
With a year's worth of development under his belt, Doug Hogue should have been ready to take over a major reserve or even starting position.
But if anything, he regressed.
I can only assume Hogue made the roster because the Lions aren't ready to give up on his potential and they're painfully thin at the position.
Grade: D-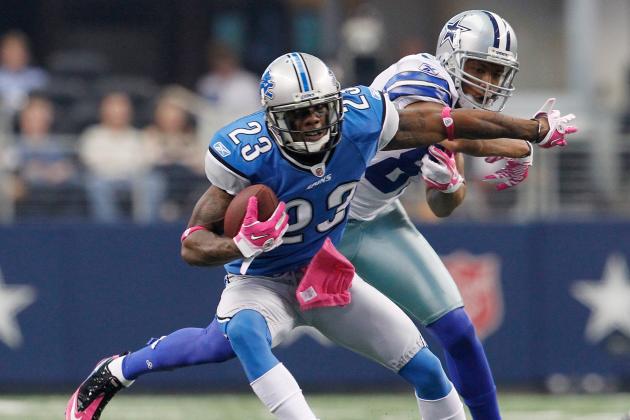 Tom Pennington/Getty Images

Chris Houston
Chris Houston is the saving grace of this unit. He's not a shutdown corner, but he's a good starter who appeared to greatly improve his ball skills last season, posting five interceptions after four in his career to that point.
If he gets healthy, he'll be the only thing the Lions don't need to worry about in the secondary.
Grade: B+
Bill Bentley
Bill Bentley did the impossible by playing himself into a presumed starting position as a rookie. That says a great deal about Bentley but also about the Lions secondary in general.
Bentley has a lot of potential but also a lot to learn. He is a quick study, though, and it doesn't seem as though it will be too difficult for him to learn on the job.
Grade: C
Jacob Lacey
Jacob Lacey looks slated to be the nickel cornerback for the Lions this season. He didn't perform well enough to earn a starting job, but he should be a big part of the team this season.
Perhaps more importantly, he's the top fully healthy cornerback on the roster at present.
Grade: C-
Jonte Green
Jonte Green made the roster because he's the only rookie who stayed healthy through the preseason and the Lions had no better options.
He's not bad; he just needs lots and lots of polish.
Grade: D
Kevin Barnes
Kevin Barnes, like Green, is the beneficiary of a very, very poor secondary, so much so that he was able to make it to Detroit's roster after presumably being on Washington's cut list.
He only needed two weeks to show he was more capable than the collection of players the Lions had going at cornerback.
Grade: D-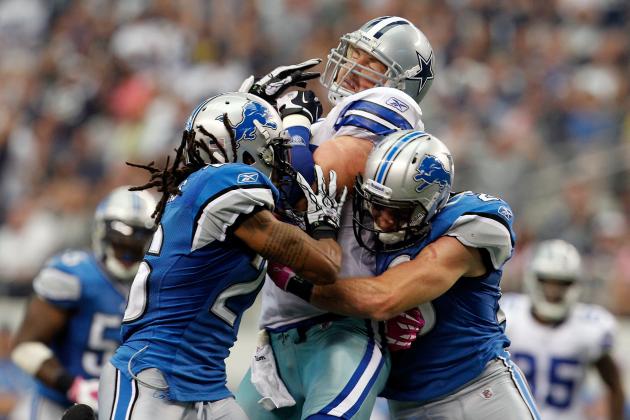 Tom Pennington/Getty Images

Louis Delmas
Louis Delmas needs to get healthy, stay healthy and stop creating excuses as to why he doesn't play up to expectations.
At this point, he's like a poor man's Bob Sanders: He changes the defense when he's in it, but he's so rarely in it that you start to wonder if he's worth the trouble.
Grade: D+
Erik Coleman
Erik Coleman stepped up big in place of an injured Delmas and a regressing Amari Spievey, and suddenly, the safety position doesn't look as barren as it did before.
It remains to be seen if Coleman is a long-term fix or a short-term replacement while Spievey gets it together, but he looks like a sure starter for now.
Grade: A-
John Wendling
John Wendling was perhaps the most pleasant surprise for the Lions in camp this year. He was practically guaranteed a roster spot because of his special-teams play.
But then he came into training camp and started playing exceptionally well—at safety, not on special teams.
Throughout preseason, he has played like a star at safety, and his emergence as a viable player in the defense has given the entire secondary a boost.
Grade: A+
Amari Spievey
Amari Spievey was drafted as a cornerback, shifted to safety as a rookie, took over a starting role in 2011 and now seems to be hanging onto the roster only with his special-teams play.
Starter to special teams is not a progression you want from a former third-round pick, but his obvious regression makes him lucky even to still be on the team.
Grade: F
Ricardo Silva
Ricardo Silva has to be wondering what the Lions' criteria are. In 2011, he had an excellent preseason and got cut. In 2012, he regressed, got injured and made the roster.
Silva is likely around chiefly for special teams, and in that capacity, he's fine. But based on his preseason performance, it's likely best to not put him in the vicinity of the defense, if possible.
Grade: D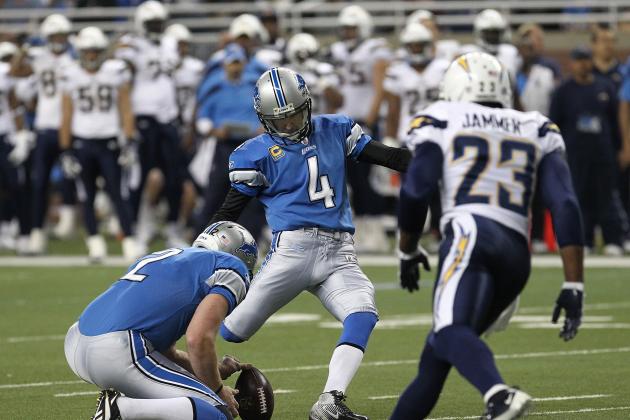 Dave Reginek/Getty Images

Jason Hanson
Jason Hanson is aging gracefully, with his ability to hit from 50-plus yards as alive and well as it has ever been. Hanson was a bit erratic in the preseason, but attribute it to working out some kinks.
Hanson is not as accurate or as powerful as he was in his earlier days, but he is still plenty enough of both to get his job done at an elite level.
Grade: A-
Ben Graham
Ben Graham deserves high marks automatically for beating out the young Ryan Donahue in camp, despite being a 38-year-old lefty punter with an awkward delivery.
But on top of that, he was an effective punter (especially in downing the ball deep in opposing territory) both last season after Donahue's injury and this year in the preseason.
Grade: B
Don Muhlbach
I've said the same thing about Don Muhlbach for a long while, and I'll say it again here. Nobody really knows about the long-snapper on the team until he does something wrong.
Almost nobody knows Muhlbach.
Grade: A-