Full Updated MLB Award Predictions Entering September Pennant Race Action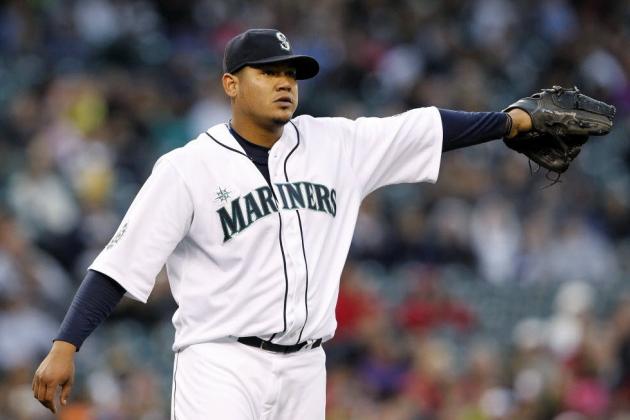 AP Photo/Elaine Thompson
Major League Baseball annually celebrates its most outstanding rookies, managers, pitchers and positional players with award presentations.
The winners' identities are gradually leaked during the playoffs, but fans can't be expected to wait until then!
Thankfully, you won't have to.
I've updated the award predictions and anticipated how leading baseball writers would vote based solely on what has transpired through this point of the season.
Agree to disagree.
Begin Slideshow

»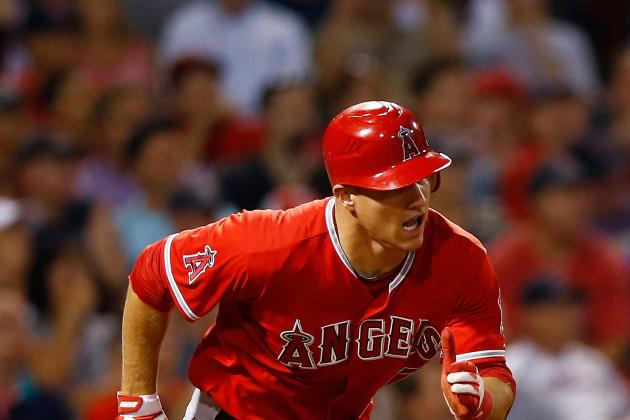 Jared Wickerham/Getty Images

No disrespect to Yoenis Cespedes or Matt Moore, but other AL players with rookie eligibility aren't comparable to Mike Trout.
The 21-year-old only appears human from one statistical standpoint, as his OPS has recently dipped below 1.000. After spending the bulk of the season's second half in a league of his own, Trout can finally be clumped with every other healthy major leaguer.
Still, "Wonderboy" continues to maximize his talent.
He's an unstoppable power-speed dual threat who can single-handedly generate offense with home runs or steal his way into scoring position (91 percent success rate). Don't forget to acknowledge his outfield defense and game-saving catches.
Baseball-Reference.com (9.4) and FanGraphs (8.3) agree that Trout's 2012 value—in terms of Wins Above Replacement (WAR)—is off the charts.
Preseason Favorites who Flopped: Yu Darvish (Texas Rangers), Jesus Montero (Seattle Mariners)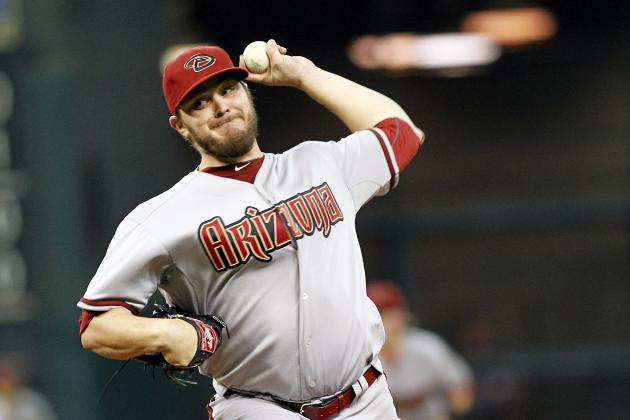 Bob Levey/Getty Images

The lazy pick here is Washington Nationals outfielder and media darling Bryce Harper.
The National League's most deserving rookie, however, hails from the desert.
Wade Miley's campaign got off to a promising start on April 8 with four innings of shutout relief. He remained effective after being inserted into the rotation and was named to the 2012 NL All-Star roster.
Though his Arizona Diamondbacks have been fading in the standings, Miley is actually improving, particularly when it comes to pitch location.
Exhibiting pinpoint control, the first-year phenom has walked only seven batters since the Midsummer Classic (57.1 IP) and served up one home run.
Surprise Candidate: Todd Frazier (Cincinnati Reds)
Preseason Favorites who Flopped: Yonder Alonso (San Diego Padres), Zack Cozart and Devin Mesoraco (Cincinnati Reds)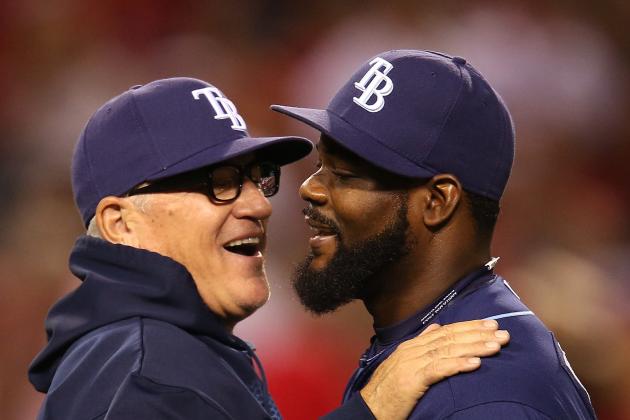 Josh Hedges/Getty Images

Has any member of this past free-agent class performed better than Fernando Rodney?
Perhaps Prince Fielder or Hiroki Kuroda, but neither makes the chump change of a run-of-the-mill middle reliever.
That's what the Tampa Bay Rays believed Rodney would be. His 1.55 WHIP from 2008-2011 barely qualified him for a major league contract, plus he had most recently walked 28 batters in 32 innings as a setup man for the Los Angeles Angels.
Rodney, who was cautiously optimistic about returning to his old, replacement-level form (via mlb.com), has been extraordinary (2-2, 0.73 ERA, 0.82 WHIP, 40 SV). Nobody in the American League is consistently throwing a filthier changeup this season.
Dramatic improvements in walk rate, strike percentage and OPS against are evidence of his miraculous comeback.
Honorable Mentions: Adam Dunn and Alex Rios (Chicago White Sox), Phil Hughes (New York Yankees), Justin Morneau (Minnesota Twins)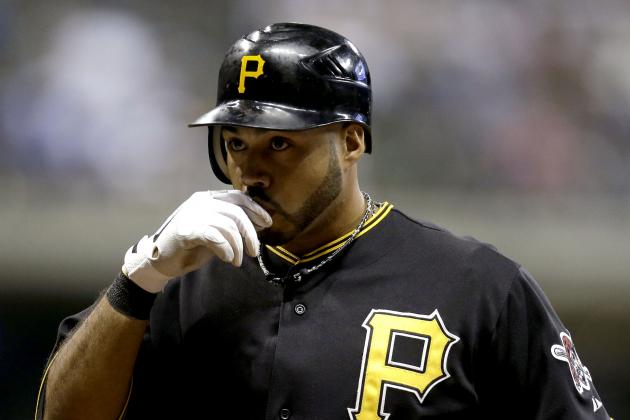 Mike McGinnis/Getty Images

Pedro Alvarez was demoted to the minor leagues midway through the 2011 campaign after struggling in all facets of the game (.561 OPS, -1.7 UZR). The former top prospect, who had garnered praise for his power, totaled four home runs at the MLB level.
This time around, he paces NL third basemen with 27.
Alvarez's slugging percentage has practically doubled, and his defense is much-improved.
Merely months removed from being a player who the Pittsburgh Pirates couldn't give away, the 25-year-old appears to be an indispensable building block.
Honorable Mentions: Adam LaRoche and Stephen Strasburg (Washington Nationals), Ryan Ludwick (Cincinnati Reds), Adam Wainwright (St. Louis Cardinals)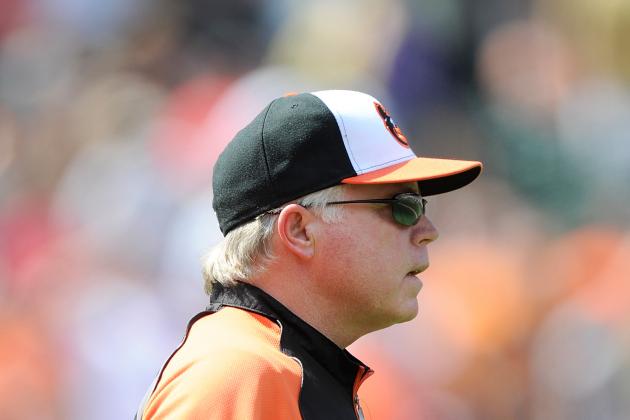 Greg Fiume/Getty Images

Relative to expectations, no MLB team since the 2008 Tampa Bay Rays has overachieved as much as Buck Showalter's Baltimore Orioles.
It's not like they've been dominant.
The O's are the only contender with a negative run differential. "Juggernauts" like the New York Mets and Toronto Blue Jays lead them in that category.
Nonetheless, with center fielder Adam Jones as the club's only star player, Baltimore is challenging the mighty New York Yankees for an AL East title.
Showalter constantly makes adjustments. He demands that his guys behave selflessly—whether they're told to learn a new defensive position or taken out of the rotation and molded into a reliever.
The two-time AL Manager of the Year is poised to expand his trophy case.
Honorable mentions: Joe Girardi (New York Yankees), Bob Melvin (Oakland Athletics), Robin Ventura (Chicago White Sox), Ron Washington (Texas Rangers)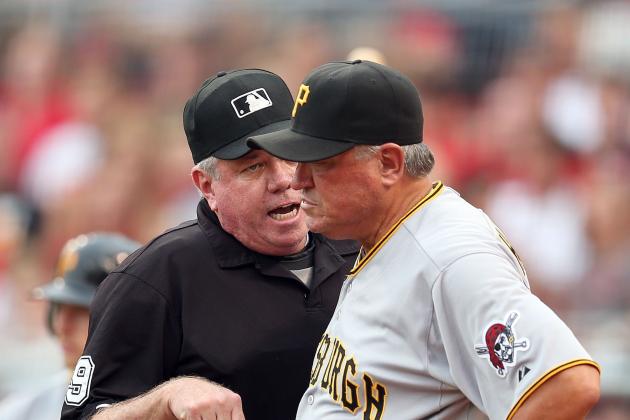 Andy Lyons/Getty Images

Clint Hurdle is Buck Showalter's National League parallel.
His team will eclipse its win total from last year in the coming days. The two franchises, moreover, are about to finish with winning records for the first time in a generation.
Hurdle has trusted Pedro Alvarez, A.J. Burnett and other players who entered this summer with zero momentum. The Pittsburgh Pirates would not be in contention had the skipper not supported those individuals through early-season struggles. Managing the bullpen is another one of his strengths.
Despite revolving doors at first base and in left field, scoring runs has not been a huge concern.
Honorable Mentions: Dusty Baker (Cincinnati Reds), Bruce Bochy (San Francisco Giants), Mike Matheny (St. Louis Cardinals)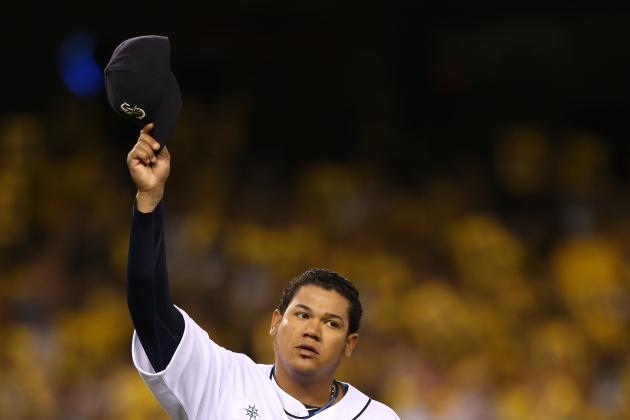 Otto Greule Jr/Getty Images

Complete games are very rare in this era of large active rosters.
So, any MLB pitcher who totals five scoreless ones in a summer—and tosses a 12-strikeout perfect game—belongs in the Cy Young conversation.
Speaking of lengthy outings, Felix Hernandez has survived seven-plus innings in 75 percent of his starts in 2012, including each of his last 11. He takes advantage of Safeco Field's pitcher-friendly conditions, but also owns a sub-3.00 ERA on the road. King Felix's platoon splits are negligible, and he has dominated several of the league's best lineups.
I find it inexplicable that he boasts a 13-6 record on such an offensively challenged team. It would be even more perplexing if Hernandez wasn't chosen for this award.
Surprise Candidates: Hiroki Kuroda (New York Yankees), Chris Sale (Chicago White Sox)
Preseason Favorite who Flopped: Jon Lester (Boston Red Sox)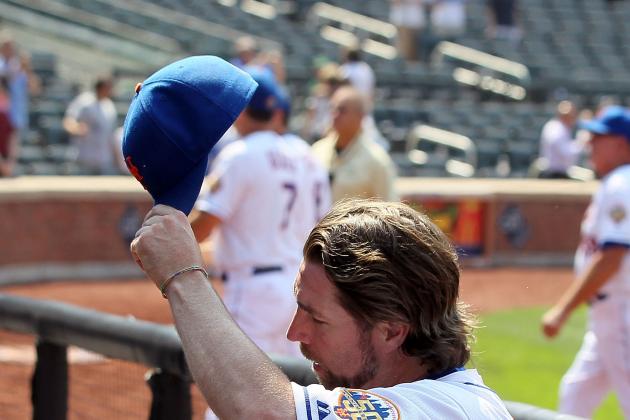 Jim McIsaac/Getty Images

This race comes down to R.A. Dickey and Clayton Kershaw...and Matt Cain, Aroldis Chapman, Johnny Cueto, Gio Gonzalez, Cole Hamels and Craig Kimbrel.
Yeah, it's hotly contested.
Dickey locates his knuckleball better than anyone in the pitch's history. The 37-year-old has uncorked only three wild pitches this season, plus he hasn't walked more than four batters in any of his 28 appearances.
His strikeout rate and innings total are among the best in the National League.
If it helps at all, Dickey is a formidable batter, at least in terms of putting the ball in play. He has whiffed just six times in 67 plate appearances and been credited with nine sacrifices.
That's what I call helping your own cause!
Surprise Candidate: Aroldis Chapman (Cincinnati Reds)
Preseason Favorites who Flopped: Josh Johnson (Miami Marlins), Ian Kennedy (Arizona Diamondbacks)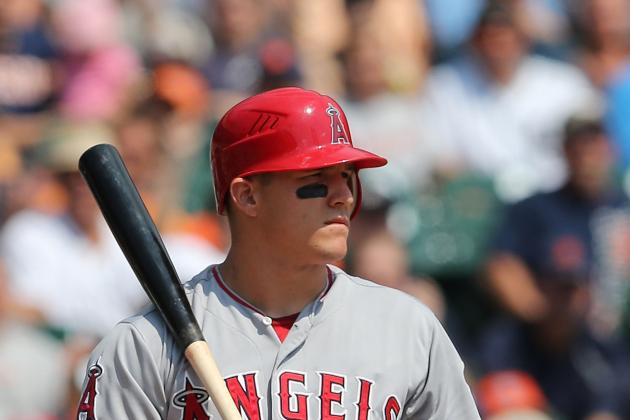 Leon Halip/Getty Images

Where would the Los Angeles Angels be without Mike Trout?
Probably where they were before his late-April arrival: in the AL West cellar.
Trout's game does not have any apparent weaknesses. Barring a severe slump, he'll be joining Fred Lynn (1975) and Ichiro Suzuki (2001) in the exclusive club of MVP-winning rookies.
The outfielder leads his league in runs and stolen bases, and he's nearly No. 1 in every triple-slash category.
Surprise Candidate: Edwin Encarnacion (Toronto Blue Jays)
Preseason Favorite who Flopped: Jacoby Ellsbury (Boston Red Sox)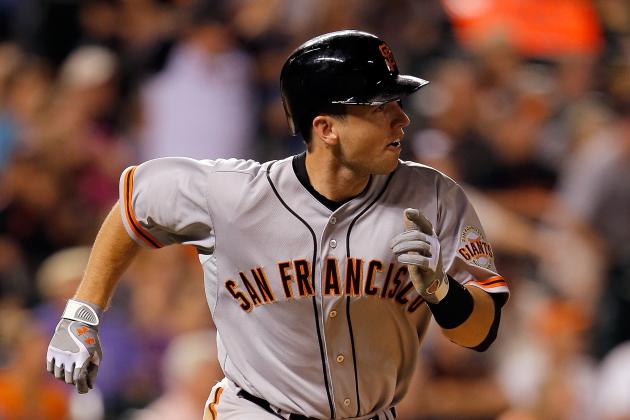 Doug Pensinger/Getty Images

Catcher Buster Posey was productive enough through three months to earn a starting nod for the 2012 All-Star Game. His stellar second half could be worth a $84 million contract extension, writes Mark Polishuk of MLB Trade Rumors.
Right-handed pitchers can't get him out. Southpaws rarely keep him in the ballpark.
Because of Posey's incredible hot streak, the San Francisco Giants didn't feel pressured to spend big on a Melky Cabrera replacement.
The third-year backstop is clutch, too. He has a .974 OPS with runners in scoring position and an 1.190 OPS in tied situations.
His defense behind the plate is the clincher, as Matt Cain famously admitted that he didn't shake off Posey once during their perfect game.
Surprise Candidate: David Wright (New York Mets)
Preseason Favorite who Flopped: Justin Upton (Arizona Diamondbacks)