Yadier Molina Injury: Major League Baseball Must Outlaw Home-Plate Collisions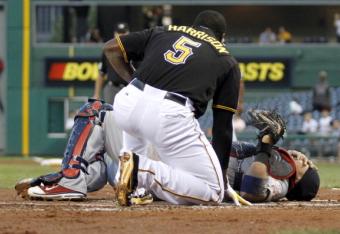 Justin K. Aller/Getty Images
Tuesday night's well-documented home-plate collision between Pittsburgh's Josh Harrison and St. Louis' Yadier Molina thankfully resulted in no serious injuries for the Cardinals catcher.
However, the play cannot help but churn up discussion about whether or not home-plate collisions should be an accepted part of baseball.
For what it is worth, Molina harbors no hard feelings about the play, calling it clean, according to an article from Jenifer Langosch on MLB.com:
Clean play. That's part of baseball. He did what he had to do, and I did what I had to do. It sucks because you don't want anybody to get hurt. This time, it was me to get hurt. But it was a clean play.
But regardless of whether or not the play is within the official rules and/or unofficial culture of the sport, it is time for these incidents to stop entirely.
Replays of the hit no doubt conjured images of Buster Posey being mauled by Scott Cousins in 2011, an incident that ended Posey's season due to a broken fibula and torn ligaments in his ankle. Going back further, one cannot help but remember the story of Pete Rose practically assaulting Ray Fosse at home plate during the 1970 All-Star Game.
The ridiculous display of aggression—in an exhibition game, no less—forever affected Fosse's swing and subsequently his career. Though he played nine more seasons, he would not hit more than 12 home runs in a single one of them—four fewer than his total from the first half of that 1970 season.
Not only did Posey never have possession of the ball, but Cousins had an open area of the plate to slide for.
The most absurd aspect of a home-plate collision is not that it exists. Runs are hard to come by in baseball, and causing a catcher to lose control of the ball could be the difference between a win and a loss.
What is ridiculous is that the aggression is sanctioned by the sport.
Nowhere else in baseball does violence exist. This is not like debating helmet-to-helmet collisions in a contact sport like football or intentional headshots in a sport as tough as hockey. Baseball is a sport where fielders cannot interfere with runners during a play and where baserunners must run around an infielder positioning himself under a pop-up.
Yet, in one warped five-foot area on the third base line in front of home plate, it becomes open season on catchers trying to make a play.
Not only is this the lone moment in baseball that could remotely qualify the game as a contact sport, but it is also the situation where a fielder is most vulnerable. The catcher is fixated on seeing the ball into his glove the split second before the collision occurs.
Many times, the result of the play is not even determined by whether or not a tag is applied. If contact is made, it boils down to one factor: If the ball remains in the glove, it's an out. If it comes loose, the run counts.
The moronic traditionalist will cite the fact that the catcher is blocking home plate, and therefore the fielder has a right to the base. However, Rule 7.06(b) of the Official Rules on MLB.com states:
Dilip Vishwanat/Getty Images

The catcher, without the ball in his possession, has no right to block the pathway of the runner attempting to score. The base line belongs to the runner and the catcher should be there only when he is fielding a ball or when he already has the ball in his hand.
So, if the catcher is fielding the ball or already has it, he is allowed to be in the baseline. The runner still has the option to avoid the tag by sliding, a technique which is probably more likely to result in a run than bowling over a catcher with firm possession of the ball.
Still, if the catcher does not firmly have possession, there is a benefit to the collision. Few people can multitask well enough to see a baseball into their glove while simultaneously absorbing the entire propelled body weight of a 200-pound man bearing down on them.
This technique, in a use of doublespeak that would make Orwell roll his eyes, is commonly referred to as "separating the man from the ball."
Separating the man from the ball.
Much like a car separating cyclists from their bikes.
If running full speed into a defenseless catcher is considered separating man from ball, why is it that other methods of separating man from ball result in automatic outs?
Why was Alex Rodriguez called out for separating the ball from Bronson Arroyo's glove in the 2004 ALCS? If Arroyo had suffered a shoulder injury like Molina did on Tuesday, would the play have then been legal?
It is time for baseball to adjust the rules so that this ridiculous practice stops and vulnerable catchers can stop deciding between making the best play for their teams and the best decision for their future careers.
Make it illegal for catchers to physically cover home plate unless there is a force out, giving the runner a place to slide. Or simply deal with the fact that blocking the plate is part of the game.
But for a sport that features no contact anywhere else on the field of play, it is absolutely disgusting that this practice is still sanctioned by the league.
Baseball should know better by now.
This article is
What is the duplicate article?
Why is this article offensive?
Where is this article plagiarized from?
Why is this article poorly edited?