Fantasy Football 2012: Rookies Worth Reaching for on Draft Day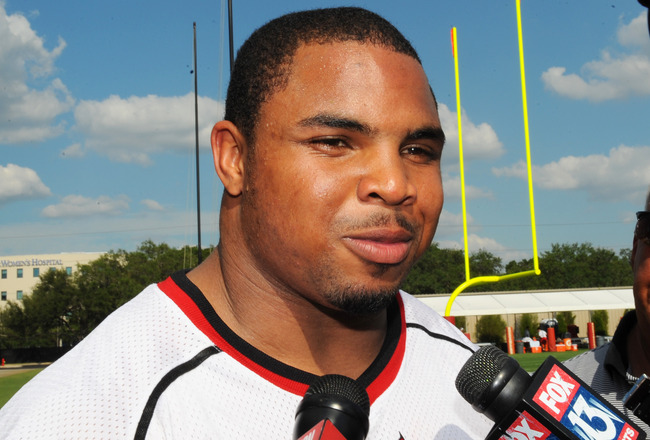 Al Messerschmidt/Getty Images
The days of completely ignoring rookies at your fantasy football draft are over. You can thank Cam Newton, Andy Dalton, A.J. Green and Julio Jones for that.
But rookies carry inherent risks, and it's hard to know which ones are worth reaching for in your draft and which you should avoid like the plague.
Should you draft Robert Griffin III for your fantasy team? Is Trent Richardson really worth a fourth-round pick? Which undervalued receiver on draft day could become a red-zone stud this season?
You've got questions, I've got slides. And one player won't appear on them—avoid RGIII this year. He's overpriced.
Let's get to the rookies you should target this year.
(Note: All average draft positions via ESPN.)
Coby Fleener and Dwayne Allen, Indianapolis Colts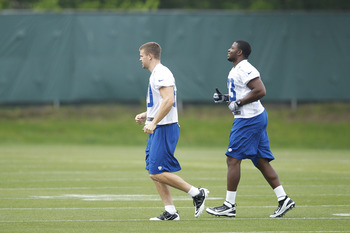 Joe Robbins/Getty Images
Coby Fleener has an ADP of 139.4. Dwyane Allen has an ADP of 170.0 and probably won't get drafted in most leagues. Each are amazing bargains who should vie for fantasy relevance this season.
Rookie quarterbacks always like having a reliable tight end, and when you have the familiarity that Luck and Fleener already possess, that's a major plus. I'm not telling you to draft him to be a starting tight end, but as a TE2?
Absolutely.
As for Allen, I've heard and read a lot of good things about him this summer. He could surprise some folks.
I like Fleener in the 12th round and Allen right at the end of your draft. I think one of these guys will end up being an amazing bargain for you this season. Not a terrible idea to add both and see which one performs this season.
David Wilson, New York Giants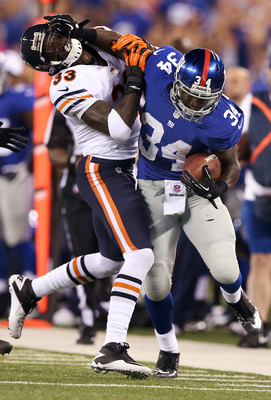 Elsa/Getty Images
Ahmad Bradshaw missed four games last season and has a history of foot injuries. If he goes down this year, David Wilson becomes a very attractive fantasy commodity.
And with an ADP of 108.4, he's one you should be targeting. Especially if you own Bradshaw.
Wilson averaged 5.9 yards per carry at Virginia Tech last year, so you know he's explosive. He's nothing more than a nice Bradshaw handcuff if the incumbent stays healthy, but I think Wilson will see time as Bradshaw gets bumped and bruised during the season.
Target him in the 10th, and be glad you did.
Alshon Jeffery, Chicago Bears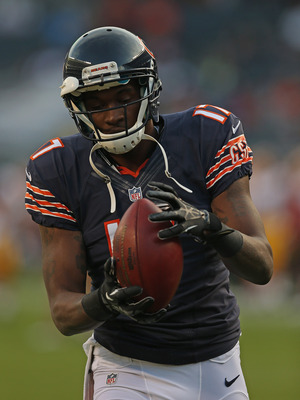 Jonathan Daniel/Getty Images
Rookie wide receivers are always risky. Well, unless they have an ADP of 147.1, that is, like the no-risk, decent-reward rookie receiver on the Bears, Alshon Jeffery.
He's gone from being a receiver who dropped too far down in the draft to a player that has eight receptions for 106 yards and looks like he could very quickly become Jay Cutler's favorite red-zone target. Yes, even with Brandon Marshall around.
You won't lose much value by taking a flyer on him the the 12th or 13th round, but you might end up getting a player that surprises you with eight touchdowns this season.
Kendall Wright, Tennessee Titans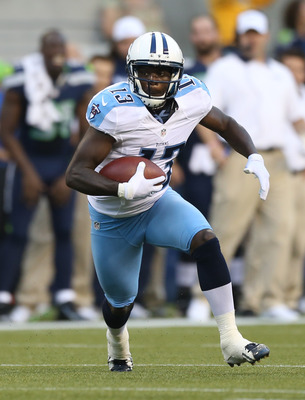 Otto Greule Jr/Getty Images
I really like Kendall Wright and his 140.2 ADP this season. I think, given his early rapport with Jake Locker, that he could end up being a very nice flex play once the bye weeks hit. Especially with Kenny Britt's situation remaining up in the air.
Wright is a big play waiting to happen while he's on the field, and while I think Nate Washington is the Titans receiver you'll really want this year, Wright could end up posting some big weeks for Tennessee.
I'm not telling you you're getting a legit fantasy WR2, but in a few spot starts, he could be clutch.
Look for him in the 12th or 13th round.
Andrew Luck, Indianapolis Colts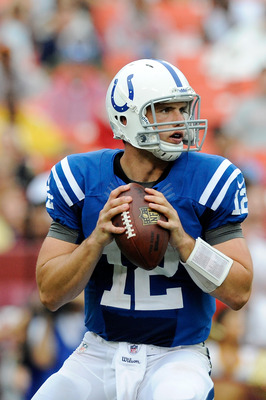 Patrick McDermott/Getty Images
I don't trust Robert Griffin III and his 83.9 ADP one bit this year. But I love me some Andrew Luck, and I think he's an absolute steal with an ADP of 111.2.
Frankly, I just think that Luck will have a very short transition period in the NFL. And given that I can probably wait until the 11th round to add him (I'll target him in the 10th), that means I can worry about filling out my roster before sweating over a backup quarterback.
Sure, the Colts have limited weapons and poor offensive line. But Luck's pocket presence and quick delivery—remind you of someone?—should cover for some of the Colt's protection issues. And 13 of 16 writers over at NFL.com picked him to be the Rookie of the Year, so I'm not the only one who thinks Luck will be a stud right away.
If he truly is the most NFL-ready quarterback since Peyton Manning, why fear drafting him? Target him in the 10th round and be glad you did. He'll be a very nice QB2.
Doug Martin, Tampa Bay Buccaneers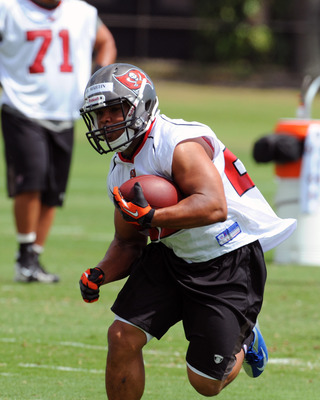 Al Messerschmidt/Getty Images
I love me some Doug Martin this season.
To absolutely nobody's surprise, Martin was named the starter in Tampa Bay over LeGarrette Blount. And while Blount will get his carries and possibly the goal-line looks, Martin is a three-down back who is absolutely worth drafting this year.
In the preseason, Martin has 27 carries for 97 yards and two touchdowns. He's also added four receptions for 19 yards. I wouldn't say he's exactly taken the league by storm this summer, but he's looked very good thus far.
Plus, Tampa Bay will be much better this season. The passing game will be bolstered by the addition of Vincent Jackson, and Carl Nicks will pave quite a few holes for Martin in the running attack. So don't think Martin will simply be stuck on a hopeless unit.
Finally, he comes at a reasonable price. He has an average draft position of 68.7. A seventh-round pick for a guy who could end up being a great sleeper this season? Sign me up.
And don't be afraid to take him in the sixth round. I like Martin a lot this season.
Trent Richardson, Cleveland Browns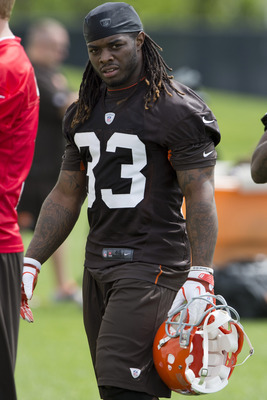 Jason Miller/Getty Images
Stop worrying about the knee—he's going to play in the opener, even if his touches are a bit limited early in the season.
Stop worrying about the Browns having a shoddy offense. Richardson is going to be a workhorse for the team this year—something very few running backs in the NFL can claim. He'll put up numbers.
Stop concerning yourself with the fact that he's a rookie. He's the best freaking rookie runner to hit the NFL since Adrian Peterson, has no weaknesses and doesn't carry into the NFL the extensive injury concerns and fumbling issues that Peterson did.
And ignore his ADP of 37.1 and target him in the third. If he drops to you in the fourth, great. But in a year with so many questions at running back, adding a player who will certainly be the focus of the offense and who will get a ton of touches is as safe as it gets.
Hit me up on Twitter—my tweets have an ADP of one.
Keep Reading