NFL Preseason: Biggest Winners and Losers of Thursday's Week 3 Games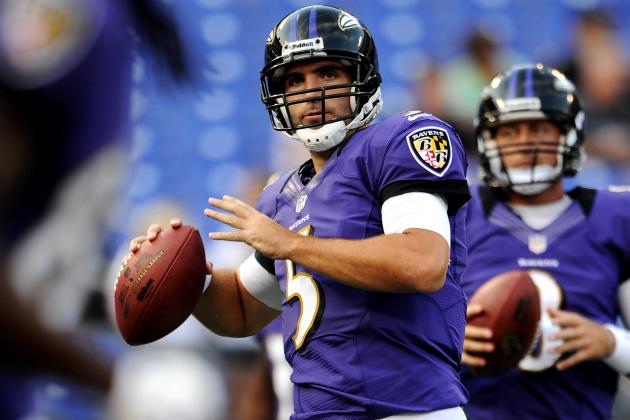 Patrick Smith/Getty Images

Week 3 of the NFL preseason is the biggest indicator of both success and failure for teams around the league. This is the week that starters get their most extensive action and we get a gauge of where teams are heading into the regular year.
This article is going to focus on winners and losers from the opening night of this lengthy preseason weekend.
You are going to see some established players on this list, but overall my focus is going to be on individuals with a lot to lose or gain. Therefore, you will not see Aaron Rodgers, Ray Rice or Larry Fitzgerald on this list. None of them can be considered winners or losers until the regular season gets going.
So, let's take a gander.
Begin Slideshow

»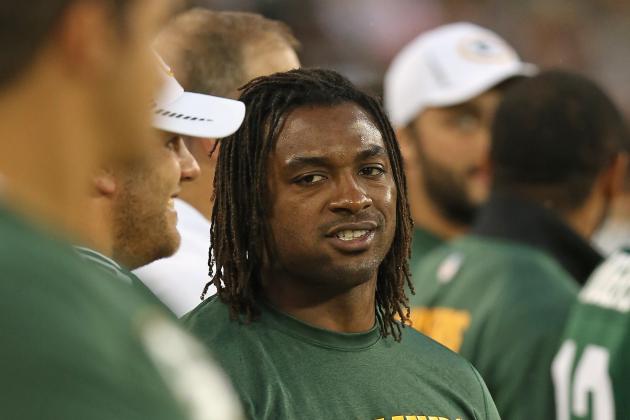 Jonathan Daniel/Getty Images

Cedric Benson will most likely be the Green Bay Packers' starting running back when the regular season gets going in a couple of weeks.
He pretty much cemented that status with a stellar performance against the Cincinnati Bengals tonight.
Benson gained 38 yards on six rushes, looking every part the player that compiled over 1,000 rushing yards in each of the last three seasons.
If Green Bay gets a consistent running game going behind Rodgers, they are going to be even more dangerous than last season.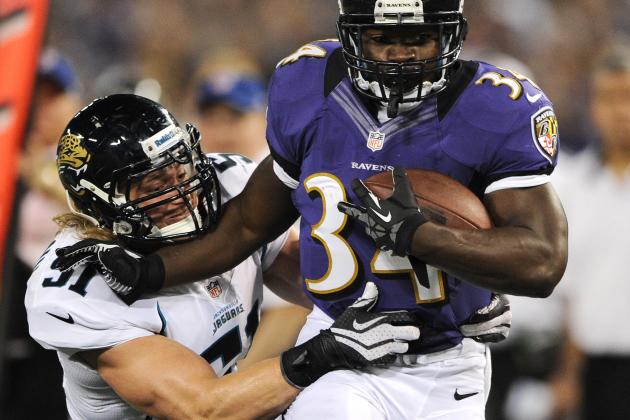 Patrick Smith/Getty Images

Defense was considered a strength for the Jacksonville Jaguars in what was an otherwise disastrous 2011 season. This unit also looked damn good through the first two games of the preseason.
Not so much tonight.
Joe Flacco and the Baltimore Ravens absolutely picked apart the Jaguars defense. Flacco threw for 267 yards and two touchdowns in just over a half of football. By the time Baltimore's first-team offense came out of the game, they had compiled over 20 first downs and about 300 yards of offense.
If Jacksonville is going to have any chance of competing this season, they are going to need to get this area of the field settled in short order.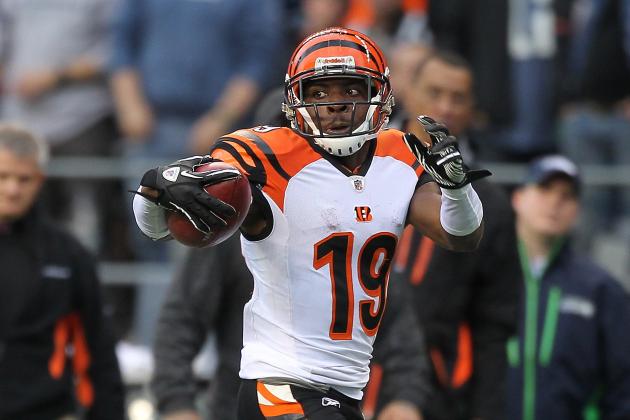 Otto Greule Jr/Getty Images

Brandon Tate may have only caught two passes in the Cincinnati Bengals' loss to the Green Bay Packers, but he is quickly jumping up their depth chart.
Tate, a tremendous athlete, has caught a total of 24 passes in three seasons as primarily a special teams performer.
Considering that the competition for Cincinnati's No. 2 wide receiver position is one of the best battles around the league, Tate should be happy with the way he has performed to date.
At the very least, it seems that the former North Carolina standout is catching everything thrown his way, including two catches in three targets tonight. It is now up to Andy Dalton to get him the ball more.
Marvin Jones has also impressed during the preseason and training camp. He caught a beautiful 15-yard touchdown pass from Bruce Gradkowski.
Look for these two players to make an impact throughout the season.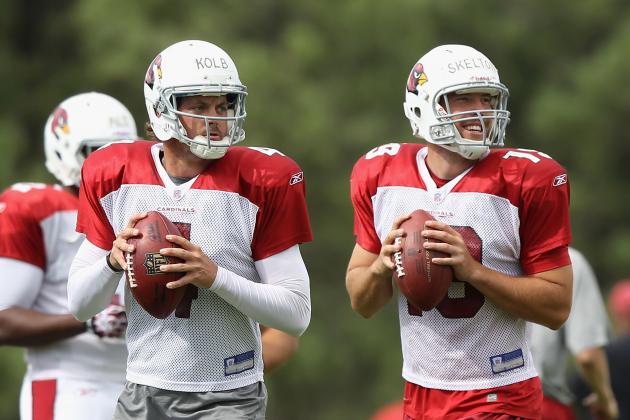 Christian Petersen/Getty Images

Talk about bad quarterback play. Kevin Kolb and John Skelton might actually be opening the door for another quarterback to win the starting job in Arizona. OK, that might be jumping the gun. However, they just don't seem to be anywhere near able to lead the Cards out of the abyss on offense.
Kolb might have completed 17-of-22 passes tonight against the Tennessee Titans, but two of those five incomplete passes ended up in the hands of Titans defenders.
You simply cannot make a living as a starting quarterback in the National Football League throwing the ball across your body toward the opposite end of the field. You simply cannot do that. This is the mistake Kolb made when he had an interception returned for a touchdown by Colin McCarthy.
No excuses there.
Meanwhile, Skelton was just horrid. His first snap of the game ended up in a sack, and two plays later the Fordham product was intercepted when he airmailed the ball up the middle.
In short, Arizona isn't going anywhere in the improved NFC West if they don't get even marginal quarterback play.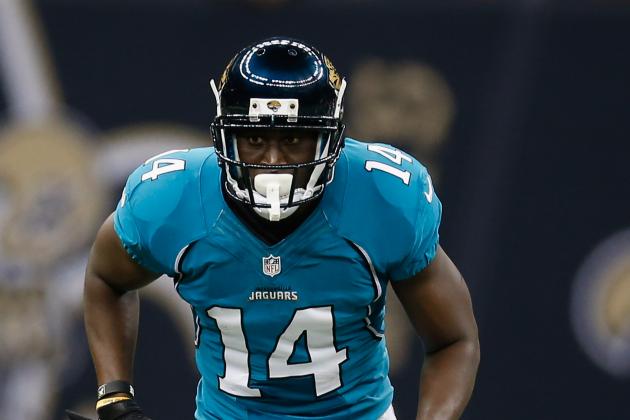 Chris Graythen/Getty Images

I definitely didn't see this coming. Justin Blackmon has looked like an actual top-10 pick in his first two preseason games.
The Oklahoma State product put together another solid outing against the Baltimore Ravens tonight. He caught four passes for 72 yards and really looked crisp in his route running.
While Blackmon only caught half of the passes that were thrown to him, it is becoming readily apparent that he is going to be the favorite target of one Blaine Gabbert.
As Evan Silva over at Rotoworld brought to my attention, Blackmon has caught eight passes for 120 yards in about five quarters of preseason football.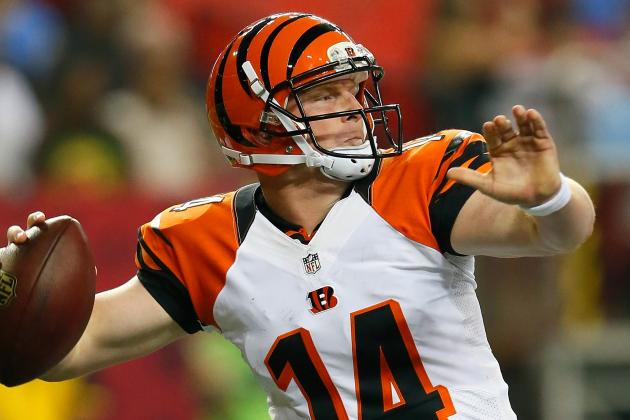 Kevin C. Cox/Getty Images

This will be the first and probably last time Andy Dalton will be on a list like this in a negative fashion. He looked extremely uncomfortable in the pocket and struggled a great deal with accuracy against the Green Bay Packers defense.
Overall, Dalton completed just 5-of-17 passes for a quarterback rating of 39.7.
He missed A.J. Green a few times and seemed to lack the touch that made him such a rookie sensation last season.
Of course, every player is entitled to a bad game, especially in the preseason. That being said, Andy Dalton just looked really darn bad.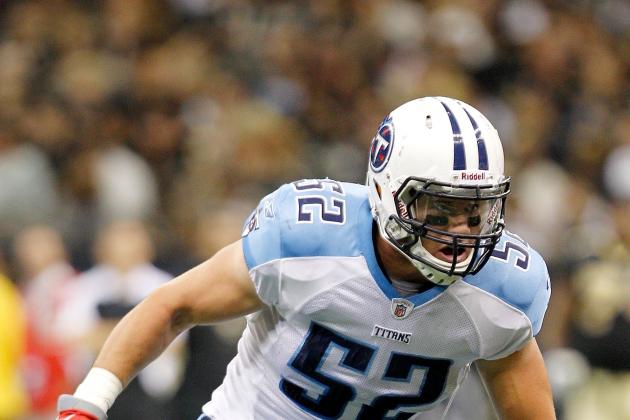 Sean Gardner/Getty Images

The second-year 'backer and Miami Hurricanes product has looked extremely good thus far this preseason and, in the process, has seemed to solidify the Tennessee Titans linebacker corps.
He intercepted two passes on top of recording seven tackles and two more passes defended against an anemic Arizona Cardinals first-team offense.
Colin McCarthy is one of the surest tacklers you will find in the NFL and simply seems to have an eye for the ball. Moreover, he does a good job penetrating the line between the hashes. McCarthy has a real a chance to be a breakout performer in 2012.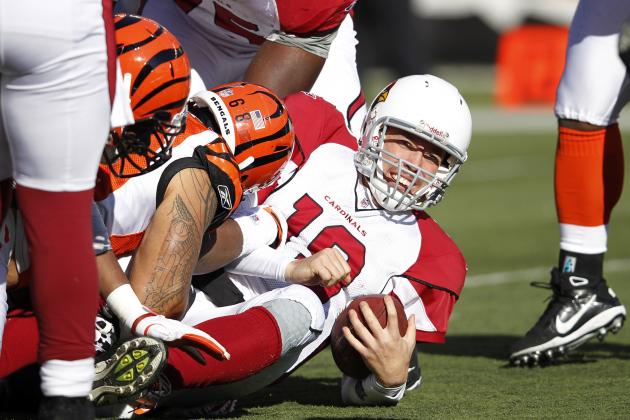 Joe Robbins/Getty Images

Horrible, just horrible. I really do have some sympathy for the Arizona Cardinals quarterbacks—they simply don't have the time to pass the ball. Nearly every time Kevin Kolb or John Skelton drop back, they get hit.
Now, you could simply say that these guys are holding onto the ball too long, but that would be a tremendous cop out. Instead, they just don't have the time to read and react.
A great case study of this would be the Cardinals' first offensive possession tonight versus Tennessee. Skelton was sacked on the initial play and got wrecked on the third offensive play, right before throwing an interception.
Whether it is Bobby Massie, Adam Snyder or D'Anthony Batiste, the entire right side of Arizona's line struggled a great deal. It is sad when their second-and third-stringers are playing better than the starters.
This is exactly what happened in their most recent outing.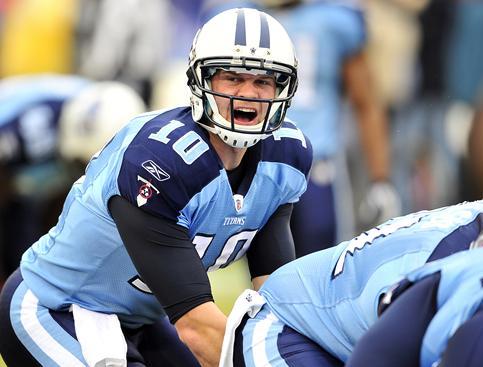 Courtesy of USA Today
In his first game since being named the Titans' starting quarterback, Jake Locker looked every bit the part of a franchise quarterback.
He led three first-half scoring drives against the Cards, throwing two red-zone touchdowns. Overall, Locker completed 11-of-20 passes for 134 yards and two touchdowns. He was quite comfortable in the pocket and seemed to be in sync with his receivers a great deal.
This is what Tennessee was hoping they would get when they made the Washington product a top-10 selection in the 2011 NFL draft.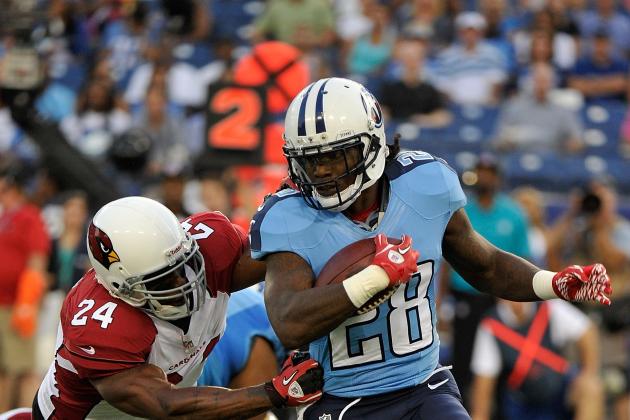 Frederick Breedon/Getty Images

I have been warning against drafting Chris Johnson too high in fantasy football over the course of the last couple of weeks. The talented running back has regressed in each of the last two seasons, bottoming out with just four total touchdowns in 2011.
After a solid performance last week, Johnson struggled a great deal against Arizona. He gained just 27 yards on 13 attempts.
Looking at the runs further, I noticed that Johnson seems to struggle with his field vision at the line of scrimmage. That is alarming, considering it was his speed and vision that made Johnson the dominant rushing champ he was.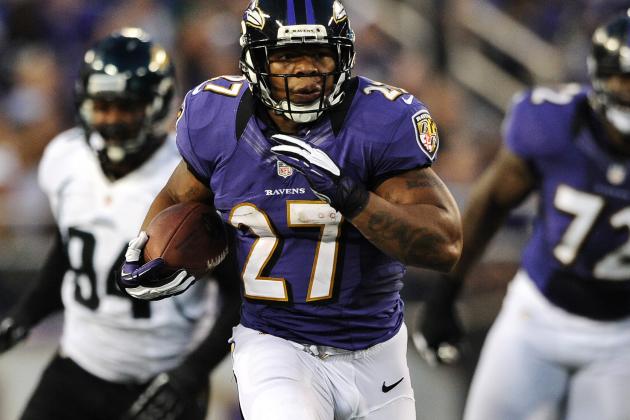 Patrick Smith/Getty Images

This was one amazing performance, even for a preseason game. Seriously, the Baltimore Ravens absolutely dominated on the offensive side of the ball against the Jacksonville Jaguars tonight.
They put up what translates to Madden numbers. Baltimore scored 48 points, compiled 32 first downs and accumulated 571 yards of total offense.
Joe Flacco came out slinging the ball around, completing 27-of-36 passes for 266 yards and two scores in just over a half of football.
Ray Rice, who saw limited action, gained 43 yards on three touches, while backup quarterback Tyrod Taylor accounted for 163 yards and three touchdowns.
Simply amazing.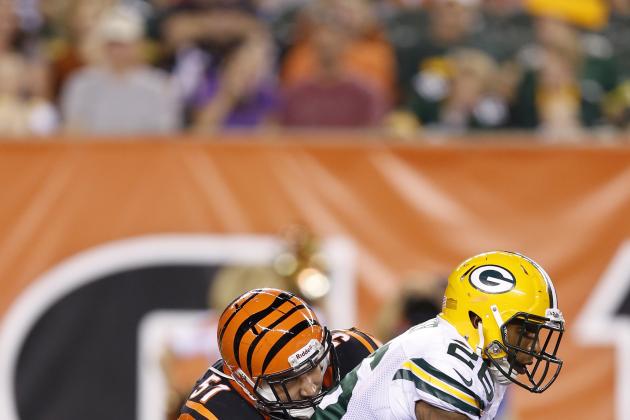 Joe Robbins/Getty Images

In preseason games, it is vital to look at how the starters played. Again, this is only magnified in Week 3 of exhibition season.
The Cincinnati Bengals secondary struggled a great deal against what is a tremendous Green Bay Packers offense. They gave up 150 yards in the first quarter, looking completely lost in coverage at times. Aaron Rodgers, despite not being his normal accurate self, was able to pick apart a struggling Bengals secondary.
If Taylor Mays is going to be asked to be the Bengals' starting strong safety, that is not likely to turn out great. The former second-round pick from USC just cannot cover in back end and there is no indication this is going to improve anytime soon.
Let's hope the Bengals secondary gets healthy in short order. Otherwise, it is going to be a long season in Cincy.