MLB Free Agency: 3 Teams Most Ready to Spend Some Money This Offseason
Jim Rogash/Getty Images
No team is officially eliminated, but many teams will soon be looking toward the offseason and the 2013 MLB free-agent period.
Obviously teams would like to focus solely on making the playoffs, but the reality is that not all teams make the playoffs and many teams already know that there will be no October baseball for them.
Instead of hoping and dreaming about the playoffs, teams will start scouting and paying attention to players the teams could acquire that could help next year whether via trade or, more likely, through free agency.
There are always those teams that will look to make a splash and spend a good amount of money with teams like the Miami Marlins, Detroit Tigers and, as always, the New York Yankees making huge offseason moves in recent years.
This offseason will be somewhat different as there are three teams to watch for as they could make headlines with their wallets, and none of them are named the New York Yankees or Philadelphia Phillies (the two teams with the highest payrolls).
Each of these teams could have a massive turnaround in 2013, and they might be willing to pay for it.
Boston Red Sox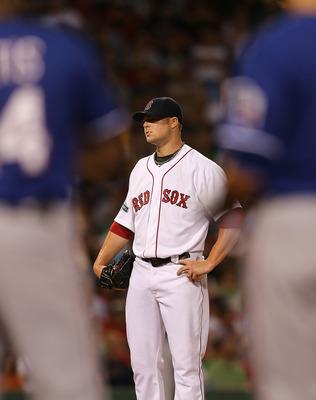 Jim Rogash/Getty Images
It would be no surprise if Boston went out and spent money this coming offseason.
With a little more than $173 million put into the roster, the third-highest payroll in baseball could always add more.
First, Boston needs to decide if it needs any help. On paper the lineup is great, but injuries and underperforming have hindered the team and let Boston to its current status as a team that is six games under .500 and 13 games out in the division.
The Red Sox also need to remember the last time it went big.
Two years ago, Boston signed Carl Crawford and Adrian Gonzalez. Gonzalez did well last season and has underperformed in 2012, while Crawford did little last season to impress and he has only played 31 games in 2012.
If Boston decides it needs to spend big, it will likely be on a catcher or starting pitcher.
Boston does have a young stud at catcher in Ryan Lavarnway, but there is no telling if he is ready. Currently the starter is Jarrod Saltalamacchia, but he does not do much other than hit the occasional home run.
If catcher does become a priority, a potential player could be Mike Napoli who would provide a solid bat to the lineup as he hits for both power and average.
If starting pitcher is a route Boston takes, Kyle Lohse or Joe Saunders would add depth to a struggling rotation, and Lohse could even fight for the No. 2 spot. The only potential free agent that could be an ace is R.A. Dickey.
Jon Lester has struggled mightily this season as he is 7-10 with a 5.03 ERA.
Lester may just be having a down year like many of his red Sox teammates, but this season has to have raised some questions as to whether Lester can be an ace in the future.
Lester may still be an ace, but in the tough AL East and the expectations of a championship, can Boston afford to risk another subpar year without adding help?
Arizona Diamondbacks
Dilip Vishwanat/Getty Images
Arizona, unlike Boston, is not traditionally a big spender and has a payroll that is almost $100 million less than the Red Sox.
The Diamondbacks could be surprise team this offseason because the team is a potential contender and even won the NL West last season, and the deals made by Arizona in 2012 have worked.
The prime example of this is the signing of Jason Kubel. Kubel signed a deal that will earn him $15 million over two seasons. It may have been a questionable move as Gerardo Parra had just won a Gold Glove. Kubel is now the power and the glue to the lineup, and he has been consistent while teammates like Justin Upton and Chris Young have struggled.
Arizona could make a splash this offseason as it will not have to worry about Stephen Drew's $10 million option for 2013, and the success of its young starters may lead end any chance of Joe Saunders returning. Saunders cost $6 million for just 2012.
There are also many players like Chris Young, Geoff Blum and Henry Blanco that Arizona could cut to gain more financial space.
The Diamondbacks will not only look to free agency for players, but it may look to trades.
According to Ben Nicholson-Smith of MLBTradeRumors.com, the trading of Stephen Drew means Arizona will be actively seeking a trade to gain a shortstop. Nicholson-Smith reports GM Kevin Towers believes that:
"There's not a lot on the free-agent market, so more than likely it's going to take a trade," Towers said. "We'll probably have to trade a good player -- or a couple of good players -- to find one."
The article mentions the Blue Jays and Rangers as prime targets for a potential shortstop trade.
The shortstop is the position with the most uncertainty right now, but if Arizona could add an Elvis Andrus or Yunel Escobar then, again on paper, the Diamondbacks would not only be playoff contenders but World Series contenders.
Toronto Blue Jays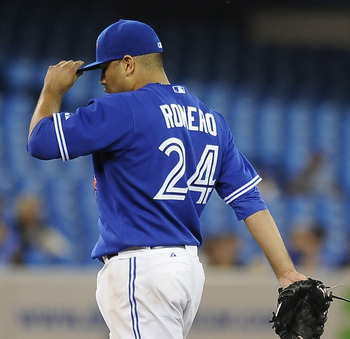 I would not want anyone to see my face either if I was having Ricky Romero's season.
Brad White/Getty Images
The team that would surprise the league with a couple big moves is the Toronto Blue Jays.
Toronto is normally forgotten about in the AL East, but this year the team is on its way to finishing last in the division. Toronto is currently 15 games back and shows no signs of being able to contend for the Wild Card.
Toronto is like Arizona in that the payroll is toward the bottom of the league at approximately $75.5 million. The good news is that the Blue Jays have one glaring need, and an offseason focused on this need could make Toronto relevant again.
The offense is one of most dangerous in the league and features Jose Bautista and Edwin Encarnacion, who is having a breakout year. The problem is Ricky Romero is 8-11 with a 5.63 ERA, and he is the best pitcher on the team.
Romero is just the beginning of the Blue Jays' problems.
Despite the fact Romero is 0-9 in his last 10 starts, at least he is healthy, which is more than what can be said for the rest of the rotation.
Clayton Richer of SportsNet.com points out that Brandon Morrow, Drew Hutchison and Kyle Drabek have all missed significant time due to injury. Morrow just returned after missing two months due to a strained oblique, and Hutchison and Drabek are out for the year and may miss 2013 as well.
With a struggling ace and three of the other four guys in the rotation seriously injured, there is no wonder as to why Toronto is in last place.
Toronto may have to spend money out of need just to field a full rotation. Kyle Lohse would be a great addition to the top part of the rotation, while long-time veterans Jake Westbrook and Jake Peavy would add solid depth and experience to the rotation, assuming they do not re-sign with their respective teams.
Outside of Boston, Arizona and Toronto are not well-known for its offseason acquisitions. If all three of these teams open their wallets, though, and are willing to pay the price for the needed talent, then each could very well make a run for the 2013 playoffs—and maybe even a little further.
Keep Reading