Arizona Cardinals: 5 Things to Take Away from Kevin Kolb's Preseason Performance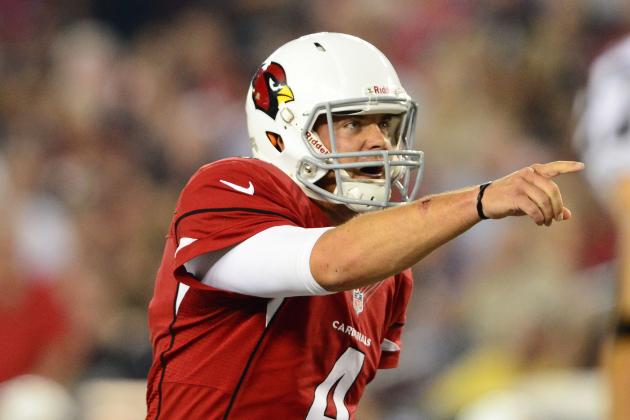 Mark J. Rebilas-US PRESSWIRE

When the Arizona Cardinals traded for Kevin Kolb, he was supposed to be the quarterback who would lead them back to the Super Bowl.
The season after Kurt Warner retired left a sour taste in the mouth of everyone involved. Matt Leinart, Max Hall and Derek Anderson all saw time under center, and not one of them impressed.
The Cardinals then landed Kolb in a trade with the Philadelphia Eagles in the offseason. He was seen as the savior under center. Fans even applauded the five-year, $63 million deal the team gave Kolb before he even played a single snap in a Cardinals uniform.
A year later, Kolb is on the verge of losing his starting job and becoming one of the NFL's highest paid benchwarmers.
The preseason has not been pretty for Kolb. He has failed to impress when given the opportunity to be the No. 1 quarterback on the depth chart, and now it seems that he may be playing second fiddle to one of Fordham's finest, John Skelton.
Here are five things take away from Kolb's preseason performance so far.
Begin Slideshow

»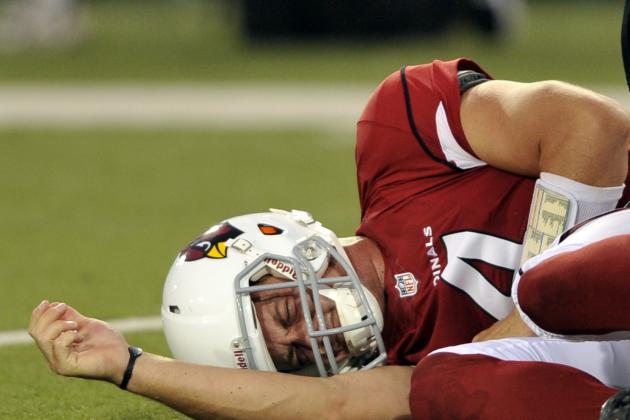 David Richard-US PRESSWIRE

Kolb's preseason started with an interception and only got worse—quickly.
Just three passes later, New Orleans defensive tackle Sedrick Ellis landed on Kolb after the QB got rid of the ball, knocking him out of the game with a rib contusion.
It brought back into focus Kolb's injury history that was a huge issue last season.
Kolb missed four starts due to a toe injury in Week 8, and then his season came to an end after he suffered a concussion in Week 14.
Even if Kolb was to be named the starter, it seems as if he is a magnet for injuries. It would only be a matter of time before he is listed on the injury report as "OUT."
Skelton is 6'6", 244 lbs and has a much better frame for taking NFL punishment.
Sometimes injuries are just bad luck, but Kolb's style of play is leading to his injuries.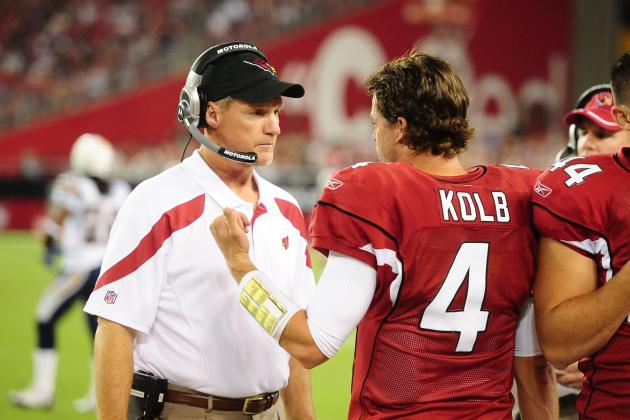 Mark J. Rebilas-US PRESSWIRE

Cardinals linebacker Stewart Bradley is a great example of someone who didn't understand the system in his first year, but in his second year is finally getting it and excelling.
Bradley is likely to win the battle with Paris Lennon at the inside linebacker position and have a very productive year.
Kolb still seems very uncomfortable in the Cardinals' offensive scheme, and this has led to him looking skittish in the pocket.
According to a report by AZcentral.com, former Cardinals quarterback Kurt Warner is seeing exactly that:
"I see a guy who hasn't been able to grasp the system enough to slow the game down, or he doesn't have confidence in what he's seeing. Maybe he understands what the offense is asking him to do, but the game is going too fast, and he's not pulling the trigger."
When Kolb played in Philadelphia, it was a very passer-friendly offense. The offense in Arizona is much more timing-oriented system, and it has led to many of his throws being late or off the mark.
Bradley was able to slow things down after he felt he mastered the defensive scheme. That is why he is playing so well.
Kolb hasn't been able to get comfortable within the offense, and this has led to his mediocre play on the field.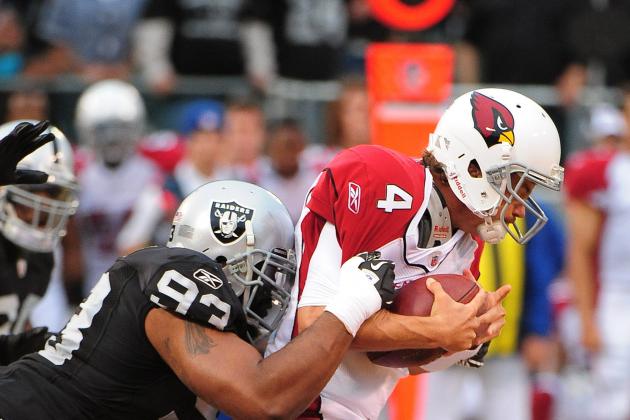 Kyle Terada-US PRESSWIRE

Oakland defensive tackle Tommy Kelly has been around the NFL quite awhile, and his opinion should have some weight. The veteran tackle sacked Kolb in the end zone for a safety during the teams preseason game August 17, and apparently had some words about Kolb after the game.
According to an ESPN report, Kelly said:
"He is skittish. He is scared back there," Kelly said. "Anytime anybody gets close to him, he starts looking at the refs. As a defensive lineman, you love a quarterback like that. He ain't even trying to look at the routes no more. He is paying attention to us and you ain't going to get nothing done like that."
Pressure in a quarterback's face can make him look skittish, but then combine an injury-plagued past and a less than stellar grasp of the offense and you may have a full-fledged panic attack victim on your hands.
It was not only the Oakland game where Kolb has looked uneasy in the pocket. It was the reason he got injured against the Saints.
Kolb fails to make the proper reads and it leads to him running out of the pocket trying to make a play.
Leaving the pocked leads to him taking big unnecessary hits that cause injuries.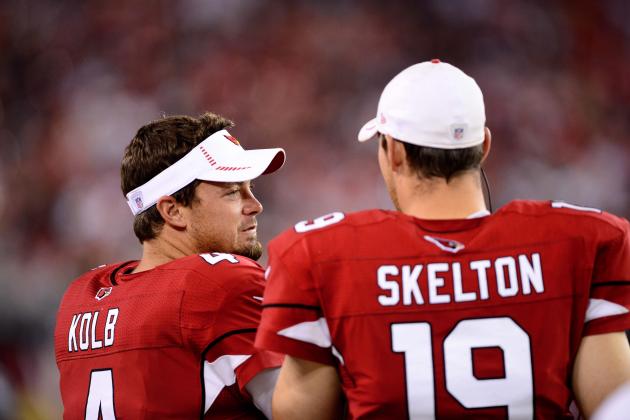 Mark J. Rebilas-US PRESSWIRE

Coach Ken Whisenhunt planned to alternate Kolb and Skelton as the first-team signal-callers before the preseason started, but Skelton has done much more with his opportunities than Kolb.
So far this preseason Kolb has a 15.1 QB rating, completing 5-of-15 passes for 47 yards and an interception. He has also been sacked four times.
That does not read like a winning stat line for someone in the heat of a quarterback battle.
Skelton has a 77.1 QB rating, hitting 10-of-15 passes for 90 yards, as well as a touchdown and interception this preseason.
Skelton's best performance came in the Cardinals most recent game against the Raiders on Aug.17. The third-year quarterback completed all three of his passes on his only drive, concluding in a three-yard toss to Anthony Sherman for a touchdown.
It was the first touchdown drive for either Kolb or Skelton so far this preseason.
It's no secret that after the big money the Cardinals gave Kolb, they would have liked to see him succeed. Whisenhunt has given Kolb the opportunities, but Kolb has just been unable to come up big in crunch time.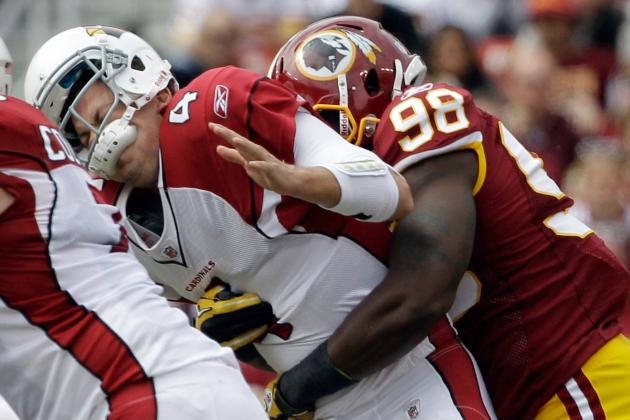 Rob Carr/Getty Images

According to a tweet by ESPN's John Clayton, Skelton is now the clear frontrunner for the starting quarterback spot with the Cardinals:
The situation is looking clearer in Arizona. Kevin Kolb will be the league's most expensive backup. John Skelton is now the front runner.

— John Clayton (@ClaytonESPN) August 19, 2012
It not so much of an if the Cardinals will announce that Skelton as the starter, but when.
When they do, they are setting the table for their future.
Hindsight is always 20/20, and the signing of Kolb to such a huge deal so early on was clearly a mistake. Unless Kolb and that Cardinals agree to greatly restructure his contract, which is unlikely, the team will cut him loose after the season is over, or sooner.
Kolb will have one more chance (since the final preseason game is relatively meaningless) to prove himself against the Tennessee Titans, Thursday.
However, it is unlikely he will be able to make up the ground that Skelton has gained.
Unless Skelton looks absolutely horrific in his second start of the preseason, expect to see Kolb holding a clipboard when the regular season starts.