Why Last Year's High-Scoring NFL Offenses Will Regress in 2012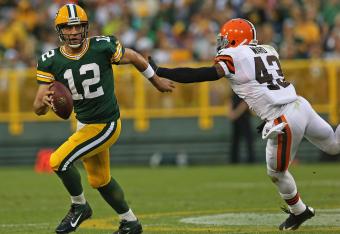 Aaron Rodgers under pressure against Cleveland this preseason.
Jonathan Daniel/Getty Images
The 2011 NFL season, with an average game producing 44.4 points, was the highest-scoring season since 1965 (46.1 points per game).
While some thought the new kickoff rule and lockout would stall offenses, it had the exact opposite effect. Passing records fell, and the offenses dominated the defenses, especially early in the season.
Three teams—the Green Bay Packers, New Orleans Saints and New England Patriots—scored over 500 points in the same season for the first time ever. Previously, only once (1998) had even two teams scored at least 500 points in the same season (Minnesota and Denver).
The video game-like numbers achieved in 2011 were spectacular, but we need more evidence to see if this is the new norm in the NFL. Predictions of more 5,000-yard efforts or an absurd 6,000-yard passer are way too premature.
History tells us these quarterback-driven offenses like Green Bay, New Orleans and New England are in store for a decline in 2012. It may not be steep, but think twice before making any predictions on improving or sustaining those 2011 figures.
The whole league should experience a regression from the oddity that was last season.
The 500 Club
The three elite offenses from last season give us 16 teams in NFL history to score at least 500 points in a season. Here is a recap of how they did the following season.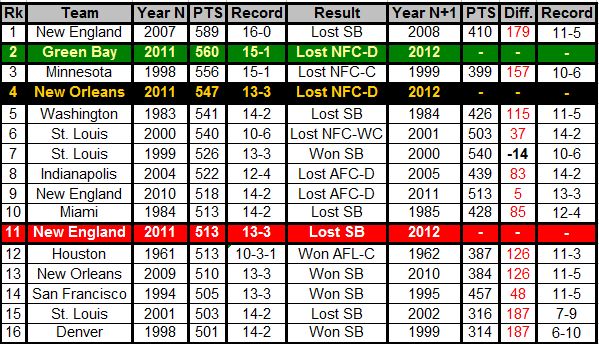 The average team scored 101.6 fewer points the following season, and the teams went from a winning percentage of .841 down to .684, which is about 2.5 fewer wins.
If there is one thing we have learned about the most elite scoring teams, they win a lot of games but often fizzle in the playoffs, only winning five championships for this exclusive list. That includes a failure to win a title by eight of the top nine teams.
Only the 1999-00 Rams managed to increase their scoring—by 14 points in 2000—and "The Greatest Show on Turf" is the only team to ever score 500 points in three consecutive seasons (1999-2001). They fell off badly in 2002 when Kurt Warner struggled.
The Patriots of the last two seasons actually came close to an increase, as the 2011 team only scored five fewer points than the 2010 Patriots.
Speaking of the Patriots, while some may feel the 2008 team could have been much better with Tom Brady instead of his injury replacement, Matt Cassel, the fact is the Patriots suffered a decline very familiar to the two previous record holders for the league's highest-scoring team.

Looking at only the points scored by the offense, the regression is almost identical, staying in a range of 130-144 points.
New England managed the loss of their quarterback much better than Denver when John Elway retired after the 1998 season. Add in an injury to Terrell Davis (missed 12 games), and behind an inexperienced Brian Griese, you can understand the 6-10 record in 1999.
Finally, it should be noted in the following season, none of the 13 teams won a Super Bowl, and their combined playoff record was 6-10.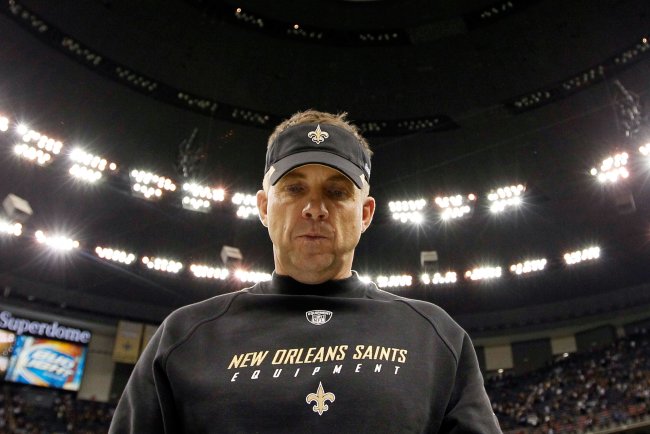 Kevin C. Cox/Getty Images
Specific Reasons For a 2012 Regression
Regression is just a common, almost necessary aspect of sports. Repeating extraordinary performance is not supposed to happen. We can look at some of the specific reasons for why this could happen to the three teams in 2012 expected to be elite again.
Green Bay
The Packers may have just signed running back Cedric Benson, but as has been the case in the Mike McCarthy era, the ball will be in Aaron Rodgers' hands very often each week. The Packers are pretty much a lock for 450 points this season, but do not expect the same efficiency you saw last season.
No defense should be sleeping on Jordy Nelson anymore, especially after 1,263 yards and 15 touchdowns last season.
The offensive line is always an issue, and obviously any injury to Rodgers would be tough to overcome, especially after Matt Flynn went to Seattle.
New Orleans
The Saints face the most obvious and critical problem: the suspension of head coach Sean Payton for the entire season. More than that, they will lose their replacement coach, Joe Vitt, after six games.
This type of instability at the top of the staff has to have a negative impact on the Saints' season. Drew Brees should still be elite, but it will never be like it was with Payton, who has created one of the best offenses ever with Brees the last six seasons together.
On-field losses of players like receiver Robert Meachem and guard Carl Nicks are nothing compared to the unique coaching dilemma facing the Saints this season.
New England
The Patriots have dumped Chad Johnson and added Brandon Lloyd, but this is not a perfect fit for the offense. While Lloyd should be better than the outside wide receivers from last year, he has made a career out of highlight-reel catches, which is not a staple in the precise New England passing game.
Tom Brady may hit a few more deep balls this year, but it could also come at the expense of drive-stalling incompletions, sacks and interceptions. If the offensive line is not where it has been in the past (some moving parts there right now), then that could easily knock the Patriots back dozens of points from the last two years, because Brady needs that elite protection.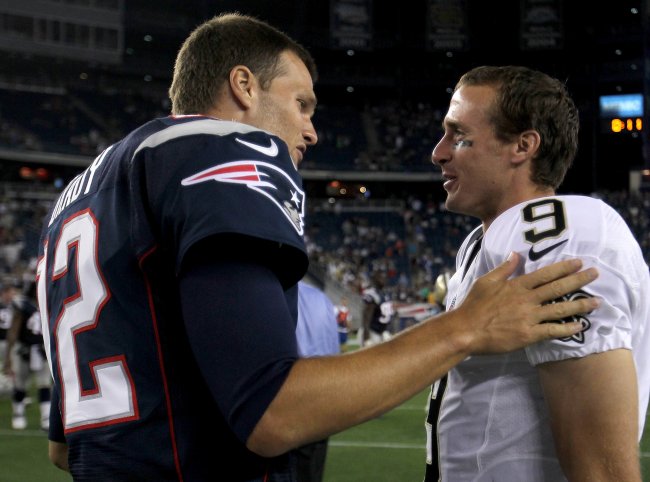 Jim Rogash/Getty Images
2011 an Anomaly?
More than just these teams, the whole league should expect to see some sort of regression from the numbers put up last year.
Yes, the numbers may have been even higher if Peyton Manning played, Tim Tebow did not, Philip Rivers was not in a funk and health was better for Jay Cutler, Michael Vick, Matt Schaub and Ben Roethlisberger.
But you never know which players will end up hurt in a season. (Okay, other than Michael Vick.)
The regression should definitely include players like Matthew Stafford, who I could only cringe at the sound of the TV "expert" saying he should probably throw for 40 touchdowns again this year.

Since when did seasons of 40 touchdown passes start growing on trees? Only Marino has gone over 40 twice in his career. Just a year ago everyone was wondering if Stafford could even stay healthy for a season.
Now he is going to throw for 5,000 yards and 40 touchdowns every season? Slow it down.
That includes the rookies like Cam Newton and Andy Dalton. In a season with yards and touchdowns piling up at historic rates, is it that much of a surprise they had prolific rookie seasons?

Young quarterbacks will also be a huge theme in 2012, with a projected nine (or possibly 10) starters that are either rookies or sophomores. That could bring the stats down if they fail to improve or impress.
Last season had the lockout, but that actually helped offenses, as it was blown-coverage city early on in the season. The 400-yard passing games were coming in record fashion, and it was not until Week 6 where the defenses seemed to finally catch up before suffering another lapse late in the season.
Included here is a look at the average number of points scored in games in each week of the 2011 season.
Four of the five highest-scoring weeks came in the first five weeks of the season. Just to test against previous seasons, here is a comparison of the first five weeks of game scoring averages since 2007.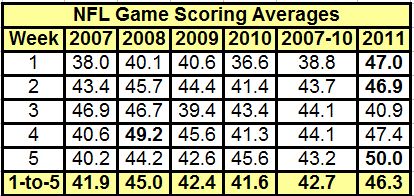 The passing game drives the points in the most, and here is the breakdown of passing last season. Note that these totals were collected from Pro-Football-Reference, and the data was missing 11 completions, 23 attempts and 166 yards. But with over 17,000 pass attempts, those numbers are not going to be significant.

Just like the scoring, you can see the passing stats were at their best in the first five weeks, then hit a slump in Weeks 6 to 9. Finally, there was that surge again late in the season. You can see the same trend for our three historic offenses.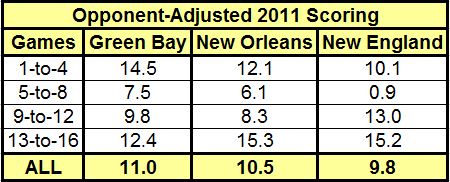 I adjusted the average scoring numbers for opponent, but the trend still exists. Even with a 62-7 rout of the Colts, the Saints had their worst quarter of the season in Quarter 2 (Games 5-8).
Last season was great with all the yards and touchdowns amassed, but we have to give it another year to see if 5,000 yards and 40 touchdown passes are the new norm.
The cast of usual suspects should still be at the top in scoring, but they will be closer to the pack in 2012.
Scott Kacsmar is a football writer and researcher who has contributed large quantities of data to Pro-Football-Reference.com, including the only standardized database of fourth-quarter comebacks and game-winning drives. You can visit his blog for a complete writing archive, and can follow him on Twitter at @CaptainComeback.
This article is
What is the duplicate article?
Why is this article offensive?
Where is this article plagiarized from?
Why is this article poorly edited?