Report Card Grades for Every Seattle Seahawks Rookie Through Preseason Week 2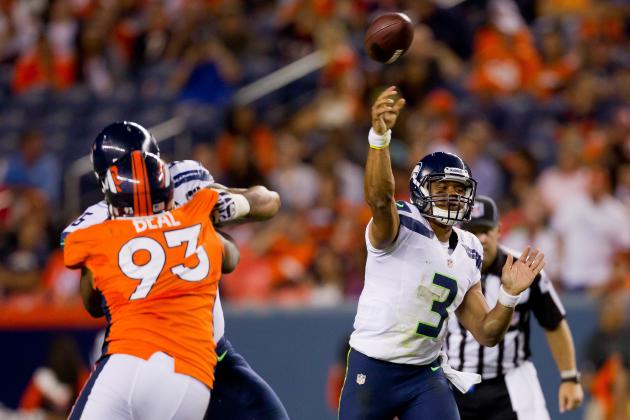 Justin Edmonds/Getty Images

With two exhibition games under their belts, the Seattle Seahawks' rookies are running out of time to secure their spots in the 53-man roster.
In this week's update, the following players received ratings of B or above: defensive tackle Jaye Howard, tackle J.R. Sweezy, running back Robert Turbin, linebacker Bobby Wagner and quarterback Russell Wilson.
The Seahawks released rookie kicker Jason Wiggs for the second time this preseason.
Seattle's No. 1 draft pick, Bruce Irvin, has been the biggest disappointment so far. He's yet to make his mark midway through the preseason. The selection was controversial to begin with. The naysayers and doubters haven't been proven wrong...so far.
For the remaining draft picks and free agents, their lifelines grow shorter and shorter. The regulars will get the bulk of the minutes in the last two preseason matchups against Kansas City and Oakland.
On Aug. 28 the first roster cutdown reduces the squad to 80 players. Three days later, head coach Pete Carroll and his staff make their final cuts to get down to the 53-player regular season limit.
Begin Slideshow

»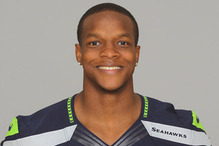 Seahawks.com
C-
The athletic Phil Bates caught his first exhibition season pass in the Seahawks' victory over the Broncos. The two-yard gain won't do much to help his cause.
He made an acrobatic grab near the sideline on a tipped pass from Tarvaris Jackson.
Bates who played one year as a receiver at Ohio University faces too many hurdles to make an impression against a myriad of rookie and seasoned competitors.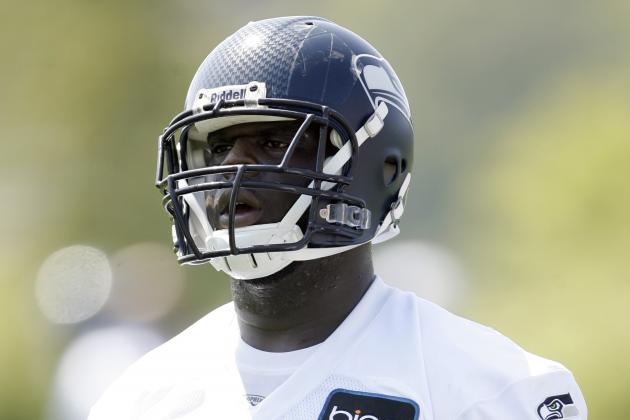 Joe Nicholson-US PRESSWIRE

B
Jaye Howard, Seattle's fourth round draft pick from Florida, registered two solo tackles in the Saturday night matchup against Denver.
Howard appears to have a solid lock as a backup defensive tackle. The former Gator is the first choice at left tackle behind Jason Jones.
If he continues to improve week-to-week, Howard should increase his playing minutes.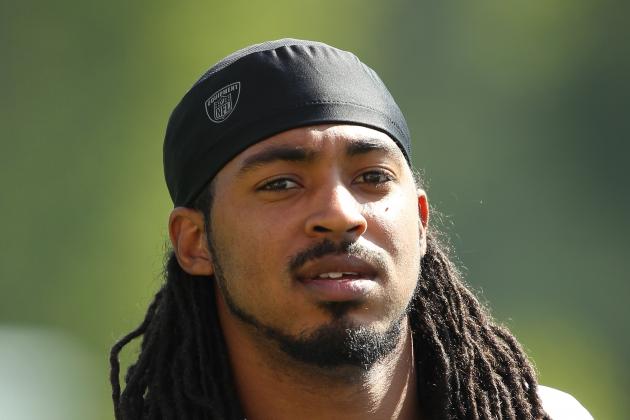 Otto Greule Jr/Getty Images

D
The 6'3", 218 pound safety struggled with punt blocking Saturday night. Guy failed to contain his opponent on two occasions. The first punt was blocked and the other deflected.
He's far down in the depth chart at strong safety. At best, the ex-Kentucky Wildcat has a chance as a fifth or sixth defensive back.
Guy's poor punt blocking hurt his chances to secure a place with the Seahawks.
Here's how Carroll summed up his feelings after the game: "It was embarrassing."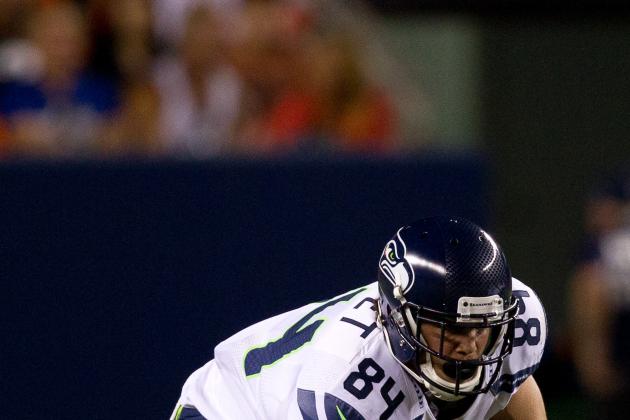 Justin Edmonds/Getty Images

C
Cooper Helfet snagged his first catch of the preseason in his second preseason game. The former Duke Blue Devil's touchdown grab in the second half may elevate him from the bottom of the tight end rotation.
Helfet signed on in mid-May as a free agent and knows how tenuous his tenure is in Seattle. The Seahawks released him six days later when Kellen Winslow Jr. arrived via a trade.
"Hopefully I'm able to get in there and get some more playing time next week, try to make a play or two," Helfet said prior to the Denver game. "I'm just going to keep working and keep trying to show them everything I've got."
The Seahawks re-signed Helfet for the second time at the ending of July. By taking advantage of his minimal playing time and notching his first score, he could see his number called more often.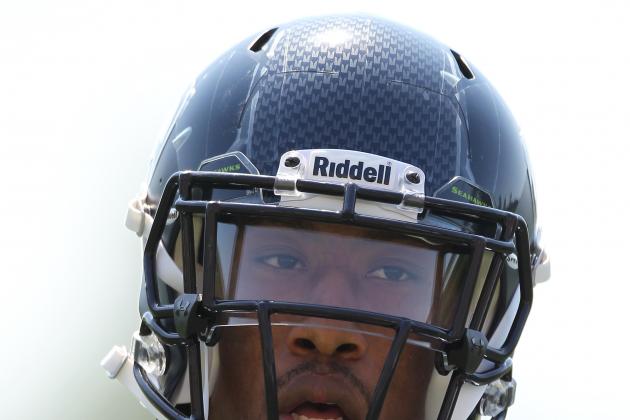 Otto Greule Jr/Getty Images

C
Seattle's first round draft pick failed for the second straight exhibition game to register a tackle or an assist. It's not the kind of statistic that will get Bruce Irvin noticed in a positive way.
The athletic defensive end needs to elevate his game the rest of training camp and what's left of the exhibition season.
Irvin isn't one to see the spotlight and relishes his low profile status.
"I don't want to be talked about. I was talked about enough coming into the draft," Irvin said. "When it's my time to show what I can do then I'm sure people will be talking about me."
Irvin could use some high-profile stats to validate his high draft selection.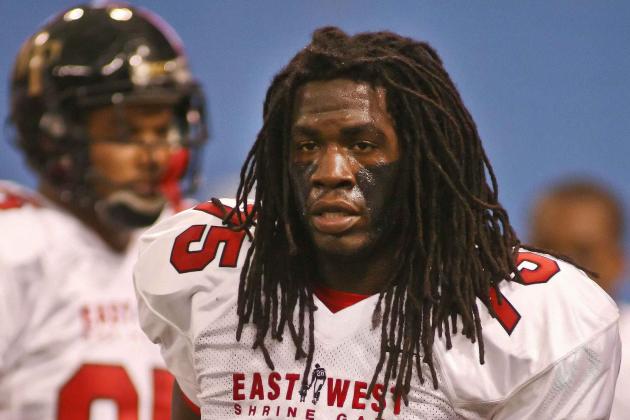 Phil Sears-US PRESSWIRE

C
In Seattle's depth chart at guard, Deuce Lutui and rookie J.R. Sweezy are ahead of Rishaw Johnson.
Head coach Pete Carroll felt that Johnson held his own in Seattle's first exhibition game.
"Deuce [Lutui] played there and Rishaw [Johnson] and they did okay in the game," Carroll said. "We just have to see how we are going to manage the units."
With the injuries at center, the Seahawks penciled in Johnson as Max Unger's backup prior to the Denver game. His versatility on the line may be enough to secure a place on the roster.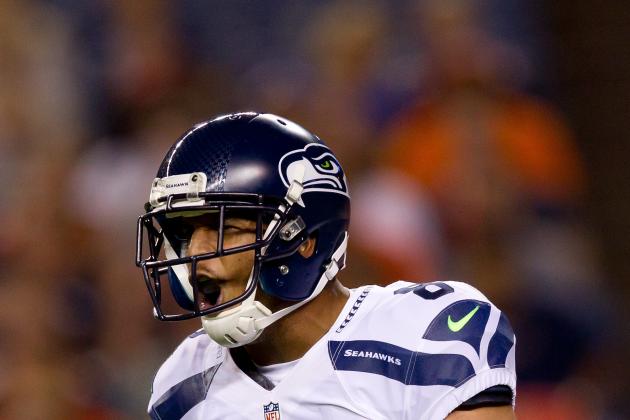 Justin Edmonds/Getty Images

C-
Jermaine Kearse, the former University of Washington Husky, caught one 37-yard pass in the last exhibition game.
He's far down in the receiving rotation and battling high-profile veterans Braylon Edwards and Terrell Owens for one of the last remaining slots.
Here's how Curtis Crabtree from 950 KJR AM sized up the receiving pecking order prior to Saturday's game: "Owens, WR Braylon Edwards, WR Ricardo Lockette and WR Deon Butler appear to be in the thick of competition for the remaining spots with WR Kris Durham, WR Charly Martin, WR Phil Bates, WR Lavasier Tuniei and WR Jermaine Kearse appearing to be longer shots at this point."
It will take more than one long pass to stay in Seattle beyond the exhibition season.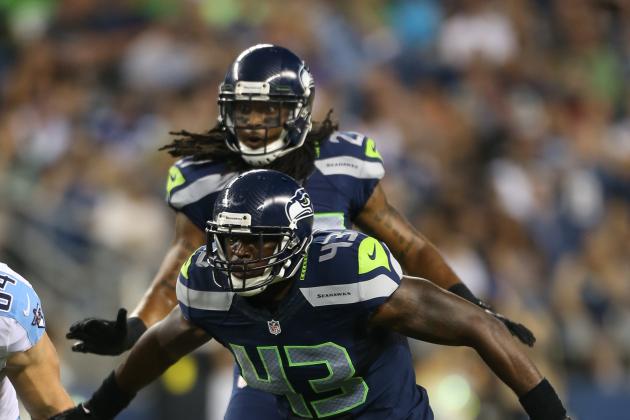 Otto Greule Jr/Getty Images

C-
Knox tallied two solo tackles against the Titans and none in the Denver game.
He's behind Leroy Hill and Malcolm Smith at the outside linebacker position. His stock may have dropped based him performance in Denver.
With two exhibition games remaining, Knox still has something to prove.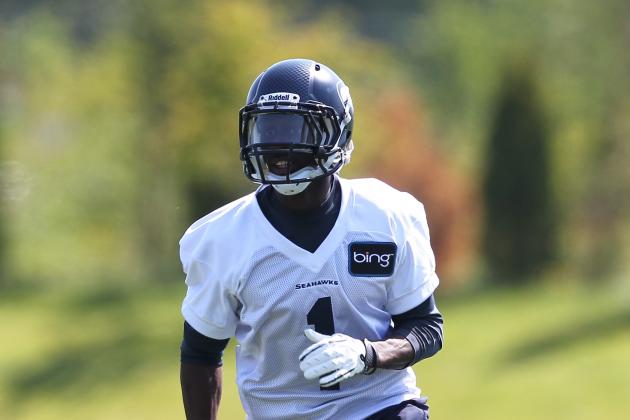 Otto Greule Jr/Getty Images

C-
Lane was credited with one forced fumble last Saturday, and led the team with four solo and two assisted tackles in the Tennessee game.
Against the Broncos, he suffered the same fate as several other defensive rookies...a series of goose eggs on the stats sheet.
Lane also failed to keep up with Terrell Owens in practice. The rookie was beaten twice by the 38-year-old veteran receiver.
The games in Kansas City and the exhibition finale against Oakland, respectively, will give Lane his final chance to make an impact.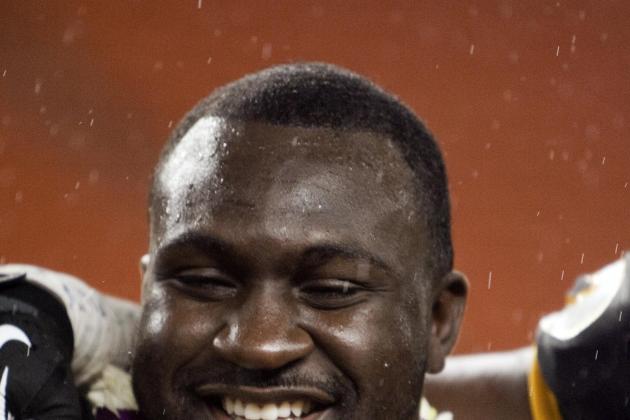 Marco Garcia-US PRESSWIRE

Incomplete
Cordarro Law sat out last week with a high ankle sprain and did not play against the Broncos.
Two more games remain in the exhibition season schedule. The injury prevented Law from getting some well-needed reps.
As a free-agent signee, the obstacles are high to make an impression. Law's recent setback and lack of playing time aren't helping his chances of making the regular season roster.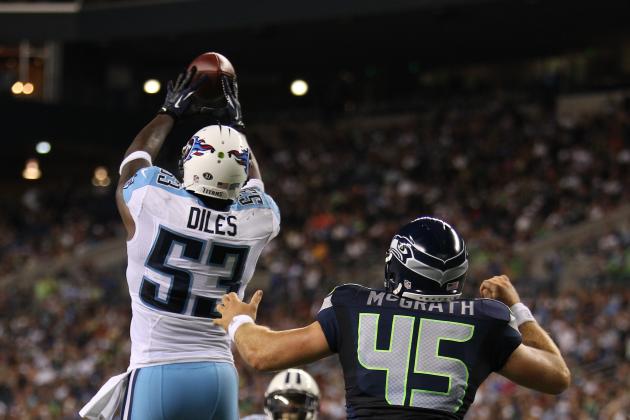 Otto Greule Jr/Getty Images

C
Sean McGrath made one 22-yard reception in Saturday's matchup. It's a decrease from his two catches the previous week.

The 6'5", 247 pound Chicago native sits near the bottom of the tight end depth chart. McGrath knows he has to get more playing time to rise in the tight end mix.

Coming from a Division II school (Henderson State in Arkansas) Telfet knows the struggles of an undrafted player and the corresponding challenges.

His production thus far probably isn't enough to get McGrath past the first round of cuts.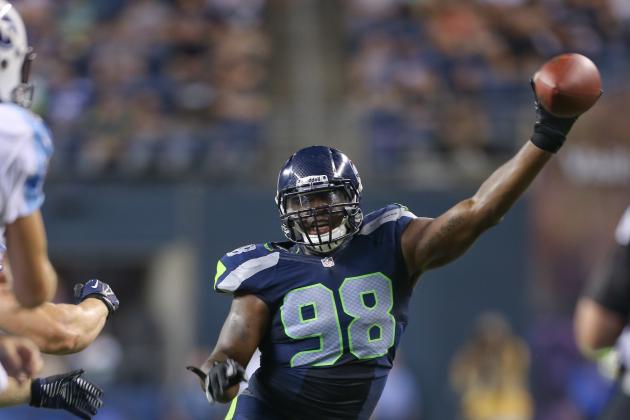 Otto Greule Jr/Getty Images

B-
Greg Scruggs' exhibition game production included a fourth quarter sack in the matchup against Denver. In the previous game, he had one solo and three assisted tackles.
"If I die today, or if something tragic were to happen to me today, nobody could ever take that away from me—that I made it to the NFL and played in an NFL game, "Scruggs said.
The late draft pick is trying to make his training camp mark. Scruggs needs to go from being awed to selling himself as a player who belongs in the NFL.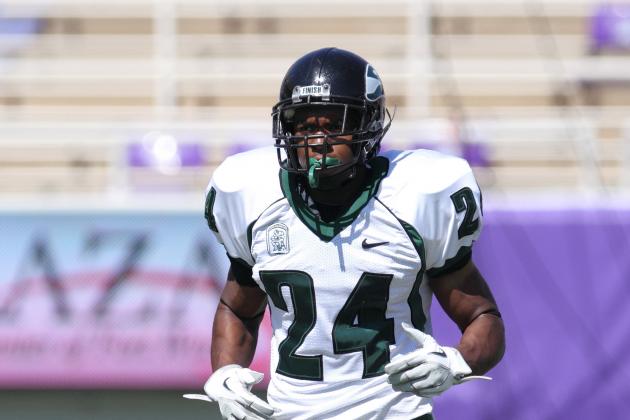 Kevin Jairaj-US PRESSWIRE

D
DeShawn Shead's exudes quickness and speed. With two established defensive backs already in place (Earl Thomas and Kam Chancellor) and Chris Maragos, Winston Guy and Jeron Johnson all fighting for the remaining slots, Shead's off the radar.
The former Portland State player is yet to record a tackle or assist this exhibition season.
Without making a significant contribution, Shead's days with the Seahawks are numbered.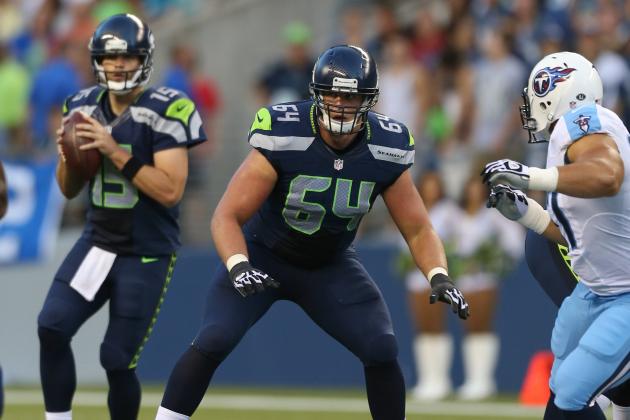 Otto Greule Jr/Getty Images

A
J.R. Sweezy continues to be the surprise of fall camp. The 6'5", 298 pound guard is getting a ton of time on the field and continues to impress Pete Carroll. He's making rookie mistakes that Carroll considers to be part of a learning process.
"He did well; he made the errors that we unfortunately have to tolerate as he is learning," Carroll said last week. "He has an extremely high level of potential. He has done so much so quickly, that we can only imagine where he could be a month from now."
With regular right guard John Moffitt recuperating from minor surgery on his left elbow, Sweezy and veteran Deuce Lutui are sharing reps with the ones until Moffitt's return in several weeks.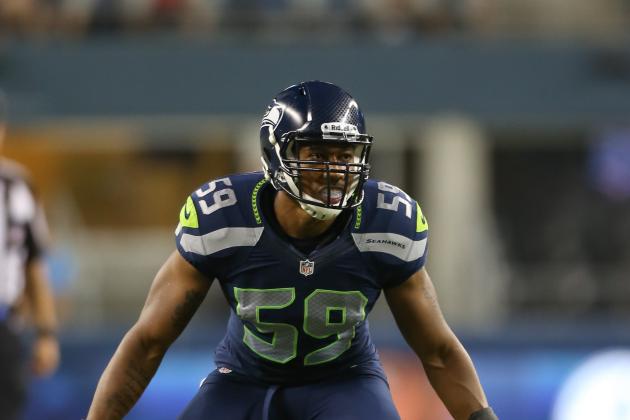 Otto Greule Jr/Getty Images

C-
Korey Toomer failed to register a tackle in the most recent exhibition. Seattle's fifth-round draft pick from Idaho recorded two solo tackles the previous week.
Toomer managed to move up to the second defensive unit last week. He played with the twos in place of Malcolm Smith (hamstring injury) and Mike Morgan (didn't practice).
If he's relegated back to the threes, the former Idaho player will need to showcase his capabilities with reduced minutes.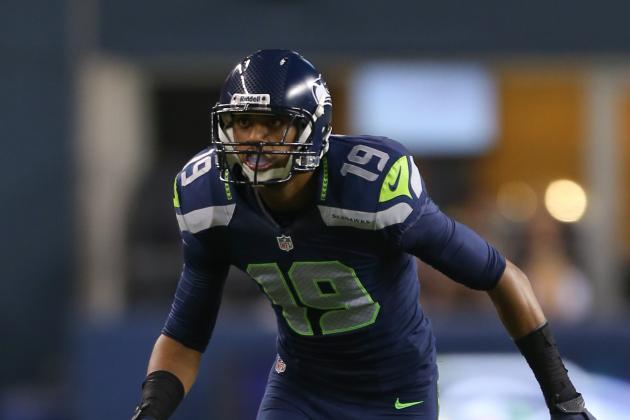 Otto Greule Jr/Getty Images

C-
Lavasier Tuinei knows the situation at the wideout position: He's up against last year's regulars, two high-profile veterans past their prime and incoming rookies in a tense game of musical chairs.
The former Oregon receiver managed to catch his first pass against Denver. His eight-yard reception was his first of the preseason.
Tuinei has two games to make a leap above his competitors, and that's not likely to happen.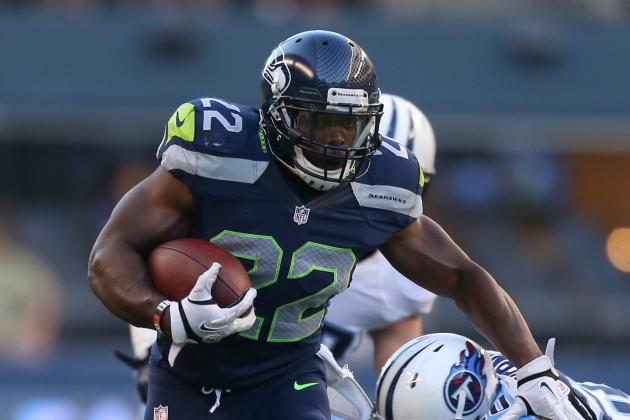 Otto Greule Jr/Getty Images

A-
The former Utah State running back is racking up compliments and yardage as training camp progresses.
In two preseason games, Turbin's carried the ball 20 times for a total of 68 yards and five receptions for 44 yards.
The Seahawks like his versatility and workman-like physicality. Turbin's earned his spot as Marshawn Lynch's backup.
Clare Farnsworth in his Seahawks blog said, "...Turbin, the fourth-round pick out of Utah State, was drafted to fill the need for a physical back to spell Lynch. Turbin looks, and runs, the part."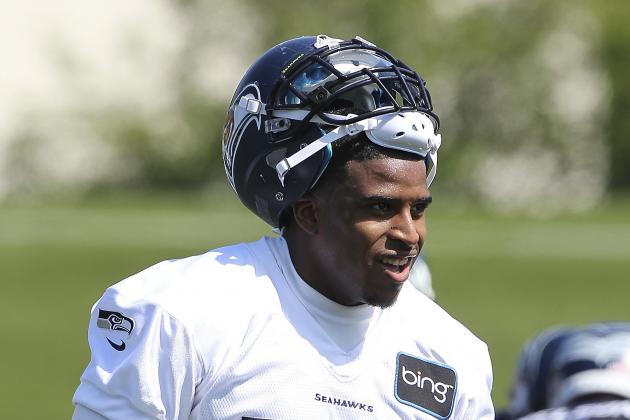 Otto Greule Jr/Getty Images

A-
Bobby Wagner's production decreased in the Denver game compared to the previous week. He recorded one solo tackle compared to the three solos and one assist against the Titans.
Despite the statistical drop, Pete Carroll remains positive on Wagner's progress during training camp.
"He will continue to grow as he just recognizes plays more quickly and gets more accustomed to the looks, Carroll said. "He aligned wrong a few times, he has a couple mistakes there; but the guys around him were lined up right only he missed a couple of alignments. We all feel like he has the chance to be the starter."
The Seahawks validated their confidence in Wagner as a starter by trading away Barrett Ruud to the New Orleans Saints.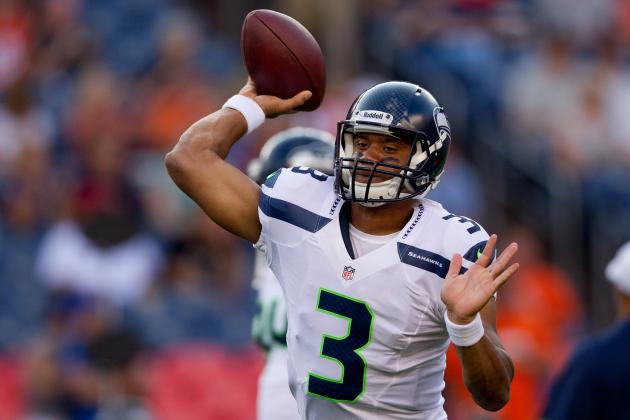 Justin Edmonds/Getty Images

A+
The ex-Wisconsin Badger outplayed high-profile Matt Flynn for the second straight game. This time he was 10-of-17 for 155 yards and two touchdowns.
Pete Carroll will have an interesting decision to make in the lead-up to the season opener. With two exhibition games left, will Carroll give Wilson the starting role?
The former USC head coach would not commit prior to the Denver game
"There's been thoughts of everything you can think of," Carroll said. "Every single way you can twist this things, for months, we've been thinking about it."
No one will be surprised if Wilson takes the first snap in Kansas City on Aug. 24.