Detroit Lions: Why Kevin Smith Will Win the Starting Job at RB
Gregory Shamus/Getty Images
The Detroit Lions' 2012-2013 season may be the hardest to anticipate of any team in the NFL. With the Packers clearly established as one of the league's best teams, the rest of their division knows they will need to improve upon their 2011 seasons if they want to keep pace with not only Green Bay, but the increasingly deep NFC.
So where does Detroit fit in?
Detroit showed a lot in 2011 and have some clearly established strengths moving forward. They have a dangerous vertical passing game. They have a top-tier pass rush. They have an often-overlooked head coach in Jim Schwartz who has improved his team's performance in each of his three years with the organization.
But, even with their first postseason appearance since 1999, the Lions left much to be desired last season.
For one, they committed nearly 1,000 yards of penalties. Detroit's apparent offseason pastime—getting arrested, as outlined by Jeffri Chadiha of ESPN—has done nothing to assuage the opinions of their critics. Still, the idea that their legal trouble is somehow representative of a larger, organizational malfunction is more of a pundit-contrived topic than an actual issue.
The more pressing problem, however, has been their inability to run the football. Detroit has ranked in the bottom-10 league-wide in rushing yards every year since 2005, and 2011 was no exception. Injuries, a sometimes-suspect offensive line and a frequent need to pass all contributed to the No. 29 rushing attack in the league last year.
Nobody is expecting Detroit to have a top-10 rushing offense, and quite frankly, any real type of dedication to the running game does nothing but detract from Calvin Johnson and friends. Still, the Lions fanbase and players seem to believe that improvements have been made from last year's pleasant surprise.
Assuming additional experience and confidence have made this true, Detroit will be finding themselves with more third- and fourth-quarter leads than they did in 2011.
Running might not win them many games, but an inability to pick up crucial first downs to preserve leads would be a major issue. Not to mention, Stafford will get injured again if he needs to throw the ball 663 times every season.
The good news? Detroit has four potentially capable runners? The bad news? Potentially.
Running backs Kevin Smith, Keiland Williams, Jahvid Best and Mikel Leshoure are all decent options, and one of the more intriguing offseason stories in Detroit has been seeing which of these backs will earn the top spot for the 2012 season.
Now, I realize that the idea of having a running back play in all 16 games is not one with which Detroit is familiar, but when I say "top spot for 2012," the implication is that it will be a year-long role. All the runners bring with them their own sets of skills, but Kevin Smith should win the battle.
And here's why…
Reason No. 1: Reliability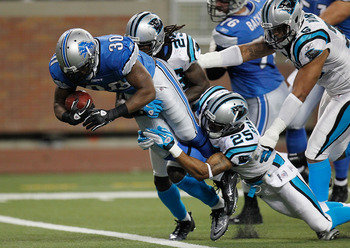 Gregory Shamus/Getty Images
Before the discussion moves to why the others will fall short, let's first address what Smith has done to earn the starting role.
Smith played in only seven games last year, but was still good for 535 all-purpose yards and seven touchdowns. He had a per-carry average of 4.9 yards and a fantasy football gem in Week 11 against Carolina when he pumped out 201 total yards and three touchdowns.
As a four-year Detroit veteran, Smith has been through the highs (last year) and the lows (2008's winless debacle). This has certainly provided him with a perspective that not everyone has on this young team. ESPN's Kevin Seifert noted on Smith's reliability in this statement he made after a day at Lion's camp:
In many ways, Smith is an ideal option when a team's top two running backs are sidelined. He keeps himself in excellent condition and once again showed in camp that he is well-versed in the Lions' offense.
Smith won't be making a trip to the Pro Bowl, but Detroit doesn't need him to do so. He can run, he can receive, and if he can stay healthy, Smith won't cost them any games. With a full year of action—something he hasn't had since being a rookie—a 1,300-all-purpose-yardage season is within the realm of possibility.
Reason No. 2: He Isn't Injured!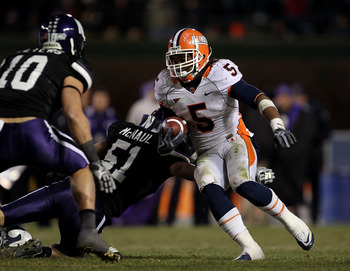 Jonathan Daniel/Getty Images
Smith's most immediate competition—at least at season's start—is currently incapacitated. It's a shame because there would be some real depth of talent at the position if all four runners were available.
I wrote last week about the potential combination of Jahvid Best and Mikel Leshoure. Best averaged 112.8 total yards last year, and Leshoure picked up 1,700 yards in his final year of college in 2009.
But, neither can seem to get on the field.
Jahvid Best has caught the Sidney Crosby bug, and Leshoure continues to nurse a hamstring injury. The two have actually yet to be on the practice field at the same time.
There has been no suggestion that either will be forced to miss the upcoming season, but if Kevin Smith can establish himself as the No. 1 guy by the time either runner returns, it will be difficult for Detroit to move him off that spot.
Reason No. 3: It Won't Be Handed to Him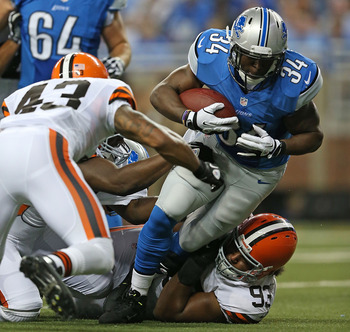 Leon Halip/Getty Images
If Smith was the only viable option left in the Lions' backfield, there could be a tendency to let his play slide—even with his reputation as a disciplined worker. However, somewhat paradoxically, Smith will need to prove he belongs as the starting back.
Keiland Williams looked like somebody fighting for his job on Friday's preseason opener with Cleveland; he rushed for 71 and a score, including a 33-yard run. Smith was implemented in a more limited capacity and picked up just 28 yards on five carries.
One preseason game will obviously not swing anything, especially since Smith appeared to have been given the "starter treatment."
Things will be interesting to watch moving forward, but the reliability, health and motivation of Smith should land him the starting role come Week 1.
Keep Reading

Detroit Lions: Like this team?