NFC North: The Next Generation of Studs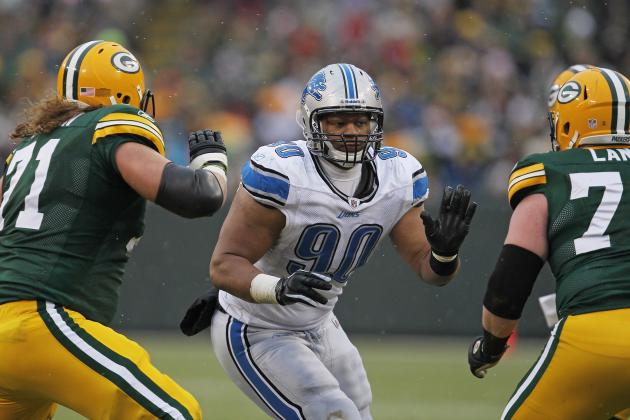 Jonathan Daniel/Getty Images

There was a time when the NFC North evoked images of angry, fat and ugly brutes. Defense was paramount. Pain was the game. Passing? Please—leave that to the fairies.
The NFL game has made drastic changes over the last three decades, but that evolution is most noticeable in the NFC North.
Chicago, Green Bay and Detroit are all capable of eclipsing the 4,500-yard passing mark in 2012. Conversely, last year left much to be desired in the way of defense. The Packers, Lions, Vikings and Bears ranked No. 32, No. 23, No. 21, and No. 17 respectively in total defense.
When the four teams took to the draft to tackle this discrepancy, some seemed to place a focus on acquiring defensive talent while others, perhaps surrendering to the new age, worked to add more offensive weapons. Of course, there are more than just rookies who will be looking for breakthrough campaigns in 2012. Two and three-year pros will need to elevate their games to contend for the title in a highly talented division.
Here are 10 players that hope to become the next generation of NFC North stars.
Note: All combine and pre-draft measurements obtained from www.nfl.com/draft
Begin Slideshow

»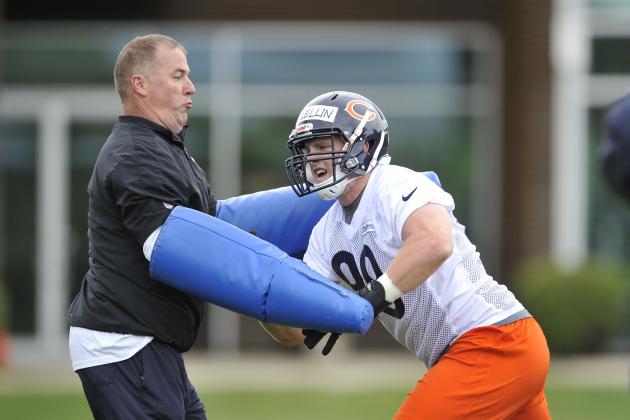 Brian Kersey/Getty Images

Eighteen teams recorded more sacks than did the Bears in 2011, and they will have six games against quarterbacks who eclipsed the 4,000-yard mark last year.
With their improved offense, Chicago is in a position to return to the postseason after suffering from some unfortunate injuries a season ago. If they want to improve defensively, they will need some major contributions from rookie, Shea McClellin.
The Boise State representative was labeled as the in vogue "hybrid" player before the draft, but he will be operating primarily as a defensive end in Chicago's 4-3 scheme. McClellin impressed at the combine and is now one of the countless pass-rushers drafted for physique and athleticism. It's a risky proposition (cough, cough Vernon Gholston), but if he can learn a thing or two from Julius Peppers, McClellin should record five to seven sacks in 2012.
Mike Ehrmann/Getty Images

This just in: Jay Cutler will have a numberlicious season. Whether that means Chicago will make the postseason remains to be seen, but there are no longer any excuses for mediocrity from the quarterback position.
Cutler has been reunited, not only with Brandon Marshall, but also with his Denver offensive coordinator, Jeremy Bates. It was under Bates' coaching in 2008 that Cutler passed for 4,500 yards (nearly 1,000 more than his next best season). ESPN's John Clayton recently reported that offensive coordinator, Mike Tice, has put an increased emphasis on quick passing and has entirely eliminated the seven-step drop. This will amend the sack problem (105 allowed over the last two seasons).
Slipping under the national radar, however, has been Alshon Jeffery. The second-round selection out of South Carolina finished second in the voting for the 2010 Biletnikoff Award. Jeffery is in a great position to have one of the better rookie campaigns at the wideout position.
The rest of the receiving core—Johnny Knox, Earl Bennett (who was a teammate of Cutler at Vandy) and the always dangerous Devin Hester—will give Chicago a New Orleans-esque depth and rotation at the position.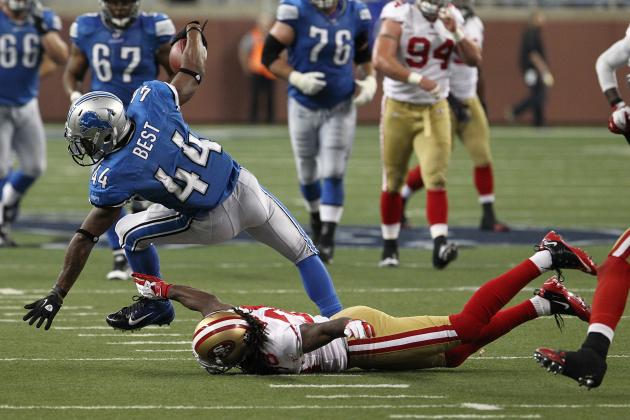 Dave Reginek/Getty Images

Stafford is a stud. Calvin Johnson is $1 million per game good. The running game, however, has left much to be desired.
That's not to say there haven't been positive signs in the Detroit backfield. Before being placed on IR for post-concussion symptoms, Jahvid Best averaged 112.8 all-purpose yards over six games to go along with three scores.
Also in the backfield is 2010 second-round selection, Mikel Leshoure, who missed all of last season after sustaining an injury in an early August practice. Leshoure had an impressive junior season at Illinois. He rushed for nearly 1,700 yards and 17 touchdowns.
Maybe this is the season their backs can remain healthy long enough to have a lasting impact, especially in the receiving game where Best has been effective. The fact that Kevin Smith will be handling the rock as well means there is no reason to give any of them a heavy load. With seven to 13 touches each week for Best and Leshoure, Detroit's already impressive offense should become more balanced.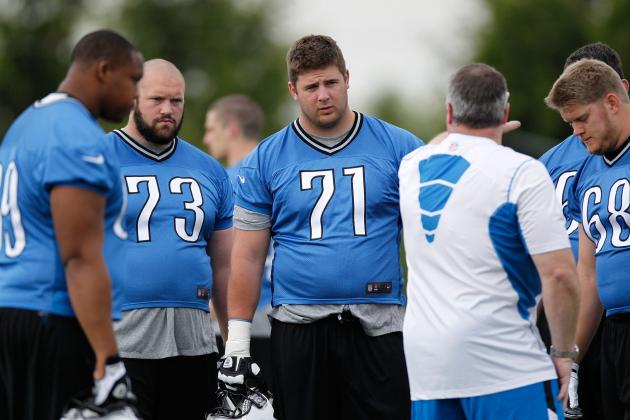 Gregory Shamus/Getty Images

The first-round selection of Reiff certainly filled a need.
At 6'6" and 313 lbs, the Iowa tackle has ideal size. It's common for young tackles to start on the right before moving to the blind side after a few seasons and that appears to be the plan in Detroit.
The Lions ranked 16th in sacks allowed last year and had the No. 29 rushing attack. Reiff should improve this mediocrity. Look for especially intriguing matchups between Reiff and Chicago's McClellin for years to come.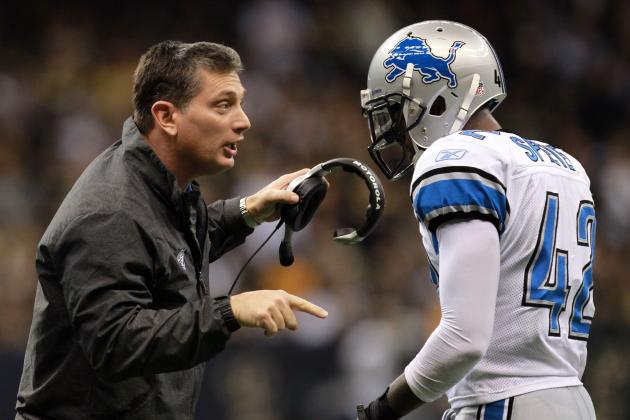 Ronald Martinez/Getty Images

The time is now for Amari Spievey to go from "solid starter" to "Pro Bowler."
Detroit has an impressive front seven but ranked 22nd in pass defense. Spievey can and must be the one to step up.
Spievey played corner in college but his tackling abilities moved him to safety for his first year in the NFL (2010). His total tackles, sacks and interceptions had small increases from year one to year two. The chaos created in the backfield by Suh and company will put Spievey in a position to make the important third-year jump.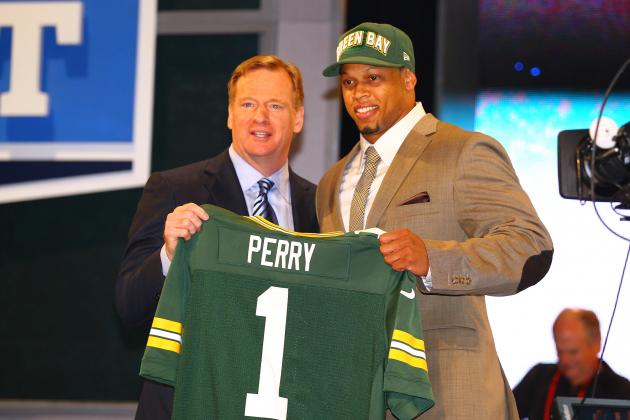 Al Bello/Getty Images

I heard the Packers defense get called a lot of things last year.
"Deceivingly good."
"Bend-but-don't-break."
"High energy."
Really? I'd call having the absolute worst total defense simply, "terrible."
While it's true much of Green Bay's opposition was forced to come from behind early and often, and thereby unleash their big yard, big point offense, the Pack didn't need to make it so easy for them to do so. Aaron Rodgers can hide a lot of deficiencies, but there's no question an improvement on the defensive side needed to be made. Case in point: The first five Green Bay selections in the 2012 NFL Draft were defensive players.
USC's Nick Perry recorded 13 tackles for a loss and 8.5 sacks in his final college season. He had nine sacks his freshman season. But it was at the combine that Perry truly separated himself from the competition. Only Shea McClellin and WVU's Bruce Irvin ran better 40-yard dash times among defensive ends. No defensive end performed better in the bench press. Perry's 38.5" vertical jump was tops among ends as well.
With Clay Matthews and B.J. Raji already claiming the attention of opposing offensive lines, Perry is in a great position to lead all rookies in sacks.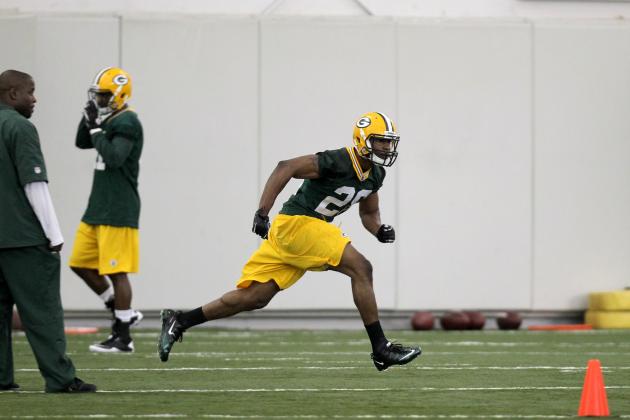 Mike McGinnis/Getty Images

Vanderbilt's Casey Hayward was one of the finest selections of the 2012 NFL draft. By playing in the SEC, Hayward enters into the pro game with substantial experience against top competition.
Just for fun:
Morris Claiborne (SEC): 5'11", 188 lbs, 4.5 second 40-yard dash, 34.5" vertical, 118" broad jump, 7.01 second cone, 4.12 second 20-yard shuttle, 11.44 second 60-yard shuttle
Casey Hayward (SEC): 5'11", 185 lbs, 4.53 second 40-yard dash, 34" vertical, 119" broad jump, 6.76 second cone, 3.9 second 20-yard shuttle, 11.1 second 60-yard shuttle
Aside from quarterbacks, no other position has as challenging a transition into the NFL as the cornerbacks. With two games against Detroit and Chicago, as well as matchups with New Orleans, Houston, Arizona and the New York Giants, Hayward will be frequently tested. Even if he has a rough rookie season, expect big things two years down the road.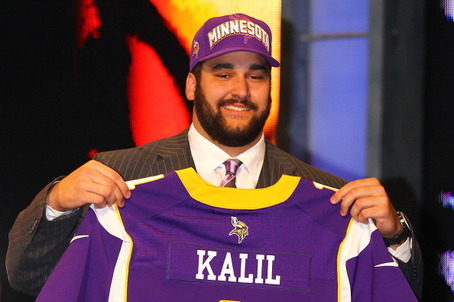 Al Bello/Getty Images

Minnesota got some parts in the 2012 draft, but certainly not enough to make any significant movements within the division.
There is simply not enough offensive talent to match what their divisional opponents bring to the table. After his first season, we are still left to Christian Ponder the No. 12 selection. Adrian Peterson's status is very much uncertain, as detailed by ESPN's Kevin Seifert.
Matt Kalil was about as safe a selection as they come, and he will be a much-needed aid in the development of Ponder as well as a boon to Adrian Peterson's recovery.
Each of the first O-line selections from 2005 to 2008 has made a Pro Bowl, but none have since then. Kalil has a great chance of being the first to do so.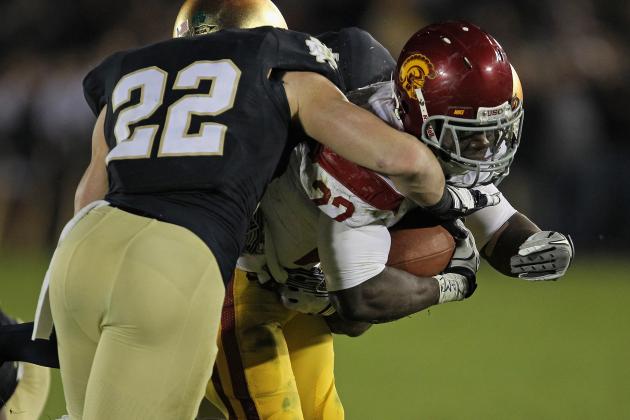 Jonathan Daniel/Getty Images

Harrison Smith is a large safety, standing at 6'2" and weighing in at 213 lbs.
Smith was the senior captain at Notre Dame and, aside from performing on the field, needs to prepare himself to fill the DB leadership void that will inevitably exist once Antoine Winfield retires (assuming that will actually happen).
While not especially fast (4.57 second 40-yard dash), Smith makes up for it with some tremendous instincts and by being an excellent tackler. He finished his senior season with 90 total tackles.
Again going back to the NFC North passing game, Smith, like so many of the division's young DBs, will get a lot of opportunities to make plays. He may just become the best Minnesota safety since Darren Sharper.