Fantasy Football: What Can Be Learned from the First Full Day of the Preseason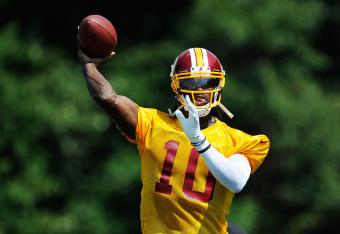 Patrick McDermott/Getty Images
Every season, fantasy football players keep a close eye on preseason games to get a read on where their sleepers stand and to see just how sharp the elite players look early on in August.
With Thursday representing the first night of full preseason action, it's important to note that not every great performance represents someone that is now a must-draft, just as every player with a tough game shouldn't slip down draft boards. However, patterns can start to develop and it's important to keep track of where your favorite players are.
Washington Redskins 7, Buffalo Bills 6
The biggest story of this game clearly comes from Robert Griffin III's limited playing time. Despite playing only three series, Redskins fans and fantasy owners had to be encouraged by how he looked throwing the football as he recorded 70 yards and a touchdown in right around a quarter of work. Although the touchdown came on a screen play and he also lost a fumble on a failed handoff, this kind of start is what you were looking to see in his first career NFL action.
On Buffalo's side, very little of fantasy note happened in this contest. C.J. Spiller and Fred Jackson failed to record a carry while Ryan Fitzpatrick threw for 61 yards on 14 attempts. Backup quarterback Tyler Thigpen struggled in his series, throwing for 38 yards and an interception.
Baltimore Ravens 31, Atlanta Falcons 17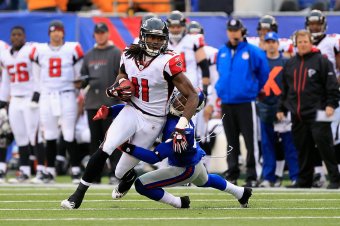 Chris Trotman/Getty Images
For those that view Julio Jones as potential No. 1 fantasy wide receiver, Thursday night did very little to prove them wrong. Jones, in one quarter of action, hauled in six passes for 109 yards and a score while showcasing the big-play ability that forced the Falcons to trade up for him in the 2011 draft. Matt Ryan also had a good night, throwing for over 150 yards in four series of work.
The Ravens showed an early dedication to the passing game, as Joe Flacco threw the ball 12 times for 88 yards and a touchdown. Flacco looked crisp and made good decisions in limited playing time, hitting Torrey Smith for a couple first downs. Flacco may not be a starting fantasy quarterback, but he is a solid backup with a good bit of upside.
San Diego Chargers 21, Green Bay 13
Thursday showed the best and worst of Philip Rivers. One drive after looking off the safety and hitting Antonio Gates on an easy touchdown pass, Rivers stared down Robert Meachem, allowing Tramon Williams to jump the route and pull in the interception. Rivers has the potential to have a big year for fantasy owners, but will need to eliminate the mistakes that plagued him throughout much of last year.
For Green Bay, the biggest story coming out is likely James Starks, who struggled running the football and also recorded a drop and lost a fumble. Starks continue to demonstrate that he is simply not a full-time back and should continue to fall off fantasy draft boards as Alex Green and Brandon Saine are likely to earn more carries for the Packers.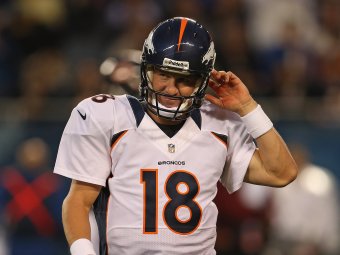 Jonathan Daniel/Getty Images
Denver Broncos 31, Chicago Bears 3
I'm sure the red zone interception will be replayed over and over again throughout the next week, but we didn't really learn all that much from Peyton Manning's first series with the Broncos. Manning completed 4-of-7 pass attempts for 44 yards, driving Denver down to the 12-yard line before a pass attempted for Brandon Stokley was picked by Major Wright. Manning certainly isn't working at 100% at this point, but his arm looks good and his fantasy value remains unchanged.
For Chicago, very little could be taken from this game outside of the fact that their offense isn't very good if Jay Cutler and Matt Forte aren't playing. Alshon Jeffery, who has looked great in camp, hauled in four passes but wasn't given the opportunity to create big plays with Jason Campbell and Josh McCown in at quarterback.
Philadelphia Eagles 24, Pittsburgh Steelers 23
The collective sigh heard from Philadelphia after the announcement (via NFL.com) that X-rays were negative on Michael Vick's hand highlights the Eagles side from a fantasy perspective. The fact that Vick should be fine is good news for fantasy owners, but also shows the always present concern that he can be forced out of a game at any time. Nick Foles was the star of the quarterbacks, throwing for 144 yards and two touchdowns on ten attempts.
Ben Roethlisberger looked sharp for the Steelers, completing 7-of-8 passes but not really stretching out his arm on any of the throws. Jonathan Dwyer carried the ball two times for 40 yards to lead a Steelers run game that struggled to get much going.
New England Patriots 7, New Orleans 6
As is almost always the case with the Patriots and the Saints in the preseason, almost nothing can be taken from this game as Brees and Brady played a combined two series. The most noteworthy aspect of this game was the productivity of the Patriots running game, which saw Shane Vereen carry the ball 11 times for 64 yards while Stevan Ridley ran for 40 yards on eight attempts.
Top Three Performers of the Night
1. Julio Jones: 6 receptions, 109 yards, 1 touchdown
Coming off of a 959-yard season, Jones has started to work his way up fantasy football boards and Thursday's performance should only help his rise. Jones was responsible for all but 50 of Matt Ryan's passing yards and showed versatility and explosiveness at the receiver spot.
2. Vincent Brown: 4 receptions, 81 yards, 1 touchdown
The Chargers wide receivers are all competing for playing time and Brown took a step towards earning a few more snaps on Thursday. He went up for a ball, showed good speed and flashed the ability to beat single coverage.
3. Robert Griffin III: 4-6, 70 yards, 1 touchdown, 0 interceptions, 1 fumble lost
Although the touchdown was on a screen pass, Griffin III showcased the skills that enabled him to be the second pick in the draft. He has a strong arm and showed some nice touch while leading the Redskins offense down the field.
This article is
What is the duplicate article?
Why is this article offensive?
Where is this article plagiarized from?
Why is this article poorly edited?