Fantasy Football 2012: Why Jared Cook Is a Keeper-League Stud in the Making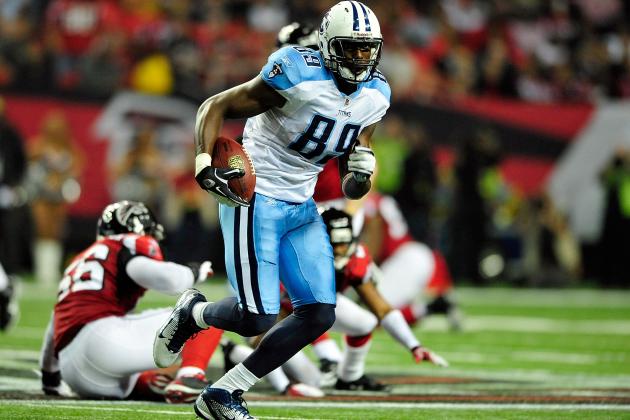 Grant Halverson/Getty Images

Jared Cook is on his way to becoming one of the NFL's elite tight ends.
As a popular sleeper heading into drafts last year, Cook fell short of expectations. The Tennessee Titans tight end caught 49 passes for 759 yards and three touchdowns.
It feels as if Cook has been in the NFL forever, but the 25-year-old still has only three years under his belt. There's plenty of time for him to develop into a formidable force at tight end.
Now that some of the shine has dusted off, Cook could be a draft-day steal, especially for keeper-league players looking for a long-term stalwart.
One of the biggest questions posed this year is "Who will be this year's Jimmy Graham or Rob Gronkowski?" Along with Brandon Pettigrew, Cook is one of the most logical options to leap to greatness.
Does a tremendous athlete in a promising offense who has improved throughout his NFL career seem like a guy worth a late pick? If so, then allow me to pique your interest in Jared Cook.
Begin Slideshow

»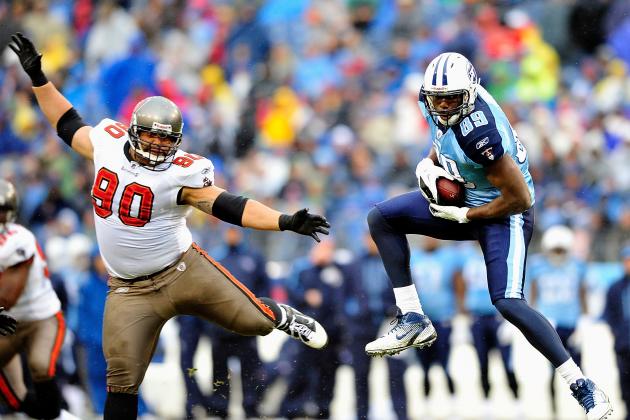 Grant Halverson/Getty Images

Freakish athletes have invaded the tight end position over the past few years.
Instead of searching for sturdy blockers who can catch the occasional pass, NFL squads want massive bodies who can create matchup nightmares.
Cook certainly fits that mold.
The 6'5'', 245-pound tight end is the exact type of athlete that has rejuvenated the position. Along with his monster size, Cook ran a 4.49 40-yard dash at his rookie combine. That mix of strength and speed will keep opposing linebackers up at night.
Grantland's Bill Barnwell compared his measurables to another physically gifted tight end: Jermichael Finley. Their height and weight are virtually identical, but Cook displays a much higher vertical leap at 41.0 inches. His incredible 40 time registered one-third of a second faster than Finley, who is considered a speedy tight end.
Despite the Green Bay Packers' tendency to drop passes in bunches, Finley still rests in fantasy's top-10 tight end rankings because of his athletic gifts. If Finley didn't have Aaron Rodgers at quarterback, Cook would surpass Finley's upside.
Once Cook adjusts to the NFL and finally feels comfortable, he will be a force to be reckoned with. Bank on that time coming soon.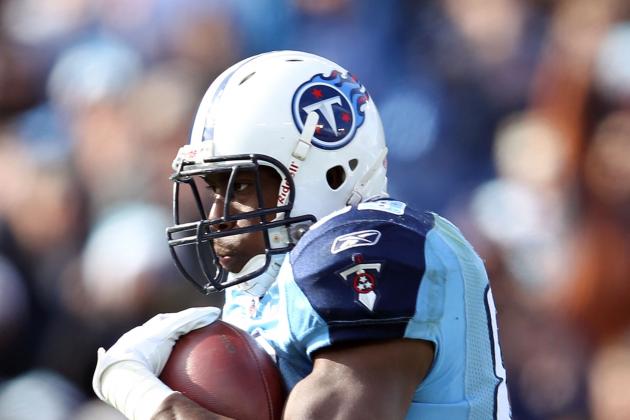 Andy Lyons/Getty Images

Not everyone can burst onto the scene from nowhere. Some players need time to develop.
When Cook failed to deliver major numbers last season, fantasy owners viewed it as a major letdown. He did, however, play the best football of his young career.
His 49 receptions and 759 yards don't seem too impressive, but they are a step forward from his 29 catches and 361 yards during the 2010-11 season. His numbers would edge closer to tight ends like Finley if not for the lack of touchdowns, and Cook is definitely a large enough target to make some noise in the end zone.
Each year, Cook's yards per catch and yards after catch are rising. He averaged 15.5 yards per catch—which ranked second among tight ends—and 6.8 yards after the catch.
Owners paying attention at the end of the year—and why wouldn't they be watching during the fantasy playoffs?—saw Cook finally put his massive talent to work. In the final three games, Cook tallied 21 receptions for 335 yards and a score. All those games were played against their AFC South foes, so Cook will see plenty more of those clubs this season.
If Cook can continue to annually increase his stats, owners are looking at a highly-productive tight end in 2012 and a star in later seasons.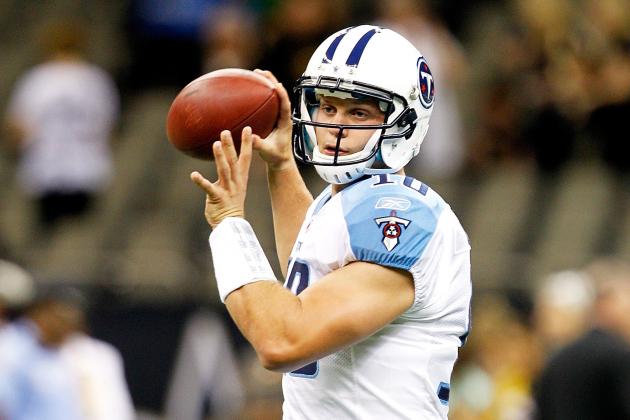 Sean Gardner/Getty Images

The days of perceiving the Tennessee Titans as a dull offense could be numbered.
For the past few years, the Titans operated as a one-man show starring Chris Johnson. That show especially drew yawns when Johnson fizzled last season. Fortunately for Johnson and the Titans, help is on the way.
If Kenny Britt can ever stay healthy and out of trouble, he'll join the ranks of the NFL's top wide receivers. Remember how dangerous he looked after gaining 271 receiving yards with three touchdowns through the first two weeks last season?
Since that's a substantial uncertainty, Tennessee shrewdly realized it can't place all its eggs in the Britt basket. The Titans brought in reinforcements to their receiving corps by selecting Kendall Wright with the No. 20 pick in this year's draft.
Most importantly, Jake Locker is ready to seize the reigns of the starting quarterback gig. He looked solid in a small sample size last season, throwing for four touchdowns with no turnovers in three games.
Young quarterbacks tend to use their tight end as a safety valve. Not to say Cook's value this year relies on Locker winning the job over Matt Hasselbeck, but Locker is undoubtedly the Titans' future under center.
And upgrading the passing attack should provide Johnson more breathing space to torture defenders in open space. Tennessee should have an effective, well-balanced offense this season that will help Cook prosper.
Cook is now part of a sneakily potent offense that should make major progress in the near future.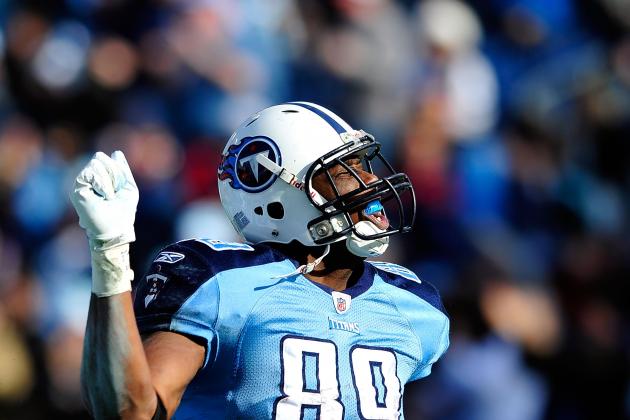 Grant Halverson/Getty Images

Acquiring this talent will not cost a premium selection. You'll probably even be able to draft him on your bench.
Most rankings place Cook outside the top 10 at his position. Cook has an average draft position of 110.59 on Mock Draft Central, which ranks No. 11 at tight end. ESPN also ranks him No. 11, and Yahoo! situates him lower at No. 15.
Cook makes the perfect low-risk/high-reward selection in one of your keeper league's final picks. Either draft him as your second tight end or pair him with an affordable veteran like Tony Gonzalez for insurance.
You will hopefully bench the other guy once Cook emerges as a reliable starting option. And if he falters, you only blew a late-round flyer and have a Plan B.
In most keeper leagues, Cook should be available on draft day. He may even be resting on the waiver wire in some existing dynasty leagues.
Graham and Gronkowski will cost owners a pretty penny this year, but it won't matter for keeper league participants since their owners will hold on to either stud tight end for dear life.
There's no other sure thing at tight end. Jason Witten and Gonzalez are safe choices for short-term production, but fantasy players trying to build a powerhouse that can win multiple championships need to think big and long term.
They don't come much bigger than Jared Cook. Roll the dice on Tennessee's mammoth target; you might be rewarded with a premium tight end.