Fantasy Baseball: 15 Players to Realistically Target Before the Trade Deadline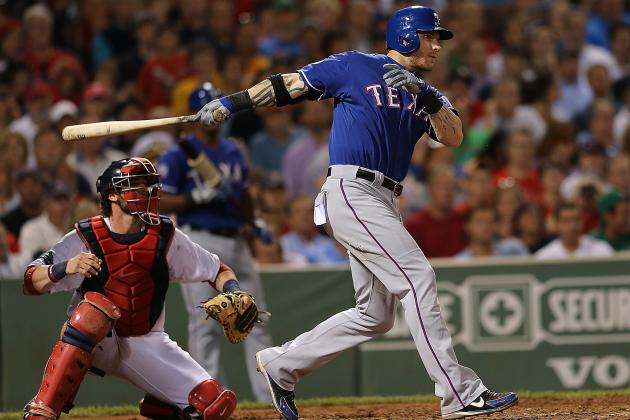 Jim Rogash/Getty Images
Rangers outfielder Josh Hamilton (30 HR, 95 RBI, 66 Runs, .288 BA) is batting at a .202 clip with just two homers and 16 RBI since July 9.
The following slideshow details 15 prominent baseball players who could realistically be acquired before the fantasy trade deadlines kick in later this month.

The countdown strikes a balance between big-name assets who have been struggling for large portions of the season...and surging talents whose market values haven't exponentially increased in recent weeks, for various reasons.

For a set of general rules to abide by before instigating or responding to any season-changing, pennant-defining deals for August and September, click here.

Enjoy the show!
Begin Slideshow

»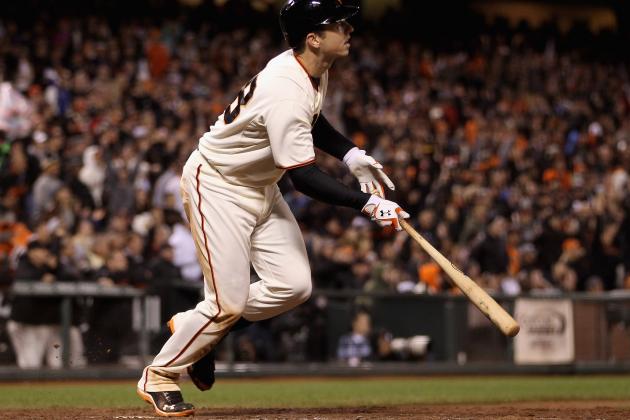 Ezra Shaw/Getty Images

Season: 18 HR, 73 RBI, 47 Runs, 1 Steal, .328 BA

30-Day Stats: 8 HR, 30 RBI, 12 Runs, .448 BA
Skinny
If Buster Posey played in the outfield or at third base, prospective owners would likely have zero chance of landing him before the trade deadline—an obvious testament to Posey's eight homers, 30 RBI, .448 batting average and 1.299 OPS since July 9.

But as a catcher/first-base-eligible property, Posey (and a pitching throw-in) could probably be had for one premium starting pitcher, a top-15 closer and one respectable asset at corner infield.

The plight of the catcher in the fantasy realm: They're never untouchables in trade talks. They're never immune from blockbuster deals.

My advice: Up the ante just enough to make Posey's current owners rationalize that Buster likely won't hit eight homers in either August or September.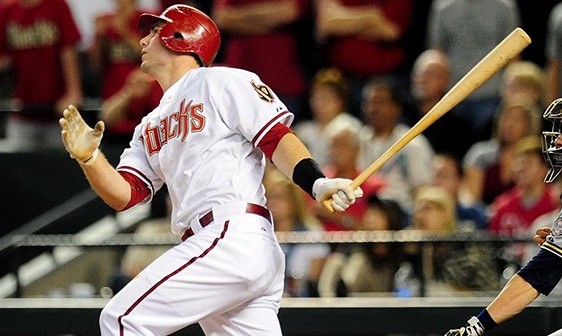 Photo Credit: US PRESSWIRE
Season: 16 HR, 56 RBI, 49 Runs, 10 Steals, .308 BA

30-Day Stats: 4 HR, 14 RBI, 13 Runs, 2 Steals, .326 BA
Skinny
I've witnessed approximately 12 of Paul Goldschmidt's 16 homers on live TV this season, via MLB Extra Innings, perpetuating the delusional myth that Goldy was belting bombs at a more prodigious rate than one homer per 21 at-bats (seasonal)...or one homer for every 16.1 at-bats (minus a shaky April).

But there's a positive to that good but far-from-elite production before a trade deadline. Some fantasy owners might not fully appreciate Goldschmidt's sneaky-good contribution with batting average and steals.

They also might not see him as one of the 12 best corner-infield assets going forward.

Regarding homers...if Goldy maintains that May-August pace, he'll clear double digits from Aug. 8 to Sept. 30.
Bob Levey/Getty Images

Season: 13 HR, 43 RBI, 79 Runs, 19 Steals, .280 BA

30-Day Stats: 4 HR, 12 RBI, 16 Runs, 4 Steals, .284 BA
Skinny
With noticeable drops in homers and OPS, compared to last season, the general perception is that Ian Kinsler is having a down year with the Rangers.

But he's on pace to match, eclipse or flirt with last year's output in runs (121), hits (158), doubles (34), triples (4), RBI (77), steals (30) and on-base percentage (.355). And for good measure, the Rangers star is crushing his 2011 batting average by 25 points.

With that knowledge, not every Kinsler owner will be thrilled to entertain trade discussions before a deadline. But for the ones who are greatly disappointed in his home-run count, that's the faction to exploit in the coming days.

Bottom line: Within reason, I would pay any price to secure Kinsler for the stretch run, especially with his career OBP of .363 in August/September and 0.76 runs per game in the same time frame.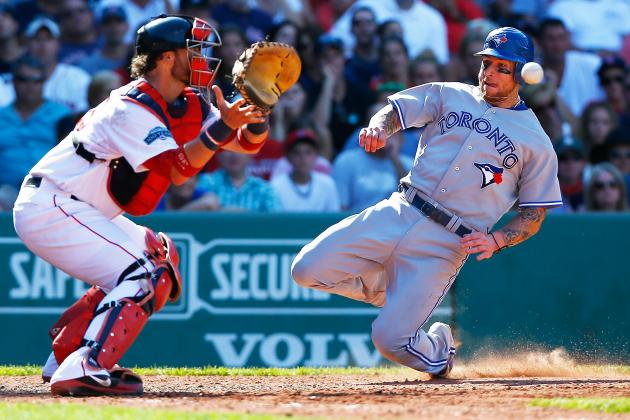 Jared Wickerham/Getty Images

Season: 9 HR, 40 RBI, 59 Runs, 13 Steals, .282 BA

30-Day Stats: 1 HR, 7 RBI, 8 Runs, 2 Steals, .243 BA
Skinny
Brett Lawrie's stats have taken a hit of late, perhaps a consequence of his current rib injury or the nasty dugout pitfall at Yankee Stadium last month.

But then again, this might be the perfect time to land a prime corner infielder for pennies on the trade dollar.

The 22-year-old Lawrie has yet to hit five homers or hit above .320 for any month this season, a deflating trend for those who grabbed him in Round 4 or 5 of 12-team roto drafts.

But assuming reasonable health, the law of averages suggests he'll have a breakout period very soon. After all, Lawrie racked up nine homers, 25 RBI, 26 runs, seven steals and a .293 batting average in only 43 games last season.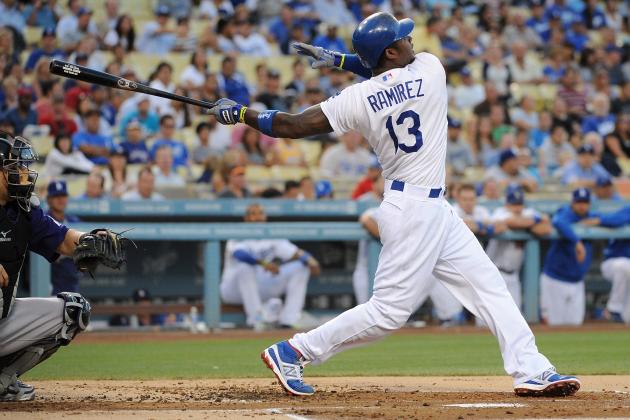 Lisa Blumenfeld/Getty Images

Season: 15 HR, 59 RBI, 57 Runs, 16 Steals, .246 BA

30-Day Stats: 3 HR, 15 RBI, 11 Runs, 4 Steals, .238 BA
Skinny
Since joining the Dodgers in late July, Hanley Ramirez has only one homer, two steals, eight RBI and a .240 batting average.

This begs the question: Why would fantasy owners have any interest in acquiring a temperamental talent who's hitting at a worse clip than he did with the Marlins (April-July)?

I'll cite two reasons:

1. Ramirez is still the same player who tallied four homers, 20 RBI, 18 runs, six steals, an .890 OPS and a .322 batting average during May, while leading the Marlins to their best month in franchise history.

2. Given the dearth of superstars at shortstop, there's little risk in consummating a medium-sized deal for a potential four-category dynamo with dual-position eligibility.
J. Meric/Getty Images

Season: 1 HR, 8 RBI, 19 Runs, 3 Steals, .284 BA

30-Day Stats: 1 HR, 5 RBI, 15 Runs, 3 Steals, .284 BA
Skinny
There are disparate perceptions of Jacoby Ellsubry's production since the All-Star break:

The fantasy pessimist would point to his 30-day numbers (above) and gauge that it's an across-the-board dip from the seasonal tallies.

In turn, the fantasy optimist would rejoice in Ellsbury's boosting his batting average by 70 points since the July 13 return while also yielding significant gains in OBP, slugging and OPS.

We can all agree on this, though: Ellsbury is nowhere close to his top-10 standing coming out of spring training. Consequently, prospective owners can probably land him for a No. 3 starting pitcher.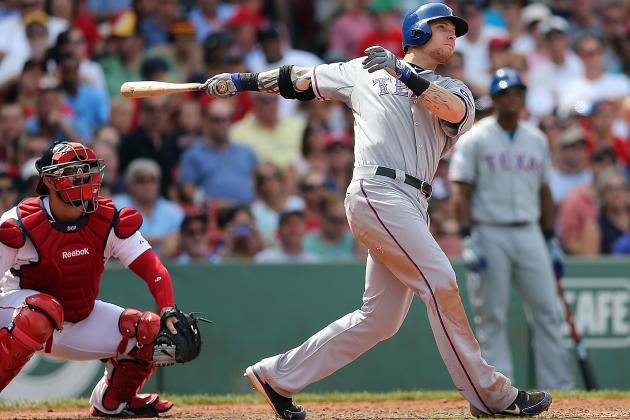 Jim Rogash/Getty Images

Season: 30 HR, 95 RBI, 66 Runs, 6 Steals, .288 BA

30-Day Stats: 2 HR, 16 RBI, 10 Runs, .202 BA


Skinny
Here's the deal with Josh Hamilton:

Yes, he's batting .245 or lower for the seven-, 15- and 30-day windows, but that's not a reason to think the sky is falling on his fantasy prospects.

Since July 30, Hamilton has two homers, eight runs, 12 RBI and four multiple-hit games; and within that time frame, he had two outings of four RBI.

In other words, I wouldn't be shocked if Hamilton was getting primed for another prodigious spurt like his nine-homer, 18-RBI explosion from May 7-13.

And even if that doesn't happen again...he's still worth the risk of a 2-for-1 trade or a high-end 1-for-1 swap in the coming days.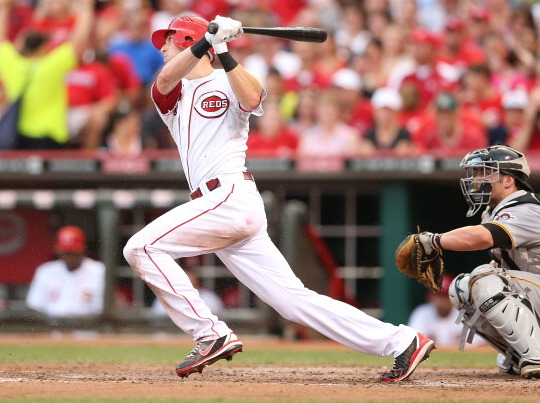 Andy Lyons/Getty Images

Season: 14 HR, 36 RBI, 63 Runs, 25 Steals, .235 BA

30-Day Stats: 5 HR, 15 RBI, 22 Runs, 8 Steals, .292 BA


Skinny
Drew Stubbs is one of the few assets in this countdown who could have been had for a bag of magic beans just a few weeks ago.

But now, thanks to five homers, six steals and a .321 batting average since July 24, Stubbs' owners would be wise to adjust his trade-market price accordingly.

If Stubbs were just some random player having a run-of-the-mill spurt, perhaps his market range wouldn't be so high.

But he has a strong track record of success this decade, and he could produce his first-ever season of 20 homers and 40 steals.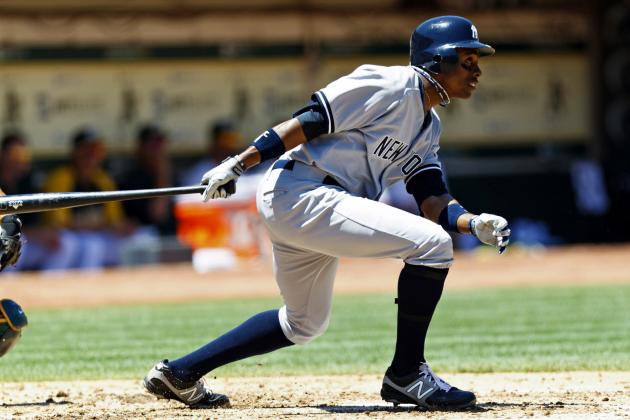 Jason O. Watson/Getty Images

Season: 29 HR, 62 RBI, 76 Runs, 8 Steals, .240 BA

30-Day Stats: 6 HR, 14 RBI, 15 Runs, 2 Steals, .213 BA

Skinny
Barring a miracle run of Rickey Henderson-esque proportions, Curtis Granderson will fall considerably short of last year's output in runs (136), RBI (119) and steals (25).

On the flip side, Granderson has already matched his 2010 output of runs (in 28 fewer games); he's also on the brink of eclipsing 2010 totals in hits (115), doubles (17), triples (7), RBI (67), steals (12) and batting average (.247).

In other words, if Granderson hadn't posted MVP-type numbers last season, fantasy owners everywhere would likely be thrilled with his progress compared to two years ago.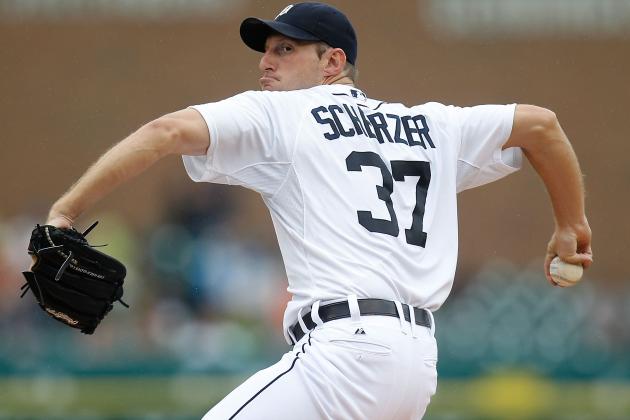 Gregory Shamus/Getty Images

Season: 10-6, 4.72 ERA, 1.41 WHIP, 160/46 K-BB

30-Day Stats: 2-1, 4.75 ERA, 1.48 WHIP, 39/13 K-BB
Skinny
I take great pride in having attached a top-30 ranking to Max Scherzer during spring training, even though he had been woefully inconsistent with the Tigers last season.

I'm even prouder to declare that Scherzer's selection had nothing to do with being a Detroit native. As stated many times, I am a sucker for right-handed power pitchers with the capacity for double-digit strikeouts...anywhere...anytime.

From May 5 to Aug. 5 (spanning 17 starts), Scherzer struck out seven-plus hitters 13 times, including 35 strikeouts in his last four outings. In the last three months, he also yielded three or fewer walks 14 times.

Tell me you wouldn't kill for that kind of strikeout consistency down the stretch. And thanks to a deceptively mediocre ERA, Scherzer could probably be acquired for a tier-three outfielder or corner infielder.
Gregory Shamus/Getty Images

Season: 9-8, 3.08 ERA, 1.07 WHIP, 138/34 K-BB

30-Day Stats: 2-3, 3.89 ERA, 1.33 WHIP, 30/8 K-BB
Skinny
Since June 13 (spanning 10 starts), Jake Peavy boasts outings of four, five, six, seven, eight and 11 strikeouts—figures that suggest he's been all over the map as a power pitcher.

But I'll take the high side of that argument, since Peavy has five games of seven-plus strikeouts in that span. Of equal importance, he's a perfect 10-for-10 in surrendering three walks or fewer.

And yet, some might believe that Peavy and teammate Chris Sale (who recently missed a start to arm fatigue) have already peaked for the season, with both hurlers earning midseason spots on real-world and fantasy All-Star teams.

I respectfully disagree. If the White Sox are going to hold their ground in the American League Central and wild-card races, Peavy will play a major role in that occurrence.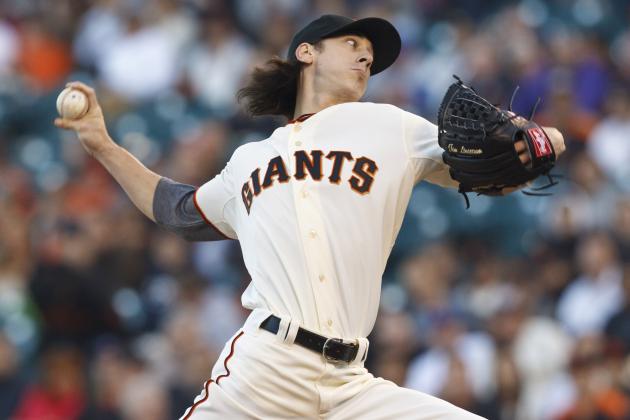 Jason O. Watson/Getty Images

Season: 6-11, 5.43 ERA, 1.41 WHIP, 139/62 K-BB

30-Day Stats: 3-1, 2.48 ERA, 1.22 WHIP, 35/12 K-BB
Skinny
I have endorsed Tim Lincecum in every "Players to Realistically Target, Via Trade" slideshow this season, for reasons that are tough to describe.

I just figured that a healthy Lincecum would eventually resemble the previous annual lock for 16 wins, 240 strikeouts and a sub-3.00 ERA...if only in small- or medium-sized doses.

In his last five outings, the Giants star has allowed two or fewer runs four times, while racking up three victories and 35 strikeouts.

Does this guarantee a strong finish for the year or even the next two to three starts? Absolutely not.

But it's good to know that fantasy owners can take a low-risk, high-reward trade flier on Lincecum, for the mere price of a tier-three outfielder or corner infielder.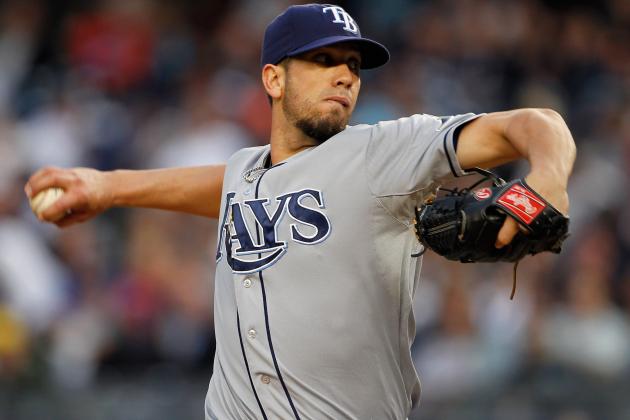 Mike Stobe/Getty Images

Season: 10-7, 4.08 ERA, 1.33 WHIP, 151/45 K-BB

30-Day Stats: 2-2, 3.79 ERA, 1.04 WHIP, 42/11 K-BB


Skinny
From my research, James Shields is the first MLB pitcher to notch double-digit strikeouts in back-to-back-to-back starts this season.

That alone guarantees the powerful right-hander a spot here, even if he allowed four or more runs six times from June 23 to July 26.

Of course, you're only as good as your last two outings. And for July 31 and Aug. 7, Shields stifled the A's (11 strikeouts) and Blue Jays for a combined 17 strikeouts and just one run allowed.

Bottom line: Shields (10-7, 4.08 ERA) may have a higher price tag than he did last month, but that's still no reason to drop the pursuit.

After all, there's a zero-percent chance of Shields yielding double-digit hits in four consecutive games (again), but there's a great chance of him racking up 34 strikeouts over his next four outings.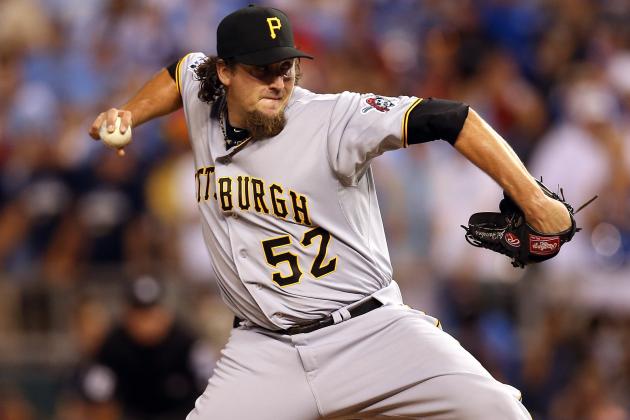 Jonathan Daniel/Getty Images

Season: 4-0, 2.74 ERA, 1.17 WHIP, 32 of 35 Save Opps

30-Day Stats: 0-0, 4.15 ERA, 1.38 WHIP, 9 of 9 Save Opps
Skinny
At this point, fantasy owners should concern themselves only with saves when chasing closers.

And with the Pirates vying for their first winning season since 1992 and a playoff berth, I love Joel Hanrahan's chances of logging 14 more saves from this point forward.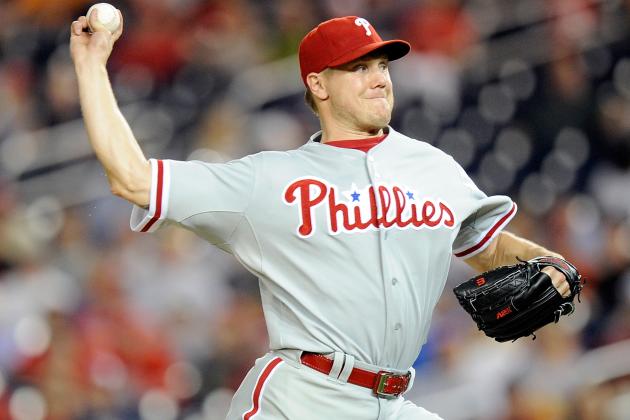 Greg Fiume/Getty Images

Season: 3-4, 3.00 ERA, 1.13 WHIP, 24 of 27 Save Opps

30-Day Stats: 1-1, 2.13 ERA, 1.11 WHIP, 6 of 7 Save Opps


Skinny
The opposite argument could be made for Jonathan Papelbon and his role with the floundering Phillies.

Most fantasy owners likely don't have Paps (16 strikeouts in his last 12.2 innings) tabbed for more than 10 save opportunities from Aug. 8-Sept. 30.

But for the first time in a while, Philly's "Big Three" pitchers (Roy Halladay, Cole Hamels and Cliff Lee) aren't being mentally drained by injury concerns, contract uncertainty or possible changes of venue before the trade deadline.

Throw in the trio's fierce pride to finish on a high note...and Philly is a dark-horse candidate for above-.500 baseball from this point forward.

Bottom line: Make a bold play for Papelbon, before it's too late.