NFL Rookie Stock Report After Thursday's Preseason Games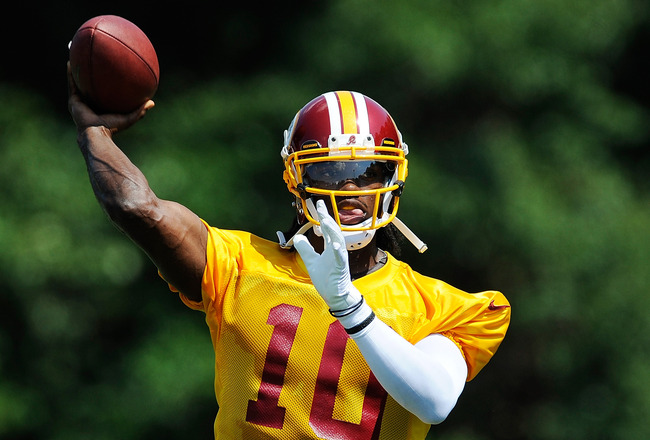 Patrick McDermott/Getty Images
The first preseason game gives most fans their first look at their favorite team's new additions. It's especially exciting to see how the rookies perform. Preseason games look different for each rookie, depending on their projected role with the team.
For example, the Washington Redskins only allowed Robert Griffin III to throw the ball six times. However, other rookie quarterbacks, like Brock Osweiler, had an opportunity to lead several drives.
Despite the level of playing time each rookie received, it's still nice to see football back on TV.
Stephon Gilmore, Buffalo Bills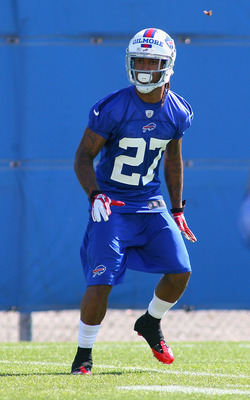 Rick Stewart/Getty Images
Stock: Slightly Down
Stephon Gilmore quickly found out what type of athletes are in the NFL. He had some trouble dealing with the speed of Pierre Garcon. On one specific play, he gave him too much space and Garcon quickly broke off the route.
Gilmore also was eaten up by a blocker on the wide-receiver screen to Garcon that went for a touchdown. However, it's important to point out that he showed a willingness to fight through the block.
Season Outlook
It's tough to get a good read on a cornerback's performance after the first preseason game. However, Gilmore's impressive training camp has his stock on the rise. This is a player with a ton of upside and someone that will help make the entire Buffalo Bills defense better. His less-than-impressive performance tonight doesn't lower his potential.
The Bills are going to have to deal with Tom Brady for several more seasons, so it's important they have a strong pass defense. This falls on the shoulders of players like Gilmore, Jairus Byrd and Mario Williams. The defense needs to work together if they hope to slow down the high-powered offenses in the NFL.
Gilmore is only a piece of the puzzle, but as the No. 10 overall pick, he's expected to immediately play at a high level.
Cordy Glenn, Buffalo Bills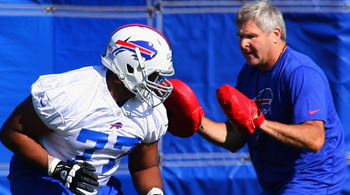 Rick Stewart/Getty Images
Stock: Up
Cordy Glenn opened the preseason game as the starter at left tackle. He did a good job protecting Ryan Fitzpatrick's blind side. Glenn used a quick shuffle and solid anchor to handle the rush. The Washington Redskins showed a few blitz packages, but Glenn mainly was matched up against the likes of Adam Carriker and Stephen Bowen.
Overall, Glenn showed the type of upside he has as a starting left tackle in the NFL.
Season Outlook
The Buffalo Bills have two very solid offensive tackles in Glenn and Chris Hairston. Both have the ability to play either left or right tackle
Glenn's combination of size and athleticism is what gives him a bright future at left tackle. During his college career, Glenn showed that he has the foot speed needed to protect the edge. This and his good use of angles make him a good pass-protector.
The Bills have been looking for stability at the tackle position since they traded away Jason Peters. With this new tandem, they have a chance to solve this issue.
Robert Griffin III, Washington Redskins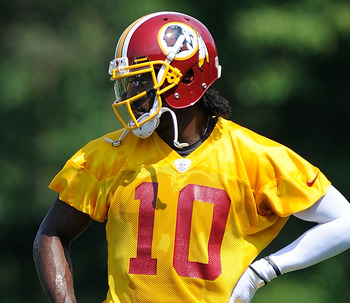 Patrick McDermott/Getty Images
Stock: Up
Robert Griffin III looked smooth and steady tonight. He did a good job running the offense and locating open targets. He showed both his explosiveness and ability to deliver an accurate football. It's obvious that Griffin III and Pierre Garcon have already developed a strong connection.
The fact that he has already identified a go-to receiver will help ease his transition.
Season Outlook
The future success of the entire Washington Redskins franchise depends heavily on the play of Robert Griffin III. This is why even a few meaningless plays during the first preseason game will be heavily scrutinized.
It's safe to expect some level of struggles from Griffin III this season. Because of the differences between the Redskins offense and the one he ran in college, Griffin III will go through some growing pains. Getting too high or low after a short sample size is worthless.
Let's see how the entire season plays out before we crown Griffin III a superstar or a bust.
Chandler Jones, New England Patriots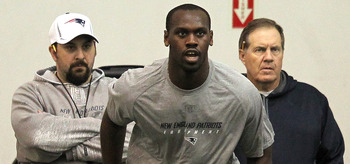 Jim Rogash/Getty Images
Stock: Up
The New England Patriots gave us a glimpse of how they intend to use Chandler Jones. He lined up at the defensive-end position, but rushed out of both a two-point and three-point stance. This basically means there's a likelihood that we'll also see him playing some linebacker this season.
Jones showed off his explosives and fluid movements. His non-stop motor and tenacity were also on display. This is a player that appears ready to have an excellent rookie season. He's showing that he has the raw talent to make an immediate impact.
Season Outlook
The Patriots need Jones to make an instant impact. They can't afford for him to have a slow transition into the league. This team lacks the other pass-rush options to allow Jones to develop at his own pace.
New England's defense was among the league's worst last season. Its biggest problems include stopping the opponents' passing game. Because of the lack of upgrades in the secondary, the Patriots need Jones to generate pressure on the quarterback. The hope is that Jones' pressure can disrupt the timing of the offense and help the secondary.
Dont'a Hightower, New England Patriots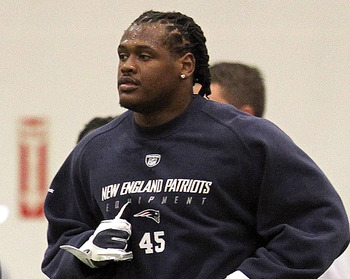 Jim Rogash/Getty Images
Stock: Up
Dont'a Hightower displayed both his versatility and toughness. The New England Patriots give him time at both middle and outside linebacker. While in the middle, Hightower did a good job attacking the line of scrimmage and using his hands to hold at the point of attack.
At times, Hightower took poor angles to the ball-carrier and left some openings. This can be attributed to a young player in his first real action. It's also something that will improve with experience.
Season Outlook
Hightower is in the same boat as Chandler Jones, as the Patriots need him to make an immediate impact. The only other option the Patriots have at the strong-side-linebacker position is Bobby Carpenter. At this point in his career, Carpenter is nothing more than a backup linebacker and special-teams player.
Adding Hightower to a linebacker corps that already features Jerod Mayo and Brandon Spikes gives the Patriots a talented group. This is a unit that can both stuff the run and get after the passer. A strong linebacker corps was a key back when the Patriots were winning Super Bowls.
Mike Adams, Pittsburgh Steelers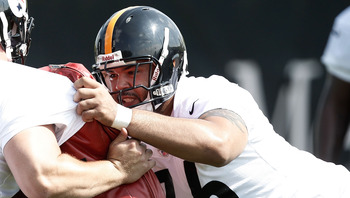 Jared Wickerham/Getty Images
Stock: Down
Mike Adams was abused a little by Philip Hunt during the Pittsburgh Steelers' game against the Philadelphia Eagles. At times, Adams struggled to move his feet and was caught stationary. The Steelers need to sit Adams down and make sure he remains committed to his technique.
This is a bit of a concern because the knock on Adams coming out of college was that he had a tendency to use sloppy footwork. The reasons laid out below outline why this is something the Steelers need to correct.
Season Outlook
The Steelers shuffled their entire offensive line because of the arrival of Adams. His addition allowed the Steelers to bump Willie Colon inside to guard and Marcus Gilbert to right tackle. Because of this development, there's a ton of pressure on Adams to quickly perform at a high level.
With Rashard Mendenhall out for the early part of the season with a knee injury, Pittsburgh needs strong play from the offensive line. Running backs like Isaac Redman, Jonathan Dwyer and Chris Rainey need running room in order to be productive.
Let's also not rule out the importance of keeping Ben Roethlisberger healthy. I'm not sure he can handle another season of constant pressure and major hits. Adams needs to do a good job protecting Roethlisberger's blind side if the Steelers hope to make another playoff run.
Chris Rainey, Pittsburgh Steelers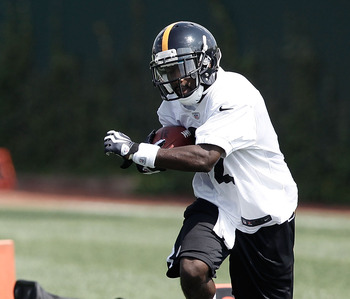 Jared Wickerham/Getty Images
Stock: Up
The Pittsburgh Steelers used Chris Rainey in multiple roles during their first preseason game. He was seen in the return game, running the football and working out of the backfield as a receiver. Every time he touched the football, he flashed the explosiveness that gives him such upside.
Season Outlook
Rainey has a ton of speed and knows how to create in space. This is something the Steelers' offense is going to need in order to increase its explosiveness. Rainey is listed as a running back, but he won't be asked to play a traditional role.
Tonight's performance shows only a few ways that Todd Haley plans to use him. For more of an idea, look back to the way he employed Dexter McCluster when he ran the Kansas City Chiefs. Rainey might not produce major numbers, but a few explosive plays throughout the season could help win a game or two.
Fletcher Cox, Philadelphia Eagles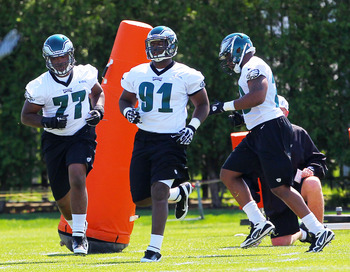 Rich Schultz/Getty Images
Stock: Up
Fletcher Cox looked really good in his first live action. He surprised me a little with his ability to hold at the point of attack and play the run with integrity. It's tough for young players to ensure they keep their lanes and avoid just shooting the gap.
However, Cox's burst off the line was also visible. This quick initial step allowed Cox to work his way into the backfield. The Philadelphia Eagles are looking for Cox to be a major contributor this season. While they would love to see solid play against the run, the key will be his ability to penetrate the pocket.
Season Outlook
The defensive-tackle depth for the Eagles took a hit when Mike Patterson was ruled out for the foreseeable future. This means that Cox is going to be counted on to play a much larger role.
Prior to the Patterson situation, Cox was looking at being part of the rotation. However, now he appears likely to begin the season as the starter.
Cox's strength lies in his ability to explode off the line and work his way into the backfield. With Patterson out of the lineup, Philadelphia needs Cox to play a more well-rounded brand of football.
Mychal Kendricks, Philadelphia Eagles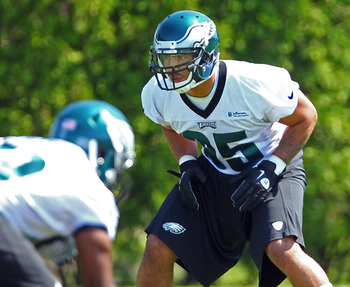 Rich Schultz/Getty Images
Stock: Up
Mychal Kendricks was all over the field in the Philadelphia Eagles' first preseason game. He did a good job using his explosiveness to quickly flow to the football. It's obvious that Kendricks is the type of player that will constantly be around the ball.
He didn't only make plays against the run, as he also flashed his ability in pass coverage. Kendricks quickly identified the route developing around him and closed on the ball. This is a four-down player who can remain on the field in passing situations while also contributing on special teams.
Season Outlook
The Eagles' defense will show much improvement this season. A lot of the reason it will improve will be because of the play of the linebackers. The additions of DeMeco Ryans and Kendricks give the Eagles two explosive playmakers.
Kendricks showed what type of speed he has when he ran a 4.47 40 time at the combine. This was the top time for all the linebackers and the same recorded time for wide receiver Michael Floyd. Kendricks combines his speed with good aggressiveness and instincts. This is why we will see him constantly around the football.
Nick Perry, Green Bay Packers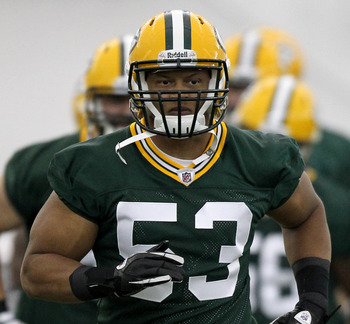 Mike McGinnis/Getty Images
Stock: Up
The Green Bay Packers saw some encouraging signs from Nick Perry. He used a strong combination of speed and power pass-rush moves. Green Bay gave him plenty of playing time and chances to get a feel for the speed of the game.
While Perry did show some promise, I saw the stiffness that concerned scouts as a draft prospect. Perry will need to show better change-of-direction ability if he hopes to develop into a top-notch pass-rusher. It isn't enough to just have good straight-line speed; a pass-rusher also needs to be able to employ counter moves.
Season Outlook
There's a lot of pressure on Perry to make an instant impact. It can be argued that the success of the entire Packers defense rests on Perry's shoulders.
Green Bay's defense was at its most successful when Clay Matthews was generating a ton of pressure on the quarterback. Matthews' production dropped last season because teams were able to shift protection to his side of the field.
Perry needs to take advantage of the one-on-one situations created by Matthews. This will prevent teams from placing too much attention on shutting down Matthews.
Melvin Ingram, San Diego Chargers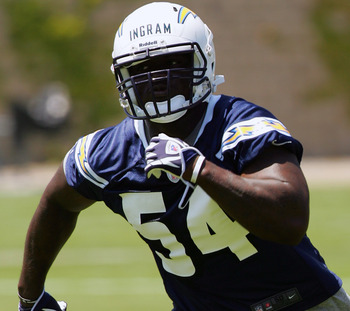 Kent Horner/Getty Images
Stock: Up
Melvin Ingram looked great in the first preseason game of his career. He flashed an elite burst off the line that allowed him to get a ton of pressure on the quarterback. Ingram showed he isn't just a speed-rusher, as he employed several strong bull-rush moves.
As I mention below, Ingram was used at several different positions. I witnessed him rush the quarterback from both a two-point and three-point stance. Tonight's game was just a sample of the many ways the Chargers can use Ingram.
Season Outlook
The San Diego Chargers added Ingram to the mix in order to increase their pass rush. Ingram has a great initial burst that helps him work his way towards the quarterback. Because he lined up at several positions during his college career, Ingram is capable of generating pressure from multiple spots on the field.
Look for Ingram to work in a rotation with Shaun Phillips and Jarret Johnson. It's also possible that we will see Ingram line up at defensive end or tackle from time to time.
Kendall Reyes, San Diego Chargers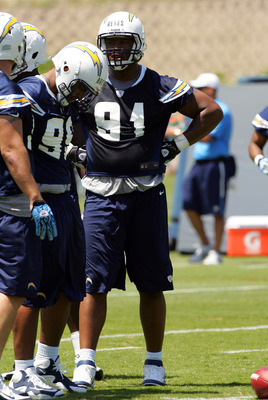 Kent Horner/Getty Images
Stock: Up
The San Diego Chargers seem to have pegged Kendall Reyes correctly. He looked like a natural lining up at the five-technique in the Chargers' 3-4 alignment.
Reyes did a very good job holding at the point of attack. He was even able to show a strong anchor against a few double teams.
His impressive initial step was also apparent in passing situations. As a five-technique, Reyes won't be expected to be an elite pass-rusher. However, he showed enough burst and body control to get after the quarterback.
Season Outlook
Reyes is a perfect fit for the Chargers' 3-4 attack. He's going to fit right in at the five-technique position and give the Chargers another multidimensional talent along their defensive line. Reyes has a chance to prove to be a real steal for this franchise.
Many overlooked Reyes because he played for Connecticut and didn't get much coverage. Connecticut's decision to use him in different roles also hurt his stock a little. He never really had a chance to carve out a specific role. However, this actually helped him develop the versatility that will allow him to make an immediate impact in San Diego.
Brock Osweiler, Denver Broncos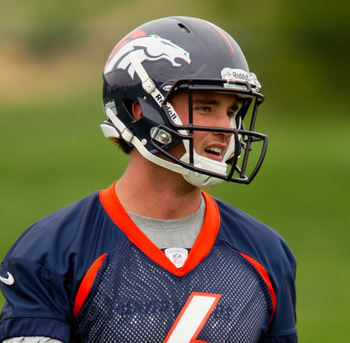 Justin Edmonds/Getty Images
Stock: Steady
Brock Osweiler is considered the future of the Denver Broncos, but that future is in the very distant future. Tonight, Osweiler looked every bit the raw prospect he was entering the draft. He looked unsteady in the pocket, quick to pull the trigger and uncomfortable going through his reads.
However, he did flash good athleticism and excellent arm strength. It's obvious that with the right work ethic, Osweiler has a bright future in the NFL. The nice thing was that he improved with the more time he received. This is something that will be true throughout the course of his career.
Season Outlook
The Broncos were thinking ahead when they selected Osweiler in the second round. Peyton Manning will be this team's quarterback for the next several years. However, the Broncos need a talented young quarterback for Manning to mentor.
Osweiler is the perfect candidate to mentor because he has all the physical tools, but needs time to learn the mental part of the game. There's basically no chance we see Osweiler take a regular season snap for the Broncos this season. Everything he's doing is for the future.
Alshon Jeffery, Chicago Bears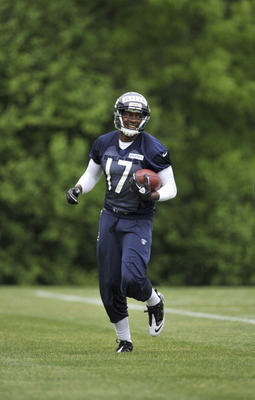 Brian Kersey/Getty Images
Stock: Steady
Alshon Jeffery displayed strong hands and decent route-running ability in his first preseason game. On a few plays, he quickly broke off the route and got his head around. There weren't any eye-popping plays, but he was steady.
The Chicago Bears are willing to slowly work Jeffery into the mix. It's going to take time for him to perfect his craft.
Season Outlook
The addition of Jeffery shows a change in philosophy for the Bears' offense. This is a team that finally recognized it needs to surround Jay Cutler with talented wide receivers. It also shows that the team now realizes that size is an important attribute. Mike Tice and the offensive staff will absolutely work Jeffery into the game plan.
I expect we will see a lot of balls targeted his way in the red zone. This is an area of the field where Jeffery's size and leaping ability will be a major weapon.
Brandon Marshall is the Bears' top playmaker at the moment, but Jeffery has the skills to develop into an equally dangerous threat.
Shea McClellin, Chicago Bears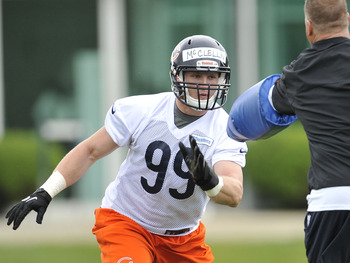 Brian Kersey/Getty Images
Stock: Up
Shea McClellin's quickness and explosive burst allowed him to chase down Caleb Hanie for a sack. It was a broken play, but McClellin needed to cover a lot of ground in order to register the sack. The Chicago Bears selected McClellin in the first round with the hope he can help bolster the pass rush.
Season Outlook
McClellin will have a role with the Bears as a rookie. However, don't look for him to earn a starter's role at any point this season. McClellin will be used more as a situational pass-rusher. His issues holding up against the run will make it difficult for him to earn an every-down role.
This doesn't mean McClellin doesn't have a bright future, or a future role as a starer. It just means that he needs time to get stronger and develop a better all-around game. Still, it's important that he provides the Bears with a strong edge rush this season.
Julius Peppers is still performing at a high level, but somebody needs to take advantage of the one-on-one opportunities he creates.
Jonathan Massaquoi, Atlanta Falcons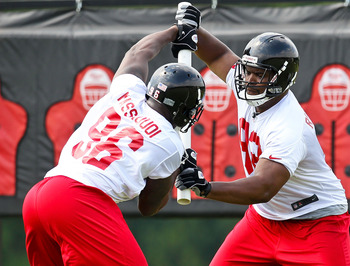 Daniel Shirey/Getty Images
Stock: Up
Jonathan Massaquoi is an undersized defensive end whom the Atlanta Falcons hope to develop. If tonight's performance is any indication, Massaquoi might be able to make an impact this season. He played a well-rounded football game.
The fact that he showed the ability to hold up against the run should speed up his chances of developing into an every-down player. However, it's the burst off the line that will excite the Falcons' coaching staff. This team needs someone to step up and help provide a pass rush.
Season Outlook
Last season, the Falcons only registered 33 total sacks, with John Abraham collecting 9.5 of that total. This shows that the Falcons have a need for another pass-rusher along the defensive line. Massaquoi has an opportunity to work his way into the rotation with a strong preseason.
Massaquoi has some similarities to Abraham, being that he's undersized and has good quickness. It's unlikely that Massaquoi will earn anything more than a role as a situational pass-rusher. However, he has the skill set needed to make an impact this season.
Nick Foles, Philadelphia Eagles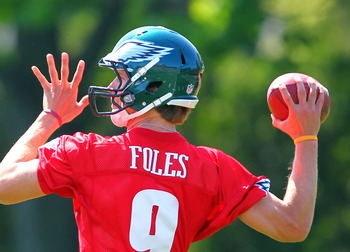 Rich Schultz/Getty Images
Stock: Up
Nick Foles showed Philadelphia Eagles fans why the team jumped at the chance to add him in the third round. Tonight, he displayed a strong arm and nice touch. The way he moved the offense and made sound decisions could result in a move up the depth chart.
As it stands, Mike Kafka is the Eagles' backup quarterback. However, a strong preseason by Foles could change that. There's no question Foles has the greater upside, and it looks like he might be the most ready to play if Michael Vick is forced out with an injury.
Season Outlook
Foles is battling to earn the right to back up Michael Vick, and since Vick is injury-prone, this could mean Foles sees some playing time. However, nobody in Philadelphia is hoping to see either Foles or Kafka under center.
This team's playoff hopes depend on Vick being healthy and in the lineup.
Keep Reading