Redskins vs. Bills: TV Schedule, Live Stream, Radio, Game Time and More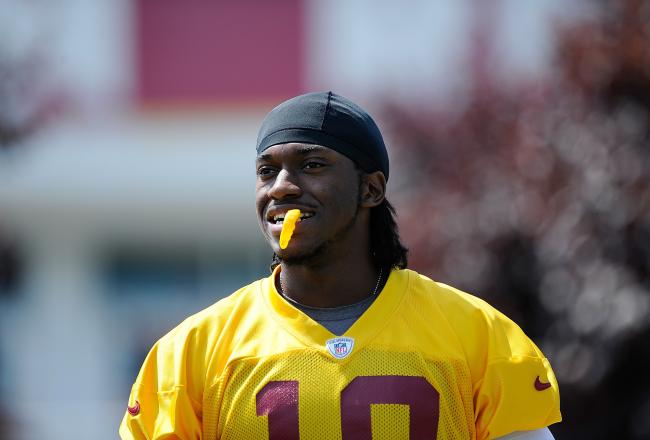 Patrick McDermott/Getty Images
The Washington Redskins visit Ralph Wilson Stadium on Thursday night to take on the Buffalo Bills and give the world its first glimpse of the RG3 Era, while Buffalo quarterback Ryan Fitzpatrick will attempt to rediscover a little bit of the magic that got him and the Bills off to a 4-1 start in 2011.
It seems like just yesterday that the Giants were running off with another Super Bowl win over the Patriots while the Bills and the Redskins both contemplated how they would put themselves in playoff contention in 2012. For the Redskins, the draft was the obvious answer; for the Bills, it took a little bit more creativity.
Now, here we are, ready to see whether those offseason changes have paid off for either side.
Here's a look at where and when you can catch the preseason action between Washington and Buffalo on Thursday.

Where: Ralph Wilson Stadium, Orchard Park, N.Y.
When: Thursday, August 9, at 7 p.m. ET
Watch: NBC-4, CSN
Radio: ESPN 980 AM in Washington; Sirius 92 in Buffalo
Live Stream: Preseason Live
Both of these teams are aiming to make their voices heard in the NFL this season, which is something each of them has struggled to do for the last several years.
The Redskins, especially, are facing a lot of pressure in 2012 as they look to forge a new identity with Robert Griffin III at the helm. Fans are expecting him to be this team's savior, and the franchise itself is probably expecting the same. He's one of the best quarterback prospects to hit the draft board in years (along with Andrew Luck), so this is his first chance to show what he's capable of.
In a small sample size, of course.
Meanwhile, the Bills will debut a revamped defense as they make a serious push to threaten the big guns in the AFC East. Last season, the Bills started off very well but couldn't sustain that pace; this year, their schedule is easier and their defense is much stronger. It could be their best shot at a postseason berth in a long time.

Key Injuries: Redskins (via CBSSports.com)
RB Tim Hightower (knee), questionable for Thursday's game
WR Josh Morgan (hamstring), doubtful for Thursday's game
WR Anthony Armstrong (shoulder), questionable for Thursday's game

Key Injuries: Bills (via CBSSports.com)
WR David Nelson (knee), questionable for Thursday's game

Fantasy Prospect to Watch: RB C.J. Spiller, Bills
With Nelson questionable for Thursday's game, Spiller has to be the player to watch. In 2011, the second-year Clemson product made 11 starts and rushed for 561 yards, added 269 more receiving and tallied six total touchdowns. He's going to be splitting time with Fred Jackson in 2012, and he really has to keep those fumbles down—he's had seven in his short career, but he cut down from five in 2010 to two in 2011. However, the most important thing is that, as we saw last year, he has the potential to be an impact running back.

What They're Saying
Bills fans: Don't expect to see too much of the regulars during this matchup. According to the Buffalo News' Mark Gaughan and Tim Graham, Bills head coach Chan Gailey plans to use his starters for "somewhere around 15, 18 plays."
The Redskins are taking a similar approach. According to The Washington Post's Mike Jones, head coach Mike Shanahan said you can expect to see his starters—including RG3—take somewhere around 12 to 20 snaps on Thursday night. Jones adds that Shanahan will play his starters for a full half in the second week of the preseason, and they'll play into the third quarter in the third week.

Washington's Key Addition
That would be the 2012 No. 2 overall draft pick.
The Redskins are hoping that Robert Griffin III can help them reshape this team into something resembling a winner; he'll be the centerpiece of this new age of (hopefully) Redskins glory. Last season, the Redskins finished 5-11—good for last place in the NFC East and the third-worst overall record in the NFC—and they haven't made the playoffs since 2007.
In fact, since 1999, Washington has only made three trips to the postseason. RG3, therefore, has his work cut out for him: Restore this franchise to something resembling a contender.
It may not happen this year, but slowly, RG3 is expected to resurrect this team.

Buffalo's Key Addition
Unlike RG3, the Bills' most significant offseason acquisition is expected to make more of an immediate impact.
It was a surprise, to say the least, when Mario Williams decided he wanted to play for Buffalo. Williams—widely regarded as the best free agent among the 2012 crop and certainly the top defensive asset—signed a six-year deal with the Bills in March, according to the Associated Press, and he immediately gives the Bills a facelift in a division that has been known for its defensive prowess.
If the Bills had any intention of competing with the Jets and the Patriots, they needed to make serious upgrades this offseason, and Williams gives them just that. He gives the Bills a pass-rusher who can legitimately threaten Tom Brady and Mark Sanchez, and he makes the Bills much, much scarier than they were a year ago.
Now that Williams is in town, this team isn't the pushover of the AFC East anymore.

Key Matchup to Watch: RG3 vs. Mario Williams
Not only will it be thrilling to see the two newbies go to battle for their new teams—it will also be exciting to see how the rookie fares against an NFL defense that features one of the game's premier defensive ends.
These two players are each supposed to be the keys to their teams' upcoming seasons, and Thursday's game will give us an early indication of whether offense or defense comes out on top. Will the pressure be too much for RG3 to handle? Or will the mighty Mario Williams prove ineffective against one of the best running quarterbacks to debut in the league's years?
Just make sure you tune in early, because if you miss the first quarter, you likely won't see any of this matchup at all.

Prediction: Redskins Win
It's the preseason. Neither Gailey nor Shanahan is putting too much stock in his starters, so it's a toss-up. But RG3 is energized and ready to prove that he's just as valuable as the 2012 No. 1 overall draft pick, and he's been gearing up to take the reins of this team since the day he was drafted.
He'll ride that momentum to a strong performance out of the gates, and once the starters exit, the rest of the team will continue to capitalize on that energy.
This article is
What is the duplicate article?
Why is this article offensive?
Where is this article plagiarized from?
Why is this article poorly edited?