Fantasy Football 2012: Why Jay Cutler Is the Ultimate Late-Round Sleeper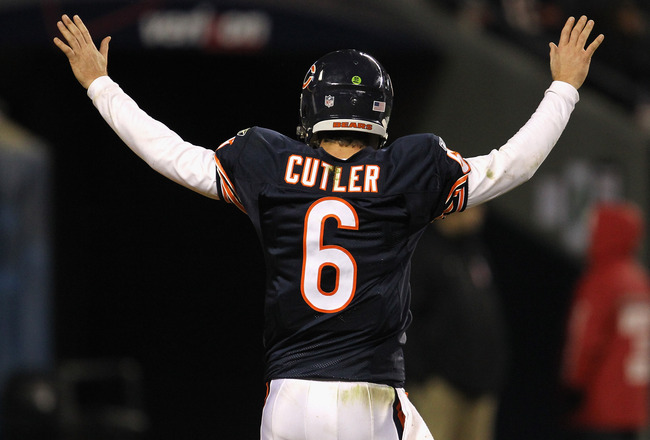 Jonathan Daniel/Getty Images
For the upcoming 2012 fantasy season, it's more true than ever that leagues will be won in the late rounds.
Fantasy owners tend to excessively research and stress over the first couple rounds of the draft. Yet, in reality, is drafting LeSean McCoy over Ray Rice really going to make or break a fantasy season?
Will drafting Roddy White over Greg Jennings, Victor Cruz and Julio Jones single-handedly win your fantasy championship?
These picks are almost trivial because these players present similar value. Leagues are won through sleepers, and this season, the sleepers are plentiful.
Adding a fantasy stud in the late rounds is the best way to win your league. But, who is this season's ultimate sleeper?
Change is brewing in Chicago, and Jay Cutler is this year's ultimate fantasy sleeper for these five reasons.
5. A Happy and Healthy Matt Forte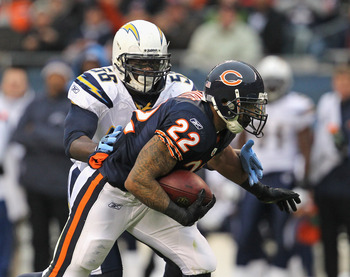 Bears RB Matt Forte
Jonathan Daniel/Getty Images
After a long and brutal contract dispute, running back Matt Forte finally got the money he deserved.
He now must earn his paycheck and will be fully motivated to help bring a Super Bowl to Chicago.
Forte is unquestionably one of the most talented running backs in the league, and all signs point to a healthy start of the season. With good health, complete motivation and less organizational tension, Forte is set to dominate this season.
So, what does this have to do with Cutler?
Simply put, defenses will have to stop the run. This should create more open receivers, passing opportunities, and of course, fantasy points for Cutler.
4. Early-Round Flexibility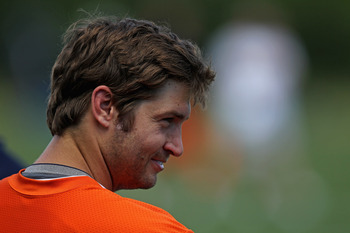 Jonathan Daniel/Getty Images
The beauty of drafting Cutler is how late you can get him.
In ESPN's fantasy football top 300, Cutler sits at a tantalizing No. 99. Even if you "reach" and draft him a few rounds earlier, this still leaves at least six rounds to focus on other positions.
Not needing to worry about a quarterback early means fantasy owners can focus on a knockout one-two running back punch or assembling an unstoppable wide receiver core. You can even draft a tight end.
Cutler has a good chance at establishing himself as an elite quarterback this year. Why draft an elite quarterback in the second or third round while one may be waiting for you at 99?
3. Mike Tice as Offensive Coordinator
Mike Tice, Chicago's new offensive coordinator
Jonathan Daniel/Getty Images
Mike Tice may not run the flashiest offense, but he will undoubtedly make Cutler a more effective quarterback this season.
Mike Martz, the Bears' former offensive coordinator, ran an offense even worse than Cutler's singing voice.
Martz's system included a seven-step drop. This gave defenders too much time to get to Cutler, which knocked him out of games and forced him to throw the ball prematurely.
How is a player suppose to rack up touchdowns and thousands of passing yards for his fantasy owners when he has no time to throw the ball?
Tice will have Cutler drop back at most five steps, which should help Cutler's numbers across the board. Cutler will have more time to find receivers and will be sacked less, giving him a better chance to stay healthy this season.
The Bears' offensive line still needs improvement. However, as a former quarterback, tight end and offensive line coach, Tice is the man to improve it.
2. The Addition of Brandon Marshall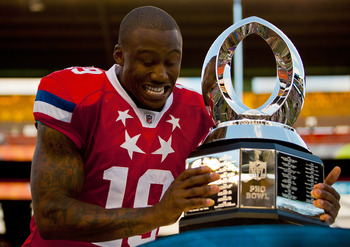 Brandon Marshall at the 2012 Pro Bowl
Kent Nishimura/Getty Images
As one of the most talented wide receivers in the league, Brandon Marshall adds a whole new dynamic to the Bear's passing game.
The Bears, in a stunning turn of events, now boast one of the better receiving cores in the league. Marshall will play next to Devin Hester, Earl Bennett, and most intriguing of all, talented rookie Alshon Jeffery.
With these receivers, Cutler will have more open targets this year. But more importantly, he will also have more time to find these targets in Mike Tice's new offensive system previously discussed.
The Marshall addition is a game-changer and will undoubtedly result in more touchdowns and passing yards for Cutler's fantasy owners.
1. Talent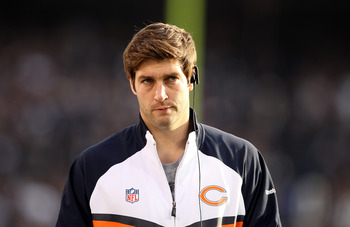 Ezra Shaw/Getty Images
The talent has always been there for Cutler, but now, the stars are finally aligning so that his talent can translate into results.
Cutler has one of the best arms in the league. He's been criticized for his lack of accuracy in the past, but this can be attributed to a poor offensive line, a counter-productive offensive system and organizational turmoil.
Cutler's talent can't go wasted forever, and this is the year that Cutler's talent is finally going to shine.
Just Draft Him!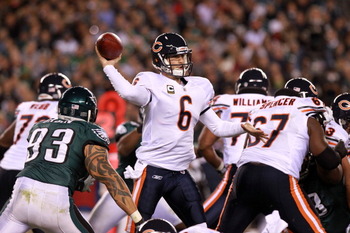 Nick Laham/Getty Images
Jay Cutler must be drafted this year.
At worst, he's picked in the late rounds as a top-notch backup. At best, he develops into an elite quarterback minus the elite price.
With Matt Forte returning full strength, Mike Tice running a better system, Brandon Marshall catching deep passes and Jay Cutler's undeniably great level of talent, Cutler has an outstanding chance at becoming one of the league's best fantasy quarterbacks.
Draft your running backs and receivers early and get ready to pounce on Cutler in later rounds. He can win your league.
Keep Reading