Head West: A Glance Around the Day's News in the NFC West (8/1)
Use your ← → (arrow) keys to browse more stories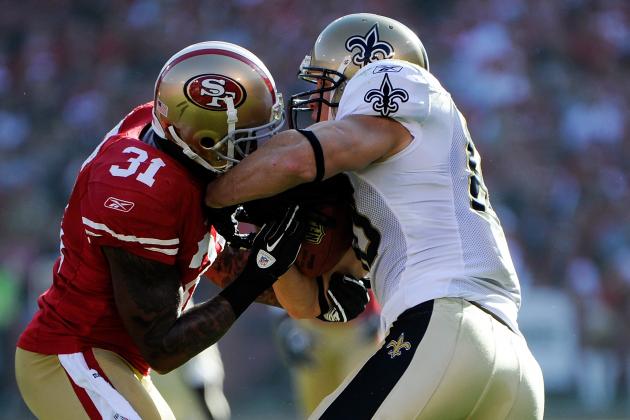 Thearon W. Henderson/Getty Images
San Francisco safety Donte Whitner (31) has triggered a war of words between the Niners and Saints.
Welcome to August. This is when training camps really kick in.
Most teams are in pads by now, and the dog days of summer will be felt. Preseason games are right around the corner, beginning with the Arizona Cardinals and New Orleans Saints on Sunday in the Hall of Fame Game.
Today's news and notes from around the NFC West include: the "bigger, meaner" Rams; an apologetic overweight rookie; details on Chris Long's contract; some Cardinals players may miss that preseason opener; Deadspin's amusing take on Arizona; an update on the Braylon Edwards signing in Seattle; Frank Gore is motivated; Alex Smith gets excused from jury duty; the Saints and Niners can't stop talking; and what NFL writers think of the division's teams.
Who should be the Cardinals starting quarterback
While the Cardinals try to pick their quarterback, one of the competitors sat out Tuesday's practice. Kevin Kolb left practice on Monday with a bruised quad and missed Tuesday's session that featured a rare desert thunderstorm. Kolb still plans on starting Sunday's preseason opener against the Saints and could return to practice today.
One player likely to sit out the game in Canton is running back Ryan Williams, who is still not fully healed from a knee injury last season. His absence will allow coach Ken Whisenhunt to give others a longer look, and he plans on using the extra preseason game to give extended playing time to some younger players.
While linebacker O'Brien Schofield and cornerback Patrick Peterson are planning on breakout seasons, Bleacher Report featured columnist Jesse Reynolds lists five other players who could be on the verge of greatness.
Deadspin is far from convinced the Cardinals will be any good. One fan disagrees with the website's tongue-in-cheek bashing of the Big Red. Most NFL writers don't think the Cardinals will be a playoff team, as Arizona ranks 23rd in an Associated Press poll.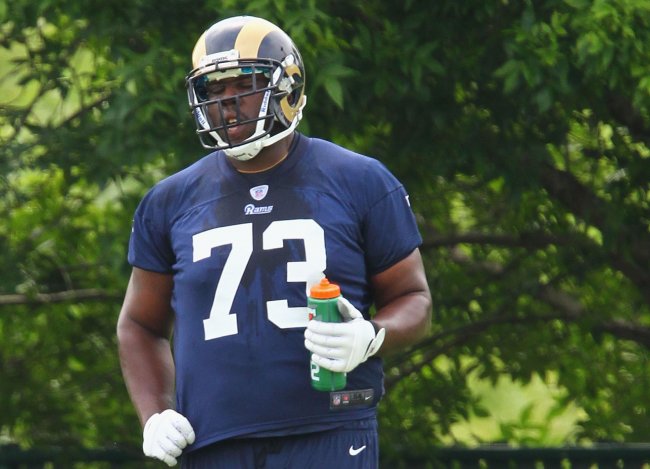 Dilip Vishwanat/Getty Images
One team that hasn't been any good for quite some time is St. Louis. But there is new leadership in the Gateway City. New general manager Les Snead and coach Jeff Fisher began their rebuild with an overhaul of the roster.
St. Louis Post-Dispatch columnist Bryan Burwell says the new Rams are bigger and meaner. One of those bigger players, rookie guard Rokevious Watkins, showed up to camp a little too big.
Snead is confident the Rams can physically match up against anyone, but realizes that the young, inexperienced team will go through some growing pains. The Rams do have three veterans auditioning for the roles of starting outside linebackers, including former Washington Redskin Rocky McIntosh.
As the Rams build toward the future, they've given a new contract to defensive end Chris Long and are working on extensions for both linebacker James Laurinaitis and running back Steven Jackson, according to the Post-Dispatch.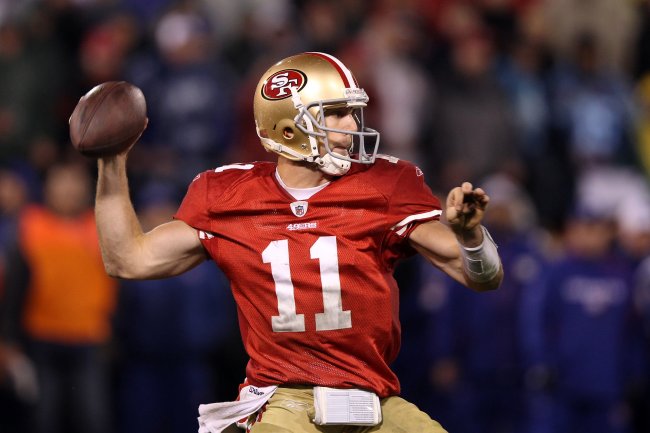 Ezra Shaw/Getty Images
The San Francisco 49ers are one group that loves to hit, just ask safety Donte Whitner.
Whitner's comments about last season's playoff game against the Saints has triggered a war of words between the two teams. Sacramento Bee beat writer Matt Barrows cleverly called it a "scrutiny on the bounty."
On the field, running back Frank Gore is motivated to get the 49ers to the Super Bowl. Sports Illustrated's Peter King thinks the Niners can accomplish that goal. A season-opening game against the Green Bay Packers will be a good early measuring stick.
The 49ers were off on Tuesday and quarterback Alex Smith reported for jury duty, only to be excused. The coaches were at work, though. One man happy to be there is offensive coordinator Greg Roman.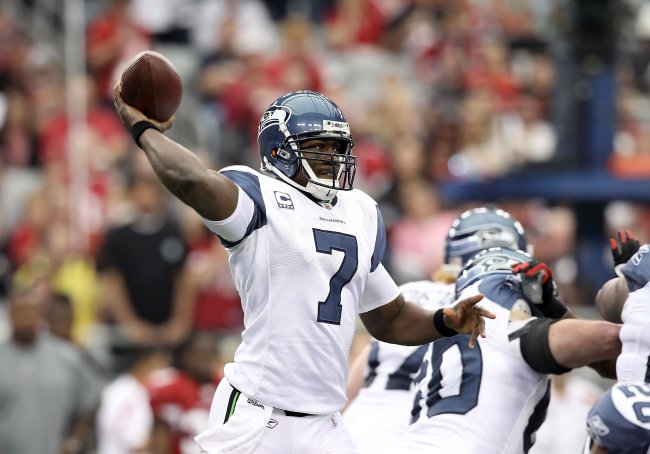 Christian Petersen/Getty Images
The Seattle Seahawks did practice on Tuesday and quarterback Tarvaris Jackson got his turn with the starting offense. The Seahawks have a new target in camp for the quarterbacks with Braylon Edwards joining the fold. That gives the Seahawks 13 players in a healthy competition at wide receiver.
Opposite the receivers, the Seahawks have one of the league's best secondaries. While some pundits think the Seahawks can knock off the 49ers atop the division's perch, the nation's top NFL writers view Seattle as an average team. The Seahawks ranked 22nd in an AP poll of league scribes.