5 Reasons to Draft Ahmad Bradshaw in Your Fantasy Football League
Rob Carr/Getty Images
After exploding for over 1,200 rushing yards in 2010 last year was something of a letdown for New York Giants running back Ahmad Bradshaw, who missed four games, was limited in several others and recorded his lowest rushing total since 2008.
However, Bradshaw still managed a top-20 fantasy finish at his position even in this "down" year.
There are a number of reasons to think that Bradshaw could be set to rebound in 2012, making him an excellent addition to fantasy squads for the upcoming season.
We'll examine some of those reasons here.
1. Bradshaw Is the Unquestioned Alpha Dog Now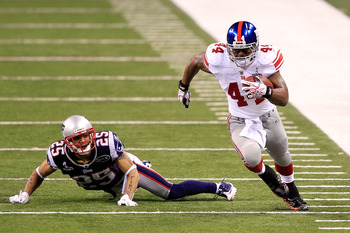 Chris Trotman/Getty Images
With Brandon Jacobs now in San Francisco, Ahmad Bradshaw will be the lead back for the New York Giants this season.
First-round rookie David Wilson will certainly see some work, but there's an excellent chance that Bradshaw will approach the 276 carries he had during his 2010 breakout season.
The sixth-year pro relishes the opportunity for an increased workload this season; and as the 26-year-old (who missed four games last year) recently told The New York Daily News, he's ready to take the ball and, well, run with it:
I feel great[...]Honestly, I've always said I felt better[...]but this year I feel great more than any year I've played in the NFL. Running-wise, I'm just light on my feet right now. I feel great.
To paraphrase: he feels great.
2. Bradshaw Is Very Adept as a Receiver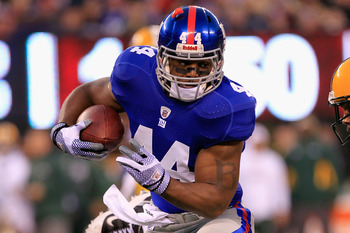 Chris Trotman/Getty Images
Much of the reason that Ahmad Bradshaw was able to salvage a top-20 fantasy season in 2011 despite his paltry rushing numbers was his ability to catch the ball out of the backfield.
Bradshaw has averaged 34 receptions for just over 260 yards a season over the past three years, scoring twice through the air over that stretch.
That dual-threat ability is a nice shot in the arm for Bradshaw's fantasy value, especially in leagues that award a point for receptions.
3. The Giants Passing Game Will Keep Defenses Honest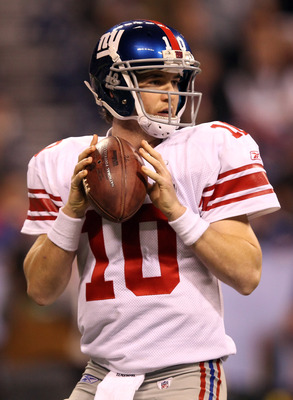 Ezra Shaw/Getty Images
With quarterback Eli Manning and a duo of supremely talented wide receivers in Hakeem Nicks and Victor Cruz, the Giants had one of the more potent passing games in the NFL in 2011, ranking fifth in the league.
Having that sort of aerial arsenal at New York's disposal will make it pretty hard for opposing defenses to stack the line of scrimmage—which should lead to more running lanes for Bradshaw this year.
4. The New York Ground Game Is a Point of Emphasis in 2012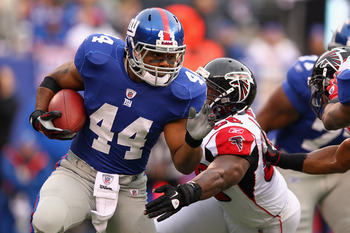 Al Bello/Getty Images
The Giants were the worst team in the NFL at running the ball during the regular season in 2011, averaging a measly 89.2 yards per game.
However, many of those struggles can be attributed to the injuries to both Bradshaw and Jacobs; and the team improved markedly in the postseason, upping their per-game average by almost 30 yards a game.
With that said, head coach Tom Coughlin has stated that improving the run game is one of the team's priorities in training camp, and Coughlin told The Star-Ledger that he's confident the team will do just that:
We're going to get a better running game coming out of this camp. I really believe that[...]It takes a lot of time to develop that, and to be honest with you, without the two-a-days, it's a little bit more difficult to just zoom in on any one thing and stay with it. But we've definitely got to rush the ball better.
5. No Guts No Glory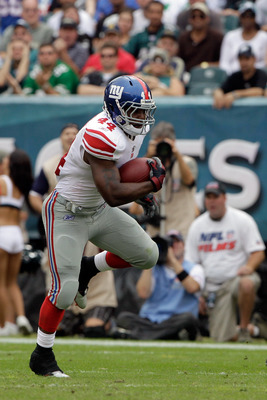 Rob Carr/Getty Images
Listen, I will freely admit that as running backs go, there are safer options to take than Ahmad Bradshaw given his chronic foot problems, the presence of David Wilson and how poorly the New York rushing attack performed last year.
However, if all you do in a fantasy draft is select "safe" players, at the end of the day you'll have an OK team that will probably hover around the .500 mark and either miss the playoffs or make a first-round exit.
Ahmad Bradshaw is a classic risk-reward pick. If his foot acts up, it's possible that David Wilson could take over as the lead back, at which point your fourth-round pick will either be stuck on your bench or wasting on the waiver wire.
Or, if Bradshaw stays healthy and the Giants running game gets back to their top 10 ways from 2010, then it's entirely possible that you'll be holding a top-15 back acquired at a very reasonable price.
So, the question becomes...do you feel lucky?
Well, do ya....never mind. The Dirty Harry quote's great, but my editors generally frown on me calling readers' names.
Keep Reading