Josh Beckett and More American League Players Who Need to Have a Big Week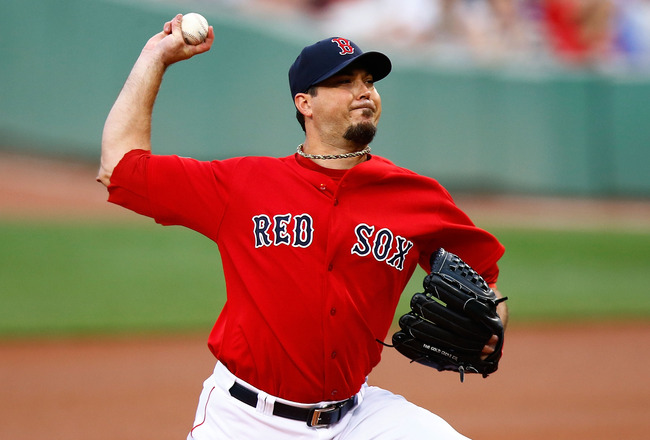 Josh Beckett is a two-start pitcher this week. That means a lot of crossed fingers in and around the Boston area.
Jared Wickerham/Getty Images
It's trade deadline week in Major League Baseball, and that means all eyes will be on the rumor mill over the next 24 hours or so. In the days following the deadline, all baseball conversations will revolve around the trades that went down.
But hey, there are actual baseball games slated for this week too. Some pretty good ones, believe it or not.
As we always do whenever a new week rolls around, it's time to take a look at which players need to show up with big performances over the next seven days. Their teams are counting on them.
Ian Casselberry has already posted his take on five National League players who need to have big weeks. Here's a look at who needs to do the same in the American League.
And away we go...
Note: All stats come from Baseball-Reference.com unless otherwise noted.
Josh Beckett, SP, Boston Red Sox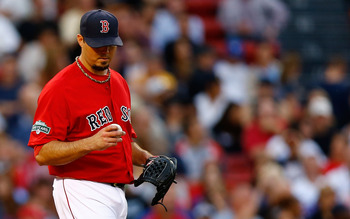 Jared Wickerham/Getty Images
Speaking of the trade deadline, Josh Beckett has suddenly found himself on the trading block. The word from Jeff Passan of Yahoo! Sports and numerous other writers is that the Red Sox are looking to move Beckett and that they've already called up pitching-needy teams like the Texas Rangers and Atlanta Braves.
For now, nothing is imminent. That makes sense given how much Beckett's value has taken a dive over the last year, and this is to say nothing of his big contract and his 10-5 rights.
So, in other words, the Red Sox are basically stuck with Beckett, apparently much to their chagrin.
They don't have much choice but to hope for the best, and they definitely need Beckett to be at his best this week.
Beckett is slated to make two starts over the next seven days. The first will come at home against the Detroit Tigers on Tuesday night. The Tigers are a tough team, and Beckett has to deal with the added difficulty of out-dueling Justin Verlander.
Good luck with that.
Beckett's second start will be considerably easier. It will come on Sunday at Fenway Park against the Minnesota Twins. He'll be opposed by Nick Blackburn, who has an ERA near 8.00.
The Red Sox are hanging on for dear life in the American League postseason race, but the good news for them is that they silenced a lot of doubters with their series victory in The Bronx this weekend.
But all their momentum will go away in a hurry if Beckett continues to struggle. It's been a long time since he put together an excellent performance out on the mound, and the Red Sox have felt the effects. They've lost seven of Beckett's last eight starts.
Josh Hamilton, OF, Texas Rangers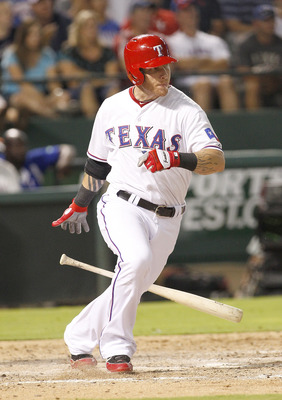 Rick Yeatts/Getty Images
This is the second week in a row that Josh Hamilton has been featured in my weekly look at American Leaguers who are feeling the heat to perform. That should give you an idea how badly he's been slumping.
The numbers say it all. Hamilton is hitting .141/.229/.282 in the month of July with three homers and 10 RBI. He's hitting .125/.182/.208 with 19 strikeouts in 48 at-bats since the All-Star break.
Ron Washington finally decided to give Hamilton a mental break on Saturday. He needed it after hearing boos from the home crowd during a loss to the Chicago White Sox on Friday night.
Hamilton failed to collect a hit in his return to the lineup on Sunday, but he did manage to draw a couple walks. It was his first two-walk game in a month.
This is a good sign. Hamilton's biggest problem lately has been his inability to get deep into counts. He was doing pitchers too many favors by chasing too many pitches. If he can work the count and make pitchers challenge him, he should be back to his normal self in no time at all.
This would be a great week for Hamilton's bat to catch fire again. The Rangers have a four-game series lined up against the Los Angeles Angels, who have the Rangers in their sights after acquiring Zack Greinke on Friday. The Rangers can do themselves a big favor by putting the Angels in their place.
They're going to need Hamilton to chip in with a few hits and a few RBI in order to do that, though. Texas' offense has gone into a slump lately, and it just hasn't been the same over the last couple of months in general.
It's therefore somewhat surprising that the Rangers still have a comfortable lead in the AL West. If Hamilton gets going again, they should win the division in a breeze.
Ricky Romero, SP, Toronto Blue Jays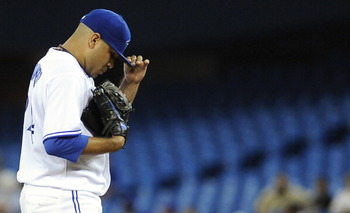 Brad White/Getty Images
A month ago, Ricky Romero was 8-1 with an ERA in the mid-4.00s. He was an above-average pitcher.
Nowadays, he might be the worst pitcher in baseball.
Romero has lost each of his last six starts, giving up 33 earned runs in 28.1 innings in the process. That's an ERA of 10.48, and that ERA is not an accident. In his last six starts, hitters have hit .364 off Romero with a .579 slugging percentage.
Yikes.
There are a lot of explanations for Romero's slump. Bob Elliott of the Toronto Sun thinks Romero's biggest problem is his control, and he's not wrong. Others think that Romero was never that great to begin with, and they're not wrong either.
But everyone should be able to agree that Romero is not this awful. He's just going through a very, very bad slump, and the Blue Jays need him to snap out of it in the worst way.
Romero has a good chance to get back on the right track on Monday night, as he's scheduled to face the Seattle Mariners at Safeco Field, a notorious haven for pitchers. A good start against the Mariners could restore his confidence, which has to be nonexistent at this point.
He's going to need as much confidence as he can get, as he's slated to face the Oakland A's on Saturday at the O.co Coliseum. The last time he faced Oakland, Romero gave up eight earned runs in an inning and a third.
The Jays have no choice but to cross their fingers and hope for the best.
Max Scherzer, SP, Detroit Tigers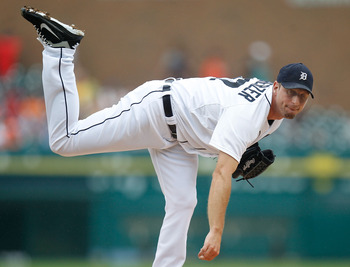 Gregory Shamus/Getty Images
When it comes to Max Scherzer, you just never know. He's either going to be brilliant, or he's going to be very hittable and all over the place with his command.
Scherzer has been quite good lately, as he's given up just three earned runs over 14 innings in his last two starts. He's lowered his ERA of 4.49 and upped his record to 10-5.
He'll be put to the test this week, however, starting on Monday night with his start against the Red Sox at Fenway Park.
It's bad enough that he'll be facing a tough Red Sox lineup. His job will be made more difficult by the fact that he's going to be opposed by Clay Buchholz, who has been as good as anyone since early June. He's also been very good in his last two starts, allowing two earned runs over 15 innings.
Things won't get any easier for Scherzer when he makes his second start of the week on Sunday. That will come at Comerica Park against the Indians, who have owned the Tigers this season.
They've owned Scherzer too. In two starts against Cleveland, Scherzer has an ERA of 5.56, allowing three homers in 11.1 innings.
This is a "show me" week for the Tigers, as they'll have to prove their worth against a decent Red Sox team that has some momentum and an Indians team that has given the Tigers problem all season.
The Tigers are better than both of these clubs. But if the rest of their situation is any indication, nothing can be taken for granted where the Tigers are concerned.
Matt Wieters, C, Baltimore Orioles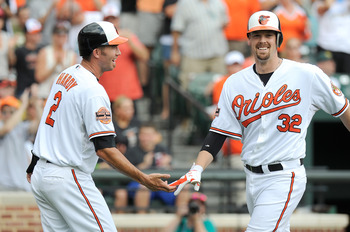 Greg Fiume/Getty Images
Matt Wieters needed a big hit in the worst way on Sunday, as he was returning to Baltimore's lineup after a couple days off that were meant to rest a biceps injury and give Wieters a little time to breathe easy.
He very much needed the respite. In 19 games between July 2 and July 26, Wieters hit .197/.269/.268 with 21 strikeouts in 71 at-bats. He'd been slumping since the middle of May, but he seemed to really hit rock-bottom in the first few weeks of July.
So what did Wieters do in his return to the lineup?
Naturally, he hit a key three-run home run to help the Orioles beat a red-hot A's team. Just what the doctor ordered.
All Wieters has to do now is keep his bat hot, and the Orioles very much need him to do that considering how rough the road ahead is.
The Orioles will tackle a six-game road trip this week, one that will take them through New York and Tampa Bay. This is their chance to bite into the Yankees' lead in the division, and they can also knock the Rays back to third place in the AL East.
This will be easier said than done, of course. The Yankees are the strongest team in the division, and the Rays have some momentum going after taking two of three from the Angels out in Anaheim this weekend.
It will be all hands on deck for the Orioles. Wieters can do the club a big favor by keeping the hits coming.
A Few More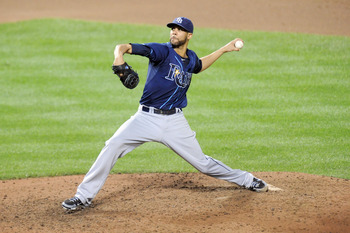 David Price
Mitchell Layton/Getty Images
Clay Buchholz, SP, Boston Red Sox
He's been a money pitcher for the Red Sox lately, and he can help get the club off to a great start by beating Detroit in the opener of a 10-game homestand.
Mike Napoli, C, Texas Rangers
Napoli has made a habit out of crushing his old team, as he's hitting .448 with an OPS over 1.300 against the Angels this season. The Rangers will gladly take some more of that.
David Price, SP, Tampa Bay Rays
Price has been on fire lately, so the Rays have to be thankful that it's him leading the charge in their three-game series against the A's out in Oakland this week. Price will also get a start against Baltimore on Sunday.
Ryan Roberts, 3B, Tampa Bay Rays
Roberts has one hit in his last 20 at-bats. It was a home run, but the Rays were obviously hoping for more when they picked him up from the Arizona Diamondbacks.
Cody Ross, OF, Boston Red Sox
Ross has six hits in 35 at-bats since his dramatic walk-off homer against the White Sox back on July 19. He loves hitting at Fenway Park, so perhaps some home cooking will get him going again.
If you want to talk baseball, hit me up on Twitter.
Keep Reading