Bryce Harper Among 5 National League Players Who Need to Have a Big Week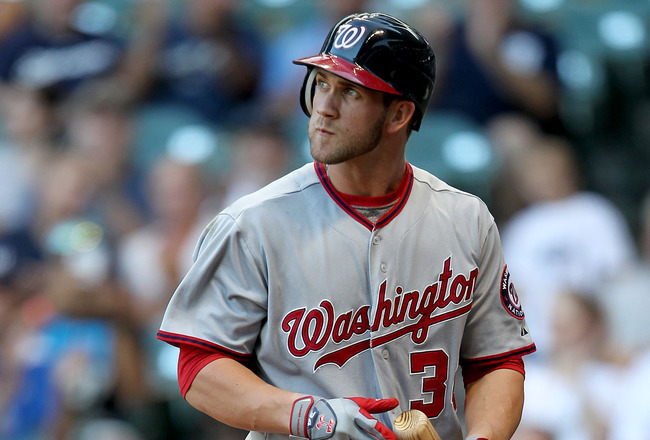 Bryce Harper is hitting .162 in his past 10 games.
Mike McGinnis/Getty Images
Baseball's July 31 trade deadline is just one day away as of this writing. So it might be too late for certain players to show their teams that a deal doesn't need to be made. And for others, there just isn't enough time to boost trade value.
For those teams not in playoff contention, the next two months provide an opportunity to see whether some younger players can be cornerstone players to build around or if they need to be replaced with the future in mind.
And in some instances, a few veteran players might be fighting for a job through the rest of the season and into next year as well.
With those three scenarios in mind, here are five National League players who would really help themselves—and their teams—by having a good week on the field.
Kris Medlen, Atlanta Braves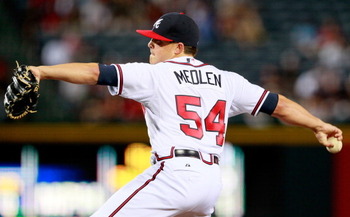 Kevin C. Cox/Getty Images
In what's surely an overdue move, the Atlanta Braves will start Kris Medlen in place of Jair Jurrjens on Tuesday night against the Miami Marlins.
Medlen has pitched exclusively as a reliever since being recalled from Triple-A Gwinnett in mid-June. However, it always seemed like a strong possibility that he would be pitching in the starting rotation at some point this season.
That makes it somewhat curious that the Braves haven't stretched Medlen out in anticipation of him making a start. (Though when he was sent to Gwinnett in late May, it was with the intention of building up his stamina for a starter's workload.) But maybe the team had hopes of Jair Jurrjens being able to keep ahold of one spot.
More likely is that general manager Frank Wren hoped that a starting pitcher would have been acquired through trade by now. (And if Ryan Dempster hadn't blocked the deal between the Braves and Chicago Cubs last week, Wren would have his man.)
Since returning to the big leagues, Medlen has pitched 14 scoreless outings out of 17 appearances. In his last relief outing, he pitched three shutout innings against the Marlins with five strikeouts.
According to the Atlanta Journal Constitution's David O'Brien, Braves manager Fredi Gonzalez says Medlen will be restricted to 60 or 70 pitches Tuesday night.
Francisco Rodriguez, Milwaukee Brewers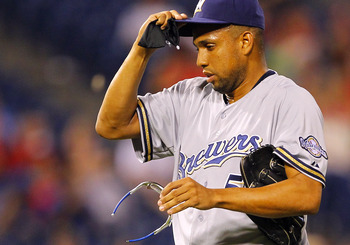 Rich Schultz/Getty Images
If Francisco Rodriguez was hoping to boost his trade value and become a setup man or closer for a playoff contender, he's doing it all wrong.
Since replacing John Axford as the Milwaukee Brewers closer, Rodriguez has given up 10 runs, eight hits and eight walks in his past four appearances covering 2.2 innings.
On Sunday, pitching just one-third of an inning, Rodriguez allowed three runs on two hits and a walk versus the Washington Nationals. That helped turn a 7-3 Milwaukee lead into a tied ballgame.
Brewers general manager Doug Melvin surely hoped that he could deal off Rodriguez, as he did on Friday with Zack Greinke, and get more prospects to replenish his minor league system. However, K-Rod has likely killed whatever trade value he had with his recent struggles. (But you never know, I suppose, how desperate a team might be for a live bullpen arm.)
Manager Ron Roenicke has no choice but to go with a closer-by-committee with Rodriguez, Axford and possibly Livan Hernandez, as MLB.com's Jeremy Warnemuende reports.
Last year, Rodriguez had to settle for an arbitration offer from the Brewers. He might be lucky to get that from Milwaukee this offseason, as the free-agent market likely won't be viewing him favorably.
Brett Wallace, Houston Astros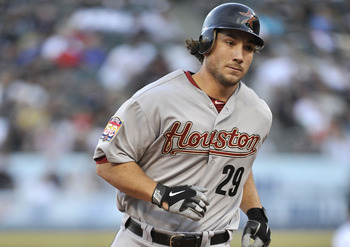 Brian Kersey/Getty Images
In his first tour with the major league club this season, Brett Wallace was relatively impressive. Replacing the injured Carlos Lee, Wallace hit .333/.429/.583 in 42 plate appearances for the Houston Astros with three doubles, two home runs and four RBI.
Wallace went back down to Triple-A Oklahoma City, where he compiled an .885 OPS for the season in 351 plate appearances. Curiously, he wasn't recalled when Lee was traded to the Miami Marlins.
As the Houston Chronicle's Zachary Levine writes, the Astros may have been attempting to showcase other players before the trade deadline. That tactic appears to have paid off, as third baseman Chris Johnson was dealt to the Arizona Diamondbacks on Sunday.
After playing primarily as a first baseman during the past two seasons, Wallace has seen the majority of his time at third base this year. He's expected to play there while also playing some first base through the rest of the season.
What's most surprising, according to Levine, is that Wallace could also see some time at shortstop, as the Astros don't have a backup behind Marwin Gonzalez. Wallace has played nine games at the position with Oklahoma City this season.
Such versatility could help his standing with the Astros, but could the switching around affect his hitting? That's presumably the most important part of his game if he's to be a part of the future in Houston.
Bryan LaHair, Chicago Cubs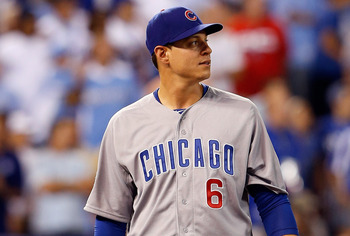 Jamie Squire/Getty Images
Bryan LaHair had an explosive start to the season, batting .390/.471/.780 with eight doubles, five home runs and 14 RBI in April. Even after cooling off in May and June, he still finished the first half with a .286/.364/.519 slash average, 14 homers, 30 RBI and his first All-Star appearance.
Sabermetricians would say such a hot start made LaHair extremely likely to regress to his career norms in the second half. LaHair has proven that correct, regressing badly in July with a .203 batting average and .554 OPS.
With that performance, LaHair is another player who has likely killed whatever trade value he had. Chicago Cubs team president Theo Epstein had an opportunity to sell high and nab some prospects for his rebuilding project, but he might have to settle for a much lesser deal. He might even have to wait until the Aug. 31 waiver trade deadline.
LaHair is hitless in his past five games, going 0-for-15. Things may not get much better for him with three games against the Pittsburgh Pirates on this week's schedule. LaHair is 1-for-16 with five strikeouts against them this season.
However, he's batting .400 (4-for-10) against the Los Angeles Dodgers, who the Cubs face at the end of the week, so maybe there's reason for optimism ahead.
That is, if LaHair is still playing for the Cubs after Tuesday. Despite his slump, a team looking for outfield or first base help might still be interested in trading for him.
Bryce Harper, Washington Nationals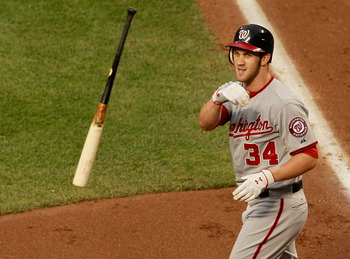 Mike Stobe/Getty Images
The second half of the season hasn't gone so well for Bryce Harper. In 75 plate appearances, the Washington Nationals rookie has batted .182/.280/.273 with one home run (one of only three extra-base hits) and four RBI.
Harper has dealt with a stomach virus, according to The Washington Post's Adam Kilgore, which caused him to miss his first game since being called up to the majors on Saturday.
That probably has much more to do with his struggles than whether or not he's wearing batting gloves, something he never did in college or the minors, but if Harper thinks no gloves might help, maybe it will. The psyche of a major league hitter—especially a rookie's—can be a fragile thing.
Despite those struggles, Nats manager Davey Johnson evidently intends to keep Harper in the No. 2 spot of the batting order. Considering the Nationals keep on winning and are tied with the Cincinnati Reds for the best record in baseball going into Monday's play, maybe there's no real need to tinker right now.
The Phillies and Marlins are on the Nats' schedule this week. Normally, that would be a formidable slate of games for an upstart contender. But those are two of baseball's most disappointing teams, holding fourth and fifth place in the NL East.
That doesn't mean either team should be dismissed, of course. The Phillies, in particular, are capable of playing major spoilers through the end of the season. But both teams might also present Harper with an opportunity to get himself right.
Otherwise, there could be some interesting decisions for Johnson and GM Mike Rizzo to ponder once Chad Tracy and Jayson Werth finish their rehab assignments and rejoin the Nationals.
Follow @iancass on Twitter
Keep Reading