Fantasy Football: Under-the-Radar Rookies to Target in Dynasty Leagues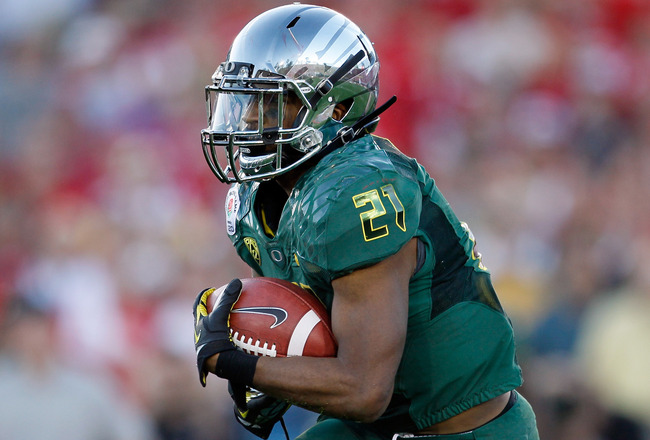 Dynasty Target LaMichael James
Jeff Gross/Getty Images
The popularity of dynasty league fantasy football has exploded in recent years as hardcore players decide to convert their season-by-season analysis, breakdowns and overall obsession into more long-term investments. As dynasty leagues progress, the talent pool shrinks exponentially each year, turning any newcomer to the league into a top priority.
Andrew Luck, the No. 1 pick in the 2012 NFL draft, was described by many as the best prospect since John Elway. Robert Griffin III could change the position of quarterback in the NFL. Trent Richardson is expected to be a stud. Doug Martin is hyped for many legitimate reasons. Backups to aging veterans, like Isaiah Pead and Ronnie Hillman, and high-profile receivers like Justin Blackmon and Michael Floyd will all be among the first 10 rookies drafted in dynasty and standard leagues alike.
But where does the rookie class go from there? Where can dynasty owners find real value, whether late in 2012 or looking forward into 2013?
These five players are flying under the radar and will reward dynasty owners' investments with excellent short-term and long-term returns.
Robert Turbin, RB, Seattle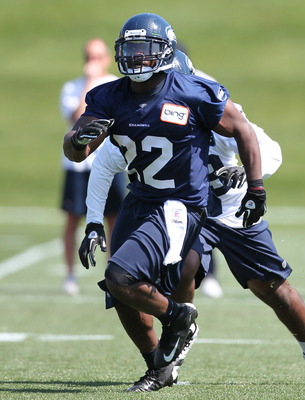 RB Robert Turbin
Otto Greule Jr/Getty Images
Robert Turbin enters 2012 as a clear backup to returning starter and fantasy football stud, Marshawn Lynch. Drafted from Utah State as the 106th pick in the draft, Turbin brings power and toughness to a running game known for its smash-mouth attitude. He also can handle a high workload—he carried the ball 450 times in the past two years for the Aggies (averaging over six yards per carry). His resemblance to the man he'll back up is easy to see.
More than his talent, Turbin's opportunity in 2012 and the near future is what makes Dynasty owners salivate. All it takes is one more slip-up from Lynch (who still may be suspended by Commissioner Roger Goodell) and the fourth-round rookie is suddenly garnering twenty or more rushes per game. In a solid running game that loves to pound the ball in the red zone, Turbin would be worth starting nearly every week for the foreseeable future.
Nick Toon, WR, New Orleans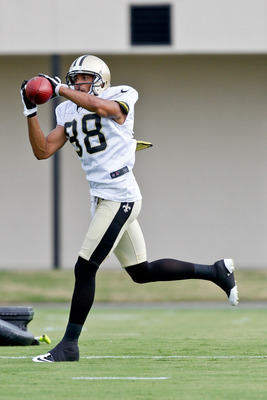 WR Nick Toon
Derick E. Hingle-US PRESSWIRE
Nick Toon was not discussed in the top tier—or middle tier, for that matter—of the wide receiver ranks of the 2012 NFL draft class. He dropped to pick No. 122 in the fourth round, and the Saints were more than pleased to snap him up. A big body with solid hands and a great pedigree, the one knock on Toon is his lack of explosiveness and separation. That perceived weakness will be disguised by his superior football feel and the incredible accuracy of his new provider, Drew Brees.
Toon also has a beautiful scenario in front of him, joining one of the top passing offenses in the league. This crew is shaky, however, with significant injury risks to Lance Moore and Marques Colston, and Devery Henderson failing to impress in camp. This group lost one of their playmakers in the offseason when Robert Meachem flew west to San Diego, and New Orleans has been conspicuous in choosing not to replace him in any way other than the big rookie. Meachem had 40 catches for 620 and six touchdowns 2011; even half those numbers for Toon would be gold for dynasty owners in 2012—and give him a bright outlook in 2013.
Brian Quick, WR , St. Louis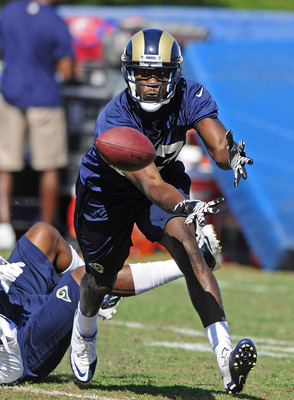 WR Brian Quick
Jeff Curry-US PRESSWIRE
Brian Quick was the surprise No. 33 overall pick for the Rams, leaping ahead of hyped wide receivers Alshon Jeffery (Bears) and Stephen Hill (Jets). Playing at lower-division Appalachian State, Quick put up excellent numbers, catching 15 touchdowns last year. Though he will need to work hard to adjust to the leap to the NFL, his excellent frame (nearly 6'4") and huge hands allow Quick to muscle off defensive backs right away, and his raw athletic talent allows him to make big plays. If his potential is reached, a dynamic after-the-catch runner with excellent size is waiting to reward the Rams' surprise pick.
Quick could start day one for the Rams, even if he has not yet grasped the intricacies of the NFL wide receiver position. Most experts believe the slot receivers, Steve Smith and Danny Amendola, will garner the most attention from Bradford early in the season. However, if this offense truly wants to take off it will need a difference-maker at the position to catch balls from Bradford; Brian Quick is the only man on the roster capable of filling that role.
Lamar Miller, RB, Miami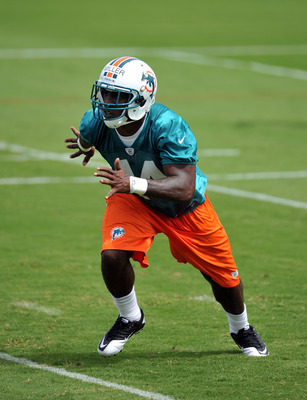 RB Lamar Miller
Steve Mitchell-US PRESSWIRE
Lamar Miller dropped, somewhat surprisingly, to the Dolphins' pick in the fourth round of the 2012 draft (97th overall). He wowed at the combine with a 4.40 40-yard dash and impressed with his agility and sharp cuts, drawing some lofty comparisons to Chris Johnson. Miller will enter the 2012 in a learning role as the third running back but could move his way up with the same type of impressive performance in this year's training camp.
The Dolphins seem to envision Reggie Bush, despite his late-season success as the lead back in 2011, in a role more similar to the one he played with the Saints. Playing as more of a complement than a feature back, Bush should not threaten the lead role. Also ahead of Miller is last year's second round pick, Daniel Thomas. Thomas has not shown nearly enough explosiveness to show he's capable of being an every-down factor, leaving the door wide open for Miller late in 2012 and going into 2013.
LaMichael James, RB, San Francisco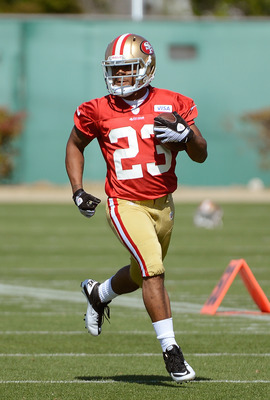 RB LaMichael James
Thearon W. Henderson/Getty Images
LaMichael James was one of the most explosive athletes coming out in 2012. Drafted with the 61st pick, James enters a crowded San Francisco backfield with accolades and trophies from an amazingly productive three-season stint at Oregon. His speed and quickness make it nearly impossible to get a clean hit on him, much like Darren Sproles. James can catch the ball very smoothly and is already a favorite of Jim Harbaugh, who admitted his Stanford teams "just couldn't stop him."
James may begin 2012 as the fourth option in the Niners' backfield and that is just fine with dynasty owners. He is a game-breaking talent along the lines of Sproles, DeSean Jackson or Devin Hester. Talent like that does not come around every day and Jim Harbaugh will find ways to use him. With Frank Gore and Brandon Jacobs on the downhill slope of their careers and Kendall Hunter still unproven, the three men in front of James may not be much of an obstacle to James' future stardom.
Keep Reading