Ichiro to NY Yankees: Why Blockbuster Trade Is All Hype and Little Substance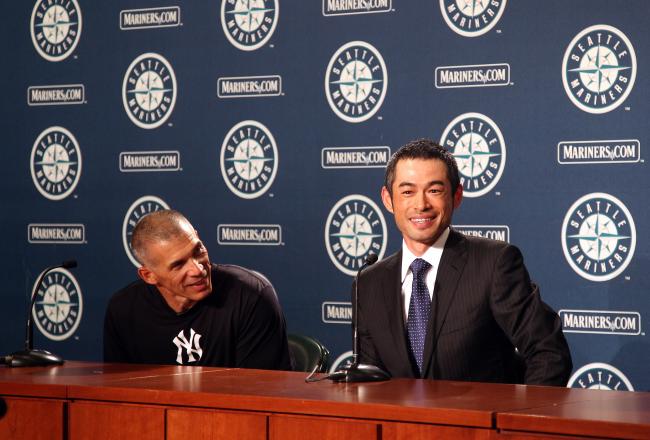 Is this...Is this real life?
Otto Greule Jr/Getty Images
Let the record show that Brian Cashman is a crafty one.
We knew this before Monday evening, of course, as Cashman has made numerous surprising moves during his tenure as general manager of the New York Yankees. Sure, he has more money to work with than any other GM in baseball, but many of the deals he's pulled off have required a great amount of cleverness and a small amount of dollars.
His latest maneuver takes the cake. Jack Curry of the YES Network was the first to report it:
The Yankees have acquired Ichiro Suzuki for RHPs DJ Mitchell and Danny Fahrquar, a source said. Yanks also get undisclosed cash in deal.

— Jack Curry (@JackCurryYES) July 23, 2012
On Twitter, the general reaction was something like this: "Ichiro Suzuki? You mean that Ichiro Suzuki?!"
Yup, that one. The one with a lifetime .322 average, over 2,500 hits, 10 Gold Gloves, 10 All-Star appearances and an MVP award to his name. And all the Yankees had to do to get him was part with two middle-of-the-road pitching prospects.
That, and pick up about $2 million of the $5 million Ichiro is still owed this season, according to Ken Rosenthal of FoxSports.com.
In return, what the Yankees are getting is a speedy outfielder with a good glove. They can plug him into an outfield that needed a defensive upgrade, and they can also slot Ichiro at the top of their lineup. Now all they have to do is sit back and smile every time the team wins, which should happen pretty much everyday now that Ichiro is wearing pinstripes.
Or at least, such is the perfect-world idea.
In the real world, this trade is not as gargantuan as the headlines are making it out to be. This has everything to do with the fact that the Ichiro who stands before us today is not the Ichiro of yesteryear.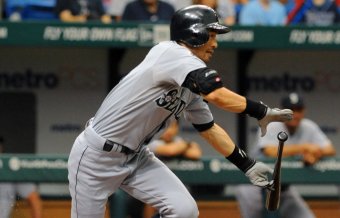 Ichiro's bunt hit percentage this season is at 16.7 percent. It's typically over 40 percent.
Al Messerschmidt/Getty Images
At 38 years old and counting, Ichiro is old by baseball standards. And while he's still an above-average defensive player and a solid base-stealer, Ichiro is a shell of the hitter he used to be.
Per Baseball-Reference.com, Ichiro came into the season with a career batting average of .326 and a career on-base percentage of .370. Through 95 games this season, he's hitting .261 and his OBP checks in at .288.
Further perspective is required here. Among qualified hitters, there are only nine players across baseball with lower OBPs than Ichiro, according to FanGraphs. His .281 weighted on-base average (wOBA) is tied for 11th-lowest in Major League Baseball.
Or, in plain English, Ichiro is one of the most ineffective offensive players in baseball. Period.
Granted, some of this is Safeco Field's fault. Ichiro hit .214/.255/.289 in 44 games at Seattle's home digs this season as a member of the Mariners, compared to .297/.314/.402 on the road.
OK fine, so let's assume that the Yankees are going to get the road version of Ichiro, who is a .297 hitter. That makes him a steal, right?
A "steal" would be a bit much, as Ichiro's .314 OBP away from Safeco Field this season is still far from ideal. There are a lot of explanations for it, and one of them is simply an impatient approach at the plate. Nobody ever accused Ichiro of being a patient hitter, but this year, he's seeing a career-low 3.45 pitches per plate appearance.
You could argue that this is because pitchers aren't giving Ichiro anything to hit this season, as he just never had any real protection in Seattle's lineup.
To that, I say this: Do you honestly think pitchers are still deathly afraid of Ichiro?
That's doubtful. He's been declining as a hitter for a while now. The writing was on the wall that he was in the twilight of his career when he hit .272 with a .310 OBP in 2011, and he's regressed even further this season.
Ichiro isn't even much of a threat on simple ground balls anymore, as he's hitting just .218 when he puts the ball on the ground this season. His BABIP is a career-low .279. He didn't need to make solid contact in order to get base hits earlier in his career. Now, he does.
This is not to say that the Yankees went out and traded for an entirely useless player. There are things that Ichiro still does well.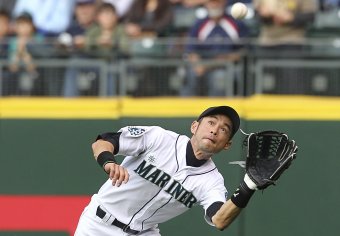 This is something Ichiro is still very good at.
Otto Greule Jr/Getty Images
Per FanGraphs, Ichiro has the highest UZR of any right fielder in baseball, which is as good a sign as any that he still plays elite defense in the outfield. His 15 stolen bases represent a pretty low total for him given his reputation for base thievery, but nobody on the Yankees has more than 11 at present.
If the Yankees get excellent defense and stolen bases out of Ichiro, then they'll have gotten good value from this trade. Remember, they didn't give up much to get him.
But the hope, obviously, is that Ichiro will find the Fountain of Youth in New York and get back to being a .320 hitter who will bring some much-needed balance to the Yankees' lineup. They're basically banking on him being their very own Anakin Skywalker (and we all know how that worked out).
The Yankees are only getting a steal in this trade if those hopes come true, which is unlikely. A change of scenery can energize older players, but no change of scenery is going to make Ichiro a younger hitter with quicker hands and more foot speed.
If Ichiro isn't reinvigorated by this trade, it's no real loss for the Yankees. They're rolling the dice with this deal, which is fine, seeing as how they only parted with two pitchers they don't need and a couple million bucks from under the organization's expansive mattress.
Some of you are no doubt going to be put off by my pessimistic (I prefer "realistic") view of this trade, but I'll go ahead and advise you ahead of time to put this trade into proper perspective.
Ignore that Ichiro's name is Ichiro Suzuki. Just look at his numbers, which are those of a fringe major leaguer who even the most savvy fans are only marginally aware of.
That's the kicker here. If Ichiro's name wasn't Ichiro, this trade would be a mere footnote on a day littered with craziness around Major League Baseball.
If you want to talk baseball, hit me up on Twitter.
This article is
What is the duplicate article?
Why is this article offensive?
Where is this article plagiarized from?
Why is this article poorly edited?