San Francisco 49ers Took Big Risk by Drafting Wide Receiver A.J. Jenkins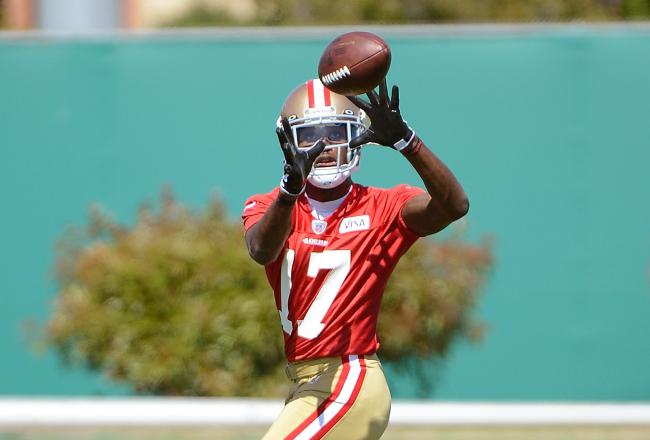 Thearon W. Henderson/Getty Images
First of all, I should say that after looking at some tape on A.J. Jenkins, I can see why he was considered a borderline first-round talent.
That being said, in the post-Jerry Rice era, the San Francisco 49ers have a pretty bad history of drafting wide receivers in the early rounds.
The obvious examples of failed wide receivers are J.J Stokes, Rashaun Woods and, if he is not careful, Michael Crabtree.
I'm always a little worried when a receiver only standing around 6'0" and under 200 lbs is drafted in the first round.
Of course, there are players like Roddy White and Reggie Wayne who are exceptions to the general rule of thumb that elite wide receivers have more of a physical presence.
Ted Ginn is another example of a small receiver taken in the first round who just never panned out.
I've heard a lot of people dismissing this draft class early, and I'd say that is a little stupid if not extremely premature.
I suppose Aldon Smith was a surprise pick last year. but I don't think he was quite as big a surprise as Jenkins.
Anyway, the other options instead of Smith could have been Gabbert or Locker, and quarterbacks are always the riskiest picks anyway.
I felt it was obvious the team needed a young receiving threat, but I could only foresee Stephen Hill or Coby Fleener being the appropriate pick made. Hill also would have been a big risk, while Fleener was a safer bet.
Anyway, in typical homer fashion, I immediately supported the Jenkins pick, whilst honestly not realising the type of player he was,
Once again, I know it's very early to judge a player before he is even involved in one snap in the NFL, but even the most ardent fan has to agree the early signs aren't great.
Grant Cohn of 49erspressdemorat.com reports that Jenkins has been the biggest letdown in minicamp and practice thus far.
I gave him the benefit of the doubt over a month ago because I'm sure the pressure in the buildup to the NFL draft is bound to reduce the fitness levels of players.
Jenkins was also still in the process of completing his exams at Ilinois, so it was understandable that football would maybe have to take a back seat for a few weeks.
But it's a little concerning that Jenkins is still struggling and even some of the undrafted wide receivers such as Nathan Palmer are outperforming him.
Back to my point about wide receivers being a risky pick. Not only are smaller receivers worrisome, I suppose wide receivers may have one of the highest bust rates of any position.
From the 2007 draft onwards, the success rate of wide receivers drafted in the first round doesn't make for good reading.
There has only been one true elite wide receiver drafted, and that is Calvin Johnson.
Then there is a tier of receivers who are above average, like Dwayne Bowe, Percy Harvin, Kenny Britt, A.J. Green, Julio Jones, Demarius Thomas and Hakeem Nicks.
As you can see, Harvin is the only smallish receiver who still has been successful.
Nicks isn't the biggest either, but he plays much bigger than his size.
To call a player a bust may be quite strong, but if they don't perform the way you expected them to when they were drafted, then they are a letdown.
Such letdowns include Ted Ginn, Craig Davis, Michael Crabtree, Darius Heyward-Bey, Anthony Gonzalez and Dez Bryant.
Although Jenkins is unlike any of these receivers, he does share some big flaws with some of them.
For instance, Crabtree often struggles to beat press coverage, and that is a contributing factor as to why he has been a letdown. By watching Jenkins and reading any scouting report on him, you will see that he shares the same problem.
The great thing about Jenkins is that he is ahead of the curve in terms of route running. The four letdown receivers mentioned above all struggled in this area, and so it is nice to see that Jenkins shouldn't.
It's also good that he brings 4.3 speed and a nice downfield threat, but I don't think he plays as fast as he is timed. A lot of his production actually came from the slant routes that Crabtree struggled with last year.
I'm also always skeptical of the one-year wonder player like Jenkins.
If you need any proof that wide receiver draftees have one of the highest bust rates, have a read of this report from Mark Paul of Yahoo! Sports, done just before the 2011 NFL draft and listing all receivers drafted since 2000. Out of the 16 receivers drafted, it isn't a stretch to call between 10-12 of them busts in the NFL.
I also found this article by Cody Swartz of antsports.com incredibly informative. He evaluated every first-round draft pick (any position) since 2000 and found that wide receiver was the '"ingle, most riskiest draft position in the NFL," just slightly worse than defensive lineman.
So as 49ers fans are all too aware, judging by drafting history, wide receivers are either feast or famine.
I just hope that Jenks is more hit than miss.
This article is
What is the duplicate article?
Why is this article offensive?
Where is this article plagiarized from?
Why is this article poorly edited?

San Francisco 49ers: Like this team?