Cliff Lee Trade Rumors: 10 Possible Deals Phillies Could Pull Off by July 31
Justin Edmonds/Getty Images

We've been hearing the trade rumors for weeks now; the Philadelphia Phillies will trade Cole Hamels. The Phillies will trade Shane Victorino. The Phillies will trade their entire roster and rebuild completely from scratch.
Okay, so that last one was a bit of an exaggeration, but the point is that the Phillies are in a position to be sellers at the trade deadline.
One name that hasn't been thrown around that much is Cliff Lee. The 33-year-old former Cy Young Award winner would be a great addition for any of the 20-plus teams that have a legitimate chance of making the postseason.
Lee is owed $25 million in each of the next three years which may scare some teams away from trading for him, but he could be the difference between a team missing the playoffs and winning the World Series.
Follow @TimStoeckle on Twitter
Begin Slideshow

»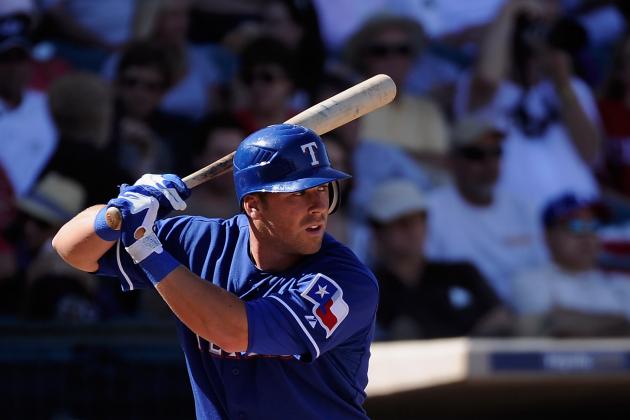 Kevork Djansezian/Getty Images

Mike Olt has been rumored in trade possibilities with the Phillies for Cole Hamels, but he could be the centerpiece in a trade that would bring Cliff Lee back to Texas.
The Phillies are looking for their future third baseman, and Olt is a 23-year-old stud who will be ready for the Show soon.
According to MLB.com, Olt is the 33rd best prospect in baseball and the fourth best third base prospect.
He is hitting .291 with 26 home runs and 73 RBI in Double-A Frisco, and he has shown great discipline at the plate, giving him a whopping on-base percentage of .402.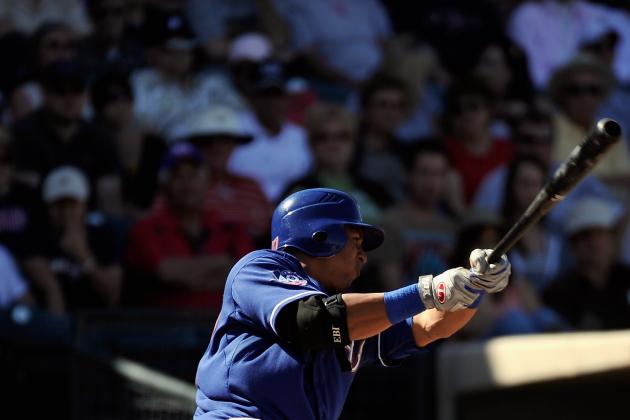 Kevork Djansezian/Getty Images

The Phillies could find their replacement for Shane Victorino in Leonys Martin.
The 24-year-old Martin has had 34 at-bats for the Rangers this year and has only six hits, but three were doubles and two were triples and he has driven in five runs.
In Triple-A this year, Martin was hitting .344 and had an on-base percentage of .414.
Martin would be the perfect leadoff hitter for the Phillies in the future.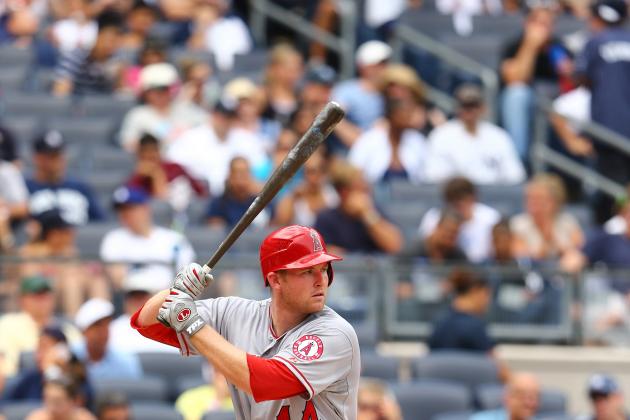 Al Bello/Getty Images

Would the Angels trade their breakout star?
Trumbo is hitting .302 with 27 home runs and 66 RBI this year and at age 26, he is one of the best young players in baseball.
If the Angels were to deal Trumbo, they would move Mike Trout to left field and platoon Peter Bourjos and Vernon Wells in center field, which would still give the team a solid lineup.
A rotation of Jered Weaver, Lee, and CJ Wilson would allow the Angels to compete with the Rangers in the American League West and perhaps would make them the favorite to win the World Series.
For the Phillies, Trumbo would provide some much needed power at the top of the lineup and would create some stability in left field.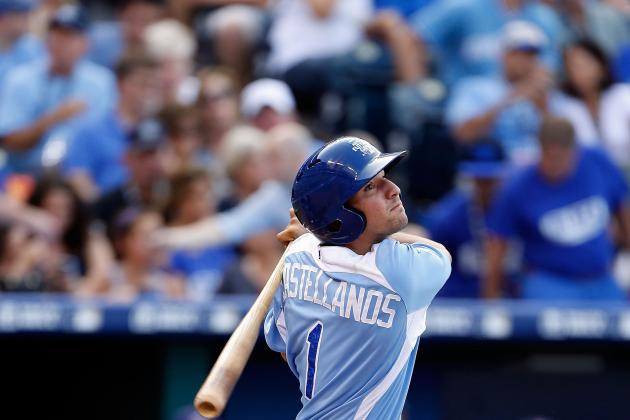 Jamie Squire/Getty Images

If Mike Olt is option A for the Phillies as far as future third basemen, then Nick Castellanos is option B.
MLB.com has Castellanos as the fifth best third base prospect and the second best prospect in the Tigers organization.
Castellanos hit .405 in Single-A before getting called up to Double-A Erie where he is hitting .294. The power should come as the 20-year-old matures a bit more, but he would be a nice piece for the Phillies to add for their future.
Cliff Lee would give Detroit some much needed help in their rotation, which is full of inconsistency after Justin Verlander.
Tom Szczerbowski/Getty Images

In his first full season as a starter, 22-year-old Brett Lawrie is hitting .280 with nine home runs and 38 RBI and has become one of the best young third basemen in the game.
Lawrie plays the game hard; some people have said he plays too hard. In the eyes of Philadelphia fans, that isn't a problem.
If the Phillies were to acquire Lawrie, he would instantly become a fan favorite and would provide a much needed spark.
Toronto is perhaps a pitcher away from becoming a serious threat to make the playoffs, and acquiring Lee would give them a solid rotation that also includes Ricky Romero and Brandon Morrow when he gets healthy.
The Blue Jays have an offense that can survive without Lawrie, as they would be able to put Edwin Encarnacion at third base and plug in Travis Snider at DH once Jose Bautista returns from the DL.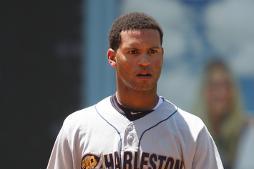 http://mlb.mlb.com/mlb/prospects/watch/y2012/#list=nyy
Mason Williams is only 20, so he won't be ready to make an impact in the majors right away, but his potential is worth looking at for the Phillies.
Williams stole 19 bases in 69 games in Low-A before getting promoted to High-A Tampa. In Tampa, Williams is hitting .266 and has an on-base percentage of .284, but don't write him off yet.
Bringing in the 60th ranked prospect in baseball would give Phillies fans something to look forward to in their outfield in a few years.
If the Yankees bring in Cliff Lee, they will instantly become the favorites to win the World Series, if they aren't already.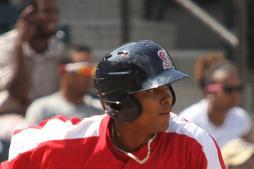 http://mlb.mlb.com/mlb/prospects/watch/y2012/#list=bos
Xander Bogaerts is a shortstop prospect who could end up playing third base sooner rather than later.
At age 19, Bogaerts is hitting .279 with 12 home runs and 52 RBI in Single-A and is the 63rd rated prospect in baseball.
Bogaerts is another example of a third baseman of the future for the Phillies, and for the Red Sox, acquiring Lee would give them a great shot of making a playoff run.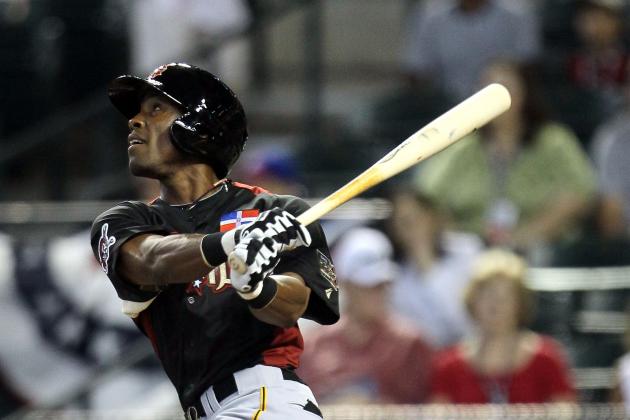 Jeff Gross/Getty Images

If the Pirates think that they can make a playoff run, then they might try to go after a top pitcher at the deadline.
In order to get a guy like Cliff Lee, Pittsburgh would have to part with the 31st rated prospect in baseball, Starling Marte.
The 23-year-old outfielder is hitting .284 with 12 home runs and 61 RBI in Triple-A, and has also stolen 21 bases.
Marte would be able to start for the Phillies next year and would be a great addition if Philadelphia wants to make their rebuilding process quick.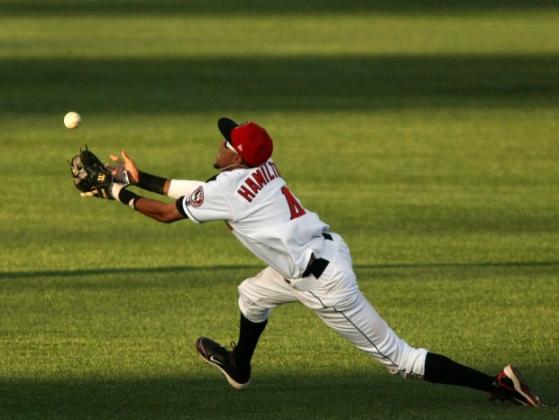 http://mlbreports.files.wordpress.com/2012/05/billy-hamilton-baseball.jpg
Want an impressive stat? Billy Hamilton stole 103 bases in Single-A last year, and stole 104 bases in 82 games this year before getting called up to Double-A Pensacola, where he has eight steals in 11 games.
Hamilton can play shortstop, second base and the outfield so if the Phillies were to get him, he would have to start in the outfield and could potentially move to the infield later in his career.
As a switch-hitter with speed, Hamilton would be the perfect leadoff hitter for the Phillies.
It will be hard to get the Reds top prospect, but if Cincinnati is serious about making a World Series run this year, they may need Cliff Lee in their rotation.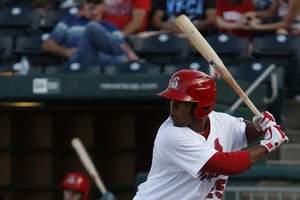 http://www.stlcardinalbaseball.com/wp-content/uploads/2012/04/oscar-taveras.jpg
Oscar Taveras is a complete player and would be a fantastic addition for the Phillies.
In Double-A Springfield, Taveras is hitting .327 with 18 home runs and 72 RBI, and at age 20, he is still developing his power.
Outfield and third base are the two positions that the Phillies are looking for young players, and Taveras would be able to play anywhere in the outfield that the Phillies would need him to play.
St. Louis lost Chris Carpenter for the year, and if the Cardinals want to repeat as World Series champions, then they need to replace him in the rotation.