2012 Predictions for Every NFL Star Coming off a Major 2011 Injury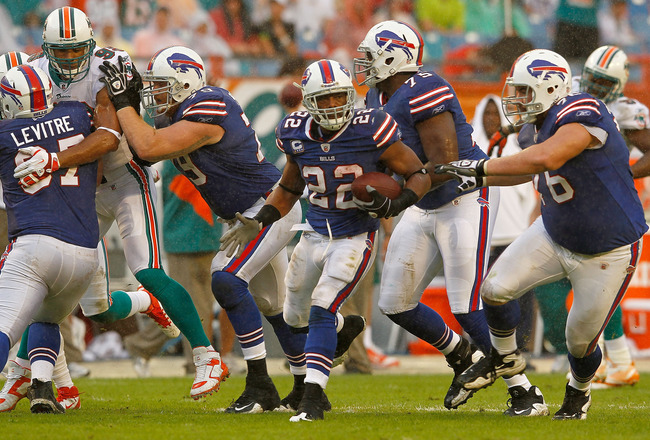 Mike Ehrmann/Getty Images
2011 saw a number of key NFL stars hit the injured reserve list during the year, due to a wide range of injuries. Just how will these 23 stars return to form in the 2012 campaign?
Our presentation today is looking at the various factors that these stars are facing in 2012 and then coming up with a prediction based on the factors to project what kind of production we can expect this year.
In case you are wondering, this isn't a presentation highlighting every 2011 player that was injured. We are focused on players that are stars in the league, so players like Knowshon Moreno, Josh Morgan and Mikel Leshoure won't be making an appearance.
One other note is that the players in question were injured during the 2011 season, so since Peyton Manning never played in 2011, he won't be on the list either. There are quite a few offensive linemen we could have added, but it is extremely difficult to predict what their 2012 season will look like from a quantitative perspective. Please note that we are focusing on players that are currently a member of a 2012 NFL team.
Matt Schaub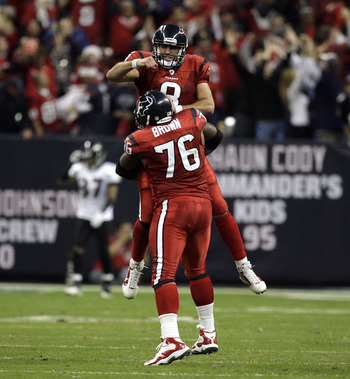 Bob Levey/Getty Images
Houston Texans quarterback Matt Schaub suffered from a Lisfranc fracture in 2011 that only allowed him to play in 10 games last year. The Texans are taking their time with Schaub, but the general feeling is that he will be physically ready for training camp.
Schaub is supported by a strong running game with Arian Foster and Ben Tate, in addition to the outstanding play of wide receiver Andre Johnson. With that much talent around to support him, we anticipate a very good year for Schaub.
The Texans lost some key offensive linemen in the offseason, so the educated guess is that Schaub will be doing a little more scrambling or throwing the ball while on the run, as a result of a downgrade in pass protection.
Schaub's 2011 stats: He completed 178 out of 292 passes for a completion percentage of 61 percent, threw for 2,479 yards, 15 touchdown passes and only six interceptions and had a QB passer rating of 96.8.
Prediction for Schaub in 2012: He will have 340 completions out of 545 passes for a completion percentage of 62.3 percent and will throw for 4,115 yards for 20 touchdowns and nine interceptions.
Fred Jackson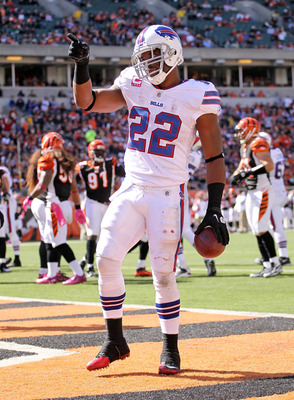 Andy Lyons/Getty Images
Fred Jackson, running back of the Buffalo Bills, suffered a broken leg against the Miami Dolphins in Week 11, which brought his season to an early conclusion.
It's a shame it happened to Jackson, who was well positioned for anything from Pro Bowl to All-Pro honors. He was in the top five in the NFL in rushing at the time of the injury and was in the top two in the NFL for most plays longer than 20 + yards from the line of scrimmage.
The silver lining for Buffalo regarding Jackson's broken leg was that the Bills discovered that C.J. Spiller can be a featured back in the NFL, so in a way the injury to Jackson will impact him in 2012 as well, because the Bills are going to be featuring both Jackson and Spiller this year.
For another view on this time share, check out this article by Christopher Harris of ESPN.com.
Head coach Chan Gailey has talked about designing some plays where both Jackson and Spiller will be in the backfield at the same time. This will create problems for the defense, as both backs are talented receivers as well.
Jackson's 2011 season results: 170 rushes for 934 yards, averaging 5.5 yards per rush. Six rushing touchdowns, 39 receptions for 442 yards, averaging 11.3 yards per catch. No receiving touchdowns.
2012 prediction for Fred Jackson: 190 rushes for 1,075 yards averaging 5.6 yards per rush. Seven rushing touchdowns, 35 receptions for 380 yards and one touchdown.
Jay Cutler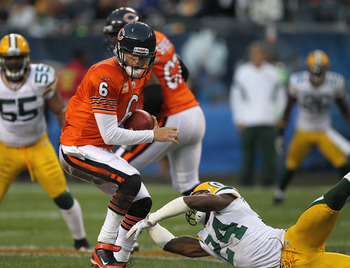 Jonathan Daniel/Getty Images
Chicago Bears quarterback Jay Cutler was only able to play in 10 games in 2011 due to a thumb injury that required surgery. Now healthy, Cutler is hoping that he will be around for all 16 games this year to take advantage of new weapons on offense like Brandon Marshall, Michael Bush and Alshon Jeffery.
One thing we might see more of in 2012 is Cutler throwing shorter passes. The rationale behind that is explained in this tweet from Alex Marvez:
Bears RT Gabe Carimi says 7-step QB drops are out in new Mike Tice offense. Should help the O-line protect & Jay Cutler from getting hit.
As much of a pummeling as Cutler has received behind the Bears' offensive line, whatever the coordinators and coaches can do to eliminate some of the hits has to make tremendous sense. The downside is that they will have to be shorter pass plays.
If Bears fans get a healthy Cutler to play all year long, I think they would be ecstatic.
Cutler's stats from 2011 season: 182 completions out of 314 passes for a completion percentage of 58. Cutler threw for 2,319 yards, 13 touchdowns and seven interceptions. His average pass went for 7.39 yards. His QB passer rating was 85.7.
2012 prediction for Cutler: 270 passes completed out of 470 passes attempted, which would give him a completion percentage of 57. Cutler will throw for 3,245 yards, 15 touchdowns and six interceptions.
The temptation is to jack up Cutler's numbers due to all the weapons, but this is still the Bears' offensive line he is playing behind, and I am just not convinced that they are very good. Not only that, but with a healthy Matt Forte and Michael Bush, the Bears will frequently be running with the ball.
Kenny Britt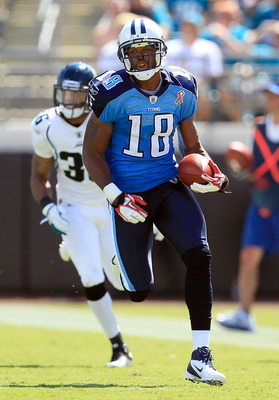 Sam Greenwood/Getty Images
Tennessee Titans wide receiver Kenny Britt gained at least 700 yards in receptions in both 2009 and 2010. His 2011 season was cut short by injury, and his 2012 season may be in jeopardy due to his ability to get in trouble with the law.
In 2011, Britt tore ligaments in his knee, which required surgery that took him out for the year. Britt has only appeared in 31 games out of a possible 48, so he isn't the type of receiver you can really rely on. In 2012, Britt is continuing down the wrong path, as we can see from this tweet from Paul Kuharsky of ESPN.com:
In Nashville, @WUZ1045 reports Kenny Britt was arrested for a DUI at Fort Campbell. #Titans
Over the past 10 months, Britt has had his knee operated on three different times. Between the medical issues and the potential for a suspension (according to Rotoworld), Britt has now been in trouble seven different times since joining the team). I don't feel like Britt will contribute much this year, except for more bad news headlines.
Britt's 2011 production: 17 receptions for 289 yards, three touchdowns and an average gain of 17 yards per catch.
Prediction for Britt for 2012: 15 receptions for 225 yards, two touchdowns and an average gain of 15 yards per catch.

Jamaal Charles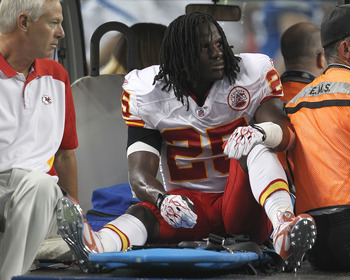 Dave Reginek/Getty Images
Kansas City Chiefs running back Jamaal Charles had the misfortune of a very early end to his 2011 season, when he injured his ACL in a game in Week 2 against the Detroit Lions. Charles injured his knee running the ball and after he went out of bounds, he ran into the Lions mascot. Charles's season was over.
As per this story from Adam Teicher of the Kansas City Star, Charles will have full medical clearance to participate with the team in training camp. That is good news for the Chiefs and their fans. We don't yet know if he has regained all of his old speed, or if Charles now is a half-step or step slower due to the injury. We will know the answer to that soon enough.
Charles has seen his average yards gained per rush go up each year in the league. In the last four years, that average has grown from 5.3, 5.9, 6.4 to 6.9 average yards per rush last year.
Charles 2011 production: 12 rushes for 83 yards, no touchdowns and an average of 6.9 yards per rush.
2012 prediction for Charles: 212 rushes for 1,235 yards, good for an average of 5.8 yards per rush with six rushing touchdowns. 35 receptions for 287 yards and two touchdown receptions.



Kyle Williams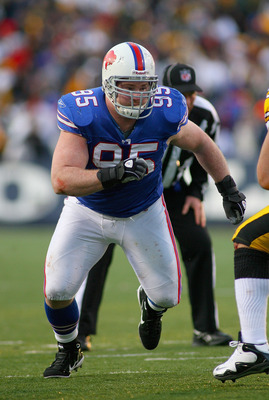 Rick Stewart/Getty Images
Kyle Williams, defensive tackle for the Buffalo Bills, made the Pro Bowl team in 2010 and was finally being recognized for his outstanding play, when an Achilles tendon injury robbed him of the 2011 season.
Prior to the 2011 season, Williams was enjoying continued improvement in his play, as his tackles from the defensive tackle slot had been increasing for each of the prior four seasons (41, 55, 66 to 77 in 2010).
Now in 2012, Williams is supposed to be healthy and ready to dominate again. He will have a very strong supporting cast surrounding him in 2012, which includes Marcell Dareus, Mario Williams, Mark Anderson and Shawne Merriman.
From a recent article on buffalo Bills.com by Jared Kracker:
When healthy, Kyle Williams proved he is capable of being one of the best defensive tackles in the game. This became apparent when he was selected to the Pro Bowl and placed on Peter King's All-Pro Team following the 2010-11 season. Last year, he was sidelined for the season after just five games due to a lingering injury to his left foot. If healthy, Williams should have no problem being a Pro Bowl caliber player once again.

Moving to a 4-3 scheme will benefit Williams because opposing offenses will not be able to double team both he and Marcell Dareus. The Bills are also very strong and deep at defensive end, which has not always been the case during his tenure with the Bills. Williams consistently has been double teamed in the past and put up Pro Bowl worthy numbers. Now that he will see more one-on-one blocking situations he should thrive this coming season
Williams 2011 production: nine tackles and no sacks.
2012 prediction for Williams: 68 tackles and seven sacks.
Kevin Kolb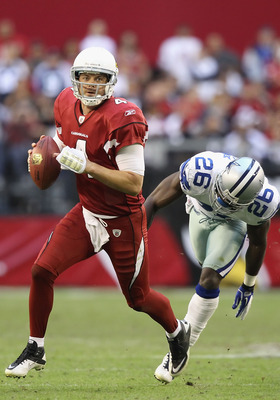 Christian Petersen/Getty Images
Arizona Cardinals quarterback Kevin Kolb had a rough 2011 season. Not only was Kolb dealing with issues over concussions, but he also had turf toe, a mid-foot sprain and a bone bruise in his foot. If all of that wasn't bad enough, his backup quarterback John Skelton outperformed him in 2011.
As we enter training camp in 2012, there is still no word out of Arizona who will be named as the starting quarterback this year. I believe that Kolb will emerge as the starter in Week 1, but that doesn't necessarily mean that he retains the job all year.
Kolb will simply have to not only play better than he did last year, but will also have to stay healthy, as the Cardinals will be ready to put Skelton in if there Kolb's game starts heading south.
Kolb's 2011 production: completed 146 passes out of 253 attempts for a completion percentage of 57.7. He threw for 1,955 yards, had eight touchdown passes and seven interceptions.
2012 prediction for Kolb: completing 265 out of 470 passes for a completion percentage of 56 percent. Kolb will throw for 3,500 yards, hitting on 16 touchdowns and 11 interceptions for the year.
Adrian Peterson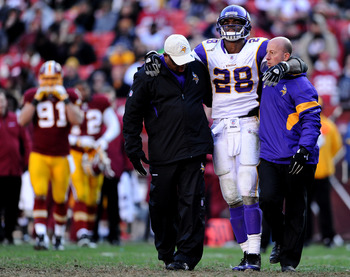 Patrick Smith/Getty Images
Minnesota Vikings running back Adrian Peterson tore his ACL in the 2011 season against the Washington Redskins in a Week 16 contest.
Peterson has a very high tolerance for pain, and due to that ability to go beyond the threshold of ignoring the pain, he is able to rehab faster and push himself to where he needs to be. What Peterson can't control is what decision the Vikings make about his ability to play in Week 1.
Will the Vikings ultimately decide to let Peterson suit up to begin the year, or will they place him on the PUP list for his own good?
The answer to that question will have direct bearing on what his 2012 projections and production will look like.
Peterson's 2011 production: 208 rushes for 970 yards. Average gain of 4.7 yards per carry. Scored 12 rushing touchdowns. Caught 18 passes for 139 yards and one touchdown reception.
2012 prediction for Peterson: 275 rushes for 1,237 yards, which is an average of 4.5 yards per carry. Peterson will score 10 rushing touchdowns.
James Harrison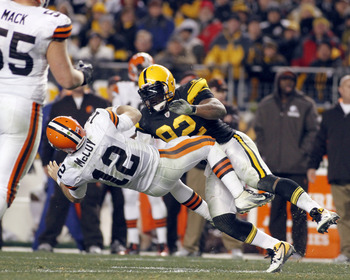 Justin K. Aller/Getty Images
Pittsburgh Steelers linebacker James Harrison suffered a fracture of his orbital socket in 2011. In addition to the time missed due to the surgery to repair the fracture, Harrison was suspended for one game due to the hit he made on Cleveland Browns quarterback Colt McCoy.
Harrison will be looked at to help pick up the slack for the Steelers in 2012, as the team has taken strides in their defense to get younger, so Harrison will be one of the key veterans to lead the defense.
In 2010, Harrison played in all 16 games and came up with 100 tackles. In 2011, Harrison appeared in 11 games, but only had 59 tackles for the entire season. But his sacks totals didn't change much. He had 10.5 sacks in 2010, but came up with nine sacks last season.
Harrison's 2011 production: 59 tackles, nine sacks, no interceptions and two forced fumbles.
2012 prediction for Harrison: 85 tackles, 10 sacks, one interception and five forced fumbles.
Shawne Merriman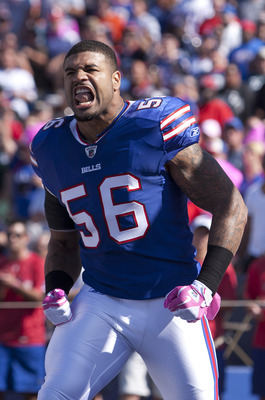 Brody Wheeler/Getty Images
Shawne Merriman, defensive end of the Buffalo Bills, is by all accounts back to the type of health he enjoyed when he was in his prime with the San Diego Chargers. Some football fans would reply that seeing is believing.
Merriman has been hampered by a troublesome Achilles tendon injury that has been robbing him of his ability to push off. His natural burst was all but gone, so Merriman had surgery in the offseason to repair the Achilles. In 2012 minicamp, Merriman was bouncing around like he did four years ago in San Diego.
As we approach training camp, the Bills look to use Merriman initially as a situational pass-rusher. If they believe that he is all the way back, his snaps and reps will increase, which would lead to a stronger projection.
Merriman's 2011 production: nine tackles and one sack. No other stats to report.
2012 prediction for Merriman: 48 tackles, eight sacks and three forced fumbles.
Nate Kaeding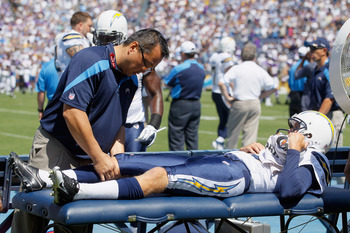 Jeff Gross/Getty Images
Nate Kaeding, the kicker for the San Diego Chargers, was injured on the opening kickoff of the 2011 season, as he tore his ACL and also had multiple ligament tears. As a result, Kaeding missed the entire year.
The good news is that he had the entire year to rehab the injury and that the injury occurred to his non-kicking leg. The bad news is that he is a little rusty for game action.
2011 production: none.
2012 prediction for Kaeding: Will kick 25 of 31 field-goal attempts for the year and will convert all 43 of his extra points, scoring a total of 118 points.
Rashard Mendenhall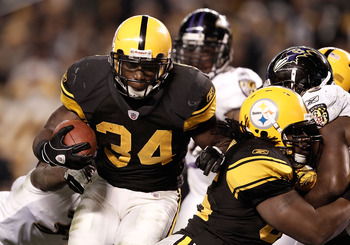 Jared Wickerham/Getty Images
Pittsburgh Steelers running back Rashard Mendenhall suffered a torn ACL in the Steelers' final game of the 2011 season. The timing of the injury meant that he would have less time to rehab and heal before the start of the 2012 season.
As things stand now, we are waiting word from Pittsburgh as to when Mendenhall will get medical clearance. If he is cleared for Week 1, Week 4 or Week 7, nobody knows. It is all up in the air. For their part, the Steelers are prepared to go with Plan B. Plan B is Isaac Redman, mixed in with some snaps for Jonathan Dwyer, Baron Batch and Chris Rainey.
Redman looked like he was ready to take over the starting job in the playoff loss to Denver last season. Maybe he will take over the job and Mendenhall never gets it back. For now I think it makes the most sense to give Mendenhall a rather conservative prediction for 2012.
Mendenhall's 2011 production: 228 rushes for 928 yards, nine rushing touchdowns and an average of 4.1 yards per carry.
2012 prediction for Mendenhall: 110 carries for 440 yards and four rushing touchdowns, averaging 4.0 yards per rush.
Jon Beason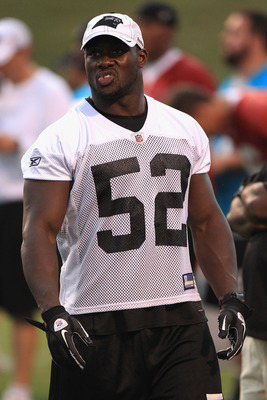 Streeter Lecka/Getty Images
It seems like Carolina Panthers linebacker Jon Beason has been battling injuries forever, but like I said, it just seems that way. Beason had another unfulfilled year due to injuries in 2011. This time it was his Achilles tendon that needed surgery and forced him to miss the year.
Beason has been medically cleared to work with the Panthers, but to say that they are being cautious with him would be an understatement. Beason will have to gradually work his way back in, not only to playing football, but into whatever position/role the team finally decides he is up for handling.
Part of the reason on the uncertainty is that the Panthers have some flexibility with their first-round pick, linebacker Luke Kuechly. Kuechly allows Carolina to move Beason to a position that they think Beason can physically handle. That might turn out to be weak-side linebacker, but nothing is set in stone yet.
Beason's 2011 production: had four tackles in one game. No other stats.
2012 prediction for Beason: 55 tackles, three sacks and one interception.
Sidney Rice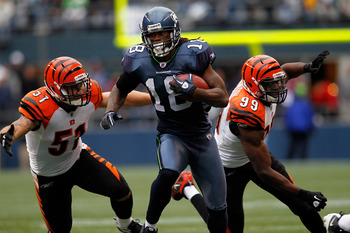 Jonathan Ferrey/Getty Images
Seattle Seahawks wide receiver Sidney Rice has played in 15 games in Seattle in the past two years and missed 17 games. Not exactly a great ratio.
Coming into the 2012 season, Rice had surgeries on both of his shoulders. In addition, he has been having issues with concussions, so you have to wonder how much you can honestly count or rely on him to suit up for your team every week.
The Seahawks need a receiver to step up and be the go-to guy, but with all of Rice's problems, I am not convinced that he will be that guy this year.
Rice's 2011 production: 32 receptions for 484 yards. Had two touchdown catches and an average of 15.1 yards per catch.
2012 prediction for Rice: 54 receptions for 810 yards and five touchdowns. Will have an average of 15 yards per catch.
Matt Forte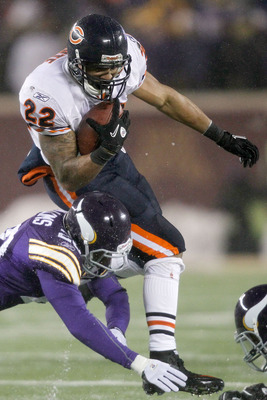 Matthew Stockman/Getty Images
Chicago Bears running back Matt Forte suffered a sprained MCL in Week 13 last season, forcing his great season to come to an early end. But that was then, and this is now.
In the interim, Forte has rehab the MCL and is in great health coming into training camp. He also has some new teammates on offense in Brandon Marshall, Michael Bush and Alshon Jeffery.
While Marshall and Jeffery will help to loosen up defenses and hopefully give Forte a little more room to run with the ball, the addition of Bush will not necessarily be a boon to Forte's 2012 production. If anything, it will have an opposite impact.
Bush will not only get some of Forte's touches during the season, but he will probably be the preferred running back option in the red zone, meaning that Forte will be scoring less touchdowns this year. Well, at least he is finally getting paid, so there is that.
Forte's 2011 production: 203 rushes for 997 yards, three rushing touchdowns and an average of 4.9 yards per rush. Forte also caught 52 passes for 490 yards, had one receiving touchdown and an average of 9.4 yards per reception.
2012 prediction for Forte: 215 rushes for 1,020 yards and two rushing touchdowns. That is an average of 4.7 yards per rush. Forte will catch 45 passes for 430 yards and one receiving touchdown.
Leon Hall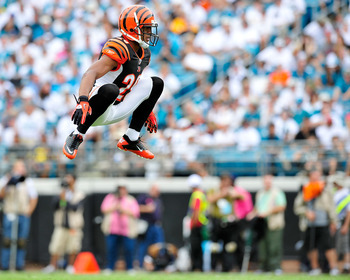 Grant Halverson/Getty Images
Leon Hall, cornerback for the Cincinnati Bengals, was placed on injured reserve last year when he tore his Achilles tendon. In a story by Joe Reedy of Cincinnati.com, it is suggested that Hall is trying to push his ability to be ready to practice at training camp, while head coach Marvin Lewis wants to slow things down.
After all, the Bengals previously had signed Hall to a big $42 million contract, and they want to take care of their investment.
Hall is awaiting medical clearance, but since that hasn't happened yet, he may not be 100 percent ready for Week 1, but will have to be eased in as the season progresses.
Hall's 2011 production: 32 tackles, two interceptions and seven passes deflected.
2012 prediction for Hall: 54 tackles, four interceptions and 15 passes deflected.
Matt Cassel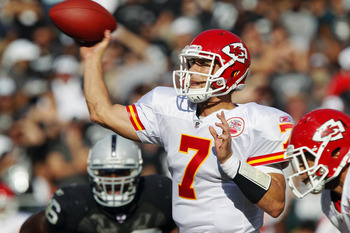 Brian Bahr/Getty Images
When Kansas City Chiefs quarterback Matt Cassel broke his throwing hand last season against the Denver Broncos, the Chiefs had no choice but to place Cassel on the I.R. list, ending his season.
Cassel sweated some bullets no doubt when the Chiefs were flirting with Peyton Manning, but he survived the scare, so he will have to step up and produce this year if he wants to retain the position for a longer term.
The Chiefs have Jamaal Charles coming back, so that should help. Cassel can throw the ball to Jonathan Baldwin, Dwayne Bowe and Tony Moeaki.
Cassel's 2011 production: completed 160 out of 269 passes for a completion percentage of 59.5 percent. Cassel threw for 1,713 yards, 10 touchdown passes and nine interceptions. His QB passer rating was 76.6.
2012 prediction for Cassel: Will complete 303 out of 505 passes for a 60 percent completion percentage and will throw for 3,250 yards and 25 touchdown passes to go along with eight interceptions.
Darren McFadden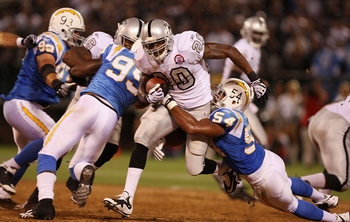 Ezra Shaw/Getty Images
Oakland Raiders running back Darren McFadden was having a banner 2011 season when he sprained his foot, and his 2011 came to a crashing halt. The type of injury that McFadden had (Lisfranc sprain) is the type that needs plenty of rest, so he had to stay off the foot.
Now as we prepare to enter training camps for the 2012 season, McFadden is healthy, but has lost his caddy, Michael Bush, who now plays for Chicago.
While there is some talk that the Raiders might want to add a veteran running back to serve as a backup to McFadden, right now the offense will be relying on McFadden to stay healthy, something that he has difficulty doing.
Raider nation is hoping that McFadden can have one healthy year where he can demonstrate how good he is for a full 16-game schedule.
McFadden's 2011 production: 113 rushes for 614 yards, four rushing touchdowns and an average of 5.4 yards per rush. He also caught 19 passes for 154 yards and one touchdown, averaging 8.1 yards per catch.
2012 prediction for McFadden: 210 rushes for 1,071 yards, averaging 5.1 yards per rush, rushing for five touchdowns. McFadden will catch 32 passes for 340 yards and two touchdown receptions.
Ahmad Bradshaw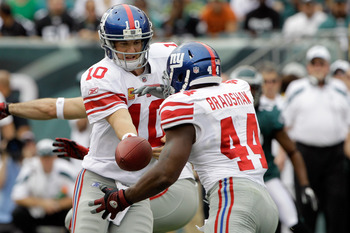 Rob Carr/Getty Images
New York Giants running back Ahmad Bradshaw suffered from a cracked bone in his foot, and the injury caused his production to dip in the second half of the 2011 regular season.
Bradshaw appears to be healthy coming into the 2012 season, and he also looks like he turned the key on the player that was regularly handcuffed to him, Brandon Jacobs, who is now in San Francisco. But the Giants still want some form of insurance for Bradshaw, so they drafted David Wilson to share some of the carries.
It looks like the Giants intend to make Bradshaw the main ball-carrier in the red zone, so he should pick up a few more touchdowns this year because of that development alone.
Bradshaw's 2011 production: 171 rushes for 659 yards and nine rushing touchdowns. Bradshaw averaged 3.9 yards per rush and caught 34 passes for 267 yards with two touchdowns and averaged 7.9 yards per reception.
2012 prediction for Bradshaw: 235 rushes for 987 yards, averaging 4.2 yards per carry. Bradshaw will score 12 rushing touchdowns and will catch 40 passes for 285 yards with two touchdowns.
Mario Williams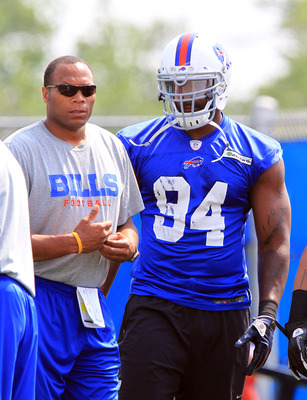 Kevin Hoffman-US PRESSWIRE
Houston Texans defensive end Mario Williams suffered a torn pectoral muscle against the Oakland Raiders, and that put an abrupt halt to his 2011 season.
Williams then signed his huge contract to play for the Buffalo Bills and will look to become a key player in transforming the team back into a playoff contender, like they were in the early 1990s.
What is different for Williams is that he is surrounded by talent across the defensive line, as we cited earlier in the slide for Kyle Williams. Out of the entire defensive line in Buffalo, Williams has the most unique physical skills to capitalize on the imbalance of a stronger pass-rush than the offense can possibly block; so if he can stay healthy, I expect him to have a very strong season.
Williams's 2011 production: played in five games with 11 tackles, five sacks and one forced fumble.
2012 prediction for Williams: 60 tackles with 15 sacks and three forced fumbles.
Chad Henne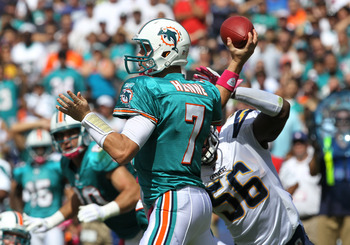 Stephen Dunn/Getty Images
Chad Henne was the starting quarterback for the Miami Dolphins in 2011 until he suffered a separated left shoulder that required season-ending surgery. Henne was off to a pretty good start in 2011, as he threw for over 400 yards in the season opener against Tom Brady and the New England Patriots.
But when the shoulder injury occurred, the Dolphins decided they were going to go in another direction and let Henne walk away in free agency.
Henne signed on with the Jacksonville Jaguars, where he will have a realistic chance to start some games this year, assuming that Blaine Gabbert is still struggling in the NFL. There is a very good chance that the Jaguars will turn the ball over to Henne at some point this year.
Henne's 2011 production: completed 64 out of 112 passes for 868 yards, four touchdowns and four interceptions. Henne had a completion percentage of 57.1 and a QB passer rating of 79.0.
2012 prediction for Henne: will complete 188 passes out of 325 attempts for a completion percentage of 58.0. Henne will throw for nine touchdowns and 12 interceptions.
Eric Berry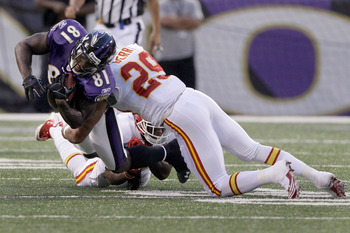 Rob Carr/Getty Images
Kansas City Chiefs safety Eric Berry tore his ACL in the opening game of the 2011 season. His year was over before it even began.
In 2012, Berry has been able to have the benefit of a full season to begin rehab, and now he is 100 percent healthy and ready for the start of training camp.
Provided he stays healthy, we expect Berry to rebound in 2012 and have a solid year.
Berry's 2011 production: he was injured in the first game before he could amass any stats in the game.
2012 prediction for Berry: 80 tackles, one sack and three interceptions, to go with 11 pass deflections.
Chris Cooley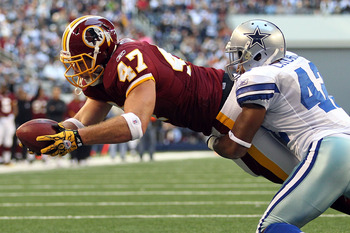 Ronald Martinez/Getty Images
Washington Redskins tight end Chris Cooley had a rough year in 2011, as he had multiple injuries (knee and a broken finger) that were bad enough to land him on injured reserve.
The issue in 2012 is the fact that Cooley is now 30, and there are only two players in Washington that have a higher salary-cap number than Cooley does (DeAngelo Hall and Trent Williams).
When you consider that NFL Commissioner Roger Goodell stripped the Redskins of salary-cap space, the Redskins might be looking to trim Cooley this year to save some cap space.
For now, we are going to say that Cooley survives and plays the 2012 season in Washington. It would not come as a major surprise if he gets a pink slip however, so don't take this prediction to the bank.
Cooley's 2011 production: eight receptions for 65 yards, no touchdowns and an average of 8.1 yards per catch.
2012 prediction for Cooley: 35 catches for 410 yards, two receiving touchdowns and an average of 11.7 yards per catch.
Thanks for checking out the presentation.
Keep Reading