18 NFL Rookies Guaranteed to Out-Play Their Draft Position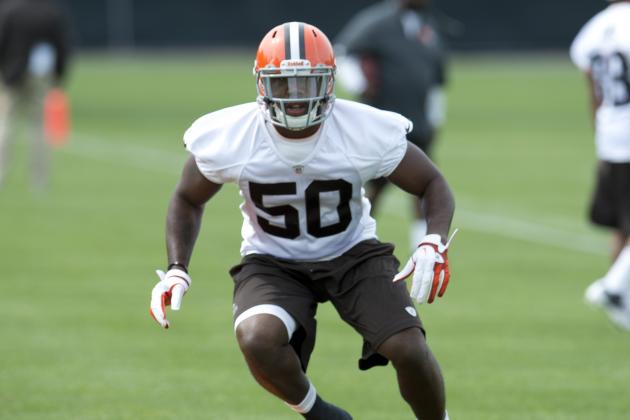 Jason Miller/Getty Images

The NFL draft is a very unique event, in that it's hard to predict where a player will land and how he'll develop. This is why, every year, we have plenty of players that are considered steals or busts. It's those who outperform their draft position that have an opportunity to change the future of a franchise.
Developing into a surprise contributor has about as much to do about where a player lands as talent. As you know, some players are better fits for different schemes. This means landing in the right situation could propel a player to success.
Begin Slideshow

»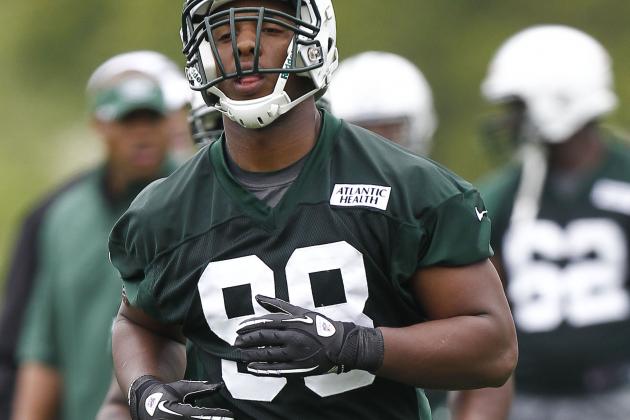 Jeff Zelevansky/Getty Images

Draft Position: No. 16 Overall, First Round
The New York Jets got themselves a top-10 talent in the middle of the first round. Quinton Coples fell in the draft because of concerns surrounding his work ethic and failure to meet expectations during his senior year. Despite these concerns, Coples brings a ton of pass-rushing potential.
New York's decision to feature more 4-3 principles means that Coples will have an opportunity to play his more natural position. Lining up at defensive end in this scheme gives will give him a better chance to rush the passer.
Because of his athleticism and length, it's possible that Coples tops the double-digit sack mark.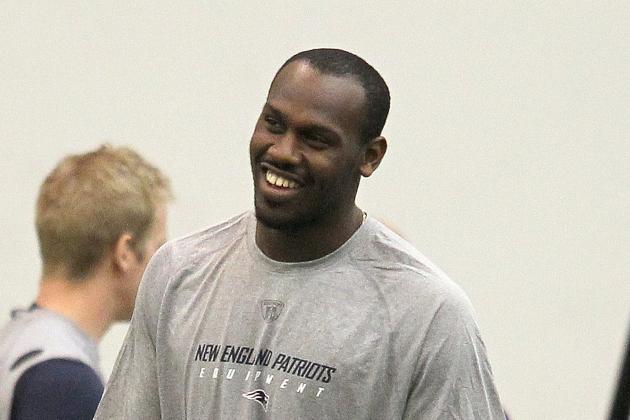 Jim Rogash/Getty Images

Draft Position: No. 21 Overall, First Round
The New England Patriots need Chandler Jones to have a successful season. They decided not to bring back Mark Anderson and Andre Carter this season, which means they're losing 20 sacks from their 2011 total.
New England's desperation combined with Jones' pass-rush ability means he'll see a lot of action.
Opportunity is key to a rookie's success, but Jones' nonstop motor will play a bigger role. This is a player that gives 100 percent effort on every play. His effort alone will help him accumulate a handful of sacks this season.
Combining his effort with his length and athleticism gives Jones such tremendous potential. He's still a little raw, but there's enough talent present for him to make an immediate impact. There's a chance we look back on this draft class and point to Jones as the top pass-rusher.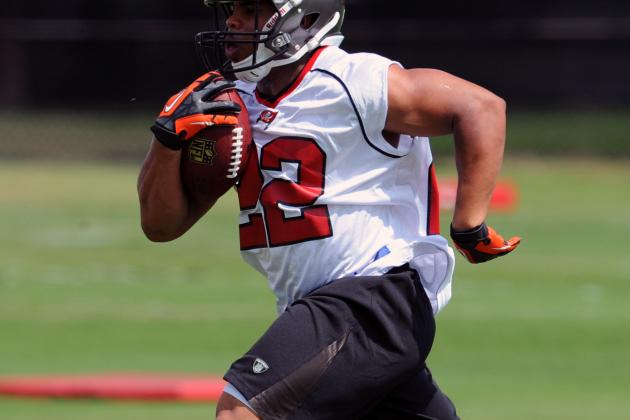 Al Messerschmidt/Getty Images

Draft Position: No. 31 Overall, First Round
Doug Martin is a well-rounded running back that's ready to make an immediate impact. He isn't like most rookies in that he's capable of playing the role of an every-down back.
A lot of his versatility comes from his ability to contribute in the passing game. He'll give the Tampa Bay Buccaneers a solid receiver out of the backfield while also providing solid pass protection.
Tampa Bay's running game will also see an increase in production with Martin in the lineup. He's got a great combination of quickness and strength. His commitment to keeping a low pad level helps him gain yards after initial contact. Martin is capable of excelling in both short-yardage situations and as a quick-strike runner.
The Buccaneers' plan to provide him the opportunity to win the starting job will help Martin quickly show he was worth a higher draft choice.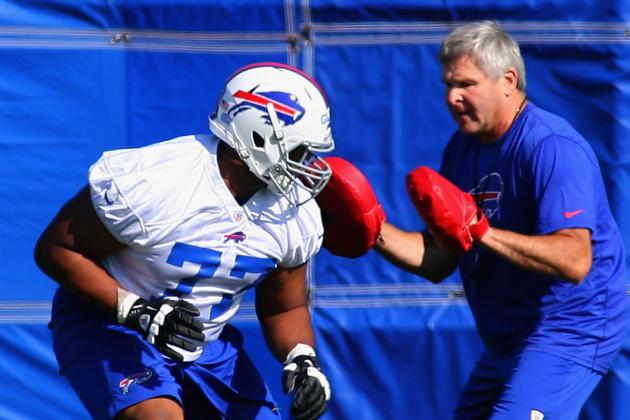 Rick Stewart/Getty Images

Draft Position: No. 41 Overall, Second Round
The Buffalo Bills got an absolute steal when they landed Cordy Glenn in the second round. He has great size and strength, but it's his underrated athleticism that'll help him succeed. Most project Glenn as a right tackle based on his size. However, he has the foot speed and balance needed to play left tackle in the NFL.
In a few seasons, there's a great chance we'll be talking about Glenn as one of the top young tackles in the league. The Bills say there's an open competition for the left tackle spot, but Glenn has received most of the first-team reps.
It's tough to find a potentially elite left tackle in the second round of the draft. These types of players typically come off the board early in the first round.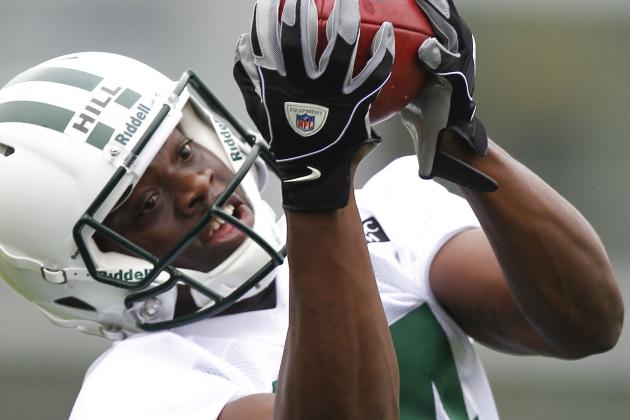 Jeff Zelevansky/Getty Images

Draft Position: No. 43 Overall, Second Round
I was shocked that nobody jumped on the chance to add Stephen Hill somewhere in the first round. There just aren't many players that can run a 4.36 40-yard dash at 6'4" and 215 pounds. He's going to be a matchup nightmare for defenses in the NFL.
Hill ended up in the second round mainly because he's very raw and played in a basic passing offense at Georgia Tech. However, this doesn't mean the New York Jets can't find a role for such a talented player.
It appears that Hill is already locked in as one of the starting wide receivers. Look for New York to design plays to let Hill stretch the field and work in the red zone.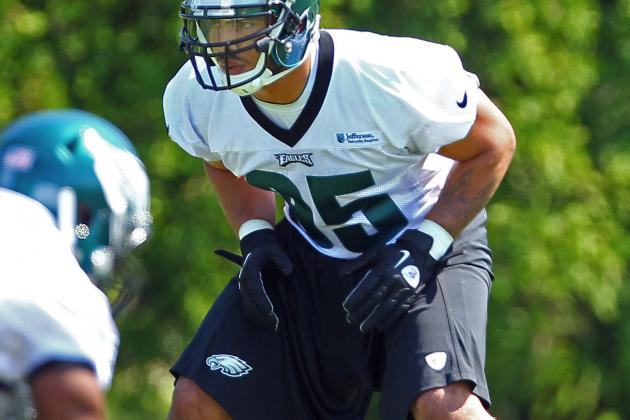 Rich Schultz/Getty Images

Draft Position: No. 46 Overall, Second Round
Last season, the Philadelphia Eagles' lack of talent at the linebacker position played a major role in their defensive struggles. Players like Casey Matthews and Akeem Jordan struggled with missed tackles and blown assignments.
Because of these issues, the Eagles selected Mychal Kendricks in the second round of the draft.
His athleticism and tenacity has already earned him a starting job on the defense. Expect to see Kendricks making plays from sideline to sideline. He's already one of the faster players on the Eagles defense, which will help him make plenty of impact plays.
Kendricks has the talent level to approach the 80-tackle mark, register around five sacks and pull down an interception or two.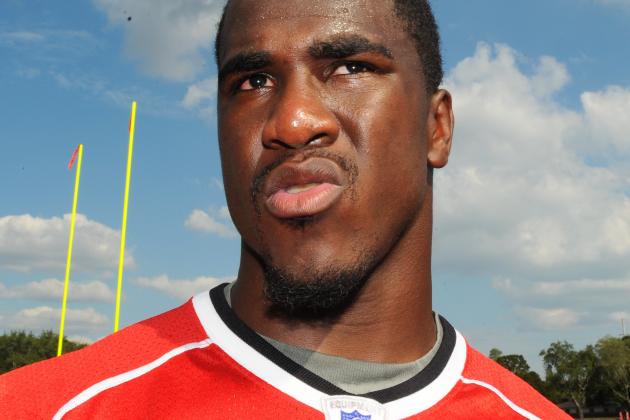 Al Messerschmidt/Getty Images

Draft Position: No. 58 Overall, Second Round
A lack of size at the linebacker position is what resulted in Lavonte David dropping to the second round. However, he makes up for his less-than-ideal size with his explosiveness and tenacity. David is a quick-twitch athlete who possesses an elite first step and second gear. Once he identifies the ball-carrier, he's able to quickly close and make a play.
David's instincts also allow him to make impact plays. The Tampa Bay Buccaneers have themselves a real football player that'll make plays from sideline to sideline. There's a great chance that David finishes the season leading all rookies in tackles.
Jim McIsaac/Getty Images

Draft Position: No. 63 Overall, Second Round
This summer has been beneficial for Rueben Randle's chances to make an immediate impact. The loss of Mario Manningham and injury to Hakeem Nicks has given Randle the opportunity to get a lot of work with the first-team offense.
Because of his raw talent, the Giants are going to give Randle a legitimate shot to replace Manningham.
Having both Nicks and Victor Cruz in the lineup will help Randle make an impact. Opposing defenses must focus on shutting those two playmakers down; Randle will be forced to beat them.
It also helps to have an elite quarterback like Eli Manning throwing you the football.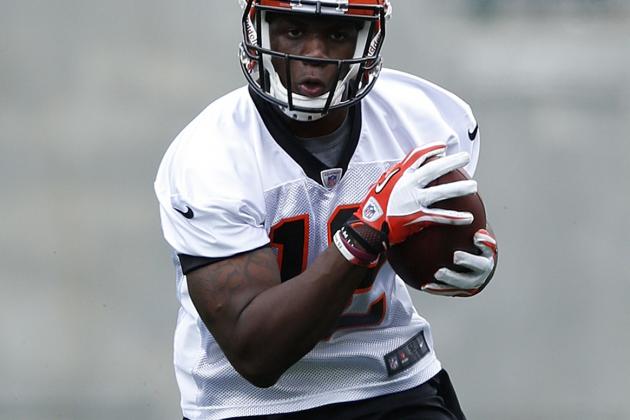 Joe Robbins/Getty Images

Draft Position: No. 83 Overall, Third Round
Mohamed Sanu has a good of shot as anybody to win the starting wide receiver job opposite A.J. Green. If he's able to win that spot, Sanu will get a ton of favorable matchups. Opposing defenses will roll coverage to Green's side of the field, giving Sanu plenty of one-on-one situations.
In order to win this job, Sanu must beat out both Armon Binns and Brandon Tate. Even if he doesn't begin the season as the starter, he's too talented to keep off the field. Look for him to see a lot of action this season and take advantage of having Green in the lineup.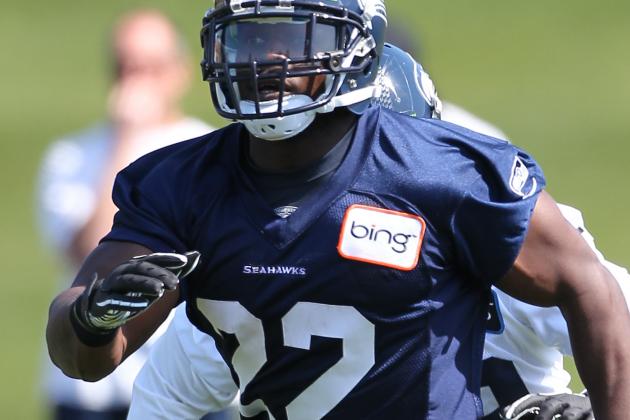 Otto Greule Jr/Getty Images

Draft Position: No. 106 Overall, Fourth Round
Robert Turbin was slated for a major role this season before the recent arrest of Marshawn Lynch. Now, there's a chance he gets the bulk of the carries for the Seattle Seahawks.
Turbin has a good combination of size and initial burst. He does a good job pressing the hole, which helps him avoid getting stopped in the backfield.
He doesn't have the ability to gain yards after contact like Lynch, but he's much quicker. Turbin will do a better job exploding through the open holes before they close. He also brings added value in the passing game, as he does a good job creating in space.
Seattle is much better with Lynch in the lineup, but Turbin will surprise a lot of people if given the opportunity.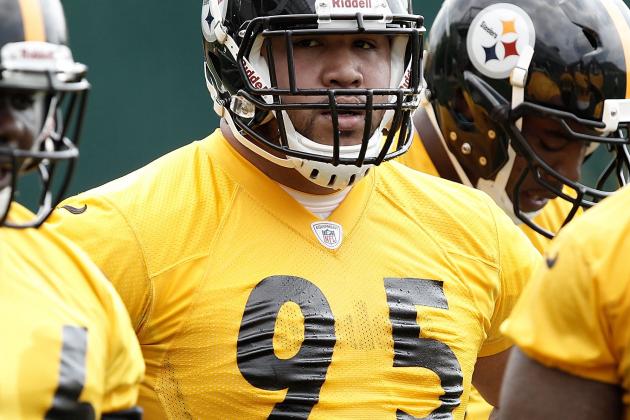 Jared Wickerham/Getty Images

Draft Position: No. 109 Overall, Fourth Round
The expectation is that Casey Hampton will miss a few games early in the season. His absence leaves a major hole along the Pittsburgh Steelers defensive line. They hope that rookie Alameda Ta'amu can hold his own until Hampton returns.
Because of his size and surprising athleticism, Ta'amu is more than capable of filling the void.
Ta'amu must keep a low center of gravity and hold at the point of attack. His main job will be to occupy blockers so that the linebackers can freely flow to the football. Ta'amu has the thickness and lower-body strength to keep blockers from reaching the linebackers.
Ta'amu isn't only playing to keep things steady until Hampton returns; he's playing to show the Steelers that he can be the long-term replacement for the 34-year-old.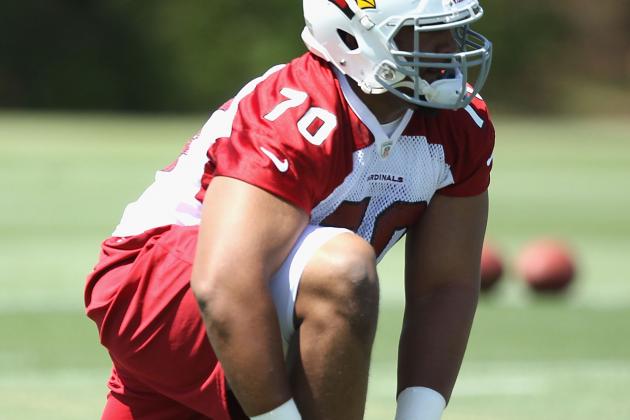 Christian Petersen/Getty Images

Draft Position: No. 112 Overall, Fourth Round
Bobby Massie is heading into training camp with the opportunity to win the starting right tackle spot. He'll be competing with Jeremy Bridges, who struggled mightily last season. The Arizona Cardinals offensive line surrendered a total of 54 sacks last season; this was with Bridges in the starting lineup.
Massie has excellent size and the athleticism to develop into a top-notch pass protector. Initially, his best chance to succeed is at the right tackle spot because he still needs to make improvements. However, finding a starting offensive lineman with good upside in the fourth round is a steal.
The fact that the Cardinals have a major need at the position also increases the value of this pick.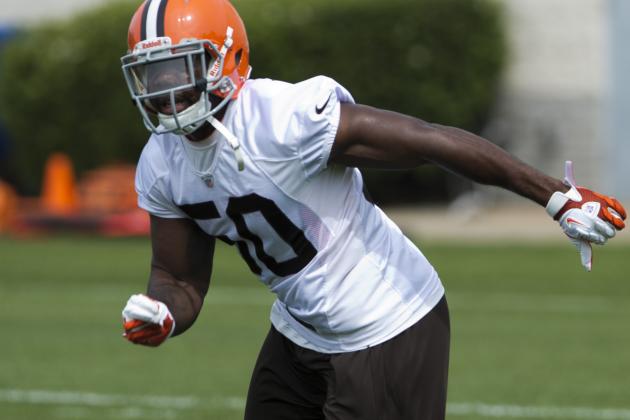 Jason Miller/Getty Images

Draft Position: No. 120 Overall, Fourth Round
Heading into the draft, I had James-Michael Johnson rated as a second-round prospect. His combination of speed and ability to quickly decipher post-snap information helps him make impact plays.
That athleticism and football IQ also makes him a versatile player.
Johnson is slated to start the season at outside linebacker, replacing the suspended Scott Fujita. However, he's capable of playing all three linebacker positions. This gives the Cleveland Browns plenty of options should another starter go down with an injury.
Finding someone who can start immediately, make an impact and provide versatility in the fourth round is very tough to accomplish.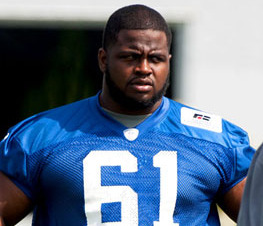 colts.com
Draft Position: No. 136 Overall, Fifth Round
Josh Chapman played all of last season with a significant knee injury. This injury required surgery in the offseason and played a role in why he lasted until the fifth round.
However, the Indianapolis Colts felt there was more reward than risk, so they pulled the trigger. Chapman fits a major need for the Colts, as he can handle the nose tackle position.
The Colts are going through a defensive transition, and they need to find players to fit their new 3-4 alignment. Indianapolis knows that this team is a few years away from really competing, so they're able to wait on Chapman's rehab.
Still, he's on track to play this season, and I expect him to make a major impact. His run-stuffing ability is exactly what this team was missing over the past few seasons.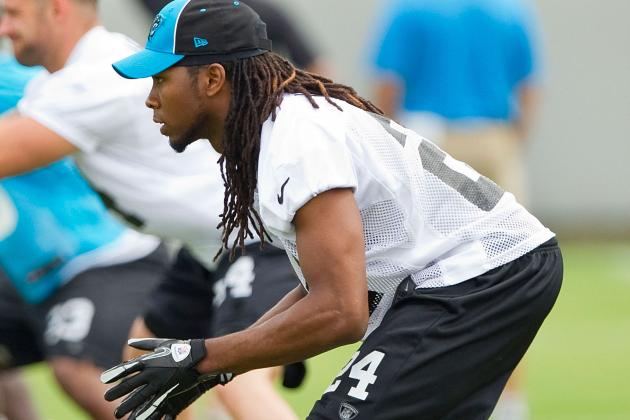 Brian A. Westerholt/Getty Images

Draft Position: No. 143 Overall, Fifth Round
Coming from a small school and being labeled as a character concern is what made Josh Norman available for the Carolina Panthers in the fifth round.
Norman wasted little time proving that he should have come off the board much earlier. He's already put himself in a position to contend for a starting cornerback job.
Even if he isn't able to unseat Chris Gamble or Captain Munnerlyn, he'll still see action as a nickelback. The future is bright for this young cornerback; that's if he can stay out of trouble and focused on football.
The growth of the passing game in the NFL means that a team must have several capable cornerbacks. Carolina has found themselves someone that will provide depth and possibility a future starter—not too bad for a fifth-round pick.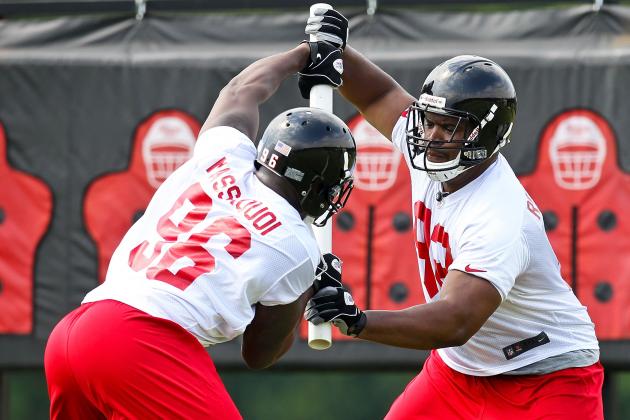 Daniel Shirey/Getty Images

Draft Position: No. 164 Overall, Fifth Round
Generating pressure on the quarterback is going to be a struggle for the Atlanta Falcons this year. John Abraham is starting to show signs of aging, and the other players on the roster lack consistency.
This is why there's so much buzz surrounding fifth-round pick Jonathan Massaquoi.
The Falcons need someone with Massaquoi's quickness to help create pressure off the edge. This need means that he'll be given every opportunity to work his way into the rotation. Look for Atlanta to use Massaquoi as a situational pass-rusher.
Most of the time, it only takes one opportunity for a player to make a major impact. If Massaquoi is able to even tally five sacks, he would outperform his draft position.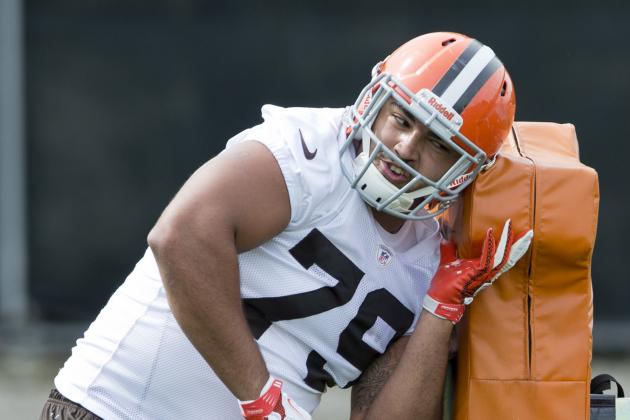 Jason Miller/Getty Images

Draft Position: No. 205 Overall, Sixth Round
Billy Winn is another draft-day steal for the Cleveland Browns. I was absolutely shocked when he fell all the way to the sixth round.
This is a disruptive player with a quick first step and good explosiveness. During his college career, he made a ton of plays behind the line of scrimmage, and I expect that to continue that in the NFL.
A lot of players have a good initial bust, but Winn's ability to make plays away from his frame is what separates him. He doesn't just penetrate the pocket; he has the ability to make the tackle behind the line.
Look for Winn to play a key role this season as the Browns look to replace the injured Phil Taylor.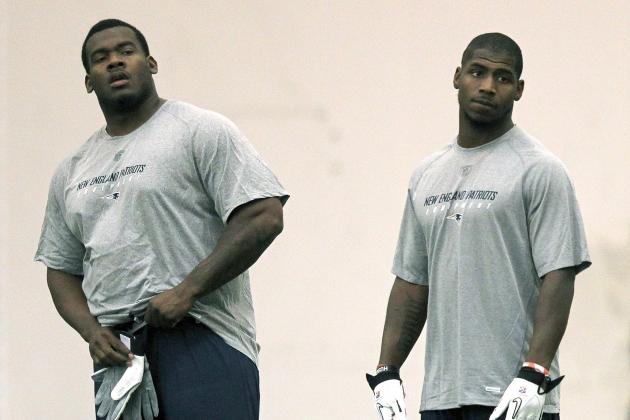 Jim Rogash/Getty Images

Draft Position: No. 224 Overall, Seventh Round
If not for a run-in with the law before the draft, Alfonzo Dennard would have been selected somewhere in the middle of the draft. Dennard is a physical defender who excels at playing bump-and-run coverage. He's the type of cornerback who'll disrupt the timing of the passing game while also coming up to support the run.
The New England Patriots' willingness to take a gamble on Dennard in the seventh round already appears to be paying off. They have the organizational structure in place to take on a player with character concern and help him succeed.
There's a chance we see Dennard in the starting lineup at some point this season, maybe even at the safety position.