AL Rookie of the Year Rankings: Mike Trout the Clear Favorite at All-Star Break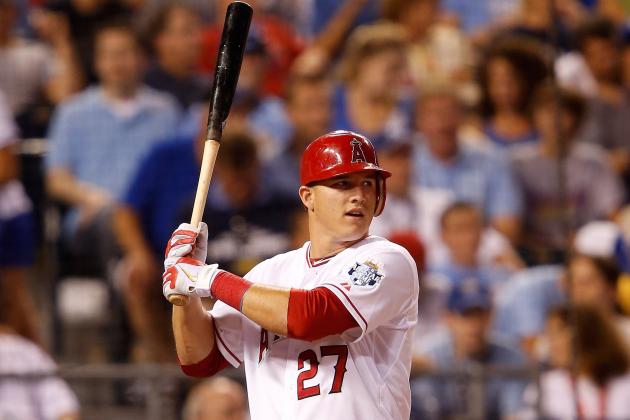 Jamie Squire/Getty Images

If the 2012 Major League Baseball season had ended after one half, there'd be no question about who would win the Rookie of the Year award in the American League.
It would go to Mike Trout in a landslide.
Trout is doing things that we've never seen a 20-year-old player do. He's excelled at the plate, on the basepaths and in the field, all while leading the Angels to the best record in baseball since the day he was called up.
So I don't feel bad at all spoiling the not-so-big secret of this article: Trout is going to be No. 1 in my midseason AL Rookie of the Year rankings.
You should already know that anyway, seeing as how a) his accomplishments speak for themselves, b) I do these rankings every week and Trout has been No. 1 for a long time and c) you can look and see that he's No. 1 in my midseason AL MVP rankings as well.
The only downside to Trout's epic season is that it's overshadowing some of the seasons that other rookies around the AL are having. As always, it is to these folks that this week's rankings pay homage.
Note: All stats come from Baseball-Reference.com unless otherwise noted.
Begin Slideshow

»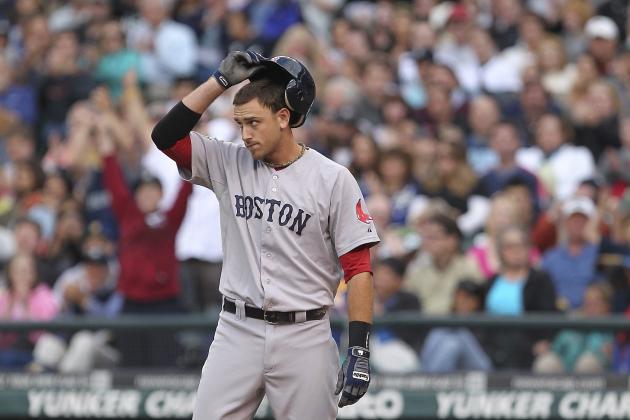 Otto Greule Jr/Getty Images
Will Middlebrooks
Quintin Berry, OF, Detroit Tigers
Berry entered the break in a minor funk, having collected just 15 hits in his last 61 at-bats. For the season, however, his .299/.388/.417 line isn't bad. FanGraphs has his WAR calculated at 1.3, which ranks second in the AL among rookie position players behind Mike Trout.
Yoenis Cespedes, OF, Oakland A's
Despite missing a good chunk of the season due to injury, Cespedes ranks third among AL rookies in home runs with nine and third in RBI with 36. If he stays healthy in the second half, he could sneak into the top five.
Wei-Yin Chen, SP, Baltimore Orioles
This is the first time in a long time that Chen hasn't been in my top five. That's what happens when you compile a 5.96 ERA over your last four starts. Yes, that's including his near-perfect game in Seattle. He still has solid numbers for the season, but not numbers that justify a top-five ranking.
Will Middlebrooks, 3B, Boston Red Sox
Middlebrooks not being in my top five is sure to generate some debate, but it's hard to justify his inclusion seeing as how he missed seven games in a row before the break, and he was slumping even before that. Dating back to June 24, Middlebrooks is four for his last 29.
Jose Quintana, SP, Chicago White Sox
Quintana has pitched eight innings and allowed one run or fewer in three of his last four starts, lowering his ERA to 2.04 and his WHIP to 0.98. This is undoubtedly impressive, but I need a bigger sample size before I can move him into the top five.
Addison Reed, RP, Chicago White Sox
Reed leads all AL rookie relievers with 13 saves. If the save wasn't such an overrated statistic, he'd be in my top five.
Robbie Ross, RP, Texas Rangers
Ross has won six games pitching out of Texas' bullpen this season, pitching 47.1 innings and posting a 0.95 ERA. He should have been an All-Star. There's only one reliever in my top five, though, and he's having a slightly better season than Ross.
Tom Wilhelmsen, RP, Seattle Mariners
Wilhelmsen has been quite good since taking over as Seattle's closer. He finally blew a save on July 6, but that matters little compared to the fact that he hasn't allowed an earned run since May 23.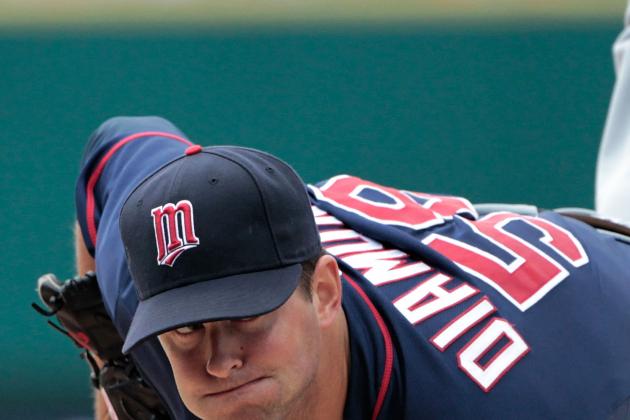 Leon Halip/Getty Images

Last Week: Unranked
Are you happy now, Twins fans?
Yes, I overlooked Scott Diamond last week when I was filling out the honorable mention section. That's my bad. He should have been there.
But let's be clear that I'm not moving Diamond into the top five this week to make up for that gaffe. I decided to move him in because there was an open spot for a starting pitcher with Chen making his exit, and Diamond has the resume to justify an inclusion in the top five.
For starters, he's won seven games for a bad Twins team in just 12 starts. Wins are overrated, but any pitcher who can rack them up while playing on a lousy team like the Twins is doing a lot of things right.
Diamond has gotten his share of run support, but it's not like his wins are coming cheaply. He has an ERA of 2.62 and a WHIP of 1.18. He's also logged nine quality starts. No other Twins starter has logged more than six.
For Diamond, it's all about keeping the ball on the ground. Per FanGraphs, his ground-ball percentage checks in at 59 percent, which is tops among qualified AL rookie hurlers. Among all AL starting pitchers with at least 70 innings pitched, only Derek Lowe and Henderson Alvarez are inducing ground balls more frequently than Diamond.
Let this be a lesson, kids. You don't need to strike out the world in order to be a successful pitcher.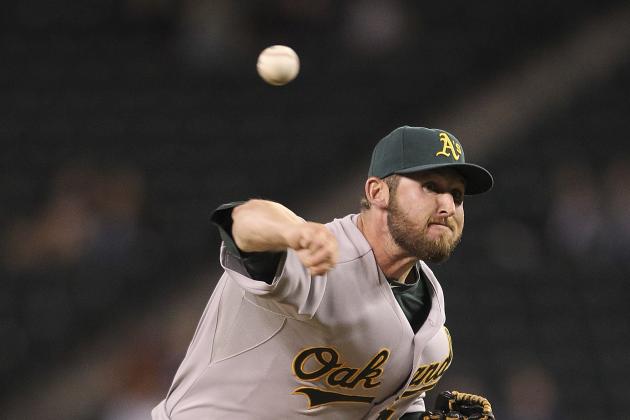 Otto Greule Jr/Getty Images

Last Week: Unranked (honorable mention)
There are reasons to nitpick the kind of season Ryan Cook is having. His eight saves are all well and good, but well, they're saves. To those, I tend to say "meh."
What sticks out to me is his 4.93 BB/9, which isn't good. FanGraphs has his FIP calculated at 2.83, which is good...but it's also significantly higher than his 1.41 ERA. By all rights, Cook shouldn't have such a dazzling ERA.
But there's a limit to how much one can justify that claim. Cook may not be perfect, but the fact that he nearly has been perfect this season is what's impressive.
Cook has made 38 appearances this season, and he's only allowed earned runs in two of them. He allowed two earned runs in an inning of work against Minnesota in late May and four earned runs in an appearance against the Giants on June 22 in which he didn't record an out.
Those two appearances were ugly. The other 36, on the other hand, went pretty well. Cook put up goose eggs in every single one of them.
There's really no overstating how hard something like that is to do, no matter what your role in the bullpen may be.
With J.J. Putz struggling for much of this season, methinks the Arizona Diamondbacks would like to have Cook back. The same goes for the next guy on this list.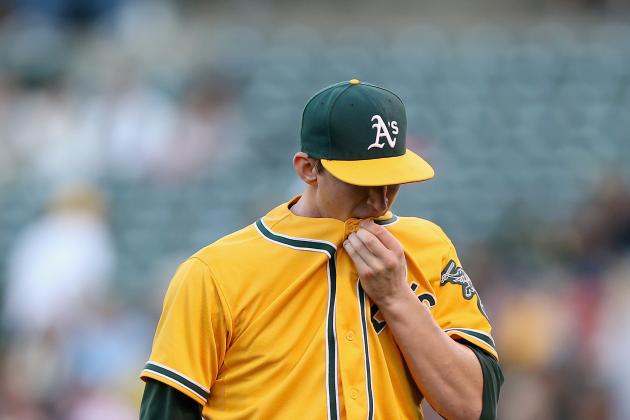 Ezra Shaw/Getty Images

Last Week: No. 3
If that last reference in the previous slide was lost on you, just know that the A's got Cook and Jarrod Parker from the Diamondbacks in an offseason trade that sent Trevor Cahill and Craig Breslow to Arizona.
The A's are winning this trade by a mile. Cook has been a great reliever, and Parker has been one of the top rookie starters in baseball to this point.
Parker has a 2.86 ERA and a 1.25 WHIP on the season through 14 starts—numbers that look solid enough at first glance. They are slightly skewed, however, by three starts in which Parker allowed a grand total of 17 earned runs.
In his other 11 starts, Parker has allowed no more than two earned runs. He's pitched at least six innings in all but one of them, and in that outing, he pitched 5.2 innings.
As I've mentioned before, Parker's best pitch is his changeup, which is a dandy. FanGraphs has it rated as the most effective changeup in the American League among rookie starting pitchers, which is saying something, seeing as how Tommy Milone and Wei-Yin Chen also boast good changeups.
That pitch is just one reason why the sky is the limit for Parker. It's unlikely that he'll cap this season by winning the Rookie of the Year award, but he has the goods to stick around for a long time.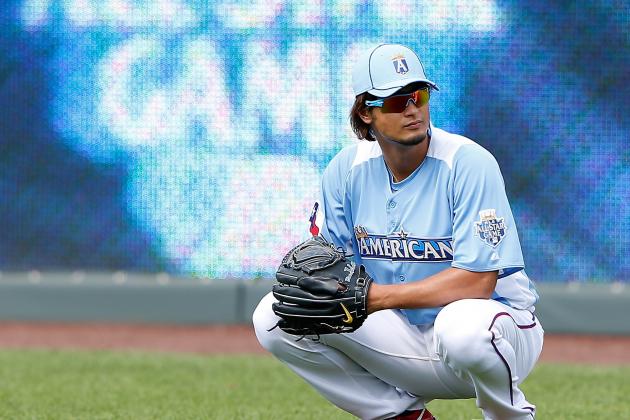 Jamie Squire/Getty Images

Last Week: No. 2
Nothing has changed since I last wrote about Yu Darvish in last week's AL ROY rankings. This is because Ron Washington decided to give him an extended rest heading into the All-Star break. Darvish hasn't pitched since the first of the month.
Because nothing's changed, Darvish still has all his solid numbers. He's the only AL rookie starter with 10 wins. He has a solid ERA of 3.59. His 10.26 K/9 is tops among rookie starters and second only to Max Scherzer among all AL hurlers.
Darvish has definitely had his share of down moments this season. He got off on the wrong foot in his debut start, and there was a stretch in May and June in which he struggled badly with his control.
But on the whole, his first season in the big leagues has been a success to this point. If this was any other year, he'd be the man to beat in the Rookie of the Year race.
It's just too bad for him that this isn't any other year. Darvish is light years behind Mr. Trout.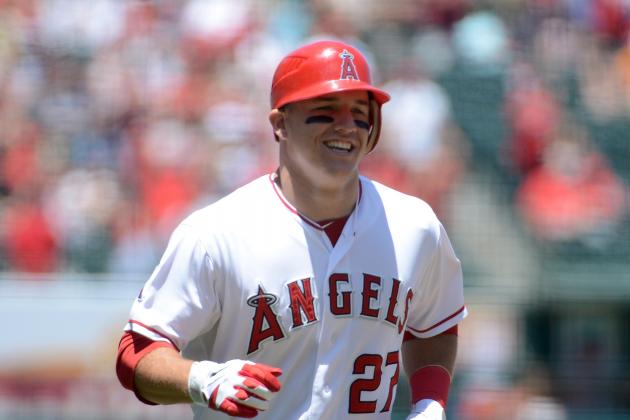 Harry How/Getty Images

Last Week: No. 1
We can keep this brief.
Mike Trout leads the American League in hitting with a .341 batting average. He also leads the league in stolen bases with 26. He ranks in the top 10 in on-base percentage, slugging and OPS.
At the rate he's going, ESPN.com projects that Trout will finish the season with 107 runs scored, 23 home runs, 75 RBI and 49 steals in just 121 games. Those are great numbers for a full season, never mind just 121 games.
Trout is probably also going to win a Gold Glove. Per FanGraphs, he ranks third among AL outfielders with a UZR of 8.4. His DRS (defensive runs saved) of plus-9 ranks fifth.
The total package gives Trout a WAR of 4.8. That's tops among all AL players and third overall in MLB behind Joey Votto and David Wright.
Let's just give him the Rookie of the Year award and get it over with.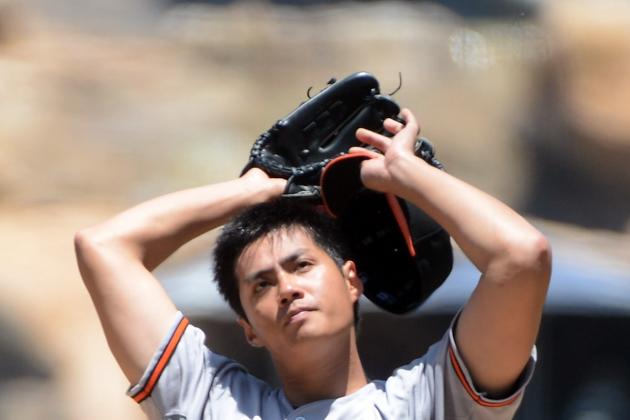 Harry How/Getty Images
Wei-Yin Chen
5. Will Middlebrooks, 3B, Boston Red Sox
He could easily sneak back into the top five, but he needs to get healthy and then get hot at the plate again.
4. Wei-Yin Chen, SP, Baltimore Orioles
Chen could also sneak back into the top five. He just needs to string a few good starts together.
3. Jarrod Parker, SP, Oakland A's
Steady as she goes.
2. Yu Darvish, SP, Texas Rangers
Ditto.
1. Mike Trout, OF, Los Angeles Angels
Not even R.A. Dickey could slow down Trout.
Note: Feel free to check out last week's rankings.
If you want to talk baseball, hit me up on Twitter.