Fantasy Baseball: 7 Starting Pitchers to Realistically Trade for Right Now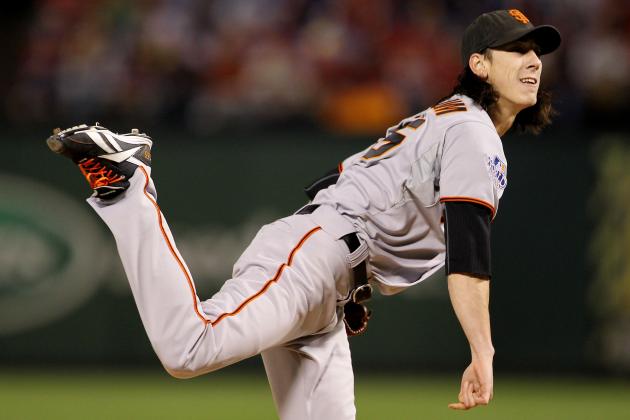 Doug Pensinger/Getty Images
Giants pitcher Tim Lincecum (3-10, 6.42 ERA, 1.58 WHIP, 104/50 K-BB) has shown few signs of injury or mental fatigue this season, despite the poor numbers in three categories.
The following countdown identifies seven different types of starting pitchers that can realistically be acquired, via trade, throughout July.

To clarify, this listing does not necessarily reflect the most productive pitchers or biggest names in fantasy.

It's just a group of intriguing assets who, for various reasons, can be had at a reasonable price before the trade deadlines kick in during August.

Enjoy the show!
Begin Slideshow

»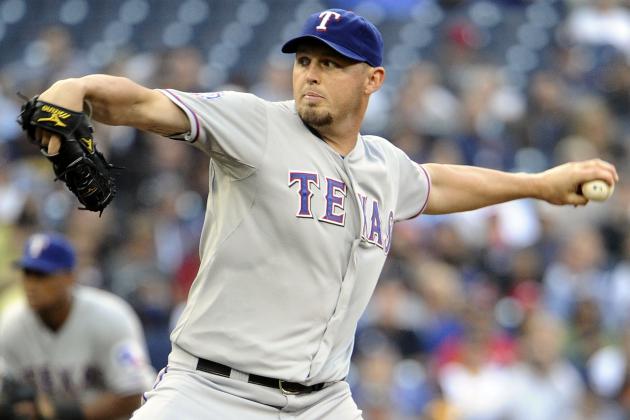 Denis Poroy/Getty Images

2012 Stats: 11-4, 3.10 ERA, 1.24 WHIP, 70/27 K-BB

30-Day Stats: 3-1, 1.31 ERA, 1.22 WHIP, 22/9 K-BB

Without a doubt, Matt Harrison earned every bit of his All-Star kudos leading into mid-July.

Since May 17, he's a perfect 10-for-10 in allowing just three runs or less, and in that span, he yielded only 1.7 walks per game.

As a matter of personal preference, though, I simply don't covet Harrison as a No. 1 or 2 pitcher in 12-team leagues. Anything beyond that, and he's an ideal asset.

Why am I bringing this up now? Well, I'm willing to bet the majority of fantasy owners share my "elite' skepticism of Harrison, who is neither a realistic candidate for 175 strikeouts nor an ERA in the neighborhood of 2.75.

But he does have one giant feather in his cap: As a member of the Rangers, the back-to-back American League champs, Harrison has an excellent shot at 20 or 21 wins by season's end.

Barring injury, Harrison could be a rock-solid No. 3 or 4 asset for your strikeout-happy and perhaps victory-deprived rotation.

Immediate trade possibilities:

1-for-1
Harrison for Jason Heyward
Harrison for Alejandro De Aza
Harrison for Mike Moustakas


2-for-2
Harrison/Adrian Beltre for Jose Quintana/Adam Jones
Harrison/Giancarlo Stanton for Ryan Vogelsong/Alex Gordon
Harrison/Ian Desmond for Homer Bailey/Jose Reyes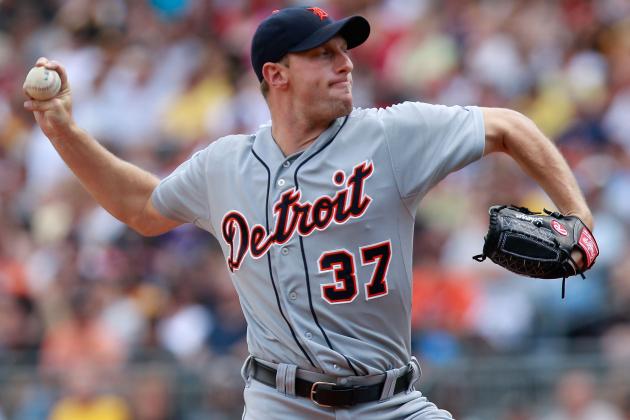 Jared Wickerham/Getty Images

2012 Stats: 8-5, 4.72 ERA, 1.39 WHIP, 121/33 K-BB

30-Day Stats: 3-1, 2.45 ERA, 1.00 WHIP, 41/9 K-BB

This trade notion goes to the owner who's willing to sell out for strikeouts from this point forward. It's also for the fantasy GM who understands that Max Scherzer can be a difference-maker for pennant-contending clubs.

Of his last nine outings, Scherzer has allowed three or less runs eight times, and in that span, covering 55.2 innings, he has given up a total of 15 walks. (Not bad for a guy who surrendered seven in one April outing.)

For this countdown, though, Scherzer's strikeouts are the real prize. He boasts three double-digit strikeout efforts this season; and since May 5, he has tallied seven or more punch-outs nine separate times.

Immediate trade possibilities:

1-for-1
Scherzer for Jay Bruce
Scherzer for Paul Goldschmidt
Scherzer for Nelson Cruz


2-for-2
Scherzer/Matt Kemp for Chris Capuano/Ryan Braun
Scherzer/Michael Bourn for Cliff Lee/Derek Jeter
Scherzer/Asdrubal Cabrera for Dan Haren/Carlos Beltran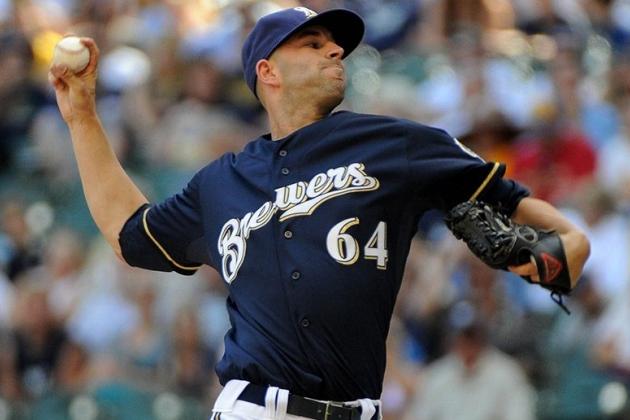 Photo Credit: US PRESSWIRE
2012 Stats: 3-3, 2.31 ERA, 1.07 WHIP, 50/9 K-BB

Yes, Michael Fiers only has three major league victories to his credit, and yes, he's just now experiencing his first significant taste of The Show at age 27.

But just like Brewers teammate Marco Estrada, Fiers has the type of talent that shines through the TV, that easy grace of a sustainable pitcher.

(For what it's worth, here are Fiers's minor league marks: 21-15, 2.80 ERA, 1.02 WHIP and 370/91 K-BB ratio.)

In his last three starts (covering 20.2 innings), Fiers has one victory, a 0.89 ERA, 0.94 WHIP and 26/5 strikeout-to-walk ratio. Of similar importance, the Milwaukee coaches have exhibited total confidence in Fiers's game, allowing him to eclipse 100 pitches in each of the three outings.

Immediate trade possibilities:


2-for-2
Fiers/Ben Zobrist for Jordan Lyles/Mark Teixeira
Fiers/Paul Konerko for Rafael Soriano/Matt Holliday
Fiers/Justin Upton for Jordan Zimmermann/Mike Morse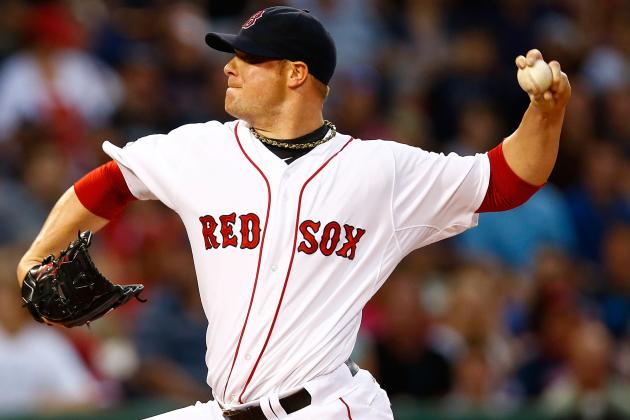 Jared Wickerham/Getty Images

2012 Stats: 5-6, 4.49 ERA, 1.35 WHIP, 94/30 K-BB

30-Day Stats: 2-2, 4.26 ERA, 1.33 WHIP, 32/5 K-BB

After four straight seasons of 15-plus wins and an ERA south of 3.50 (2008-11), few baseball prognosticators could have predicted the struggles of Jon Lester in 2012.

(Not even the ones who attributed the Red Sox' demise last September to too much fried chicken and beer in the clubhouse.)

Jokes aside, it's been a rough go for Lester this season. Seven outings of four or more runs allowed. Seven outings of eight or more hits surrendered; and only two appearances that went beyond one out in the eighth inning.

But Lester is far from a lost fantasy cause for the second half. Since April 28 (covering 14 starts), he has allowed three runs or less nine times. In his last six starts, he's averaging seven strikeouts per game.

The best part about acquiring Lester before this weekend? Unlike last year, fantasy GMs won't have to move mountains to consummate this eventual trade heist.

Immediate trade possibilities:


1-for-1
Lester for Colby Rasmus
Lester for B.J. Upton
Lester for Ryan Zimmerman


2-for-2
Lester/Jason Kubel for Ian Kennedy/Ichiro Suzuki
Lester/Logan Morrison for Craig Kimbrel/Brian McCann
Lester/Norichika Aoki for Clay Buchholz/Anthony Rizzo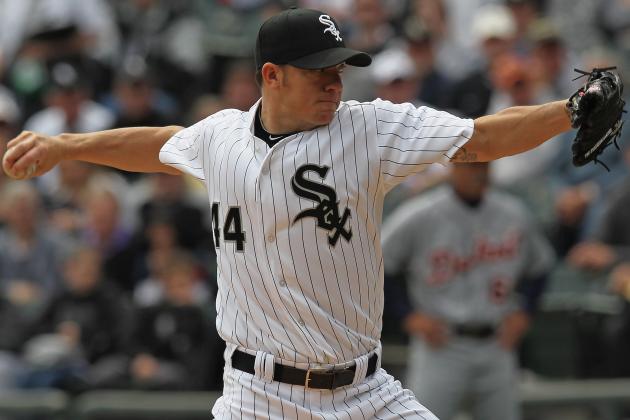 Jonathan Daniel/Getty Images

2012 Stats: 8-5, 4.72 ERA, 1.39 WHIP, 121/33 K-BB

30-Day Stats: 3-1, 2.45 ERA, 1.00 WHIP, 41/9 K-BB

Without fail, whenever seeing Jake Peavy take the mound on MLB Extra Innings, I immediately flash back to covering his Double-A games (Mobile BayBears) for the Mobile (Ala.) Press-Register, circa 2002, and wondering aloud, "How long before this kid breaks his arm with that snap-back delivery?"

Peavy's talent for generating strikeouts has never been questioned, not even at age 21, but I am blown away by the adjustments he routinely invokes against MLB hitters, seldom getting into jams in back-to-back innings and showing no signs of fading in August and September.

As a result, Peavy earned a much-deserved All-Star berth (real world and fantasy), and now, statistically speaking, he is one half of baseball's No. 2 pitching tandem (along with Chris Sale)—behind Stephen Strasburg/Gio Gonzalez.

Immediate trade possibilities:


2-for-2
Peavy/Joe Mauer for Madison Bumgarner/Carlos Ruiz
Peavy/Brandon Phillips for Lance Lynn/Jason Kipnis
Peavy/Jacoby Ellsbury for A.J. Burnett/Adam Dunn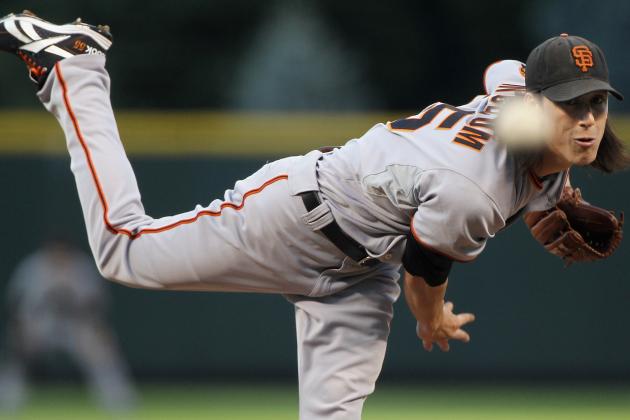 Doug Pensinger/Getty Images

2012 Stats: 3-10, 6.42 ERA, 1.58 WHIP, 104/50 K-BB

30-Day Stats: 1-3, 7.66 ERA, 1.58 WHIP, 27/11 K-BB

Forget about Tim Lincecum's wretched numbers from a 30-day or seasonal perspective. Forget about the 13 runs allowed in his last two starts—back-to-back outings of only 3.1 innings.

As long as Lincecum (two Cy Young awards) is healthy, as long as he demonstrates the ability to go six or seven innings with regularity, as long as he's completely focused on helping the Giants win a highly competitive National League West, I cannot turn my back on this extraordinary talent.

Denial aside, that's the beauty of acquiring Lincecum for pennies on the trade dollar: Prospective fantasy owners can guarantee the enigmatic veteran a baggage-free, fresh start from this point forward without any resentment over his recent implosions.

Immediate trade possibilities:


1-for-1
Lincecum for Aaron Hill
Lincecum for Kenley Jansen
Lincecum for Mike Napoli


2-for-2
Lincecum/Adrian Gonzalez for David Price/Michael Cuddyer
Lincecum/Trevor Plouffe for Jeremy Hellickson/J.D. Martinez
Lincecum/Eric Hosmer for Scott Diamond/Shin-Soo Choo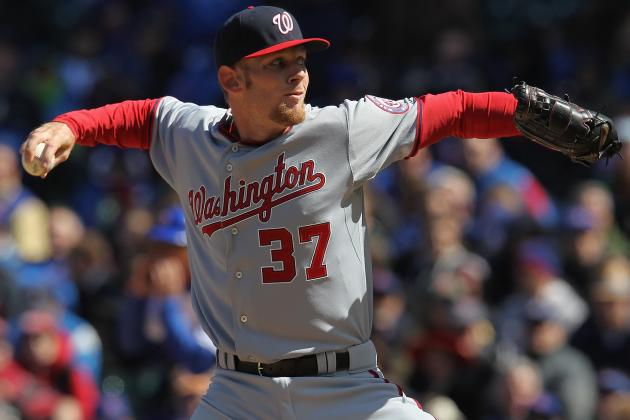 Jonathan Daniel/Getty Images

2012 Stats: 9-2, 2.82 ERA, 1.10 WHIP, 128/28 K-BB

30-Day Stats: 2-3, 3.86 ERA, 1.25 WHIP, 36/9 K-BB

The other day, while listening to a Chicago-based radio show, I heard Washington GM Mike Rizzo reaffirm his promise to shut down Stephen Strasburg at some point in August or September—as a means of preserving the star pitcher (and his reconstructed elbow) for seasons ahead.

But he also left some wiggle room for when the curtain on Strasburg's season would officially close, especially if the Nationals clinch the franchise's first playoff berth since 1981 (as the Montreal Expos).

All this begs the fantasy question: Should Strasburg owners attempt to trade him in the next three weeks or roll the dice on a top-five pitcher posting top-five stats from this point forward—even with a reduced number of outings (or innings)?

With my eight leagues, I've already made the executive decision to keep Strasburg in three leagues (health permitting) and pursue him in the other five. And given the potential time sensitivity of his alleged shutdown point (170 innings), it's a high priority to acquire Strasburg in the next 10 days.

Immediate trade possibilities:


1-for-1
Strasburg for CC Sabathia
Strasburg for Alex Rios


2-for-2
Strasburg/Hanley Ramirez for C.J. Wilson/Hunter Pence
Strasburg/Austin Jackson for James Shields/Mark Trumbo
Strasburg/Martin Prado for Roy Halladay/Brett Lawrie