The 5 Most Overrated Players in Fantasy Football in 2012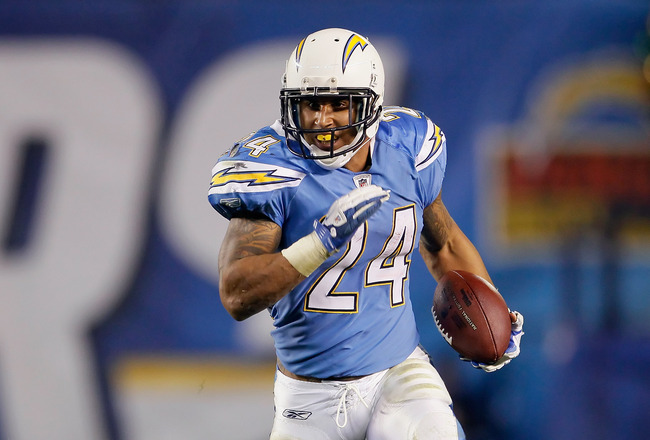 Jeff Gross/Getty Images
Two injury-plagued seasons. A total of 1,769 rushing yards and 13 rushing touchdowns in two seasons.
Most fantasy football owners would consider the stats of this running back are at best a late-round draft pick's. However, some people have this running back going in the first round.
In 2012, here are the five most overrated players in fantasy football.
Antonio Brown, Pittsburgh Steelers, WR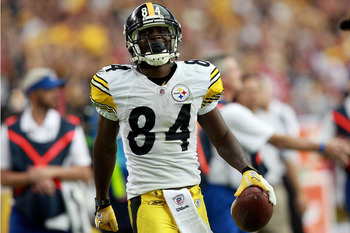 Karl Walter/Getty Images
Antonio Brown came up huge for the Pittsburgh Steelers in 2011, recording over 1,100 receiving yards.
However, many fantasy owners are quick to jump the gun to think that Brown is going to become a legit fantasy receiver in 2012.
Sure, 1,100 receiving yards are good for fantasy football, but touchdowns are what really count.
When it came to touchdowns, Brown was a severe liability, only scoring three touchdowns.
If Brown is drafted as a No. 2 fantasy receiver, he will be a huge disappointment. Look to make him your No. 3 receiver.
Shonn Greene, New York Jets, RB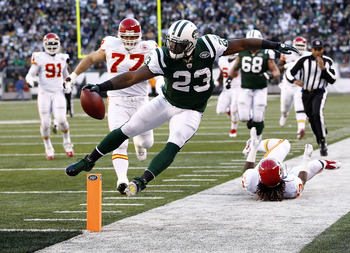 Jeff Zelevansky/Getty Images
Being the go-to running back of the New York Jets' run-heavy offense, Shonn Greene would be considered at least a solid No. 2 fantasy back by most fantasy owners.
After three seasons in the NFL, Greene continues to struggle and is at best a running back to have on your bench.
In 2011, Greene barely surpassed 1,000 rushing yards when he got at least 15 carries in nine games. Greene also only scored touchdowns in four games, and rushed for over 100 yards in two games.
Greene gets plenty of touches for the Jets, which makes him an attractive pick, but the reality is that he does not produce many fantasy points.
Darren McFadden, Oakland Raiders, RB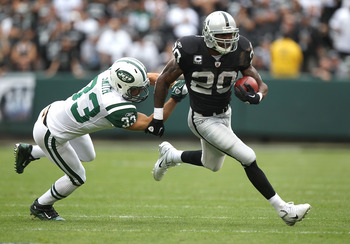 Jed Jacobsohn/Getty Images
When Darren McFadden is healthy, he is one of the best running backs in the league.
The only problem with McFadden though is that he can never stay healthy. In his four seasons in the NFL, McFadden has never played a full season.
Many people are going to be taking McFadden in the first round, but this would be a huge mistake.
Wait to make McFadden your No. 2 fantasy back. There is a very good chance he will get injured and ruin your fantasy team's season.
Larry Fitzgerald, Arizona Cardinals, WR
Christian Petersen/Getty Images
Do not get me wrong, Larry Fitzgerald is a terrific wide receiver. However, with Kevin Kolb as his quarterback, he will not live up to his fantasy hype.
Sure, he had over 1,400 receiving yards in 2011, but there is very little chance he ever matches that amount again in his career as long as Kolb is throwing him the ball.
Fitzgerald is still going to put up solid fantasy numbers, but he is no longer a top-three fantasy receiver. Expect his stats to be more around 1,100 receiving yards and eight touchdowns.
Ryan Mathews, San Diego Chargers, RB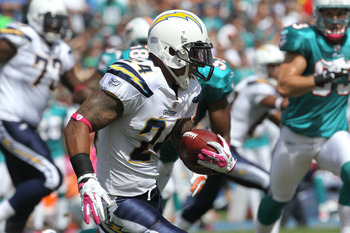 Stephen Dunn/Getty Images
Wondering who that running back is that was described in the introduction?
Well, now you know it is Ryan Mathews.
For the past two seasons now, there has been so much hype surrounding Mathews. Every year, fantasy owners think he is going to break out and become a top fantasy back.
The only thing Mathews has consistently done during his NFL career is be an injury-plagued fantasy bust.
There is no way I am thinking of taking Mathews as my No. 1 fantasy back, let alone in the first round. Mathews always seems to not be healthy and does not produce many fantasy points.
Do you really want to make your No. 1 fantasy back a player whose career highs in rushing yards and touchdowns in a season are 1,091 yards and seven touchdowns?
Mathews is the most overrated player heading into the 2012 fantasy football season, and you should wait to make him your No. 2 fantasy back in the third or fourth round.
Keep Reading