MLB Trade Rumors: 5 Teams Who Will Aggressively Pursue Justin Upton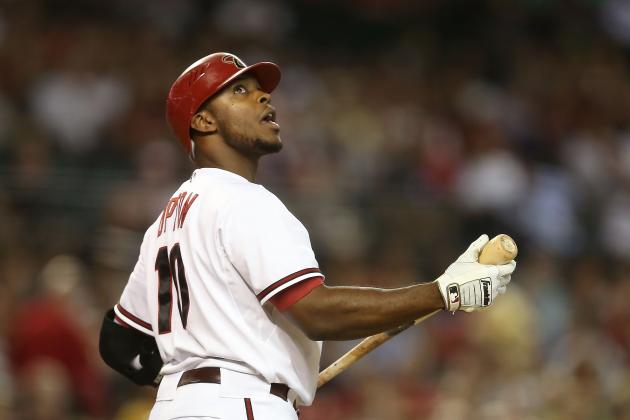 Christian Petersen/Getty Images

It isn't everyday that a 24-year-old power-hitting, right-handed outfielder with talent oozing from every pore and a rocket for a throwing arm becomes available, but such is the case with Arizona's Justin Upton.
Signed through the 2015 season, Upton has been put on the trading block by the Diamondbacks, according to Ken Rosenthal of Fox Sports, among others. While Arizona's asking price is sure to be huge, ESPN's Buster Olney says that they are looking for help at third base*, though they still could move him without receiving a third baseman in return.
Upton has a limited no-trade clause, though the teams to which he can block a trade are unknown. As Rosenthal notes, two years ago the list of teams on his no-trade list was comprised of the Athletics, Mariners, Royals and Tigers.
On #DBacks' Upton: In '10, #Mariners, #Tigers, #Royals, #Athletics were his no-trade list. He has since changed list. New teams not known.

— Ken Rosenthal (@Ken_Rosenthal) July 7, 2012
Olney also says that while some teams are wondering whether Upton has a chronic shoulder injury (why else would the Diamondbacks make him available) and are shying away, there are still a number of teams that are sure to have interest.*
Who might those teams be?
Let's see if we can figure it out.
*Subscription required to view full article.
Begin Slideshow

»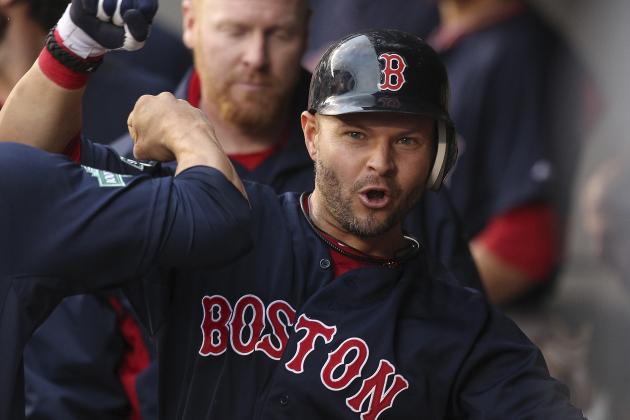 Otto Greule Jr/Getty Images
Cody Ross has been solid, but he's not a long-term answer in right field for Boston.
Back in 2010, the Red Sox were known to have had serious interest in acquiring Upton, though Arizona's asking price, according to USA Today's Bob Nightengale, was a package that included Jacoby Ellsbury and Daniel Bard.
Two years later, would Boston still have interest in Upton?
You'd have to think so. A package that started with Bard and top prospect Xander Bogaerts—a shortstop who likely will grow too big for the position, forcing a move to third base—could be of interest to Kevin Towers and the D-Backs.
While adding Upton may not be enough to save their season, his acquisition would certainly go a long way towards placating a fan base that grows increasingly frustrated with the Sox. While also assuming the trio is healthy, this would give the Red Sox one of the best outfields in baseball with Carl Crawford, Jacoby Ellsbury and Upton going forward.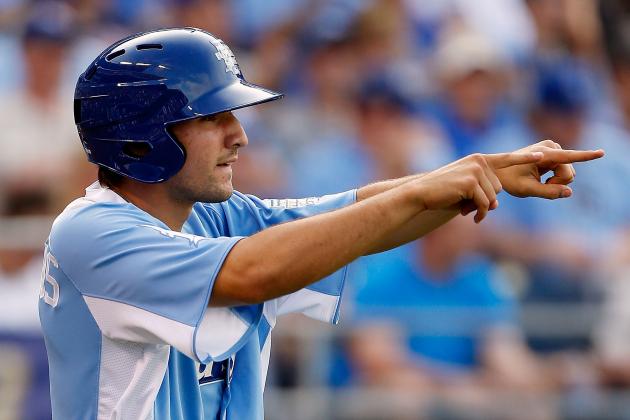 Jamie Squire/Getty Images
Justin Upton could convince Detroit to part with third base prospect Nick Castellanos.
Whether the Tigers remain on the short list of teams to which Justin Upton can block a trade remains to be seen, but they certainly have the third base prospect that the Diamondbacks crave in Nick Castellanos.
A package built around Castellanos and pitching prospect Jacob Turner could potentially do the trick with Arizona, allowing Detroit to add another dynamic bat to a lineup that features two of baseball's best in Miguel Cabrera and Prince Fielder.
Can you imagine a middle of the order that included Cabrera, Fielder and Upton?
That's a scary proposition for the rest of the American League.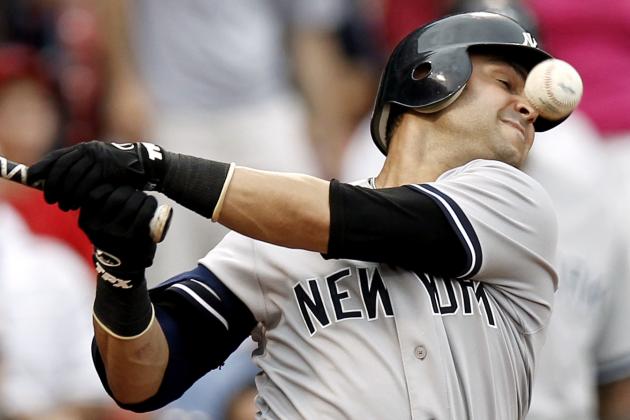 Winslow Townson/Getty Images
The Yankees don't have an immediate replacement for Nick Swisher...yet.
Back in the winter of 2010, the Yankees were said to have interest in acquiring Upton, and there's no reason to think that things have changed on their end.
With Nick Swisher poised to become a free agent following the season, Upton would represent a younger option under team control for the next three seasons.
The Yankees don't have a major league ready third baseman that they could offer to Arizona—Dante Bichette Jr. is still years away—so who out of the Yankees' farm system Arizona would have interest in remains to be seen.
But you can be sure that Brian Cashman and Kevin Towers will be having conversations about what it would take to bring Upton to the Bronx—if they haven't already.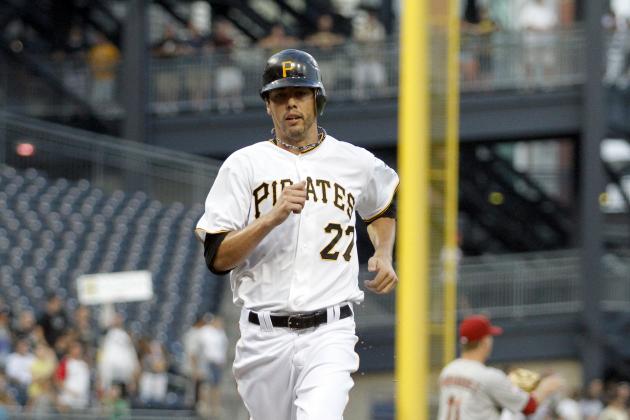 Justin K. Aller/Getty Images
Garrett Jones may not be long for right field in Pittsburgh.
The upstart Pittsburgh Pirates, who finished the unofficial halfway point of the 2012 season sitting in first place atop the NL Central, have already started talking trade with the Diamondbacks about acquiring Upton, according to Jon Paul Morosi of Fox Sports.
Knowing that Arizona is seeking help at the hot corner, they could have some level of interest in Pirates' third baseman Pedro Alvarez, though he certainly would be a piece of a package and not the centerpiece.
It stands to reason that one of the Pirates' top pitching prospects, either Gerritt Cole or Jameson Taillon, would be the prize gem of any package heading to Arizona.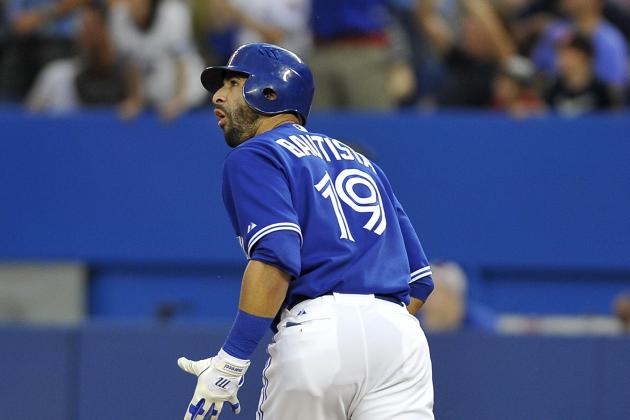 Brad White/Getty Images
Jose Bautista has right field locked down for Toronto...
Back in 2010, Shi Davidi of the Canadian Press reported that while Justin Upton was once a target of the Blue Jays, the club deemed Arizona's asking price to be too high and decided to move in another direction.
While Jose Bautista has the right field job locked up—meaning that Upton would likely have to move to left field were the Jays to acquire him—Toronto, with one of the best farm systems in baseball, certainly could have the pieces needed to put together a winning offer for the 24-year-old outfielder.
While the Blue Jays' priority of late seems to be bolstering their starting rotation, adding an impact bat like Upton's could be far too tempting to pass up.
With Adeiny Hechavarria poised to take over as Toronto's starting shortstop as early as next season, coupled with CBS Sports' Danny Knobler's report that the Jays were "souring" on incumbent shortstop Yunel Escobar, it's possible that Escobar could become part of a package headed to Arizona.