How Adrian Peterson's Arrest and Knee Injury Shake Up Fantasy Football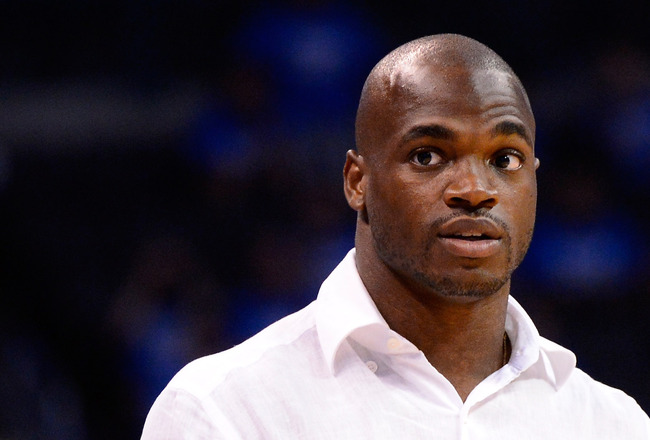 Ronald Martinez/Getty Images
Adrian Peterson's 2012 offseason just got worse.
Minnesota Vikings star running back Adrian Peterson was arrested on a charge of resisting arrest after an early-morning incident where police say it took three officers to subdue him.
Add this on top of his injury, and it does lessen Peterson's appeal in fantasy football. To that end, let's check out how Peterson's double-whammy (injury and arrest) will affect the fantasy world in 2012.
Adrian Peterson Drops to Middle Rounds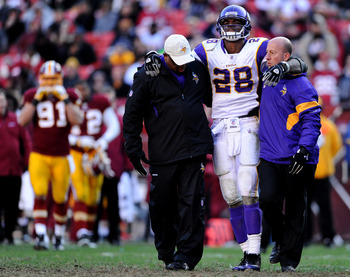 Patrick Smith/Getty Images
Already a risk before the arrest, Adrian Peterson is more like a middle-round running back in 2012.
Now, his talent is still first-round material, but his health remains a major concern. Running backs still play a major role in fantasy football, but that also depends on the type of league.
If it's a league that starts more than one quarterback, Peterson could drop further than expected. Considering that pro football is so reliant on the passing game, running backs in general will slide deeper into fantasy drafts.
Then include Peterson being a risk, and that only drops him even more.
In leagues that start just one quarterback, Peterson is obviously a stronger selection. However, that risk factor will always be looming, and with other backs ready for a breakout season, he will continue to slide.
Lest we forget about the lack of a passing game in Minnesota and opposing defenses constantly stacking the box against Peterson every week.
Percy Harvin Becomes Best Fantasy Option from Vikings
Hannah Foslien/Getty Images
Although the Minnesota Vikings do lack a passing game, Percy Havin has the dynamic skill set to be a feasible fantasy football option.
The 2011 season was clearly Harvin's best as a pro, with 1,832 total yards and nine touchdowns. He's a threat as a receiver, in the horizontal running game and as a return specialist.
With Peterson's injury concerns, that makes Harvin Minnesota's best fantasy player. More suited for the flex position because of his versatility, Harvin may go before the middle rounds depending on how deep the league runs.
Nonetheless, the Vikings are going to have a rough 2012 season.
Fortunately, the NFC North still remains unproven defensively, so Harvin will have another solid season and play respectably well in fantasy.
No. 2 RBs Gain Appeal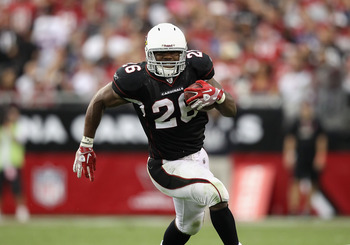 Christian Petersen/Getty Images
Right now, Adrian Peterson just isn't a No. 1 fantasy back, and it's much safer to go in another direction.
Doing so opens the door for No. 2 running backs who may be appealing selections in Rounds 2 and 3.
A guy like Beanie Wells is a solid option after rushing for over 1,000 yards in 2011 and scoring 10 times.
Elsewhere, other viable No. 2 running backs come in the form of Ahmad Bradshaw, BenJarvus Green-Ellis and Tampa Bay rookie Doug Martin.
The Giants now have a true No. 1 back in Bradshaw, but as long as Eli Manning is there, New York is a pass-first offense.
Green-Ellis is part of a balanced attack in Cincinnati and will see more carries as compared to New England last season.
As for Martin, the Buccaneers need a complete and consistently reliable Brahma Bull who can be a threat on every down. LeGarrette Blount is not that guy, so expect Martin to have more production than expected.
Back to Wells, we see Arizona has upgraded the offensive line and passing game. This, in turn, will take pressure off of Wells, and he'll be much more consistent in 2012.
Injury-Stricken RB Stars May Slightly Decline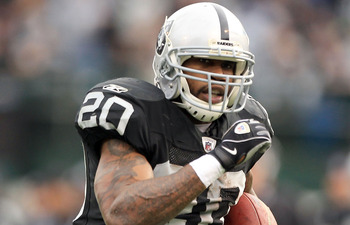 Ezra Shaw/Getty Images
If Adrian Peterson falls in your fantasy draft, expect other star running backs who suffered injuries in 2011 to also take a slight dive.
Darren McFadden may be the most notable after missing a little over half of last season. As the Raiders' most dangerous offensive weapon, McFadden was forgotten in 2011 once Michael Bush took over and earned himself some well-deserved recognition.
McFadden now has to reestablish himself among the better ball-carries in the game. Health is always a concern, especially for running backs, since it's the most physically demanding position.
Other running backs like Jamaal Charles and Fred Jackson could also drop a bit as well. Although Charles' injury occurred early on, and Jackson's was mid-season like McFadden, these concerns can't ever be taken lightly.
In terms of fantasy football, going big or going home can be the difference between making the playoffs or missing out.
NFC North Defenses a Safe Backup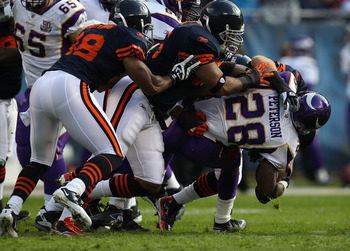 Jonathan Daniel/Getty Images
For as vulnerable as NFC North defenses were in 2011, and although each have much to prove this season, it's never a bad idea to have a backup defense.
And when playing the Vikings in 2012, Green Bay, Detroit and Chicago are all defenses worth considering.
The Packers, for one, led the NFL in interceptions last season but also failed miserably in virtually every other statistical category.
The Lions and Bears basically followed suit, however all three have made impressive upgrades this offseason.
Green Bay did the best by focusing on defense primarily through the draft and will have a much more presenting pass rush to help the interception-happy secondary.
Detroit has potential, provided that Cliff Avril gets on board, because the Lions offense will be racking up points to force opponents to try to keep pace early on. Therefore, the Lions will also have increased sack and turnover opportunities.
Chicago is arguably the most dangerous of the three, simply because of how good the Bears are against the run. The pass defense proved its potential at times in 2011, but getting more consistent is key in 2012.
Also, if the league counts fantasy points for special teams, the Bears and Packers are great choices, as each present a dangerous return man.
Follow John Rozum on Twitter.
Keep Reading